What You Need to Know:
Seven Seas is pleased to announce that GIGANT Vol. 1 and Vol. 2 by Hiroya Oku are out now, both in print and digital formats, while volume 3 is scheduled for release in November.
This seinen sci-fi manga--aimed at Older Teens and up--is the latest work by the blockbuster creator of Gantz and Inuyashiki. This manga holds special appeal for cinephiles, as it focuses on a young man who aspires to be a filmmaker and an adult film star who can grow gigantic ala Attack of the 50 Foot Woman, while delivering the kind of wild and intense sci-fi plot that Hiroya Oku is known for.
Story: Rei dreams of becoming a big-ticket film director, but his life takes a strange turn when he meets his favorite adult film star who gains the power to grow to a towering size.
Source: Official Press Release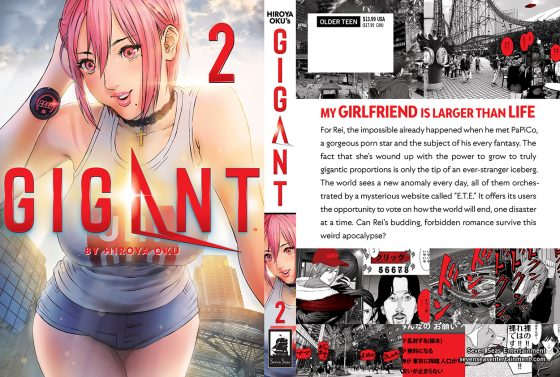 ---
You had me at adult actress!
Got a lot of catching up to do!