Sega has been in the industry for as long as we've existed on this Earth, and so it's safe to say that this mammoth company has left an enormous imprint on the many minds of gamers today. Sega Fes 2018 is an event that commemorates the many achievements the company has celebrated over the past several decades, along with some new titles that help to reignite the fire in our nostalgic hearts. It's an event that combines the old and the new, the historic and the present, and classic artistry along with modern flashy style. It's really what makes Sega the company that they are, as they've always been innovating ever since the days of the Mega Drive (known as the Sega Genesis in the west). Ever since the inaugural event back in 2016, Sega Fes has really helped to recreate Sega's image not only in Japan but around the world as well. Not only has Sega grown and evolved from the many years of being in the industry, but they continue to show support to it by constantly pushing the envelope in design, especially in the arcade scene. With all that being said, let's dive a little deeper into Sega Fes 2018 and what we enjoyed most while being there!
---
Basic Info
Established
2016 -

Sega Fes 2018 Official Website: http://segafes.sega.jp/

Location
Akihabara, Tokyo, Japan
Length of event
April 14 -15th (Two day event)
How much does it cost?
Free!
---
What to Expect

Sega Fes 2018 has plenty to offer for those staying in Japan but also those just popping in out of curiosity. Sega pulled a smart move and placed the venue smack dab in the middle of Akihabara's busy streets and so, just about anyone passing by will see the huge iconic blue and white logo shining brightly. That alone just shows you how much dedication and passion Sega has for its fans as it tries to put themselves at the center of attention, and to give everyone a taste of what they're all about. As with any game event, there's plenty to expect in terms of surprise announcements, game booths to try out the latest titles, along with other outrageously fun activities that the whole family can enjoy. This year's event certainly topped the years before it as some of the activities had you turn into a human UFO catcher and grab all the goodies that lie beneath, along with various tournaments for classic titles like Virtua Fighter 2. There's just a cornucopia of things to see and experience at Sega Fes 2018 and so, whether you're a seasoned veteran in the gaming world or perhaps just diving in for the first time, Sega Fes 2018 really allows you to immerse yourself and take part in the festivities happily.
---
What to Bring in Order to Enjoy the Event

Like any event in the world, it's become the de rigueur for one to carry a smartphone or just a camera in general, just so that you can capture all of the action that's happening around you. Surely, one can enjoy the event without taking any photos at all and just absorb it all in the moment. But if you'd like to carry that memory home and cherish it for a little while longer, then it's certainly best to carry one around to ensure your memory lasts. Sega Fes 2018 is a free event for anyone to attend so you don't really need to carry around a wad of cash like say for TOKYO GAME SHOW or AnimeJapan, but there are areas in the venue that give you the chance to purchase some Sega related swag to bring home if needed. Sega Fes 2018, to us, is kind of like a moving billboard because everything is free to look at, and you don't really need to spend a dime to truly find enjoyment in the festivities. Of course, since you're in Akihabara though, we do suggest bringing some sort of cash with you should the hunger pains start rumbling, or maybe you feel a bit parched from all the walking around.
While this last one isn't really a mandatory thing, we do suggest bringing some friends along who also enjoy Sega related things, just so that your experience will have a little more joy in it. If you enjoy the lone wolf adventure then of course all the power to you! Bags are given out during the event via a scavenger hunt game, so you don't need to worry about purchasing one!
---
What to do While There / What is Available

The moment you walk into Sega Fes 2018, you'll be mesmerized by all of the many gaming setups and activity stands that are just waiting to be observed. Of course, the most obvious thing that stood out to us when we were there was the Big UFO Catcher which was essentially a UFO catcher designed for humans! What that means is that you're the crane and must try to grab as many items in the pool of prizes as quickly as you can before you're lifted back up. We yelled and screamed like a schoolgirl to get our chance and luckily for us, we were chosen, and boy was it an unforgettable opportunity. For so long, we've always had this idea of "What if somehow, we could be the crane and catch these items?" It seemed that our dreams came true as we were able to snag a few awesome goodies in the form of Sonic figurines, Puyo Puyo figurines, and a massive bag of potato chips. That pretty much ignited us and made our day 1000x better since it was just a huge rush of excitement, and we won pretty cool gifts just by participating! There's no other activity quite like the Big UFO Catcher and to be honest, it's the first once we've come across ever!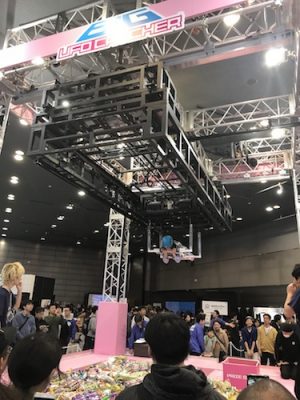 We're not sure if they'll make it a serious thing all across Japan, but we'd be totally down to try it out again, maybe at an amusement park or something. Shortly after our amazing experience with the UFO catcher, we smiled uncontrollably and made our way towards the game demo booths where we had the opportunity to try out Persona 5: Dancing Star Night! The game isn't officially out until May 24th and so this was a huge chance for us to test the game out before it hit the public, and all we can say is that it was total fun. Anyone who enjoyed Persona 4: Dancing All Night will definitely find this updated version to be a lot more seamless than before with visuals being a lot more clean and vibrant on screen. We didn't get to explore too much into the game since the demo allowed us only one song before stopping, but we felt that the game has promise. Right next to Persona 5: Dancing Star Night was a Virtua Fighter 2 tournament that allowed anyone to take part in it, and the winner had a chance to take a photo with some of the developers! It was pretty awesome to see all age groups step up to the plate and try their hand at beating strong opponents, and just showing good sportsmanship.
The second floor of the event was more like a Sega history museum than anything, as the minute you entered through the doors it was like walking back in time 20 years. Immediately, you're greeted with a Sega Dreamcast and Sega Mega Drive with all of their glorious accessories, in immaculate condition. A tear or two flowed down the side of our face as we glanced at these two consoles knowing that these were our childhood play toys, and they were the catalyst for our gaming career adventure. As we ventured further into the hall, we discovered a wall of all the past Sega titles spanning roughly 20-30 years, and once again our uncontrollable smile just came out again. From classics like Comix Zone for the Sega Mega Drive, to the always fun Space Channel 5 for the Dreamcast, every game that we laid our eyes on just brightened our day even more. It was just a library of classic hits and luckily for us, there was a small area that even allowed you to pick which Dreamcast or Mega Drive game to play for about 10 minutes. We took the opportunity immediately and relived our childhood for that short time, but man was it awesome.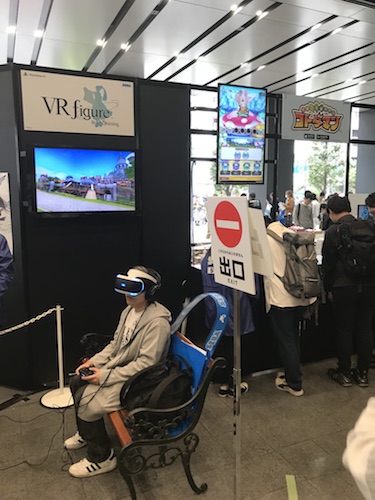 After fulfilling our needs for a while, we kept wandering until we came across the latest Darts Live arcade cabinet, which now uses state of the art technology to create a more immersive experience for darts fans. We were blown away by the improvements Sega made and they confirmed that they'll be shipped out next week, so that made us very happy. Another surprise announcement that came out of Sega Fes 2018 was the Sega Mega Drive Mini, which is slated to release here in Japan sometime this year. No announcements were made for a western release unfortunately, but perhaps sometime down the road they'll release some sort of information. We'll keep you posted of course!
---
Final Thoughts
All in all Sega Fes 2018 was a spectacular event that truly brought together the old and new in a beautiful way, without destroying the integrity of the Sega brand. Sega not showcased a lot of innovative craftsmanship with the Big UFO Catcher, but they also let everyone who doubted them know that they're still very much a force in the industry and will continue to blaze trails for years to come. We hope you enjoyed this field report of Sega Fes 2018! Be sure to share it on social media and of course if you're ever free, to come check it out during the spring!
For all things otaku be sure to keep it locked here on Honey's Anime!