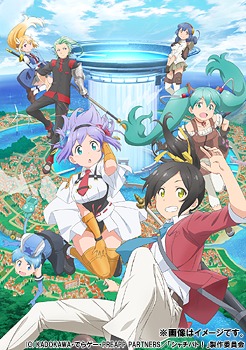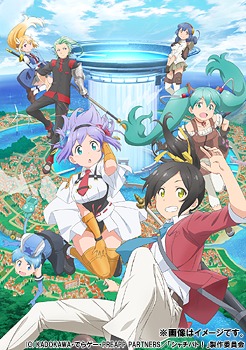 Shachibato! : Shachou, Battle no Jikan Desu!

Genre:
Action, Adventure, Fantasy
---
---
Official Images / Key Visuals
Synopsis
Gatepia is the center of the world. The world used to be an ominous place where devastation could seen everywhere. The goddess descends to the world and the gigantic "gate" appears in the sky. The people realize that "Kirakuri", an energy which maintains the world, exist in the "gate". Time passes and Gatepia begins to develop into a city. The treasure hunters, the people who bring back Kirakuri from the "gate," also begin to appear. The miracle energy to maintain the world depends on the Kirakuri hunters. One day, the protagonist Minato is called by his childhood friend, Yutoria. "I have been thinking... that you are suitable for a CEO!". Minato's adventure as a CEO begins after inheriting the position from the former CEO.
Characters & Voice Actors
Minato:
Shun Horie
The diligent man who has become the CEO of Kibou Company. He has a gentle and kind personality, and he looks unreliable, but he can calmly make the adequate decisions if necessary.
Yutoria:
Kana Ichinose
An orphan who was picked up by the former CEO, has a caring personality and she is Minato's childhood friend. She is now working as the secretary of Kibou Company's CEO.
Akari:
Azumi Waki
A girl with a competitive spirit, and who rushes into things recklessly. She loves to battle and conquer dungeons. She helps the weak and defeat the strong. In contrast to her appearance and personality, she loves cute things and sweets.
Makoto:
Yoshino Aoyama
A priestess who is diligent and loves plants. She loves plants so much that her hobby is to collect plants in the dungeons on the days off. There is a big secret in her backpack.
Valmi:
Sumire Uesaka
The strategist at the new company, "Cy-Edge". She looks gentle, kind, and friendly, but is a beautiful women who has a bad mouth. Her skill as a warrior is authentic.
Guide-san:
Yui Horie
A lady who has been supporting Kibou Company since its establishment. She can handle everything from desk work and the complaint from the customers, and also has experience of conquering several dungeons.
Other Title
President, It's Time for Battle!
Theme Songs

Opening Song: "Hurry Love/Koi to Yobu ni wa" by Azumi Waki
Ending Song: "Oyasumi" by Yutoria (CV: Kana Ichinose)

Main Staff

Original Creator: Kadokawa. Derage. Preapp Partners
Director: Hiroki Ikeshita
Script: Kenta Inohara
Series Composition: Kenta Inohara
Character Design: keisuke Watanabe
Animation Director: Atsuko Saito
Sound Director: Takumi Ito
Music: Yukari Hashimoto
(Credit Honey's Anime when you use our description.)
Honey's Highlights
___say_something___
___say_something___
___say_something___
___say_something___
---