KOEI TECMO seems to really want to take every popular anime/video game franchise out there and make a Warriors game out of them. From the beloved Attack on Titan series to Fire Emblem and even Berserk, KOEI TECMO just doesn't run out of franchises. However, their newest game surprised us greatly here at Honey's Anime. Yes, once again their newest collaboration is with an anime but this one is something we didn't see coming, Touken Ranbu. Ladies and gentlemen, hold your swords and get ready to become a handsome-looking warrior in Touken Ranbu Warriors!
These Samurai Are Tough and Hot!?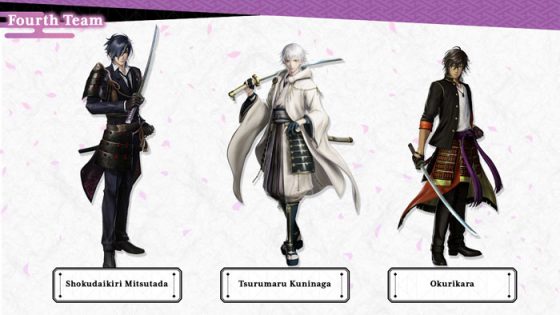 Many of you—unless you're really into anime boys—might not know what Touken Ranbu is and it's understandable. Originally a card game, Touken Ranbu's rise to fame was having a bevy of handsome boys/men that were born from legendary swords. As it grew in popularity, Touken Ranbu branched out into several anime adaptations, stage plays, and even a film! Now, we have Touken Ranbu Warriors which takes our attractive warriors and puts them into a hack and slash haven.
Like most Dynasty/Samurai Warriors games, Touken Ranbu Warriors is all about taking a single character and unleashing literal hell on your foes with simple/heavy attacks and special moves. In one arena you can find yourself slicing and dicing hundreds of foes in less than a few minutes and that concept has always made Warriors games cathartic in nature. Even if the gameplay is repetitive—and it is very repetitive even in Touken Ranbu Warriors—one never gets tired of laying waste to hundreds of foes with a simple few button presses. Now in Touken Ranbu Warriors, you can kill thousands of enemies while controlling a male who might take all of your attention away from the actual game.
Nice Selection of Characters

Touken Ranbu has always been loved by primarily female fans for having every conceivable type of anime male in one medium. From the stoic and cool Okurikara to the "dude who looks like he could be in a Japanese boy band" Heshikiri Hasebe, the choice of warriors is pretty diverse in Touken Ranbu Warriors. We also like how each of the warriors has a distinct play style that might still be under a simple button system but offers a nice relief to just clone-like characters.
Another element that really stood out was the dual team abilities/actions. Like other more recent Dynasty Warriors titles, Touken Ranbu Warriors utilizes controlled units that can attack with your character and unleash special combo attacks. Yes, it's nothing overly complex but it makes some of the fights feel more like a team affair and we appreciate it.
Just Hit Buttons and Stare at Anime Boys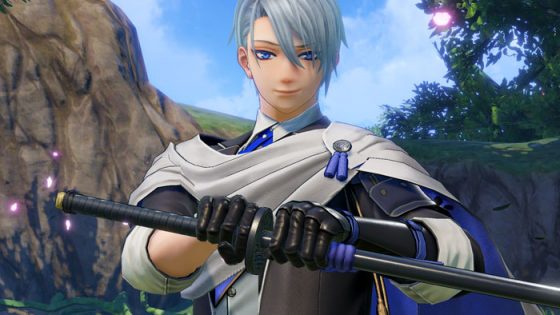 We bet that KOEI TECMO realized Touken Ranbu Warriors was going to attract plenty of fans of the series/franchise and maybe some of them wouldn't be the best gamers or not fans of the usual warriors gameplay. That's why we aren't surprised Touken Ranbu Warriors offers an Easy mode that makes the game WAY simpler and just more story-focused. There is also Regular and Hard mode so if you want a bit of a challenge you can play on those without any issues. We found the Regular mode easier than most Warriors titles so we opted for Hard mode where the challenge was a bit more to our taste.
Visually All Over The Map

Here's the oddest element to Touken Ranbu Warriors and no, it's not the fact that swords become handsome dudes. We're never surprised to see Warriors games lack visual strength—especially older titles—but as of recent, KOEI TECMO has been doing its best at releasing some impressive-looking games. Touken Ranbu Warriors has some gorgeous character models—and we mean visually, not the way they literally look—but the environments and enemies look dated. When you unleash a Hissatsu attack—or a Musou attack for Warriors veterans— Touken Ranbu Warriors becomes gorgeous, really making the cel-shading pop and look appealing. Overall, Touken Ranbu Warriors looks at times impressive and other times dated which can be a bit jarring. Warriors fans will probably overlook this caveat but we know KOEI TECMO has produced better-looking titles.
You Can Poke and Stare

This isn't a big deal—for most of us at least—but Touken Ranbu Warriors offers the ability to take pictures of your favorite sword-boys, poke them, and even make the wind blow on them. Might sound weird to those who don't play games like Senran Kagura—a different company but known for letting players tease the characters—but we have no doubt you'll be seeing a lot of fangirls happy that they can mess with their boys in unique ways/settings.
---
Final Thoughts

Touken Ranbu Warriors isn't as impressive as other collaboration Warriors titles but we love that it might get others into the Warriors games. Despite being very simple in terms of combat and gameplay, we loved the various characters, the cinematics, and the simple gameplay. Honestly, if Touken Ranbu Warriors can be made into a game we're hopeful KOEI TECMO will take more anime franchises and make them into hack and slash games!
Are you going to be diving into the samurai world of Touken Ranbu Warriors? Comment below to let us know! Keep stuck to our anime crazed hive here at Honey's Anime for even more reviews and game-related news!
---