With the release of the official Star Wars Episode VII teaser last week, the Internet has been buzzing with excitement. People are speculating about the new characters, trying to piece together the plot, and scratching their heads over the new lightsaber design. But most of all, people are re-visiting the discussion surrounding the older films. Was Episode V the best one of all? Did Anakin ultimately fulfill his prophecy? And why did the prequels fall so short of their potential?
Lovers of this space opera are watching the series again in preparation of December 2015's release of Star Wars Episode VII: The Force Awakens. Not only are they viewing films, they are also watching the animated series, reading spin-off books and comics, replaying the video games, and basically trying to consume anything related to Star Wars or in the same genre.
The original trilogy was extremely popular in Japan and helped push the space opera anime genre into the mainstream during the 80's. Unfortunately, there is no official Star Wars anime. Though, its influence continues to seep through in animes today. Below are just a few recommendations to use as a jumping off point to explore this genre.
---
1. Cowboy Bebop

First up is arguably the most popular space opera anime ever created, Cowboy Bebop. It was critically praised during its original run in the late 90's. This anime is listed first because it has been universally loved. The characters are deep and the series as a whole exudes coolness. It is very easy to get into this show, not to mention the fact that the English voices are just as good, if not better, than the original voice actors.
The series revolves around a bounty hunter named Spike Spiegel. He and his partner, Jet Black, travel across space hunting down bounties for a living. Through various circumstances they encounter interesting characters and some of them become a part of the crew. Spike could very easily be compared to Han Solo. They're both able to be arrogant, reckless, and essentially treat strangers like trash while still being relatable. If you focused a series on Han before he met Luke or was tangled up with the Empire, you would have this anime.
Episodes: 26
Aired: Apr. 1998 - Apr. 1999
Cowboy Bebop HD - Trailer - Complete Series on Blu-ray

---
2. Mobile Suit Gundam Seed

Next, is Gundam SEED. Most people who watch anime are familiar with the Gundam franchise. All of them take place, at least partially, in outer-space. Also, a large percentage of the mobile suits have lightsaber-like weapons. For those two reasons alone you could say that any and all Gundam series are similar to Star Wars. But, SEED was chosen specifically because of how strong the series is, as a whole, and because of a few of plot devices that are similar to those found in the original Star Wars trilogy.
The story starts on Heliopolis, a neutral space colony. The viewer is introduced to Kira Yamato. You see him interact with his friends and classmates. He seems like a normal boy, albeit very tech savvy. Suddenly, the colony is attacked and he is unwittingly thrown into a war between the Naturals and Coordinators.
Later in the series, you are introduced to new characters that have similar counterparts in the trilogy. Without giving away any spoilers, it suffices to say Cagalli Athha and Athrun Zala are two people, in particular, you'll want to keep a close eye on. As the plot develops you'll start to notice relationships that closely resemble ones from Star Wars.
Those narrative points, along with the setting and lightsaber-like weapons should be more than enough reasons to check out this anime. Plus, if you enjoy the series you can branch out to any of the other Gundam stories and enjoy more space adventures and mechas.
Episodes: 50
Aired: Oct. 2002 - Sep. 2003
---
3. Space Battleship Yamato 2199
[Synonims: Star Blazers 2199, Uchuu Senkan Yamato 2199]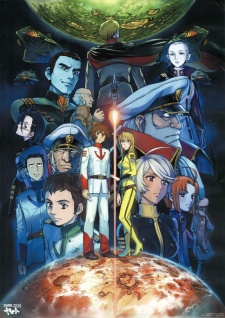 And last on the list is Space Battleship Yamato 2199. It was released in 2012, but this anime is actually a remake of Space Battleship Yamato which was released in the early 70's. This series stands out from the others because it does an excellent job of making space feel vast, mysterious, and dangerous all at the same time.
The narrative begins with the viewer being introduced to an on-going war between humans and an alien race known as the Gamilas. Through the battles, Earth has become a wasteland and practically uninhabitable. But, a friendly race of aliens from the planet Iscandar reaches out to humanity. They give humans blueprints for building a highly advanced ship. They are meant to use this ship to travel across space and retrieve a special device that can return the planet to how it once was.
Each episode connects very well to the overall story that it's trying to tell. For this reason, it doesn't have that "episodic" feel where each 25 minute show has an intro, a problematic situation, and then a clear and concise ending. Instead, the pacing for the story and character development is very well done. It feels like you're watching one long movie that just happens to span 26 episodes.
Episodes: 51
Aired: Apr. 2008 - Mar. 2009
Official Trailer (Movie: Uchuu Senkan Yamato 2199: Hoshimeguru Hakobune)

---
So, there you have it. Three anime filled with cosmic battles and adventures that are sure to push you further into the genre. Plus, watching these will help fill the void that you'll have between now and next December.
As mentioned before, there is no Star Wars anime, but I believe there is room for hope. The Western world has had two animated series, The Clone Wars and now Rebels. If Episode VII meets fan expectations, there is no doubt that Japan will want a piece of that market, too.