Summer in Mara features an orphan girl named Koa who lives in a small, paradisiac island with her adoptive grandmother, helping each other day by day and protecting the island from pirates. Haku is overtly protective with Koa and so, our pre-teen girl is starting to show a rebellious attitude. Fast-forward a few summers and the old Haku is not around anymore, so Koa is finally free to explore whatever lies outside the island on which she has been confined for years. But the island itself hides a lot of secrets of its own, too!
With such an adorable art-style and story, we expected Summer in Mara to be a laid back adventure... but we were wrong. So wrong!
Endless Summer, Endless Tasks

At first, running around in search of specific items feels natural, since you know nothing about the game and the tutorial is your best friend. Then, you'll find yourself collecting items without knowing what they are useful for or thinking about how to build things with the few items you have. Summer in Mara is all about freedom, and it shows, but too much freedom is not always a good thing.
In Qälis, the first island you visit and where most of your adventures take place, there are only a handful of relevant characters, but all of them will overwhelm you with fetch quests. Sometimes they do tell you where to find the items you need and how to get them, but you're not always that lucky, and you may find yourself running around and trying to remember where is this fish you need to catch or who was selling these seeds you need to plant. Even if you know exactly what to do, most tasks like cooking or farming are only available at your house, so that also means a lot of unavoidable traveling between islands. Yes, Summer in Mara looks really good and we did enjoy it, but finishing some quests was indeed tedious.
It's Never Too Late!

In a future update, the developers will be addressing all this and more. For example, quests will be more user-friendly, giving the player more tips or even pointing some places with an arrow. However, the most significant change is the addition of more crafting stations on different islands, and a fast-travel feature to save you some time. These are not the only upgrades announced, but we do feel these are the most impactful ones.
To be honest with you, Summer in Mara is a chill, cute-looking game where you can take all the time in the world and just complete these quests at your own pace. Sometimes you need to wait for some seeds to grow and going back to sleep to skip a day is your best option, but some other times you have a dozen active quests to keep you busy. However, the current state of the game might be a test of patience for some people, with all quests being a slight variation of "bring X items to Y character" or "find X items and craft Y tool."
---
Final Thoughts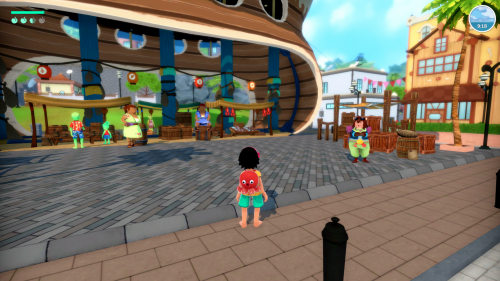 As you can see, Chibig is another example of indie developers really caring about their game, and respecting their playerbase. Although there's no date for the updates, these small changes will definitely impact the gameplay, making Summer in Mara even more enjoyable.
In our case, we already put too many hours into it and already reached the ending, but hopefully, this will encourage other people to play Summer in Mara and help Koa discover the truth surrounding her island.
Summer in Mara released on June 16 and is now available for PC (Steam), Switch, PlayStation 4, and Xbox One.