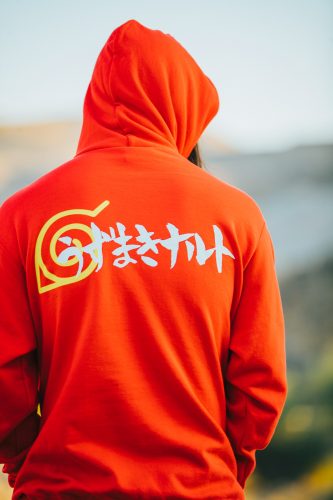 Limited edition apparel collection between Steve Aoki and famed Manga artist Masashi Kishimoto brings Naruto Shippuden to life

What You Need to Know:
Steve Aoki's DIM MAK collection and VIZ Media are pleased to announce the upcoming drop: "NARUTO x DIM MAK, " in celebration of the 20th anniversary of the Japanese Manga series Naruto. The collection consists of a variety of both short sleeve and long sleeve t-shirts and sweatshirts supported by Champion, with exclusive artwork from the Naruto series!
Aoki, the superstar DJ, producer, and music executive, has always been a consummate Japanese Manga aficionado, but became a Naruto Shippuden devotee when he discovered the series. Created by the brilliant mind of Masashi Kishimoto, the epic coming of age story details the life of a young Naruto determined to gain recognition from his peers and to transform from an underdog to powerful ninja leader. The series made a lasting impression on Aoki, reminding him of the mantra and ethos for his brand, DIM MAK Collection: "Do it yourself...by any means necessary."
Naruto's global impact is extensive with over 300 million copies of the show sold worldwide. Kishimoto's genius knew no bounds with the series spanning over 500 episodes. Naruto originally debuted in Weekly Shonen Jump and has since become the 4th best-selling manga of all time.
Due to the impacts of COVID-19 on the annual ComicCon San Diego live-event, the "NARUTO x DIM MAK" collectible merchandise is now available for purchase exclusively at www.dimmakcollection.com!
Source: Official Press Release
"I didn't realize it when I was young, but I have always been inherently drawn to manga because I saw myself in them. Now, I want to bridge my Japanese heritage and American upbringing in as many projects as possible."
---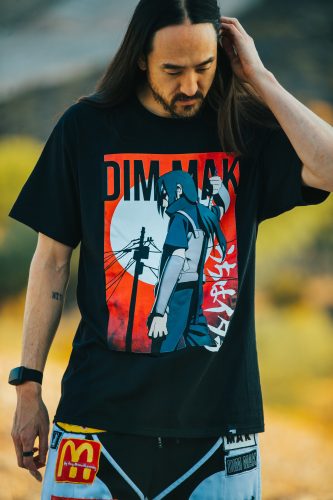 About Steve Aoki

Steve Aoki, the two-time Grammy-nominated producer/DJ is one of today's most successful American cross-genre artists, collectively counting 2.8 billion music streams on Spotify. As the founder of the trendsetting record label, events/lifestyle company, and apparel line Dim Mak Records, which he founded in 1996, Aoki has helped launch the careers of global acts like The Chainsmokers, Bloc Party, The Bloody Beetroots, The Gossip, and The Kills, among many others. Dim Mak today counts more than 1,000 official releases from the biggest acts and most buzzing newcomers across EDM, indie rock, hip-hop and beyond over its two-decades-plus discography. As a solo artist, Aoki boasts a lauded discography that includes: Wonderland (2012), his debut solo album, which garnered him his first-ever Grammy nomination for Best Dance/Electronica Album; hip-hop centric Kolony (2017), and the Neon Future series, which includes Neon Future I (2014, certified gold by the RIAA), Neon Future II (2015), Neon Future III (2018) and the recently released Neon Future IV (April 2020); which has rocketed in streaming to date and received praise from singles such as "Maldad" ft. Maluma and "Let It Be Me" ft. Backstreet Boys. Recognized by Forbes as one of the​ ​top 5 world's highest paid
DJ's and the world's hardest working DJ, Aoki is "one of the most in-demand entertainers in the world" (Billboard) , counting more than 250 tour dates per year. In 2012, Aoki founded THE AOKI FOUNDATION, which primarily supports organizations in the brain science and research areas with a specific focus on regenerative medicine and brain preservation. Most recently, Steve Aoki released his critically acclaimed memoir entitled BLUE: The Color of Noise published by St. Martin's Press.
About Dim Mak Collection:

Founded by two-time Grammy-nominated producer/DJ Steve Aoki, Dim Mak is a fashion streetwear brand for the uninhibited adrenaline junkies and lovers of the same punk skate LA-subcultures Aoki thrived on during his youth. Aoki named his record label and subsequent fashion brand "Dim Mak" as a nod to Bruce Lee's signature fight move: the touch of death. The name itself acts as a constant reminder to stay focused and to forge his own path. "Do it yourself...by any means necessary."
---
Another reason to love Steve Aoki!
Loving the designs!