What You Need to Know:
Everyone knows what an "Itasha" is. It is a car that literally is so painful to look at because of all the money dumped into it. Well, it's not like a tricked out car or anything, because sometimes they can be, but rather this is a car, like the one above where an anime character has been painted in a custom font onto the car. This is no small feat as it can cost thousands, if not more, of dollars to do.
Cars though, and itasha, while a thing in Japan, eventually all cars break down, become outdated, and need to be replaced. However, what if there was a better way for you to be able to take your waifu/husbando with you where you go? A way where they could always be with you and never far from your heart. Introducing the hot trend of "Wotatoo."
A merging of the unique spelling of "wota"(slightly different from otaku, but not by much.) and "tattoo", this a booming trend in Japan of getting anime characters tattooed on your body. While this isn't a new thing, it's something that is picking up steam, and well, we think you should see it and know about it! We have compiled images below of some examples of some of the more unique ones out there. Would you ever get your waifu/husbando tattooed on your body? Take a look below!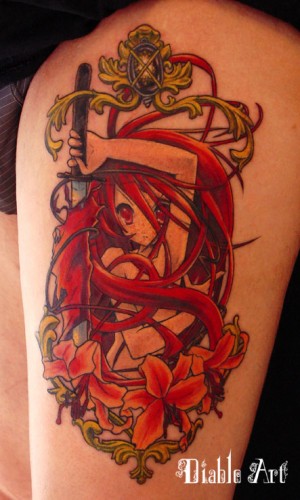 Sources: Nikkan Spa!, Hachima Kikou
Reactions Around the Web
I seriosuly refuse to support this! Stop this immediately!
If you think about it, just having it makes you look a bit more tough...
I wanted one of these a long time ago, but if you get one, you're banned from all hot springs in Japan.
Let's fall in love!
Having figurines ←ーーー I get it.
Having an Anime Tattoo ←ーーー??????????
---
I am already getting Aqua-sama done on my arm. She will be with me till I die.
You DO realize these are permanent right? That being said, it's cool that people can be free to express themselves in the way that they want to. I have to give them props!
[ad_dfp position="bottom1" unit_pc1="true" unit_pc2="true" unit_sp1="true" class="mt40"]