A glance at Tekko
Tekko is the premier event sponsored by the Pittsburgh Japanese Culture Society and one of the fastest-growing anime and Japanese pop culture festivals in America. The hunger for anime conventions, especially in cities with populations of over 200,000 as an outlet for cosplay and camaraderie, is a need filled by Tekko, a convention that brings attendees from across the United States. The event may be considered small compared to other conventions, but the growing event is expected to hit 9,000 participants this year. The Pittsburgh JCS puts on one of the best midsized conventions on the east coast, bringing in big-name talent and hosting amazing events without overcrowded madness of the top 10 conventions.
Tekko 2017 Official Website: http://www.teamtekko.us/
Events / Panels
Black Butler Movie

The opening night at Tekko doesn't just give you a chance to familiarize yourself with the convention center, but is also holding a screening of 2014s "Black Butler Live Action," the period-style action fantasy film directed by Kentaro Otani.
The Extra Life Gaming Marathon

You like to game like a NEET? The Extra Life Gaming Marathon is a great place to raise your XP and earn some money for a good cause. The gaming marathon works a lot like a charity walk; you find sponsors and log hours online for dollars with all the money going to the Children's Miracle Network.
AVM Competition
An AVM competition is a great way to flex your creative muscle as you re-edit your favorite anime (or at least spend some time watching some fan-created videos featuring some amazing anime).
Escape Room
If you want to put yourself in the middle of a game, Tekko has set up an escape room. You have to book in advance but it's a physical adventure game in which players are locked in a room and have to use elements of the room to solve a series of puzzles and escape within a set time limit.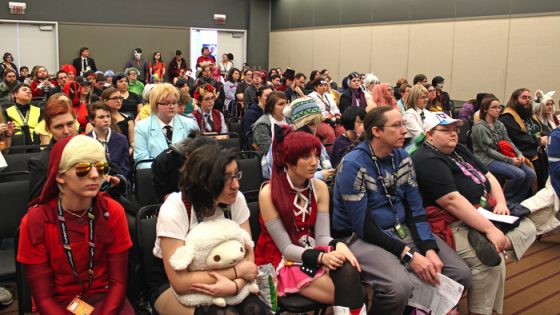 Scale Model Build Area and Competition
If you have mad skills as a model maker you can participate in the Scale Model Build and Competition. A model that depicts a machine from an anime series is legal. While the focus is on giant robot model kits, any mecha or machine is allowed from an anime series. For example, the SDF-1 Macross or the Yamato from Space Battleship Yamato are legal entries. The mecha from Warhammer 40K or MechWarrior are not legal entries, however.
Pachinko Fever
If you've got a fever and the only cure is playing a somewhat addictive gaming parlor game, Tekko has you covered. Pachinko Fever is an interactive parlor that works just like it does in Japan where you buy balls to play with, and redeem your winnings for prizes much like an American arcade. You can also learn about the history of Pachinko and how to play.
Who is Coming?
Brina Plancia
Brina Plancia is a voice actress with credits including Touka in Tokyo Ghoul, Chibitalia in Hetalia, Ciel Phantomhive in Black Butler, Holo in Spice and Wolf, Rei Ayanami in Evangelion 1.0 and 2.0, Chiaotzu and Puar in Dragon Ball Kai, Juliet in Romeo x Juliet, Tony Tony Chopper in One Piece, Tamama in Sgt. Frog, Ennis in Baccano, Mikoto in School Rumble, Georgie in Shin Chan, Eve in Black Cat, Moro and Zashikiwarashi in xxxHolic.
Jād Saxton
Jād (jade) Saxton is a voice actress currently starring as Mira in Dimension W on Toonami's Adult Swim and streaming in Funimation broadcast dubs FairyTail (Carla), Grimgar of Fantasy and Ash (Mary), and Pandora in the Crimson Shell: Ghost Urn (Takumi). She is currently directing Touken Ranbu-Hanamaru. She has also lent her voice talents to Nona in Death Parade, Koneko, in High School DxD, Young Nico Robin in One Piece, Akatsuki in Log Horizon, Yuri Flostre in Sky Wizards Academy.
Cherami Leigh
Cherami Leigh is a 20-year voice acting veteran and has worked on over 100 anime projects including Lucy in Fairy Tail, Asuna in Sword Art Online, Sailor Venus in the Viz dub of Sailor Moon and Sailor Moon Crystal, Lizzie in Black Butler, Mai in Ghost Hunt, Patty in Soul Eater and as Kudelia in the new series on Toonami's Gundam: Iron Blooded Orphans.
Ian Sinclair
Ian Sinclair is a voice actor and director who has been working in the anime and videogame industry for over a decade. He has supplied his voice talents as the voice of Brook from One Piece, Dandy from Space Dandy, Romano from Hetalia, Sosuke Yamazaki from Free! Eternal Summer, Chuck from Panty and Stocking, Bard from Black Butler, Ryner Lute in Legend of the Legendary Heroes, Worick Arcangelo from Gangsta, Zaveid from Tales of Zestiria, Ginei Morioka from Rosario + Vampire, Liam from Fullmetal Alchemist: Brotherhood, Mitsuhide from Snow White with the Red Hair and Touji from Tokyo Ravens.
Jeff Nimoy
Jeff Nimoy adapted, voice directed, and served as story editor for Digimon: Digital Monsters and voiced many of the show's characters including Tentomon and Kabuterimon. He also adapted and voice directed the theatrically released 20th Century Fox animated feature Digimon: The Movie, and the television sequel, Digimon: Revenge of Diaboromon for Disney. He served as executive producer and writer on numerous other Fox Kids shows as well. But the anime community also knows him as the voice for the popular character Wolfwood, from the hit cult series Trigun.
Karl "Uncle Yo" Custer
Karl "Uncle Yo" Custer is a convention favorite, performing his unique brand of geek-specific stand-up comedy. He is the self-published author of "The Anime Convention Survival Guide." Every Monday his podcast, "We are the Geek" tackles current issues, reviews shows and features up-and-coming convention guests, or fan-lebrities as Yo puts it.
MAGIC OF LIFE
MAGIC OF LIFE is a melodic rock band known for the credit songs from the popular anime Yowamushi Pedal and Joker Game. MAGIC OF LIFE has a whopping seven full studio albums under their belt, in addition to multiple singles and mini albums. Tekko 2017 will be the band's United States debut!
Kimura U
Kimura U is an influential fashion designer, model and voice actress. She has been appointed by the Japanese Ministry of Foreign Affairs as a Kawaii Ambassador. Yes, Japan has an ambassador of cute. She is also the Japanese representative of Harajuku fashion and its associated pop culture. In addition to her fashion work, she has released a collaboration CD with vocaloid Hatsune Miku and recently had a role in the anime Idol Memories.
Basic Information
Place / location
David L. Lawrence Convention Center
131-199 10th St. Pittsburgh, PA 15222
Length of event
April 6th-9th
Cost
General Admission covers all the days of the convention and is $50
Hotels & Transportation
The event is located in downtown Pittsburgh. The event reserves blocks of hotel rooms at a discount if you book early enough, for example The DoubleTree by Hilton is located at 1 Bigelow Square, right in the heart of Downtown Pittsburgh, making it one of the most convenient options for travelling back and forth from Tekko 2017. The city has a lot of other hotels in the downtown area and in the suburbs of Pittsburgh. The cost of parking in the city is expensive so if you stay in the suburbs plan on spending $15-20 for per day for parking.
What to Expect
Tekko is a convention, so expect some crowds though they shouldn't be overwhelming if previous years are a good measure. You will have plenty of opportunity to visit panels on fan topics for all ages. The education track this year is focused on Japan and the supernatural. You can stick around into the evening for Tekko after dark offerings, which in previous years included "Henati Charades." The dealers floor seems to have its heaviest traffic on Saturday in mid-morning and early afternoon, due to the attendance of families with small children during that time.
The location of the convention center in downtown makes the shops and restaurants nearby gathering places for congoers still in cosplay. The businesses downtown are very welcoming to cosplayers. If the weather is nice the streets will be alive with cosplay.
You're also in luck that "Your Name" Kimi No Na Wa is also playing that weekend at the South Side Cinema, a quick subway ride away from the convention center.
To Enjoy Oneself
You first need comfortable shoes. The convention center is big and spread out.
Water is freely available at water fountains and water stations.
You are encouraged to visit the restaurants downtown, many of which give a discount when you show your Tekko badge.