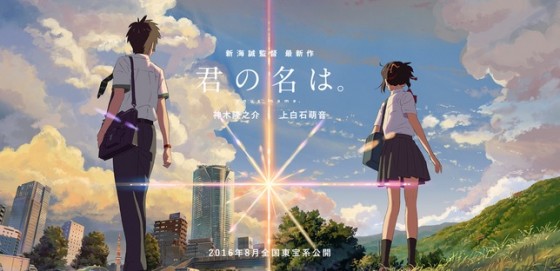 What You Need to Know:
Makoto Shinkai: if you haven't heard his name, you'll at least know his movies. Often dubbed as "The New Miyazaki" (which he humbly denies, of course), Shinkai's works are known for their glorious animation and focus on emotions.
But which of this anime director's works are the most popular amongst Japanese fans? His latest piece, Kimi no na wa. (Your Name.) has been causing quite the stir, but has it managed to beat out his older classics?
To find out, Akiba Souken held a poll between 29 August and 30 September and received 998 votes in total. Which movie won out? Read on and see!
---
Top 8 - Top 1
---
8. Hoshi no Koe (Voices of a Distant Star)
Episodes: 1
Aired: February 2002
Synopsis
Hoshi no Koe, using full 2D and 3D digital animation, is a story of a long distance love and mail messages between a boy and girl. Set in 2046 after the discovery of the ruins of an alien civilization on Mars, man has been able to make leaps in technology and is planning to send an expedition into space in the next year. Nagamine Mikako and Terao Noboru are junior high school students. However, while Noboru will be entering senior high next winter, Mikako is selected to join the space expedition.
(Source: AniDB)
7. Dareka no Manazashi
Episodes: 1
Aired: February 2013
Synopsis
The stage is set at near future. Okamura Aya, also known as "Aachan", started to live by herself as she started a new job after graduation. Her mother needed to go overseas to work as a doctor, so now only her father and a cat, Mii-san, live in a Proud apartment. Since Aachan moved out, her father has been trying to reach out to her but somehow there is an awkward gap between the two. And the cat Mii-san, which Aachan has kept since she was a child, is getting old... One night, Aachan came back from a tiring day and threw herself on the bed. She closed her eyes and remembered the happy days she spent with her parents and when Mii-san came to comfort her when she got lonely after her mother left.... And then the phone rang...
(Source: MAL)
6. Kanojo to Kanojo no Neko (She and Her Cat): Everything Flows
Episodes: 4
Aired: March 2016
Synopsis
I began living with her as her cat on the hottest day of summer. She was finishing up her degree at university and beginning to look for a job. She tried her best every day. She was working so hard, but the most important thing to us was the sense of serenity we received from spending time together. It was very important to us. (so
5. Hoshi wo Ou Kodomo (Children who Chase Lost Voices)
Episodes: 1
Aired: May 2011
Synopsis
Strange sounds in the darkness... Unearthly music from an old crystal radio... These are all the warning Asuna Watase has before a simple walk to her clubhouse catapults her into a nightmarish adventure that will take her beneath the Earth to a lost land beyond the realm of legend! Attacked by a strange monstrous creature, rescued by a mysterious stranger and pursued by a relentless enemy, Asuna finds herself enmeshed in a centuries old mystery that will bind her to a strange young defender and lead her inevitably, towards a secret that may hold the key to life itself!
(Source: Sentai Filmworks)
4. Kumo no Mukou, Yakusoku no Basho (The Place Promised in Our Early Days)
Episodes: 1
Aired: November 2004
Synopsis
In an alternate-reality 1974 Japan, the country is split, with the southern islands controlled by America and the northern lands claimed by the Soviet Union. Hokkaido, referred to as Ezo in Kumo no Mukou Yakusoku no Basho, decides to construct a tower into the sky designed by Ekusun Tsukinoe.
By 1996, Hokkaido Tower's construction is complete and three students of Aomori have big dreams concerning this tower. Hiroki Fujisawa and Takuya Shirakawa are considered child prodigies, and both harbor romantic feelings for Sayuri Sawatari, though neither of them would dare admit it.
When a drone crashes down, the two boys resolve to repair it and fly to the top of Hokkaido Tower. Assisting them is their boss at the military plant, Mr. Okabe. They name the drone Bella Ciela, but before their dreams of flying it are realized, Sayuri vanishes. Unbeknownst to them, her disappearance is related closely to the tower that the two dream of reaching.
(Source: MAL)
3. Byousoku 5 Centimeter (5 Centimeters Per Second)
Episodes: 3
Aired: February 2007 - March 2007
Synopsis
Takaki Toono and Akari Shinohara, two very close friends and classmates, are torn apart when Akari's family is transferred to another region of Japan due to her family's job. Despite separation, they continue to keep in touch through mail. When Takaki finds out that his family is also moving, he decides to meet with Akari one last time.
As years pass by, they continue down their own paths, their distance slowly growing wider and their contact with one another fades. Yet, they keep remembering one another and the times they have shared together, wondering if they will have the chance to meet once again.
(Source: MAL Rewrite)
2. Kotonoha no Niwa (The Garden of Words)
Episodes: 1
Aired: May 2013
Synopsis
On a rainy morning in Tokyo, Takao Akizuki, an aspiring shoemaker, decides to skip class to sketch designs in a beautiful garden. This is where he meets Yukari Yukino, a beautiful yet mysterious woman, for the very first time. Offering to make her new shoes, Takao continues to meet with Yukari throughout the rainy season, and without even realizing it, the two are able to alleviate the worries hidden in their hearts just by being with each other. However, their personal struggles have not disappeared completely, and as the end of the rainy season approaches, their relationship will be put to the test.
(Source: MAL Rewrite)
1. Kimi no Na wa. (Your Name.)
Episodes: 1
Aired: August 2016
Synopsis
The story is set one month after a comet has fallen for the first time in a thousand years in Japan. Mitsuha, a high school girl living in the countryside, wants to live in the city because she is tired of life in the country. Then, there's Taki. He's a high school student living in Tokyo with his friends while working as a part-timer at an Italian restaurant. He also has a strong interest in fine arts involving architecture. One day, Mitsuha dreams of herself as a young man. On the other hand, Taki also has a dream where he is a female student attending high school in the countryside. What's the secret behind their dreams?
(Source: MAL News)
Source: Akiba Souken
---
Kimi no na wa straight in there at number one! With over double the votes! It's only been out just over a month!
I know, it's amazing! So many great films... They're all so touching in their own ways.
---
[ad_dfp position="bottom1" unit_pc1="true" unit_pc2="true" unit_sp1="true" class="mt40"]