Have you ever dreamed of taming giant birds and flying through the sky on their backs? And how about using these giant birds as mounts and fighting enemy squadrons, waltzing around their laser beams in the middle of a cloudy night? Well, then you're in luck. The Falconeer is a cool video game about exactly that, and here are our impressions!
Aerial Combat Can't Get More Badass

In this game, you play as a Falconeer, a special unit who pilots a warbird that's equiped with a powerful laser weapon that recharges from thunderstorms. While your objective is simple (to defeat the enemy and help to win a war), achieving so won't be that easy...
Remember those popular video games about planes, where it was all about dodging bullets and shooting the enemy? The Falconeer brings back those memories, with frantic aerial combat. Maneuvering is quite hard, and even harder when everyone is shooting at you, but that's what makes this game so engaging.
Empty Maps, Shallow Gameplay

The Falconeer is a game about exploration. There are missions you have to do, of course, but you could also just turn off the HUD and fly blind, looking for something to do. Exploring is important because finding special places will help to upgrade your character, which is a must considering how bad your base stats are.
Yes, you can get faster, more resistant, and you can get new weapons, too. Sounds great on paper, but unfortunately, customization is not really one of The Falconeer's strong areas. After playing for a few hours, you'll start to notices there aren't that many options, and all fights feel more or less the same—only longer/shorter, depending on your weapon and stats. The same goes for the missions, sadly, as there are only 3 types of quests: escort, attack/defend a base, deliver an item, and stop counting.
Don't Shoot, I'm Exploring!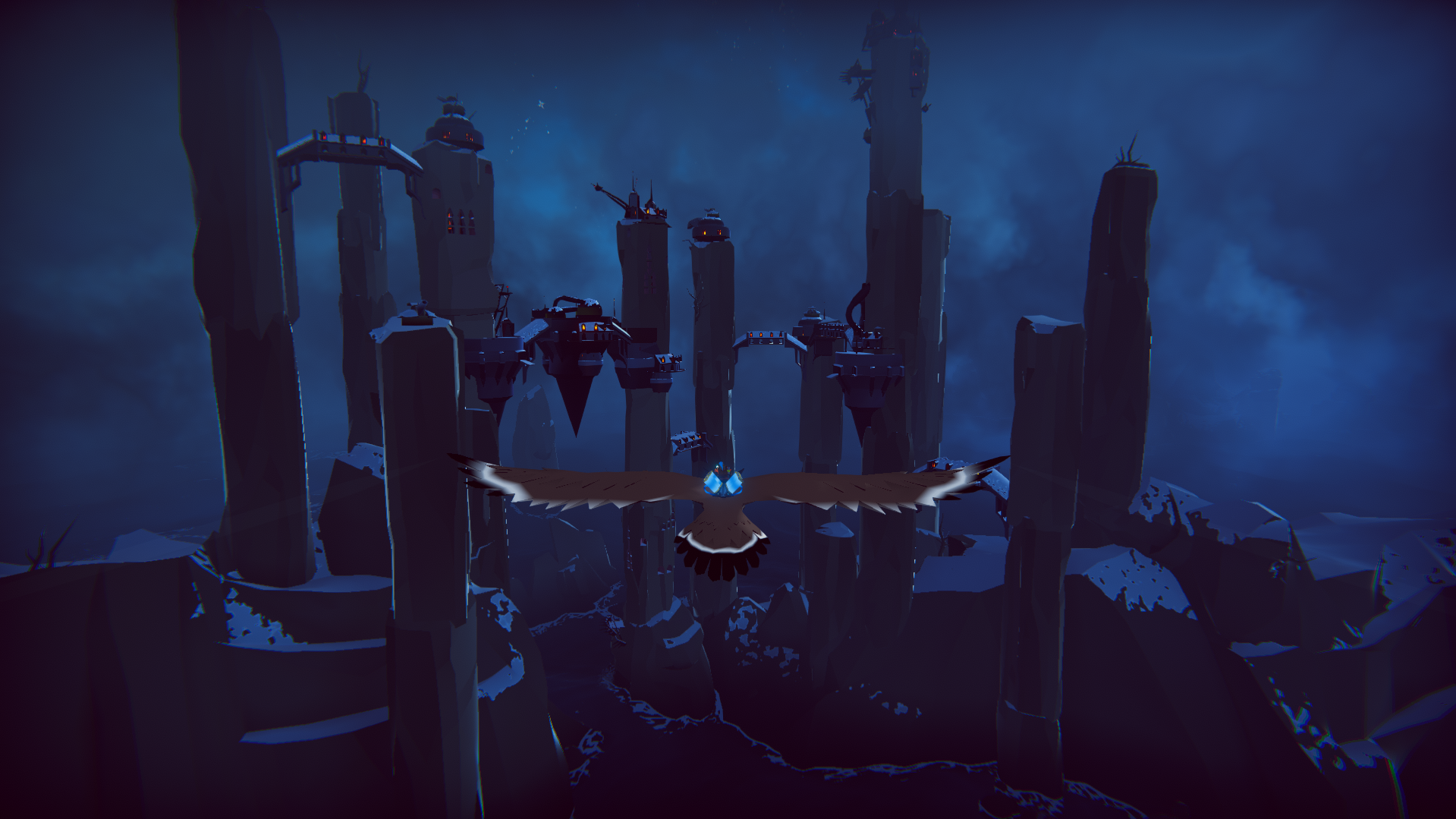 Although there are a lot of cool places scattered around the ocean, all maps feel too empty anyway, and on top of that, cloudy nights take away all the fun. That's bad because the story and aerial encounters are actually really cool, but not all people will find the motivation to keep pushing forward. It will take you several hours to finally understand who is who in this war, and not everyone is a fan of playing for different factions instead of sticking to the same team from start to finish.
To be honest with you, The Falconeer is a tough one unless you really fall in love at first sight. What you see is what you get, and not many things will improve the more you play. Again, we would've loved to see more customization options, more places to visit, more varied quests, etc. All that being said, it's still an amazing game that puts to the test not only your fingers skills but also your reflexes, with exquisite graphics and a powerful photo mode that comes in really handy when traversing this world.
---
Final Thoughts

The Falconeer fails as an exploration RPG, but it excels as an aerial combat title. If you want to feel like a true Falconeer, remember The Falconeer is already available on PC (Steam), Xbox One, and Xbox Series X/S.
---