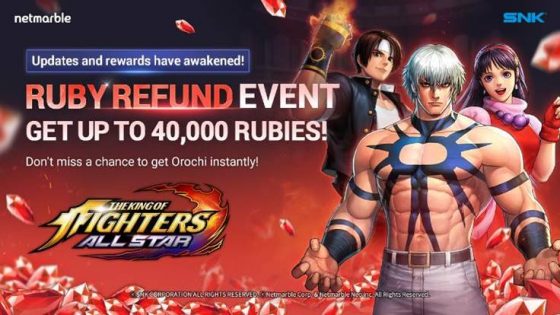 What You Need to Know:
Today's update for Netmarble's popular mobile action role-playing game (RPG) THE KING OF FIGHTERS ALLSTAR introduces 'Ruby Refund Event' and an all-new core mechanic for players eager to further strengthen their collection of characters with the Awakening Update.
The limited-time 'Ruby Refund' event awards players additional Rubies depending on how much they used previously, and a variety of events for daily mission, access and new entry offers further – for a potential total of 30,000 rubies for new players and up to 40,000 for existing players. The Rubies provided through this event can be used for only a limited period of time from June 4 to July 23.
Another new addition to THE KING OF FIGHTERS ALLSTAR is the 'Awakening Feature'. Players can now awaken fighters who have reached Level 90 with new 'Awakening' and 'Imprint' materials earned from the recently introduced 'Awaken Dungeons'. Once awakened, fighters will have access to powerful Awakening skills, further stat boosts, and other benefits, with a maximum rank of five awakenings possible for each fighter.
As part of this update, new and old players will also have the opportunity to collect Orochi from THE KING OF FIGHTERS 97 through special reward which is provided for a limited period of time till June 30. Further details of this special reward is given at the official forum of THE KING OF FIGHTERS ALLSTAR.
THE KING OF FIGHTERS ALLSTAR is available to download on Google Play and the App Store in more than 175 countries and comes with support for English, Taiwanese, Indonesian, Thai, Spanish, Italian, French, Portuguese, Russian, and German languages.
Source: Official Press Release
---
Nice bonuses!
It's always great to receive great perks!