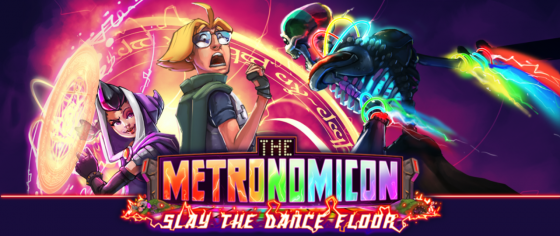 What You Need to Know:
Akupara Games is proud to announce that The Metronomicon: Slay the Dance Floor, a Unique Rhythm RPG, is out now for PlayStation 4 and will make its way to Xbox One later today! The team has sent us a trailer that shows the game in action, and looks at some of its cool features.
Packed with tracks from artists like Jimmy Urine of Mindless Self Indulgence, Shiny Toy Guns, YACHT, Perturbator, J-Punch, DJ CUTMAN, along with multiple modes including an epic RPG story quest, Endless Mode, co-op, and more, The Metronomicon: Slay the Dance Floor the ultimate rhythm-RPG experience.
Two additional song packs will be available at launch with additional packs planned for September 5th and beyond. Each pack will be priced at $1.99. With endless replayability, tons of strategic ways to overcome challenges along with an epic story mode, The Metronomicon: Slay the Dance Floor is sure to really shake things up!
Source: Official Press Release
Launch Day DLC Info
Chiptune Pack #1:
Marissa Hapeman - Pretty In Pixels
Craig Barnes - Do The Double Deux
DDRKirby(ISQ) - Flow Unlimited
Indie Game Music Pack #1:
Aethernaut - Neo-SF Strut (Read Only Memories)
Steve Goldshein - Whispering Willows Theme (Dance Remix) - (Whispering Willows)
Skyler McGlothlin - Credits (Retro/Grade)
Official Trailer
The Metronomicon: Slay the Dance Floor - Launch Trailer

---
DJ Cutman?!! Well I already know this is a must buy.
The music in this game is top notch!
---