Romance lovers rejoice! This spring 2020 season holds many continuations of our favorite romance titles. While new anime from this season are standing their ground, some of us are more excited for the sequels that will present themselves this month. Sadly, due to COVID-19, several of the series that we were most excited for were delayed such as My Teen Romantic Comedy SNAFU!, Re: Zero, and Sword Art Online.
Luckily, this virus did not take away all of our sequels and many of the titles are still going strong and premiering this April. The following anime are the ones that we are most excited about for the spring 2020 season!
4. Honzuki no Gekokujou: Shisho ni Naru Tame ni wa Shudan wo Erandeiraremasen 2nd Season (Ascendance of a Bookworm Part 2)

Episodes: 12
Aired: April 2020 – Currently Airing
Urano Motosu wants nothing more than to become a librarian but once she finally attains her dream, she is crushed to death by a falling pile of books. Reincarnated into another world, she still wants to realize her dream but encounters one major problem, books are rare in this world and thus there is no need for a librarian. Urano must find a way to make her dreams a reality by making books herself.
The second season of this eagerly anticipated anime was welcomed by fans when it was renewed after only one season. We will continue to follow Urano on her journey to bring books to a mostly illiterate land. This adorable anime will bring a welcome warmth to anyone looking for a feel-good anime. Urano sustains her mission by bringing readers into her world as she continues to advance her newly found world through the wonder of books.
---
3. Fruits Basket 2nd Season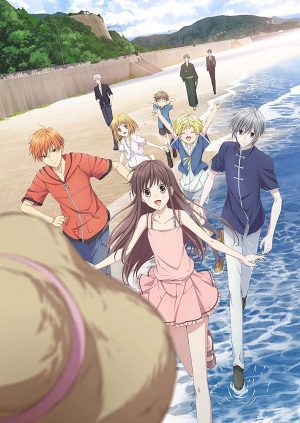 Episodes: Unknown
Aired: April 2020 – Currently Airing
After Tooru Honda is forced to leave her house, she is picked up by the Souma family. As she lives with them, she learns lessons about friendship, destiny and even their ominous curse that befalls the entire family. Each member of the main family has been reincarnated into zodiac animals with an omnipotent god at the center.
A year has passed at the start of season 2. We will continue to learn more about Tooru and the mysterious Soumas as well as follow the relationships between her, Yuki, and Kyou. With the majority of the main Souma family behind her, she will lift them up with her optimism. This season she will meet the remaining animals of the zodiac and aid them in lifting the mysterious curse that has plagued their family for generations!
---
2. Kaguya-sama wa Kokurasetai?: Tensai-tachi no Renai Zunousen (Kaguya-sama: Love is War Season 2)

Episodes: 12
Aired: April 2020 – Currently Airing
Miyuki Shirogane and Kaguya Shinomiya are at it again. While they both have a deep love for each other neither will confess their love for risk of being considered weak. It soon becomes a game of emotion and wills that the rest of the student council are sitting back and thoroughly enjoying. Will they be able to admit their love this season or will we have 12 more episodes of romantic tension?
Kaguya-sama: Love is War is an entertaining anime that premiered in winter 2020. This comedic anime can be rather repetitive but is entertaining nonetheless and likely one of the most enjoyed romantic anime in the last 5 years. Anyone looking for a comedy or romance anime, this is definitely for them and continuously coming out with new content. Kaguya makes us crave more with her tsundere nature and romantic tension with Miyuki that is ever-present in Kaguya-sama: Love is War.
---
1. Shokugeki no Souma: Gou no Sara (Food Wars! The Fifth Plate)

Episodes: Currently Unknown
Aired: April 2020 – Currently Airing
Food Wars! has been eagerly anticipated by large audiences both in and outside of Japan. This anime follows Souma Yukihira after he and his friends beat the previous elite 10 and overthrow the administration at Tootsuki Academy. We now see them as the new elite 10 as they navigate the troubles that surround them at one of the most elite cooking schools in the world.
Food Wars season 5 is an entertaining anime that may be criticized by audiences for being too risqué. However, the delicious food and realistic relationships overshadow any critiques that this anime may get. Fans have been waiting for the final season of this anime that will hopefully not disappoint.
UPDATE: As of the publishing of this article, Food Wars: The Fifth Plate has been delayed indefinitely due to Coronavirus. Stay tuned for updates on Honey's!
---
Final Thoughts
While there were many anticipated sequels that were delayed this season, we are not disappointed with what is still coming out. Big titles are getting renewed quickly which makes them all the more appealing. Anime fans will not be disappointed with the spring 2020 anime season, both with its sequels and new anime. The fact that other anime are delayed just gives us delayed gratification and an eagerness to look forward to future seasons.
We hope that you have enjoyed our article on the most anticipated sequels of the spring 2020 season. As always, if you have any questions or comments please feel free to leave them in the comments section below.