Yosuga no Sora is one of the few rare harem anime where every girl wins. Based on a visual novel with multiple romance routes, the anime adaptation spends a few episodes of the series on each girl and their romance with main character Kasugano Haruka. Shortly after their parents pass away, Haruka decides that he and his sister Sora will return to their hometown, which they haven't lived in for many years. Sora has been sick since birth and lived a sheltered life, but having nowhere else to turn, the two must make the most of things. Upon their return, Haruka is met with new romantic entanglements with various girls he has met in his youth, and must come to terms with his own feelings about even his own sister.
As a show in the omnibus format for its 12 episodes, a few tackle the relationship between the siblings Haruka and Sora. As with everywhere else, incest is taboo in Japan, and the series was a point of interest for Japanese regulatory committees. However, they deemed the show to not be harmful and did not suspend sales as has happened with other series approaching the subject. At its core, Yosuga no Sora is about belonging. Each of the girls has something they're missing, as does Haruka, and together, they compliment each other. In typical anime fashion, these events lead to sensual results. More than just ecchi, Yosuga no Sora is borderline hentai, almost crossing the line. Here are our top 5 scenes from this emotional and steamy series.
5. Kazuha x Akira - Episode 2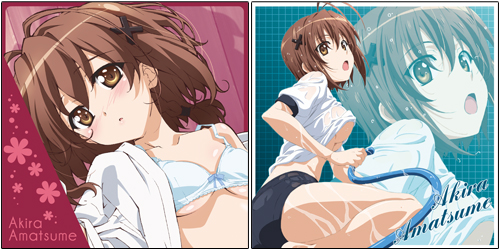 In school, the princess-like Migiwa Kazuha can always be seen dragging along the playful and aloof Amatsume Akira. The two have been together since early childhood, and Kazuha dotes on Akira like a strict elder sister. Both of these girls have their own circumstances that lend for some emotional resolutions, but before they each encountered the protagonist, Haruka, they had to fend emotionally for themselves. To the onlooker, it would seem that this yearning for each other's warmth manifested itself physically, as Haruka would come to deduce.
Tasked with cleaning the pool during another hot summer at the school, Akira lets loose and blasts Kazuha with a hose, dousing her blouse and revealing her bra. Embarrassed due to her indiscretion, she drags Kazuha to the changing room to "clean her up". Haruka discovers that Kazhua has lost her phone in the commotion and seeks to return it. Happening upon the girls locker room, Haruka would hear the pleasured moans of the two embracing in what they thought was perfect seclusion. The two always had a close physical relationship, but what Haruka hears inside is a shocking revelation in more ways than one. Granted, it was more innocent in actuality than it sounded, but seeing Haruka's imagination run wild is a very risque ecchi scene for the audience.
---
4. Migiwa Kazuha Confession - Episode 4

The ice-cold beauty, Migiwa Kazuha, was raised by her family to be the perfect heiress of their esteemed name. She has a strict schedule devoted to improving her sensibilities as a lady, far different from the duties of her classmates. Her family is also linked in some way to her close childhood friend Amatsume Akira. Haruka begins to understand that there is more than meets the eye to this beautiful young girl, and her circumstances are intensely complicated. But still, he is drawn to her, and together, the two work out her situation and come to a resolution. Finally able to accept her responsibilities, her family, and herself, she and Haruka share a tender embrace as the two move forward together.
The day of the much anticipated town festival arrives, and with its ending, Haruka and Kazuha steal away to confirm their love for each other. Throughout the series, it has been hinted at just how sensual a body Kazuha has, but in this full-on sex scene with Haruka, she is completely laid bare. As the first sex scene of the series, it set the tone for the remainder of the series, and showed the audience that this was not your typical harem ecchi show with a useless protagonist. With their union, Kazuha's arc ended, and a new chapter branching off from these events would take place.
---
3. Amatsume Akira Confession - Episode 6

Amatsume Akira was always the class clown, a worry-free girl who sought the happiness and satisfaction of others beyond her own needs. Reunited with Haruka, someone she had strong feelings for from childhood, brought back a rush of emotions for her. When Haruka discovers things were not as cheery for her as he remembers, he feels compelled to stay by her side. She lives alone in her Miko shrine, a place reserved for maidens who devote themselves to the will of the gods. She has no family, instead raised by the kindness of the villagers who casually support her as best they can, but it is a lonely existence despite her claiming otherwise. When faced with the possibility of discovering her true parentage, she and Haruka step towards it with courage. In the end, she learns that she was in fact loved, not purely abandoned as she had feared, and as such, is able to move forward. It is after this revelation that she and Haruka realize their feelings for each other and decide to become lovers.
Removing her typical Miko garb, she has a slender, small figure. Her playful nature comes out in their wild embrace, as she and Haruka take some incredibly tantalizing positions during their love making. She keeps a beaming smile on her face during the entire encounter, showing that she may in fact be the happiest of all heroines to embrace Haruka, as now she truly feels she finally has someone to belong with after being alone for her entire life. After their act is complete, the two lie in each other's embrace and pledge their feelings to face the future together.
---
2. Yorihime Nao Cooking - Episode 8

Yorihime Nao is a mature, compassionate, bespactled beauty who has been the childhood friend of the twins Haruka and Sora since before they moved away from the village. However, due to circumstances that happened before they left, Sora detests her completely. Haruka and Nao have always been close, and there is an awkward, almost former romance feeling between them whenever they interact. It isn't until later that the audience discovers why this is and the real reason behind Sora's hatred of this kind, beautiful young woman is revealed. Despite overcoming his sister's objections, Haruka invites Nao over to help cook dinner for them. During this event, while his sister is supposedly asleep, he takes Nao in the kitchen, and the two reunite physically after many years.
As a sudden, spontaneous event, the two are still in full school uniforms. Nao's undone blouse reveals her ample bust, which shakes violently as the two share a frantic embrace atop the tatami mats of Haruka's summer home. They are so enraptured in each other's embrace that they're oblivious to the outside world. The smell of their cooking and the loudness of their commotion has stirred Sora, and she is imaginably perturbed by the scene she witnesses upon seeing the two entwined. The elation they feel is not enough to bring their love making to a stop upon realizing they have been discovered. Haruka continues, until his sister forcibly removes Nao from their home. Poor Nao-chan will continue to be hated after this, and Haruka is not off the hook either.
---
1. Sora - Episode 11

Begrudgingly feeling that she has been dragged out to the countryside at her brother's whims, Sora is stuck in a rural wasteland devoid of modern conveniences, all while her brother traipses around romancing this girl and that. For a good portion of the series, Sora herself is just a background character to her brother Haruka's exploits. He always has to be considerate of her and mindful of her needs, or he is given a nasty reminder at home. As the titular character, Sora is the main heroine of the series, and as such, has the most sex scenes devoted to her. This only increases the awkwardness for the audience, as the two of them are full-on blood related. Throughout the series, we see just how desperately Sora depends on Haruka, and he himself knows this and treasures her deeply. The two of them are at the peak of puberty and the only ones they can rely on left in this world. As a pair, they always seemingly toe the line but never cross it. Until, they finally do.
The siblings have had several chances to embrace, but this scene is the one that seals everything. Unable to wait until they fully re-enter their home and lock the door, Haruka thrusts himself on Sora without thinking of the consequences. They are in no position to avoid being discovered when the class representative Kuranaga Kozue and Yorihime Nao open the door to meet them. Sora moans in pleasure as the two onlookers' faces are warped in disgust. Nao who had harbored strong feelings for Haruka even in this arc, as well as Kozue, who had an unrequited love for him. This sets off a dramatic series of events that marks the two's end in the village, but puts them on a path to becoming happy together.
---
Final Thoughts
Yosuga no Sora really raises a lot of questions on what is and what isn't acceptable when it comes to love. What do people seek from it? how far will they go to find it and to protect it? There's one small noteworthy objection to the circumstances within every heroine's arc throughout the series, but the finale is the truest sense of forbidden love. Haruka and Sora came to the village in order to live a life where they could find happiness after having it stolen from them, but in the end, realize that happiness is wherever the two are together. In a sense, that is the truest form of love, but it is up to the audience to decide whether it is right or wrong. Regardless, the show has delivered at the highest caliber of ecchi, reaching past borderline hentai at some points, but never becoming stale.
Do you have any favorite scenes from this controversial series? Do you have a favorite like it? Let us know in the comments section!
---