Tiger & Bunny 2

Genre:
Action, Comedy, Mystery, Superpower
---
---
Promotional Videos / PV
Official Images / Key Visuals
Synopsis
This series is about a great new hero duo featuring a veteran at the edge of disaster and a laid back newbie!
In Stern Bild City you'll find people of all races and cultures, along with those who call themselves "NEXT" - those with super powers. Among these individuals there are some who use their powers for good, to protect the peace of the city, and they are referred to as heroes.
These superheroes are sponsored, and hold the responsibility of upkeeping the image of their sponsors and improving the images of various businesses. They earn hero points by solving cases and saving lives.
The popular TV show "HERO TV" follows heroes, and every year they have a ranking they aim to be included in, titled "King Hero". One of these heroes is the veteran Wild Tiger (Kotetsu T. Kaburagi), though he seems past his prime. He's the type who follows orders, but doesn't mind crossing the line if that's what's necessary to protect the people of Stern Bild City. Wild Tiger does things the way he wants, which has also gained him the unfortunate nickname "The Destroyer of Justice''... One day he's forced to partner up with Barnaby Brooks Jr.
Kaburagi, who's at the edge of disaster both in work and private life, and the skilled but laid back newbie Barnaby, are to face evil together in this thrilling action show!
Characters & Voice Actors
Kotetsu T Kaburagi:
Hiroaki Hirata
Kaburagi has a strong sense of justice and has always wanted to become a hero. He can be cheerful and jokes around a lot, but he also gives very passionate speeches on what's right and wrong. He often acts before thinking. He has a strong sense of morals and is very relatable.
Barnaby Brooks Jr.:
Masakazu Morita
Barnaby thinks of work just as that - work. He looks like any other good-looking guy out there, and has a cool attitude toward everything. He is very rational and hates doing unnecessary things. His motto is "Be smart and be cool." He became a hero for one single purpose, and that's why he doesn't hide his name or face.
Karina Lyle:
Minako Kotobuki
The company she works for demands Karina be a sexy, demanding, cool character when she's a hero, but in reality she's just an energetic girl. She's in high school and is very busy.
Antonio Lopez:
Taiten Kusunoki
Antonio is Kaburagi's best friend going years back. They often go out for drinks.
Keith Goodman:
Gou Inoue
Keith is a hardworking young guy with good looks and a very serious attitude. The heroes trust him a lot. He seems like he could be the type with a lot of insight, but he's actually quite the airhead.
Pao-Ling Huang:
Mariya Itou
Pao-Ling has been training in martial arts since she was young and has received the education of a gifted child. She's a very outgoing, noble girl who was sent to Stern Bild to become a hero.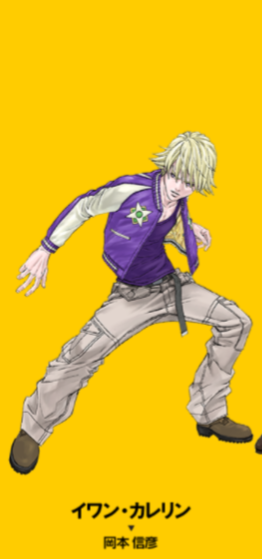 Ivan Karelin:
Nobuhiko Okamoto
Ivan graduated from the Hero Academy and, despite his looks, is a quiet person. He loves ninjas and has a strong interest in Japanese culture.
Nathan Seymour:
Kenjiro Tsuda
Nathan is now the owner of Helios Energy, where he used to work when he was a hero. He often becomes the middleman between heroes and likes to take care of them.
Airing Info

Legal Streaming:

Main Staff

Director: Mitsuko Kase
Script: Masafumi Nishida
Series Composition: Masafumi Nishida
Character Design: Masakazu Katsura
Sound Director: Eriko Kimura
Music: Yorihiro Ike
(Credit Honey's Anime when you use our description.)