What You Need to Know:
TOHO Games, the game label of Toho Co., Ltd. released a key visual and the latest promo video for its upcoming mobile game "Godzilla Battle Line" ahead of its global debut in May. The announcement follows the release of key art and promo video for "Godzilla Destruction" earlier this week, one of three Godzilla Games for mobile worldwide that are releasing this year, the first of which, "Run Godzilla," is already available on mobile worldwide.
In "Godzilla Battle Line", all the legendary monsters and weapons from the Godzilla series are ready for an epic fight. Players can build their own team of the strongest monsters and compete in exciting 3-minute battles against players from all over the world in real time.
The game's key visual features some of the most beloved monsters featured over the course of the Godzilla series' more than 65-year history, including Godzilla himself, King Ghidorah, Biollante, Rodan, Mechagodzilla, and Mothra.

Alongside this visual, a promo video featuring the latest gameplay footage has been released. The video is packed with unique and thrilling elements found in the game, from fierce battle scenes of the monsters clashing, to special moves, like Godzilla's Heat Ray, that can turn the tide of battle in an instant.
Godzilla's path of destruction is set to expand even further alongside the release of the Hollywood movie "Godzilla vs. Kong" (in US theaters and on HBO MAX on March 31, and in Japanese theaters on May 14) and the anime TV series "Godzilla Singular Point".
The pre-registration campaign for the mobile game "Godzilla Battle Line" is also open. The game is set to be released in some countries in April 2021, and worldwide (including Japan) in May.
Pre-registration

To pre-register, do any of the following:
Pre-register on Google Play
Pre-register on Yoyaku Top 10 (*Exclusive to Japan) 
Follow the official Twitter: @Gz_battleline
Follow the official Facebook: @Gz.battleline
Special Pre-registration Campaign Open!
Pre-register via Twitter or Facebook to receive special game-related gifts through your social media account!
All the popular monsters and weapons from the Godzilla series are ready for battle! Build your own team of the strongest monsters and fight against players from all over the world in real time! Get ready for fun but intense 3 minute battles!
Take on the world! 3 minute monster all-star battles!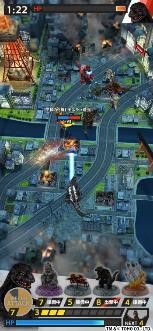 Game title: Godzilla Battle Line
Genre: Real-time strategy
Price: Free to play (with optional in-game purchases)
Compatible devices: iOS, Android
Release date: April (subject to change), various countries
Worldwide release (including Japan): May (subject to change)
Pre-registration: Via Official Twitter/Official Facebook/Yoyaku Top 10
Official website: godzillagames.jp (*For info on all three games)
Source: Official Press Release
About TOHO
Toho Company, Limited, is a Japanese entertainment studio focused on the development, production,exhibition, and distribution of powerful live action and animated content including motion pictures, television and theater. Founded in 1932, Toho remains a prominent force in bringing brands and original storytelling with versatile talents to audiences worldwide. Its subsidiaries include Toho Cinemas, the highest grossing exhibition company in Japan, and Toho International, Inc., a U.S. established incorporated company that manages and commercializes Toho's intellectual property portfolio. To learn more about Toho, visit: www.toho.co.jp/en/ .
Follow Godzilla!
Twitter @TOHO_GODZILLA
Instagram godzilla_toho
Web www.Godzilla.com
© TOHO CO., LTD.
---
Ghidora is on my team!
Mothra is my girl!!