Tokyo 7th Sisters: Bokura wa Aozora ni Naru

Genre:
Comedy, Music, School, Slice of Life
---
Airing Date:
February 26, 2021
---
Official Images / Key Visuals
Synopsis
The story is set in A.D. 2034.
The internationally designated entertainment region "Tokyo-7th" was at the top of the entertainment field. Since the legendary idol group "Seventh Sisters" disbanded 2 years ago, everyone in the city believed that "the idols are done".
Meanwhile, at the unpopular next-generational idol theater-like studio called "777" (Also known as Nanasuta), the new "Sisters" are about to be born.
Characters & Voice Actors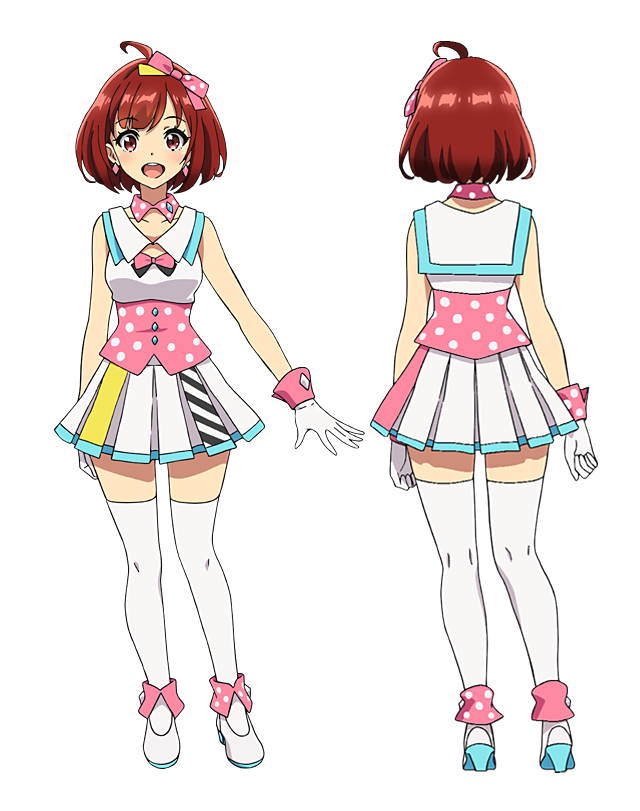 Haru Kasukabe:
Minami Shinoda
She is a 16-year old girl who loves to passionately sing. She made her debut as an idol a few years ago and she still thinks about that failure. She continued to work hard as the leader after she belonged to Nanasuta. Her hobby is cleaning and collecting keychains.
Musubi Tendouji:
Yuki Takada
She is a perfect 16-year old girl who is so good at academics and is beautiful that she works as the student president, even though she is a first-year student at the high school. But she believes that she is nervous and has many weak points (she just thinks they are her weak points). She meets Haru and Rona at Nanasuta and begins to gradually bring back her true characteristics.
Rona Tsunomori:
Ai Kakuma
She is a 16-year old girl who works at a franchised donuts shop called "Viva Donuts" as a part-timer. She is introverted and cries often. She often gets depressed from making many mistakes but since she became a big fan of Seventh Sisters, especially Nicole Nanasaki, her feelings changed after listening to Seventh Sisters' music.
Hime Nonohara:
Yui Nakajima
She is a showgirl of "Nonohara Tofu Shop", which has been around for a long time. Her mother passed away when she was young, and she currently lives with her father, younger sister, and younger brother. She has blonde hair and blue eyes because she inherited that from her mother. In contrast to her nice style and cute appearance, she never believes that she is cute enough.
Momoka Serizawa:
Shiori Izawa
She grew up being spoiled. She is a first-year student at high school who is lazy and selfish. She is lazy for almost everything and she often says "e-" (means "uh..." in Japanese). While being lazy, she is a big fan of anime and she begins to talk passionately about topics related to anime.
Sumire Usuda:
Sayaka Shimizu
She is a 17-year old gal who was raised in an ordinary family. In contrast to her appearance and the way she talks, she is a kind girl who is good at cooking. She was spending spiritless days but begins to change gradually change after meeting the theater manager, Kony, and other Nanasuta members.
Coney Rokusaki:
Inori Minase
She is a manager who was suddenly introduced by the first manager of the theater one day. She is always super energetic, but she is a caring assistant who always considers the feelings of the Sister candidates at Nanasuta. But she is a known troublemaker. She seems to be hiding something...?
Theme Songs

Opening Song: "Departures -Ashita no Uta-" by 777☆SISTERS

Adaptation

"Tokyo 7th Sisters!" (Game)


Main Staff

Original Creator: Donuts
Director: Takayuki Kitagawa
Assistant Director: Masakazu Sagawa
Script: Shintaro Mogi
Character Design: Yosuke Kikuchi
Animation Director: Yosuke Kikuchi / Ayumi Sugimoto
Sound Director: Shintaro Mogi
Original Illustrator: MKS
Music: Yoshiaki Dewa / Victor Entertainment
(Credit Honey's Anime when you use our description.)
---