---
Overview of Tokyo Game Show 2017 [Summer]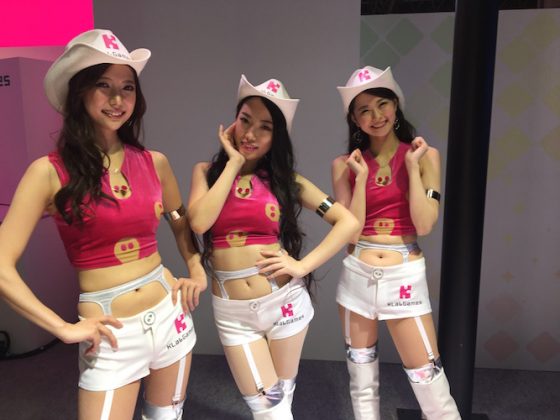 2017 has been an incredible year for gamers, as the large influx of titles being developed is creating such a diverse library for players to indulge themselves in. There seems to be a nonstop effort to ensure that every avenue is covered, whether it be the illustrious home console industry or the now rapidly evolving mobile culture. Players around the world will never have to feel bored due to the abundant source of fresh content being pushed out on a daily basis. This year's Tokyo Game Show came with a lot of what we saw throughout the mid part of the year, but now we all had a chance to actually sit down and play with these upcoming releases to get a feel for what to expect. This may well be the biggest TGS event we've experienced in the past few years with the large amount of indie developers who were in attendance, but the spectacular showcasing of AAA titles as well. The event is split up into two days, one being the business day where those who work in the industry can attend to get first dibs, while the public day is where just about anybody can attend but is way more chaotic than the latter. If you've never had an opportunity to take part in Tokyo's version of E3 or even PAX West, then we certainly recommend you book a flight over here for next year.
Basic Info
When it was Established
1996
Website
http://expo.nikkeibp.co.jp/tgs/2017/exhibition/english/
Price of Admission
1,200 yen per adult [Same Day Ticket - Public Day]
5,000 yen for Business Day Ticket
Children enter for free
Length of event
Sept 21-22 Business Day
Sept 23-24 Public Day
Place / location
Makuhari Messe, Chiba, Japan
---
What to Expect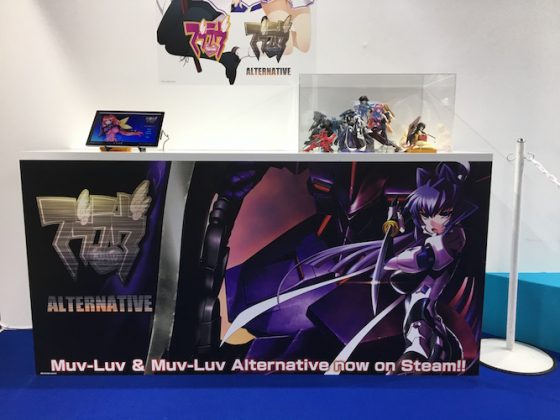 As we mentioned in the opening paragraph, Tokyo Game Show is an event that caters to just about everything related to gaming, and is a place to experience Japan's illustrious gaming culture at its best. All the latest releases from Japan can be viewed at the event well before they see their western debut, but also a plethora of indie developers from all around the world attend the event to develop business partnerships with domestic companies. It's an environment where both East and West collide in order to collectively share ideas, passions and an overall love for all things gaming. We attended both Business Days and to be honest, the event is a lot more enjoyable since there's less traffic and you'll have plenty of chances to try out the games that peaked your interest. There's just so much to see at the event that just doing one day isn't enough, so if you ever plan to attend we highly recommend doing both days for the best possible experience. Expect to see a lot of flashy looking booths, beautiful booth babes and a ton of exclusive content to dive right into. If you're looking to build a network of gaming associates then Tokyo Game Show is one show that you truly don't want to sleep on.
---
What to Bring in Order to Enjoy the Event

Tokyo Game Show has a cornucopia of games ranging from Otome to Action RPG, VR to Racing games, and no matter what direction you turn, there's always something new to absorb yourself in. You'll never grow bored of what's around you and so, making sure to carry a camera to take shots is highly recommended. You can grab photos of the booth babes or those waiting in the cosplay section, or simply grab a photo of that favorite game you've been itching to play for months and keep it for memory. We also suggest bringing a good pair of walking shoes because before you know it you'll be worn out from all the walking, and you won't even realize it until you sit down. Tokyo Game Show is like a gamer's Disneyland because no matter what direction you go, there's always entertainment just waiting. While TGS is of course devoted to games there are still some anime related goodies you can purchase, and so bringing a good stack of cash will keep you satisfied. The food selection at the venue isn't the greatest in our opinion so if you plan to eat, then it's best to head out to the various restaurants which are dispersed all around Makuhari Messe. While swag bags are provided at the event that come with a nice assortment of goodies, we suggest carrying a bag of your own so that you can carry home a much bigger load should your spending habits get out of control. Lockers are readily available inside and outside of the venue so if you ever grow tired of carrying your stash around, paying around 400-500 yen should do the trick for the entire day. Lastly, since this is a very big event which takes up pretty much the entire Makuhari Messe venue we suggest bringing some friends around so that you'll have a more jovial time.
---
What to do While There / What is Available

A Plethora of Games!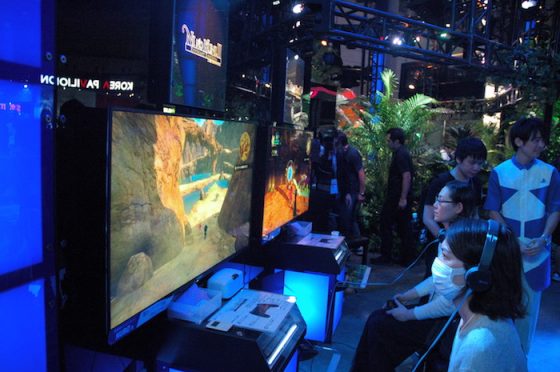 The minute we walked in, we already knew what booths had our name written all over it, one being the sensational PlayStation booth which didn't disappoint in any way. The second booth that had us salivating was the Koei Tecmo booth which showcased the highly anticipated open world musou title, Dynasty Warriors 9 (Shin Sangoku Musou 8 here in Japan) and totally blew us away in every way. Before we go into the gaming experiences we'll talk about all of the booths we encountered and go over some more of our favorites. So as we stated before TGS is split up into two sections, you have the main core of the event which showcases all of the major AAA titles from the world's most celebrated companies such as Capcom, Bandai Namco and more. The other section focused more on the indie developer scene which had less traffic than the more bustling main section, but contained a lot of wicked titles such as Pelikan 13's retro beat em' up title The TakeOver. We spent a great deal of our time wandering around the main core of the event checking out what other companies such as DMM Games had in store, and they had been promoting Destiny Child along with PLAYERSUNKNOWN BATTLEGROUNDS, also known as PUBG by respected members of that community. Of course, a lot of fans were hungry to know more about Capcom's upcoming Monster Hunter World, which perhaps had the highest number of participants dying to play it and so you'd expect the lineups to be overwhelming.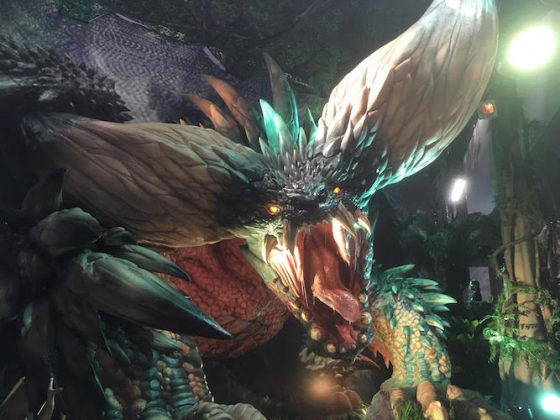 We tried lining up but signs were all around the booth stating that no more entrants could take part due to the high number of traffic, so we just stood and watched the action from the big screen situated in front of the booth. Square Enix came with a lot of content as well, most of it focusing on its upcoming Final Fantasy XV expansions and its Pocket Edition for mobile. A lot of people lined up to try out the mobile version with many walking out there with a smile, so we assumed they were pleased by the content Square Enix provided. Twitch was there as well with their booth catering to their well known partners, and those who pass by could watch their favorite streamers on the big screen and greet them. The team at Akira showcased their upcoming fighting game with top players Nemo and Fuudo demonstrating the mechanics to those who stuck around.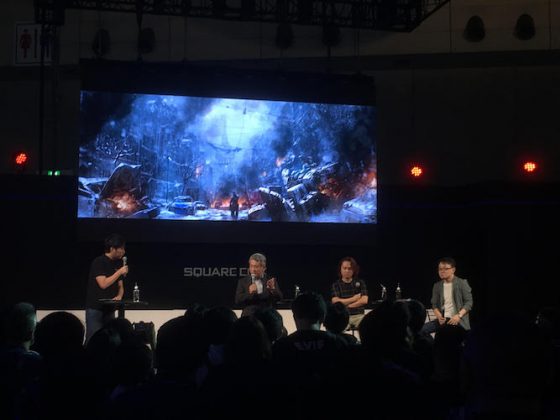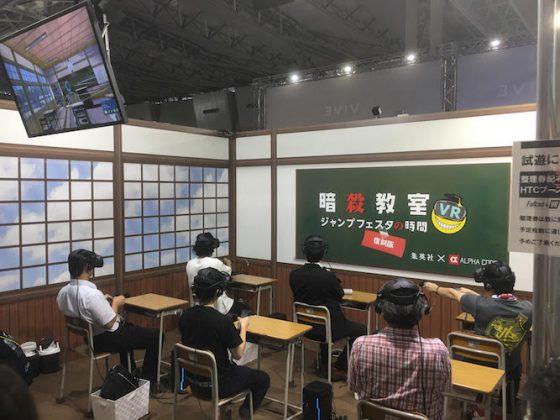 The mobile market is growing at a rapid rate here in Japan and so we ran into a lot of mobile game booths that showed off a lot of cool titles, of course the FFXV Pocket Edition mentioned earlier, along with KLab Games who showcased some of their upcoming titles, Captain Tsubasa Dream Team among many others, which will be released overseas sometime in the new year. PC powerhouse brand HP was in attendance to show off their latest hardware titled 'Omen', which looked incredible and performed beautifully on a wicked 60fps monitor. The great thing about Tokyo Game Show as well is that it doesn't just cater to the business side but also promotes a creative outlet for students to showcase their own titles as well. These students are the next generation of developers that we'll most likely see in the Japan gaming market, so paying them respect for the hard work they put in is always encouraged.
We'll be honest though, we just couldn't get enough of Sony's enormous booth because it truly blew us away in every way. The upcoming android action-adventure title from Quantic Dream, Detroit, had a spectacular display of androids who truly looked like the real deal up close. Sadly we didn't get an opportunity to partake in the game but nevertheless it was truly alluring to see such an incredible display to show off the upcoming title. We spent a great deal of time waiting in line just to play Ni no Kuni: Revenant Kingdom, and Shin Sangoku Musou 8, both of which well surpassed our expectations and left us craving more. The Honey's team decided to head over to the Razer booth where we duked it out in Street Fighter V and enjoying a nice laugh with pro gamer Gilty who's sponsored by Grapht.
Booth Babes Galore!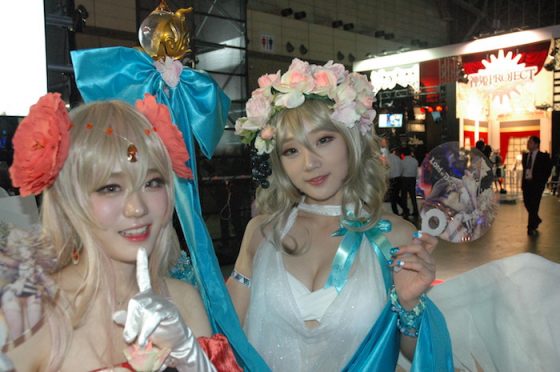 Our TGS experience didn't end there of course because we went back on the second day so that we could gather up some more photos of the beautiful booth babes for all of you fans. Every booth at the event was just filled with flashing cameras and groups of people racing to see the babes showing off their colgate smiles and sensational bodies. Out of all the booths we attended at the event, we have to tip our hat off to the booth babes at KLab Games, DMM Games, and the very sophisticated yet charming ladies of the Sony booth. Both Sony booths came packing heat, since the PlayStation was there but also the mobile Xperia side. We'll let the photos speak for themselves but we can truly say that this year's Tokyo Game Show truly blew us away in every possible way, with Bandai Namco showing off Dragon Ball FighterZ and Code Vein, Sega showing off Hokuto ga Gotoku (北斗が如く), among a plethora of others.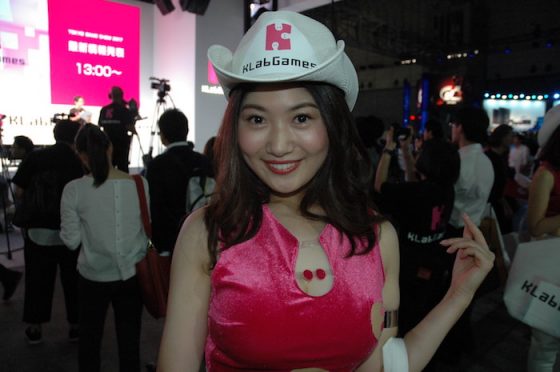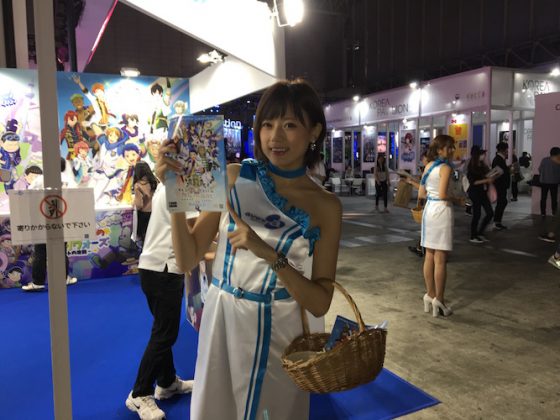 ---
Final Thoughts
We experienced so much at the event that we'd need another several pages to really give you the real deal in all detail, but overall Tokyo Game Show 2017 promised content and they delivered in an incredible way. We certainly left feeling satisfied and hype for early 2018 when a lot of these great titles make their way to store shelves here in Japan. We'll for sure be reviewing those games when they drop, so be sure to keep it locked here for exclusive previews and reviews of your favorite titles straight from the source! Until next year's TGS, thanks for taking the time to reading our thoughts on the event. Be sure to read up on our interview with Demon Gaze II developers Hajime Chikami & Juntaro Kohno as well as KLab Games when they're published!
As always, for everything sweet be sure to keep it locked here on Honey's Anime!