Last year, Honey's Anime had the privilege of visiting Tokyo Indie Fest, now officially known as Tokyo Sandbox, which is an event that celebrates the talents of indie game developers from Japan and beyond. While there are plenty of events around the world that showcase various titles for many platforms, there's just something so unique and charming about Tokyo Sandbox that you can't get anywhere else. The moment you walk through the entrance, it's like walking into a scientist's laboratory, and everyone is hard at work experimenting with their many projects in hopes that someday, their ideas will reach the right audience. Tokyo Sandbox 2018 differs from last year in that, the venue that we attended before, AKIBA SQUARE, was now changed to the HULIC Hall which actually wasn't too far from its original location. Indie games are clearly becoming more than just a trend as more and more passionate individuals are taking their works to the main stage, where they hope major companies are watching in order to scoop up their project. With all that being said, let's jump into more detail about this wonderful event and what to expect when you arrive.
---
Basic Info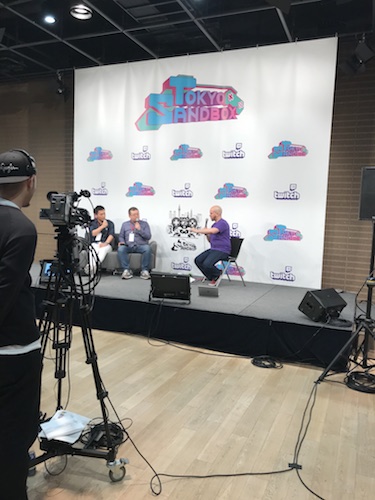 Established
2015 -

Tokyo Sandbox Official Website: https://tokyosandbox.com/

Location
Akihabara, Tokyo, Japan
Length of event
April 14-15th (Two day event)
How much does it cost?
2,500¥/person [Press is free]
---
What to Expect

As with any gaming event, you'd expect there to be a lot of fun and exciting titles to try out and of course, Tokyo Sandbox 2018 showcased a lot of sweet ones! Whether you're a hardcore fan or casual player, Tokyo Sandbox 2018 really caters to just about everyone because it's an event that brings everyone together under one roof. Want to try out some really awesome VR rhythm game titles? Not to worry, there's an area for that! Or maybe you're like us and enjoy a little stimulation, well there's a plethora of titles that really train your brain to think outside of the box! Tokyo Sandbox 2018 certainly was a step up from last year and we had an opportunity to see more Nintendo Switch titles, all of which were spectacular in their own right. The event is still quite a small event when you compare it to the likes of say TOKYO GAME SHOW, but it's never really about the quantity or size as much as the quality of the time put into every game. These indie games may not be blockbuster titles but they encompass this allure that just cannot be ignored, and that's why the moment you walk in it's a totally new landscape. Nobody is wearing suits or ties trying to be all corporate, it's just like walking into a nightclub where everyone is just out to have fun and truly immerse themselves in the experience. Tokyo Sandbox 2018 is truly a place to just simply let go of all the daily crunch that many of us go through, and just kick back to all the craziness that happens.
---
What to Bring in Order to Enjoy the Event

Whether you're press or simply just curious as to what's going on, it's always recommended that you carry a camera along to capture all the fun. While you can certainly create some spectacular memories by living in the moment, taking some of those memories back home with you is always a treat. You may not be able to play that certain game you played or watched that spectacular game trailer again, so why not just capture it and watch it as many times as you please at your own leisure! Additionally, since the event takes place in Akihabara, it's best to have that camera ready for any wacky action that takes place in the area. Speaking of area, HULIC Hall isn't located in the heart of Akihabara like AKIBA SQUARE was and so, it's quite a walk to get there if you're not located near the station. So just for the sake of the event be sure to wear something comfortable so that you don't hurt yourself while wandering around.
Another thing to be mindful of are drinks and food since the event itself doesn't carry either. Not to worry though since there are a handful of convenience shops nearby that can accommodate you should there be any type of food emergency. So with that being said bring enough money to ensure you don't go hungry or dehydrate during the event!
---
What to do While There / What is Available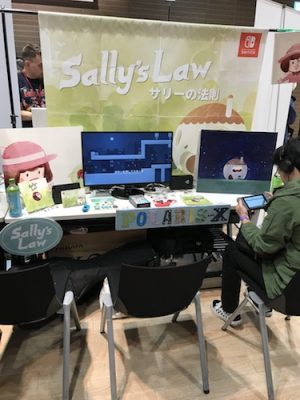 Tokyo Sandbox 2018 is all about showcasing new gaming talent from indie game developers here in Japan, but around the globe as well. We came across some familiar faces like Degica Games as well as Another Indie, both of whom we work closely with and gave us a chance to try out some of their upcoming titles. Some games were admittedly a little left field, for example this one game where we witnessed two enormous crabs going at it, and battling in the middle of a city ala Earth Defense Force. Perhaps that's the beauty about indie titles is that you're really never sure what to expect, and so you always go into it with a fresh mind instead of crazy expectations. Another positive about Tokyo Sandbox 2018 is that you get a chance to really sit and chat with the developers of the game you try out. Every booth is pretty much an open world where you can sit down for as long as you want (of course we recommend to be courteous to others;) and chat it up with the developer about their game.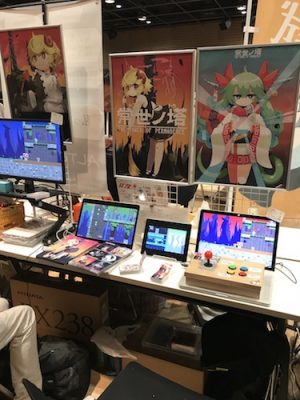 It really creates this very interpersonal bond between you and the developer which is quite rare since, most of the time in the more professional field of gaming you seldom get a chance to sit down and discuss game mechanics. There are no bookings or scheduling to meet up with anyone, just simply walk up to a booth that interests you and build a network with someone cool. So while much of the focus shines primarily on the gaming aspect, there's really a good vibe that resonates within the event since you can build great relationships with people you've never met. In the end we are after all just human beings, and so having that opportunity to discuss similar interests among a large group of passionate people is a truly endearing experience.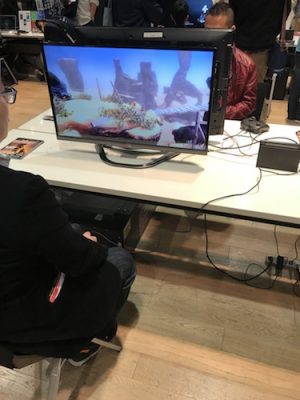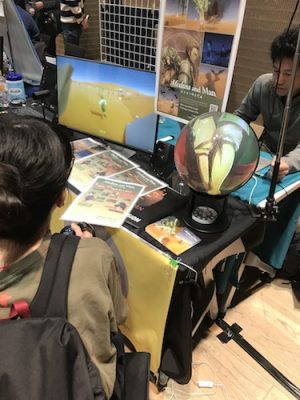 The event isn't long but as we said earlier in the article, Tokyo Sandbox 2018 is all about quality over quantity and you can see that in the games you come across. One game we had a ton of fun with was Stella's Law, a Nintendo Switch title that had you controlling a family of rolling balls and you had to control both characters on screen simultaneously. It was quite a challenging puzzle title that had us hungry for more, because it really demonstrated that you don't need flashy visuals to be a fun game. It can also be played with two players which just makes it more of an entertaining ordeal than anything. If there's one thing we noticed a lot during the event and it's that, as of late, a lot more games are starting to cater more to having multiple people playing together at once. This is a wonderful thing to see since it really brings us back to those days of going over to a friends house to play say Mario Party 5 until the wee hours of the morning. It just helps to better develop human relationships in a world where, despite being so connected to our smartphones we've become more and more disconnected in terms of face-to-face bonding. Seeing these awesome developers create more multiplayer titles for us to enjoy is what made us happy, and we only hope that next years Tokyo Sandbox will showcase more of them.
VR, as always, is totally enriching and we can start to see more and more titles taking advantage of the impressive features of the VR devices. We had a chance to play Seiya again much like we did last year, and it was a massive improvement! We loved how more songs were implemented into the game, while the VR motions really felt more in sync with how you move in relation to the action on screen. Totally impressive stuff and so we're thrilled to see more of that in the near future.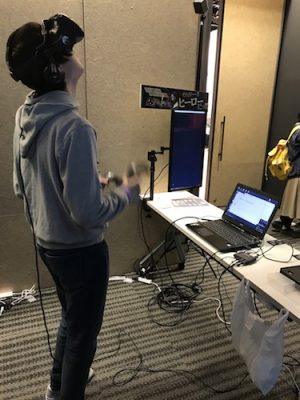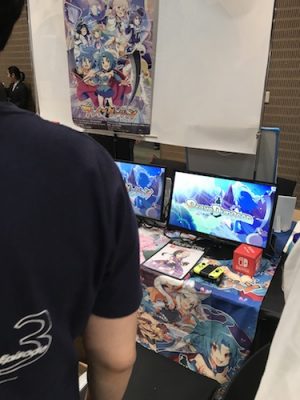 ---
Final Thoughts
Tokyo Sandbox 2018 was certainly a trip worth taking and we only recommend it to those who truly enjoy a taste of something fresh. You may not find any flashy looking titles much but what you'll certainly take home with you is a memory that can be cherished for many years to come. Building new friendships, creating new experiences and playing cool games is all that you need. For more on Tokyo Sandbox and other related gaming events from Japan, always be sure to keep it locked right here on Honey's Anime! Follow us as well on Twitter to stay up to date on all the latest news, and of course hit us up on Twitch to catch us LIVE!
For all things otaku be sure to keep it locked here on Honey's Anime!