También puedes leer este artículo en:Español
We have said it before and we will say it again, dear otakus: anime is mainly for entertainment, but sometimes it can teach a bit as well. This is the case of anime characters based on real life people. We are not talking about the director's personality or experiences. No. We are talking about real historical and/or artistical figures that were the inspiration behind an anime character… or even a whole anime! So let's see which familiar (and sometimes forgotten) faces we can find.
Disclaimer: This article contains a few spoilers and some sensitive content. Read with caution or choose another article to read instead.
10. Jewelry Bonney in One Piece.

Episodes: Unknown
Aired: Oct 20, 1999 to present
One Piece! has so many characters to choose for, that we had to add someone else. There is a certain Jewelry Bonney, who is the Captain of her own horde of pirates. She is also the only female pirate who is part of the Worst Generation, which means Bonney is among the top pirates with high bounties on their heads. A great eater with a quick mind, Bonney is also a no-nonsense woman who will kick your ass if you irritate her.
Jewelry is based on Anne Bonny, a real Irish female pirate who was active in the Caribbean. So yes, Pirates of the Caribbean is not only a Disney movie series, and Elizabeth could have existed. Anyway, Anne used to dress up like a man, was good at business and had a fiery temper. She joined the pirates John Rackhman and Mary Read, terrorizing the coasts of Jamaica. Although Anne was caught by the authorities, it is a mystery if she was sentenced to death or lived to tell the tale. However, Anne's temperament and adventurous life got a great rendition in One Piece!'s Jewelry.
---
9. Steven Paul Jobs in Aiura

Episodes: 12
Aired: Apr 10 to Jun 26, 2013
If you ever wanted to have a random anime to fill your empty moments, you have to watch Aiura. The story centers in Amaya, Iwasawa and Uehara, three typical highschool girls. This slice of life transports the viewer into a normal word contrasted with bizarre adventures whenever the trio gets together. They will not stop having fun with the most random things!
Aiura is so random that it has Steve Jobs, the famous CEO of Apple, right from the start. And with the start we refer to the opening. The guy, under the name Steven Paul Jobs, makes occasional cameos on the adventures of the girls. That is what we call an active imagination with a technological twist!
---
8. Rock Lee in Naruto.

Episodes: 220
Aired: Oct 3, 2002 to Feb 8, 2007
Another anime that was very long, Naruto told us the adventures of a guy who wanted to become the best ninja and leader of his village despite of all odds. Among the cast that accompanied him in his adventures and battles against other villages, we have Rock Lee. Although not as skillful as other ninjas in Konoha, Rock Lee gives his best. Eventually, he would become a taijutsu master, even able to open the Eight Gates, surviving the Shinobi World War.
We think you can guess who is the personality behind Rock Lee: the legendary Bruce Lee. Bruce Lee was of Hong-Kong ancestry, a great martial artist who founded his own style school. Also a film-maker and philosopher, he has become an inspiration on discipline and achieving success. Someone like Bruce Lee never gives up, and that shows in Rock Lee's personality well.
---
7. Ichiyou Higuchi in Bungou Stray Dogs.

Episodes: 12
Aired: Apr 7 to Jun 23, 2016
This anime is full of characters based on literary authors! The protagonist, Atsushi Nakajima, is an orphan who starts seeing a mysterious tiger one day. He encounters Osamu Dazai and the agency of supernatural detectives where he works, discovering a world where people have special powers. Now Atsushi will confront a very special type of mafia! Will he live to tell the tale? Watch Bungou Stray Dogs to find out!
Although Atsushi is the protagonist, we decided to bring attention to other member of the cast: Ichiyou Higuchi, a girl with no supernatural abilities but very skillful in fighting and arms. Her real counterpart is a renowned Japanese author from the Meiji era who wrote short stories heavily influenced by the Heian style. Unfortunately, Higuchi's life was cut short due to poverty and sickness, although now we can appreciate her on the 5000 yen bank notes. That is a honor only two other women from Japanese history have received.
---
6. Lionel Messi in Ginga e Kickoff!!

Episodes: 39
Aired: Mar 26, 2012 to Feb 26, 2013
A group of elementary school students lead by Shou Ota decide to rebuild the Momoyama Predators soccer team. Shou is not the most brilliant athlete out there, but his determination and passion for soccer pull everyone together. Naturally, Shou dreams of becoming a star soccer player one day. This enchanting anime will capture the interest of any otaku soccer fan!
What is relevant about Ginga e Kickoff! are the cameos. We have Cristiano Ronaldo AND Lionel Messi. In the case of Messi, he is part of a soccer team called Sekai Senbatsu, which plays against the Momoyama Predators. Messi appears with a professional mind, wanting to keep the rules of the game and be respectful at all times. Curious cameo, right?
---
5. Jesus and Buddha in Saint☆Onii-san

Episodes: 1
Aired: May 10, 2013
Why have only Jesus or only Buddha in your anime when you can have both? Japan strikes again with its relax and practical view of religion, imaging what would it be like if these two holy guys were roommates in Tokyo. Their aim is to take vacations and try to understand the Japanese modern society. But that does not mean that they are not special snowflakes, as they still have their powers.
This movie takes a humorous point of view on religion nowadays, but it is not demeaning. It actually brings back these two characters to a more human side of coexistence. Watch them go to festivals, enjoy Christmas and much more! You will end up wanting to move together with them.
---
4. Junichiro Koizumi in Mudazumo Naki Kaikaku: The Legend of Koizumi.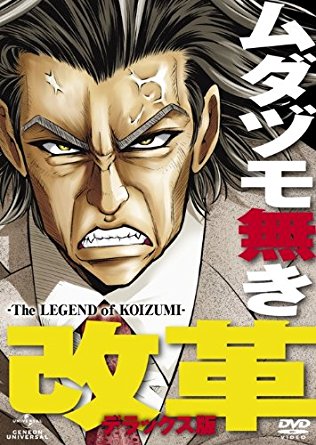 Episodes: 3
Aired: Feb 26, 2010
Yes otakus, even former Japanese Prime Ministers occasionally appear in anime. If you like world politics, you definitely should search for this OVA. You will find it amusing to watch mahjong matches and background intrigues among Bush, Putin, Kim Jong-Il, Thatcher, and other world leaders. But the real fun starts when Hitler arrives from the Moon, determined to conquer the world. Can powerful Koizumi defeat him?
What can we say about a satirical anime that reminds us of Dragon Ball? Goku, I mean, Junichiro Koizumi is a master mind that defeats his enemies with mahjong techniques. The whole story plays with the premise of a great leader who is unbeatable. If you ever thought wars should be more peaceful, you would love to watch this anime rendition to the former Prime Minister.
---
3. Anne Frank in Anne no Nikki (The diary of Anne Frank).

Episodes: 1 movie
Aired: Aug 19, 1995
Anne no Nikki is a faithful anime adaptation of the diary of a famous Jewish girl called Anne Frank. At first, the animation can look a little bit boring and plain, but as the story advances and things become difficult for the Franks and their allies, the atmosphere traps you. Anne Frank is one of the literary figures that have transcended time. Her voice is authentic and naive, with a rich idealism and creativity that are put to test in adverse circumstances. And what can be more adverse than World War II?
It is due to such hard times that Anne is forced to mature. Sometimes, trying to survive along the ones you call family is the greatest adventure of your life. This movie was a respectful rendition to a real life girl. Plus, it gave voice to victims of war. We had to mention this movie in this top 10.
---
2. Arslan in Arslan Senki.

Episodes: 25
Aired: Apr 5 to Sep 27, 2015
Arslan Senki is a story of war in a fabulous land inspired in the Middle East. The reigning family of the kingdom of Pars is betrayed, leaving prince Arslan running away for his life. Together with a few alleys, he will do what it takes to win people for his cause and recover the throne. Expect intrigues, politics and of course, amazing battles.
Although Arslan was partially based on the old Persian tales of Amir Arsalan (does anyone notice the similarity in names?), there also is inspiration from Cyrus the Great. Cyrus the Great created the largest Empire of his times, reaching India, Southwest Asia and of course, Central Asia. Throughout the story, we also see other characters inspired on the history of 6th Century. This is a particular time that is not very popular in general history lessons, so we welcome its influence in one of the best anime of the last few years. Maybe Arslan could open your curiosity to find out more on Cyrus the Great 🙂
---
1. O-Ei in Sarusuberi: Miss Hokusai

Episodes: 1 movie
Aired: May 9, 2015
Oh, yes, Hokusai. Who hasn't heard of him? Hokusai's famous wave with the Mount Fuji has become a symbol of Japan for the rest of the world. But did you know that he also had a talented daughter? This movie tells us their story from her point of view!
Katsushika Oi, also known as Sakae or O-Ei, has been overshadowed by her father. But not anymore! She studied Ukiyoe and got married, but divorced and opted to follow Hokusai. Her depictions of women and writing are among the finest works of the Japanese 19th Century. It is about time that we rescue O-Ei from oblivion, and Sarusuberi: Miss Hokusai was a moving and humorous recount of her life. O-Ei is definitely the best anime character based on a real woman!
---
Final thoughts
And there you have them! Anime characters with several levels of real people running through their veins. Which one was the most interesting for you? Do you know even more anime characters based on people? Feel free to share them in the comments. See you soon!
---