También puedes leer este artículo en:Español
How many times have you found yourself watching an anime and thinking to yourself "Man, I wish this hottie was my boyfriend…"? Have you ever seen a hopeless romantic get shot down and thought how you wouldn't reject him? Many of us have done it, and whether it's because the guy is a badass, really sexy, incredibly caring, has a dark past or maybe is just irresistibly quirky, here's a list of top 10 anime guys that would make great boyfriends!
They have been picked based on characteristics that would make them good boyfriends, and not only based on their looks. Things like personality, self-confidence, intellect, level of romanticism and special abilities have also been considered. There are definitely more than 10 guys we'd make our love interests, but this article would be waaay too long!
Now, remember everyone's taste in men, anime and relationships is different so there's something for everyone here and they are in no particular order.
Alright! Let's do this!
10. L Lawliet from Death Note

Episodes: 37
Aired: October 2006 – June 2007
L would be the quirky kind of boyfriend you could just veg at home with. He's incredibly intelligent which would make for great conversations. You could just watch him flawlessly and swiftly solve crimes and hear about all the cerebral details while you eat sweets with him and lounge around wearing one of his comfy baggy sweaters. His dry, sarcastic sense of humor can also be pretty entertaining if you're into that. He's tall, with deep dark eyes, shaggy black hair and he used to be a tennis champion so you know he's in good shape under those baggy clothes.
If you're into an intellectual Sherlock Holmes kind of guy with a dark side but much more laid back and without the fancy social expectations, L is your man! You can sit however you want, eat whatever you want, wear no shoes and be kind of weird and as long as you're not a criminal, he won't judge you. All you'd need to catch him is a clean criminal record and maybe some home-made sweets!
---
9. Yuuichi Jin from World Trigger

Episodes: ongoing
Aired: October 2014 – Currently Airing
There's some hidden boyfriend material in this underrated anime! With his shaggy light brown hair, blue eyes and confident personality, Jin would make the boyfriend you'd like to show off to all your friends. Not only is he handsome, strong, smart and popular, but he isn't cocky about it at all.
He has a very relaxed personality and doesn't sweat the small stuff (or the big stuff in some cases). And since his side-effect allows him to see into the future, he would know beforehand if something would upset you or make you happy. You'd never have to worry about arguments with this guy!
---
8. Satoshi Isshiki from Shokugeki no Soma (Food Wars!)

Episodes: 24
Aired: April 2015 – September 2015
Isshiki is another handsome, sexy and carefree guy to add to the list. Except this one is a master chef and loves gardening, lounging and cooking in nothing but an apron or his underwear. He's charming, funny, has a down-to-earth personality, handsome face and pretty blue eyes.
This guy would never let you go hungry and every meal would be like a 5 star restaurant! And while it's fun to ogle his well-toned body in his usual half-naked style, he knows how to dress up for a special occasion. If you enjoy sleeping in the nude and eating amazing food, Isshiki's your guy!
---
7. Gray Fullbuster from Fairy Tail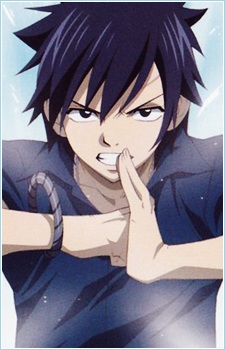 Episodes: ongoing
Aired: October 2009 – ?
With his muscular body, dark blue eyes, black hair and love of being shirtless, it's hard to think of any reason why Gray shouldn't be on this list. While he can be a little cold at times (Ha!), he is in reality a caring guy that has just been through a lot.
Unlike the rest of the Fairy Tail Members, we would absolutely encourage his disrobing habit! Think about it, whether at the beach or at the ski resort, you'd have eye candy all year round and endless ice in your drinks. And if you end up getting married… imagine the enviable ice sculptures you could have!!
---
6. Gon Freecs from Hunter x Hunter (2011)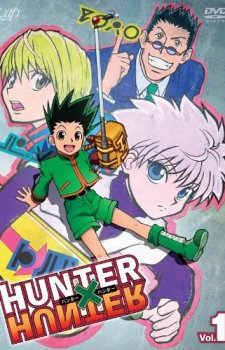 Episodes: 148
Aired: October 2011 – September 2014
While we may need to wait a few years for it not to be creepy, Gon would make a great boyfriend! He's sweet, caring and gentle while at the same time you know he can look out for you in a tough situation. He's a total gentleman, knows what to say and how to treat a lady. When you're on a date with Gon, he will compliment you, take you to the most beautiful place he knows and make sure you're having a good time. And if you ever go camping, you know he's got you covered. He can fish, communicate with animals, and protect you from any dangerous ones.
And with his dark hair, dark eyes, tons of training and his father's good genes, he's guaranteed to be a hottie in a few years!
---
5. Zoro Roronoa from One Piece

Episodes: ongoing
Aired: October 1999 – Currently Airing
Tall, strong, tan, pierced ears and short green hair. Zoro is tough, and like other guys on this list, kind of a badass. Not to mention he has a strong, muscular bod from all his sword training and fighting. Having a sexy, easy-going samurai like him around means a constant view of his well-defined pecs and abs and handsome face. And all the scars on his body just add to his mystery and coolness factor.
Zoro also knows how to relax. Wouldn't you just love to chill and drink sake with him on some beach or on the Thousand Sunny while watching him be his cool, sexy self? A guy like this needs a girl to soften him up and care for his battle wounds after facing an enemy. Move over Chopper, we got it from here.
---
4. Takumi Usui from Kaicho wa Maid Sama (Maid Sama!)

Episodes: 26
Aired: April 2010 – Septemeber 2010
handsome, at the top of his class and one of the most athletic boys in Seika High School. Takumi is very caring and protective when it comes to the girl he loves. He will keep your secrets, playfully tease you and literally jump off a building for you!
He'll make sure to help out if you need it and he'll be happy to simply watch you be yourself. While he may get a little possessive at times, it just shows how much he loves you, right? Also, who knows how kinky he can get if you take the "Maid and Master" thing a little further! (wink)
---
3. Gaara from Naruto Shippuden

Episodes: ongoing
Aired: January 2007 – ?
Gaara is one of those quiet mysterious guys you really want to get to know. His pale white skin, spiky red hair, aqua green eyes and tanuki-like black eye rings give him an awesome rock star look that many girls would fawn over. And even though he has a dark past, in reality he's just a sweet boy who has always been in search of love.
All he wants is to make friends to care for and who care for him, to love and be loved. Gaara would take good care of you and appreciate all the love and affection you gave him. He's one lonely emo boy you'd love to fix. Also, being the Kazekage's girl doesn't sound half bad!
---
2. Makoto Sunakawa from Ore Monogatari (My Love Story)

Episodes: 24
Aired: April 2015 - September 2015
Makoto Sunakawa, or Suna as his friends call him, is the most handsome boy in school. While he could have a different girl every day if he so wished, he's just not that kind of guy. He rejects any girl who speaks badly of his best friend Takeo and girls who seem superficial. He's quiet, reserved, and has few friends, but he cares for them deeply, so you know you'd be his priority (as long as you don't badmouth Takeo!). He is calm and cool and an amazing listener.
Suna is the kind of guy that would remember everything you ever said to him, what you wore and when, and giggle lovingly when he suddenly remembers something silly that happened to you a long time ago. Suna deserves a good girl that can restore his faith in women. He usually keeps his personal problems quiet so as not to worry anyone so you could always be his emotional support.
---
1. Prince Zen Wistaria from Akagami no Shirayuki-hime (Snow White with the Red Hair)

Episodes: 12
Aired: July 2015 – September 2015
ismatic and very adventurous, lighthearted and down-to-earth for a prince. He has been betrayed before because of his position as royalty so he values loyalty and honesty above all. Zen isn't in this list because he's a prince, but because of how much he cares for the woman he loves. He goes out of his way and couldn't care less about his status as prince if his love is in danger.
Although, honestly, his silver hair, handsome face and beautiful blue eyes definitely add to his appeal. Zen is a prince that would treat you like a princess and sacrifice it all for you if he had to. Though, he would always let you be free and make your own choices. If you give him love, support, and honesty, one day he'd probably gently steal a kiss from you and ask you to run off with him on an adventure.
---
Well, there you have it! 10 guys that are so sexy, smart, funny, cool, romantic, caring, laid back, talented, slightly broken - or some combination of these aspects - that they'd make great boyfriends! It wasn't easy narrowing it down though, so we have to mention a few guys who almost made the list.
Kamina from Gurren Lagann is strong, and cool, but can also show his true emotions when he's with the right girl. Shizuo from Durarara! is a superhumanly strong, blond, handsome, sunglasses-wearing cool guy who'd always have your back and can probably whip up some decent drinks since he was at one point a bartender. And Rom from Show by Rock is smart, sexy, responsible, tan, and muscular, not to mention he's a rock star!
So, what do you think? Are any of these guys in your list? Who else would you pick as your anime boyfriend? Don't forget to let us know in the comments section below!
Nya~!
---