Imagine losing all of your control, and being entirely dominated by some powerful, beautiful anime girls – sign us up, right? Of course! Welcome to our Top 10 Dominatrix article, where we will highlight some of the best dominatrix girls from anime. When most people think about a dominatrix, they imagine powerful women exerting sexual control over a man (or another woman), especially in a sadistic way where they may be taking advantage of the other person in some way. These can be both consensual and non-consensual situations.
However, the definition of a dominatrix is actually much broader than this! While these kinds of girls certainly are a dominatrix, at its base the word dominatrix is just used for any powerful and dominating woman. Thus, even if it's not in a sexual situation, any women exerting power and control over another person can be considered a dominatrix! And here on our list of the Top 10 Dominatrix, we have women from both sexual and non-sexual situations to keep the list well-rounded and full of a variety of wonderful girls to enjoy.
You'll see both ecchi and non-ecchi anime on this list, so hopefully there is something for everyone interested in checking out some dominatrix girls whatever your interest and comfort level is! Sit back, but don't get too comfortable – and of course, prepare to be dominated…
10. Eriko Nanao from Dragon Crisis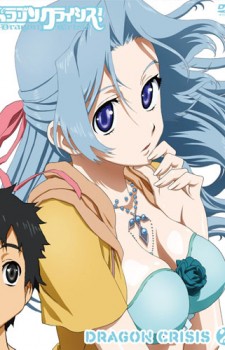 Episodes: 12
Aired: Jan. 2011 – Mar. 2011
Dragon Crisis begins as many anime do, with a seemingly normal high school boy named Ryuji Kisaragi. His life proves to be anything but normal though when he and his second cousin, Eriko Nanao, discover a special relic box. But it's not the box that is exciting; it's the contents - a dragon girl named Rose! Luckily Ryuji is a relic handler because the black organisation is after Rose and it's up to him and Eriko to protect her.
Eriko Nanao from Dragon Crisis is a unique start to our list of the Top 10 Dominatrix. Typically, as highlighted in our introduction, a dominatrix character is pictured with leather, whips, and other instruments of bondage and pleasure/pain. However, Eriko is a dominatrix of a different type, and it shows up in episode six. Eriko has Rose tied to the bed, and in order to torture information out of her, she sensually tickles her - over, and over, and over until Rose gives in to her! It may not be your usual kind of sexual dominatrix act, but the idea is the same, and it starts out list off a bit tame and cute to get the ball rolling towards the more intense stuff to come…
---
9. Yukkage from Suisei no Gargantia (Gargantia on the Verdurous Planet)

Episodes: 13
Aired: Apr. 2013 – Jun. 2013
Suisei no Gargantia takes place in a future where most of humanity has left to participate in space exploration, and have thus found themselves at odds with a threat that has sparked an interstellar war. The main character, Ledo, finds himself crash-landed on the water covered planet of Gargantia while fighting in the war. Fortunately for him, the citizens of Gargantia are much more peaceful than he assumed them to be at first, but that peace is about to be broken as the truth about Gargantia starts to come to the surface.
Our dominatrix in Suisei no Gargantia is Pirate Queen Yukkage. With a name like that, we hope you are already excited - who doesn't want to be dominated by a pirate queen, after all? Of course, a queen needs to have servants, and Yukkage is often pictured with several other women chained up around her throne. They are tied up Princess Leia-style in minimal clothing, sitting on the floor or crawling on their hands and knees. These girls certainly add to Yukkage's atmosphere and show her power as the pirate queen. And of course, they give her the title of a sexy dominatrix!
---
8. Hitagi Senjougahara from Bakemonogatari

Episodes: 15
Aired: Jul. 2009 – Jun. 2010
Koyomi Araragi is trying to live life as a normal teenage student in Bakemonogatari, but he is far from normal. After surviving a vampire attack that has left him with supernatural vision and healing abilities, he finds it harder than he ever expected to go back to his normal life. Eventually, he begins to make it his mission to help others that suffer from these kinds of supernatural maladies however he can, which becomes the main plotline of the anime.
One of the main characters at his side – and one that he has decided specifically to help, despite her protests otherwise – is Hitagi Senjougahara. She is another case of not being a typical, sexy dominatrix girl but she is one all the same! Throughout the show, she dominates Koyomi repeatedly through both physical and psychological methods. She is a considerably stronger person than him, and arguably also a sadist. On the other hand, Koyomi is a bit of a masochist, which makes their pairing work so well for a dominatrix-style relationship. Just because she doesn't put him in bondage doesn't mean that Hitagi isn't running the show all the time and controlling their relationship, which is certainly a part of being a dominatrix as well!
---
7. Esdeath from Akame ga Kill!

Episodes: 24
Aired: Jul. 2014 – Dec. 2014
Akame ga Kill! follows Tatsumi, a boy newly recruited into the Night Raid. The Night Raid is a revolutionary army of assassins and other experienced killers working to fight back against Prime Minister Honest, the nation's corrupt leader. The Night Raid understands that killing anyone is still not good, but they resolve that it must be done and morals must be bent in order to help the greater good. A bit of evil to try to bring about a lot of good is what they are hoping to achieve, and Tatsumi has been swept right up into the middle of it.
Enter Esdeath, a beautiful blue-haired woman with a dangerous amount of power. Esdeath leads the Jaegars, one of the Empire's leading fighting units, against the Night Raid. She also has one of the most common dominatrix personality traits - she's a sadist. Esdeath has no sympathy for those she sees as weaker than her and is not afraid to use her power. Generally, she treats her subordinates well, but she is also depicted tying up men and making them beg before her, even worshipping her feet. She's both a villain, a dominatrix, and certainly powerful. All of these things together make Esdeath the sexy kind of forbidden fruit that keeps you coming back for more.
---
6. Mio Isurugi from MM!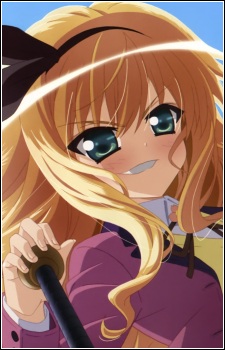 Episodes: 12
Aired: Oct. 2010 – Dec. 2010
Sado has some serious issues - he enjoys being miserable. And knowing that he enjoys it makes him even more miserable, which is a sad cycle. So wanting to break that cycle, Sado joins a club only to discover that all of its members have just as many deep issues as he does. And each one of these issues is stranger and more confusing than the last, leading to a crazier and crazier unfolding story.
Amongst all of these crazy club members is Mio Isurugi, and she is our dominatrix. Mio loves being in control and dominating others - a perfect combination with Sado's love of being miserable to paint the scene for a dominatrix girl. This leads to Mio constantly dominating and abusing Sado in one way or another, and while it may not be in the more typical sexual dominatrix style as most of our list, the ideas are still the same. So for a tamer, but still female-dominating-male action, MM! is a great and funny anime to check out.
---
5. Anna Nishikinomiya from Shimoneta to Iu Gainen ga Sonzai Shinai Taikutsu na Sekai (SHIMONETA: A Boring World Where the Concept of Dirty Jokes Doesn't Exist)

Episodes: 12
Aired: Jul. 2015 – Sep. 2015
The Japan that exists in Shimoneta to Iu Gainen ga Sonzai Shinai Taikutsu na Sekai is very different from the Japan that we know today – society has been purged of all things deemed "impure" through chastity laws, and its citizens are constantly monitored by devices worn around their necks in an Orwellian fashion of government observation and control. What starts out as a simple crush on Ayame Kajou by Tanukichi Okuma ends up with Tanukichi being drafted into Ayame's secret underground organization bent on revolution and spreading lewd materials back to the public! Can Tanukichi help to overthrow the government's unfair rules while also protecting his crush, their number one target?
So just how does a dominatrix show up in a world where such a concept has been literally banned by the government? Perhaps not in the way you may be expecting! Enter Anna Nishikinomiya, the president of the student council and the daughter of influential members of society. Thus, she finds herself in a position where it is her role to confiscate and eliminate obscene, illegal materials. Behind this public face, however, exists a whole other side to Anna – the side that has landed her on our list of the Top 10 Dominatrix. While she may appear to be a soft-spoken girl, and she does continue to always enforce and follow society's rules, when she develops a crush on Tanukichi she becomes incredibly aggressive! In fact, she is willing to do whatever she has to try to gain his attention and affection, and to keep other girls away from him. That dominating personality trait and the way that it makes her act mean Anna is a dominatrix for sure, and one that certainly likes causing trouble.
---
4. Misaki Saiki from Teizokurei Daydream (Ghost Talker's Daydream)

Episodes: 4
Aired: Jun. 2004 – Dec. 2004
Ever since Misaki Saiki was a child, she had been able to see and communicate with ghosts. In Teizokurei Daydream, she is now an adult who spends her free time helping ghosts realise they are dead so that they are able to move on to the next life. That's just in her free time, though - her actual job is working at an S&M club and everything that goes with having a job like that! And on top of that, she had a perverted boss and a troubled backstory, setting the perfect stage for a sexy heroine in a rough situation.
Teizokurei Daydream makes it easy to spot the dominatrix, and as you have probably guessed, it's Misaki herself. She is a dominatrix by profession, and while the anime focuses more on the ghost-hunting side of her life, when she is at the S&M club you can expect to see some great action. This anime is an ecchi and features some mild nudity as a warning, but Misaki's job as a professional dominatrix coupled with her backstory and ability to see ghosts makes her a very intriguing heroine - and makes you wish that Teizokurei Daydream was longer than just four episodes!
---
3. Chocolate and Tira from Bakurestu Hunters (Sorcerer Hunters)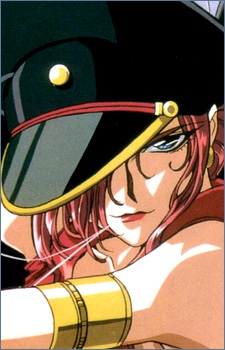 Episodes: 26
Aired: Oct. 1995 – Mar. 1996
Bakaretsu Hunters takes place in a land of magic, but one where many of the sorcerers have been abusing their magical abilities to prey on the weak. Thus comes along an unlikely band of "heroes" to try to hunt down and fight back against these evil sorcerers to protect the common people of the land! It's a very noble task, but it would be a lot easier and more successful if the group of vagabonds were at all competent or knew anything about what they were doing. Too bad they don't...
Amongst that group of heroes we find not just one, but two dominatrices for our list - two women named Chocolate and Tina. While everyone in their group has some kind of special power or quirk that makes them unique and helps them fight the sorcerers, these two ladies' power is that they can turn into dominatrix at will! As you can imagine, having two fighting dominatrix in a comedy anime like Bakaretsu Hunters makes for a really fun ride. And of course, there is the added bonus of not just one dominatrix, but two. If you're looking for something fun that is still sexy, check out Chocolate and Tira from Bakaretsu Hunters!
---
2. Ekaterina "Katja" Kura from Seikon no Qwaser (The Qwaser if Stigmata)

Episodes: 24
Aired: Jan. 2010 – Jun. 2010
Seikon no Qwaser is about Mafuyu Oribe, Tomo Yamanobe, and Alexander "Sasha" Nikolaevich Hell and their time at St. Mihailov Academy. Sasha is Qwaser, a person that can manipulate a specific element to fight against others through the power gained by ingesting Soma – a magical element found in the breasts of women. This means the show is full of epic elemental battles, with powers that are fuelled by drinking Soma from an abundant amount of oppai. Each Qwaser has a specific person that is their main source of Soma, known as their Maria, and while they are not limited to this person as any female will do it is the person they rely on the most.
Seikon no Qwaser is an ecchi that consistently makes our Top 10 lists for the genre, mainly because it has a little bit of everything and does it so well. When it comes to the dominatrix theme, it certainly doesn't disappoint. Ekaterina "Katja" Kuren is a Loli-girl with blond twin tails and always wearing cute dresses, but she has far from a cute and doll-like personality. Ekaterina is a Class A dominatrix and shows it often throughout the anime. Namely, she dominates over her main Maria Hanna, who Ekaterina regularly forces to dress in leather bondage gear. Ekaterina uses whips and other toys to "play" with Hanna, rides her around the house with a leash around her neck, and even uses breast pumps on her to maximise how much Soma she can receive. Ekaterina may look like an innocent little girl, but the reality is that she is a powerful dominatrix, and she shows it scene after scene throughout Seikon no Qwaser.
---
1. Meiko Shiraki from Prison School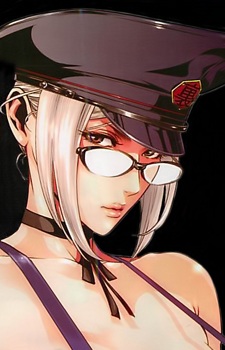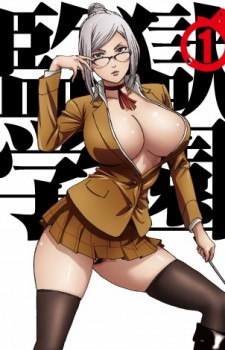 Episodes: 12
Aired: Jul. 2015 – Sep. 2015
Hachimitsu Academy was always an all girls' school – until now when five boys are allowed to join. Before they can make a good first impression amongst all their new classmates, however, the boys take to trying to peep into the girls' bathroom, and they land themselves in the school's underground, self-established prison. Their choice is to either endure the prison for one month to pay for their crimes or be expelled. Of course, they choose to stay in the prison, and face the Draconian laws and punishments that still exist in this prestigious academy! And at an all girls' school, the people doling out the punishments are going to be females…incredibly well-endowed, attractive females in this case….
We couldn't make an article called Top 10 Dominatrix and not include Prison School. Meiko Shiraki has become a dominatrix icon since the anime's somewhat recent release and is even pictured on most promotional posters with a whip in hand and sitting on a pile of boys. The torture and punishments that the boys face during their time in Prison School are often of a sexual nature, and Meiko is the one to deliver them. Not only does she dominate over one submissive boy, but she does it over the entire group of them, and they come to both fear and relish their time spent under her control. For a truly sexy experience, and an anime that centres around the idea of the dominatrix, Prison School is the obvious choice - and that easily lands Meiko at the top of our list.
---
Final Thoughts
Are you ready to be dominated yet? Whether your type is the more light-hearted and playful, or the sexy and intense, there is bound to be at least one dominatrix on our list sure to capture your intrigue! So if you are looking for a submissive evening under the control of a beautiful anime girl, look no further - our Top 10 Dominatrix has got you covered.
Did we miss out on your favourite dominating heroine? Do you think our list is missing something special, or the order should be shifted? Or do you just want to talk about dominatrix girls (and who wouldn't, really?). Whatever it may be, please be sure to let us know in the comments below because we always love to hear from you!