Jinrui wa Suitai Shimashita
Anime are all about fantastic stories, interesting characters and amazing creatures. Producers keep surprising their fans with new and fantastic beings, so it should come as no surprise that even fairies make an appearance in many shows.
Fairies are more part of Western folklore than ancient Japanese stories; that is why modern anime have come up with their very own fairy versions. Some of the characters we want to introduce to you today will probably be familiar, while others will seem to have been mixed with a little bit of Japanese weirdness.
Nevertheless, these characters are as charming as they are magical, so lean back and enjoy our list of Top 10 Anime fairies.
10. Mipple and Mepple from Futari wa Precure (Pretty Cure)

Episodes: 49
Aired: February 2004 - January 2005
Let us begin this list with two of the cutest fairies in anime history that can melt the heart of any little girl: Mipple and Mepple from Pretty Cure.
These mythical beings are sent to earth from the Garden of Light which is slowly being conquered by darkness. They need the help of school girls Nagisa Misumi and Honoka Yukishiro in order to defend their home and to protect the people close to them. A magical adventure with lots of new friends and enemies is about to begin.
Mipple and Mepple are the first choice on our list since they represent fairies in cute animal form. It might be true that they don't have wings and are not able to fly around and sprinkle some fairy dust. Still, they are mythical creatures that help our two heroines out in every way they can. They are loyal yet a little bit childish at times and are one of the main reason why Pretty Cure is so popular.
---
9. Albert Chamomile from Mahou Sensei Negima! (Negima!)

Episodes: 26
Aired: January 2005 - June 2005
Let's continue this list with a fairy that you wouldn't expect to be a fairy at first glance.
This anime gets its name from its main hero Negima, a young boy and wizard apprentice who needs to pass his final exam in order to become a full magician. His last test turns out to be very different from what he had expected and now he has to work as an English teacher at an all-girls boarding school. Will he be able to become a full wizard?
Albert Chamomile might look like a white ermine, but is in fact a magical creature standing somewhere between an elf and a fairy with the appearance of an animal. Despite his cute looks he has a big mouth, smokes cigarettes and loves stealing underwear. Somehow he still ends up becoming one of Negima's closest friends and helping him out whenever he can. Albert Chamomile is one of the more unlikely recommendations on this list, but this doesn't mean that the fairy in ermine form doesn't deserve a little bit of recognition.
---
8. Sakuya from Sword Art Online

Episodes: 25
Aired: July 2012 - December 2012
Next up is a fairy for all of you that prefer grown women over small flying pixies.
Lady Sakuya is the leader of the Sylph race, a family of Wind fairies. She earned her title as well as the respect of the people around her through her strong character and excellent leading skills. She is also skilled with the sword and does quite well in official fights.
Sakuya is your take on strong female mythical creatures, something that many viewers can appreciate in anime. Not only is she good-looking, but she can also defend herself and is able to actually contribute something to the storyline of Sword Art Online. She is a perfect addition to our top recommendations since she shows a different, more sophisticated side to fairies in anime.
---
7. Ran, Miki and Suu from Shugo Chara!

Episodes: 51
Aired: October 2007 - September 2008
What would you do if you could change your personality in the blink of an eye? Ran, Miki and Suu are here to help you find out!
Student Amu wakes up one morning with three mysterious eggs in her room. It doesn't take too long for three little girls to hatch out of them and declare that they are Amu's new best friends. They are here to help her find out who she really wants to be in life and also to fight evil powers that are haunting the unborn dreams of children.
I admit that it is never clearly stated that the three cute heroes are fairies, rather they are called Guardian characters, but they are as close as you can get to a Japanese version of Western fairies. They keep bugging Amu, are always by her side and will help her out whenever they can. These girls just belong together, especially since they represent different sides of Amu's personality, and that is why we had to include all three of them in our list.
---
6. Lilith from Rosario to Vampire Capu2

Episodes: 13
Aired: October 2008 -December 2008
If you thought Ran, Miki and Suu are cute, wait until you meet Lilith from the second season of Rosario to Vampire.
Lilith is a small fairy with green hair and two sets of wings on her back. She looks like she would never be able to harm anyone, but there is another side to this mythical creature. Lilith is the holder of the Lilith Mirror, a magical object that allows its holder to see a monster's true form and all of his hidden desires.
This little fairy is two-faced since she looks as innocent as a fairy can be while still hiding some special powers. She can be lost at times, only to be cheerful again and then show her mysterious evil side. This character proves that not all fairies need to be innocent and constantly smiling. Sometimes their cute appearance can be a mask hiding something more sinister behind it.
---
5. Vanilla from Yumeiro Patissiere

Episodes: 50
Aired: October 2009 - September 2010
Our list is already filled with cute characters, pink outfits and lots of fairy dust. Now we are also adding sugar-sweet pastries to the mix with Yumeiro Patissiere.
This anime tells the story of Ichigo Amano, a girl that can be clumsy at times, but loves nothing more than sweets. She enrolls at St. Marie Academy, a school for people that share her passion, in hopes of becoming a pâtissière in the future. Along the way she meets new people, other students and the Sweets Spirits.
Vanilla is Ichigo's sweet spirit and thus is always by her side. If you are looking for innocence and cheerfulness in character form, Vanilla is the way to go. The gold-haired fairy is mostly seen smiling, but at the same time she is always ready to start a fight with the other spirits. At the end of the day, she is a lovely character that makes the sweet story of Yumeiro Patissiere even sweeter.
---
4. Tiana from Kaze no Stigma (Stigma of the Wind)

Episodes: 24
Aired: April 2007 - September 2007
Not all fairies are innocent and helpful. Some of them can be mischievous little creatures, just like Tiana from Kaze no Stigma.
For those of you that are unfamiliar with this anime, it is set in a fantastic universe with all types of magic. You will get drawn into a world filled with wind and fire magic users as well as rivalries between clans and family members. What universe would be better suited to also incorporate some mythical fairies?
Tiana is a blue-haired fairy that likes to cause trouble. For example, she makes students believe their school is haunted simply for her own enjoyment. But at the same time she is still a child at heart and doesn't want to harm anyone. This little fairy loves her pranks and thus adds some jokes and funny moments to the overall storyline of Kaze no Stigma. Our Top 4 anime fairy!
---
3. Evergreen from Fairy Tail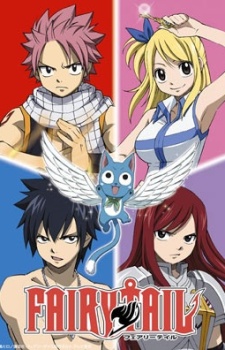 Episodes: 175
Aired: October 2009 - March 2013
If "fairy" is already part of an anime's name, we can expect to see some mythical creatures, right?
For those of you that aren't familiar with this must-watch show, Fairy Tail revolves around a guild of magicians that take on all kind of jobs to make a living. Together they set out on great adventures and epic tales, all while still being connected at heart. In the middle of this crazy group of mages is Evergreen, a woman who once was a little girl wanting to be nothing else than a fairy.
Some of you might argue that Evergreen is technically still a human. I will not disagree, but her commitment to her dream of becoming a real fairy is remarkable and puts her into the Top 3 on our list. In her fairy form with her short green dress and wings on her back she looks like a grown-up version of Tinkerbell. Even though she can seem arrogant and vain at first, she is actually a strong woman that is not afraid of stepping up for what she believes in. Evergreen is as much fairy as all the other mythical creatures on this list and definitely deserves to be Top 3.
---
2. Orion from Amnesia

Episodes: 12
Aired: January 2013 - March 2013
Not all fairies live in enchanted forests. Some of them just show up at your workplace and explain to you that you are suffering from Amnesia - so begins the story of this anime.
Our nameless female protagonist faints at her part-time job and wakes up to a mythical boy wearing weird clothes floating above her head. He tells her his name is Orion, that he is a fairy and that he is the only person she should trust from now on, because her world is about to be turned upside down. But can she really trust him?
Orion is a fascinating character. Not only is his character design as outstanding and unique as the looks of the rest of the anime, but as a viewer you keep questioning what his real motives are. He seems to care for the protagonist and is genuinely doing his best to protect her and help her retrieve her memories. But in Amnesia you can never be sure of what will happen next and Orion is definitely no exception.
---
1. Lala from Ojamajo Doremi (Magical DoReMi)

Episodes: 51
Aired: February 1999 - January 2000
Last but definitely not least I want to introduce you to a fairy that is a treasured childhood memory for many girls: Lala from Ojamajo Doremi.
This classic anime tells the story of three girls who stumble across the hidden shop of witch Majorika and her helping fairy partner Lala. After transforming the powerful witch into a green blob by accident, the friends swear to become witch apprentices and to make up for the harm that they have caused. Will they be able to achieve their goals and become powerful witches?
Ojamajo Doremi is one of those shows that has introduced kids around the world into the anime universe before they even knew something like that existed. Lala might be a character that is often forgotten next to the main heroes, but she is still vital to the whole story. She is helpful yet carefree and usually tries to stay out of the many fights between Majorika and the girls. Lala is one of the many things that makes this anime so special and easily deserves the final spot on our list.
---
Amagi Brilliant Park
This concludes our magical recommendations for this time. It is amazing how you can find almost any creature in anime. Some of them are already well-established in Japanese history, but others have been adapted from Western references. At least in the case of fairies I have to say that the producers have done a pretty good job - all of the lovely characters we have introduced to you today are a great addition to their respective shows.
What do you think of our list? Do you agree, disagree, or did we miss your favorite anime fairy? Let us know in the comment section down below!
---