También puedes leer este artículo en:Español
The anime world is filled with all sorts of collectibles, from PVC figures, charms and stuff for the home, to the cutest and cuddliest of all, plushies! Many of us have spent quite a bit of cash on these fluffy little companions over the years, and there doesn't seem to ever be a shortage of them.
What better way to enjoy your favorite anime characters in their cutest form than to have a plush version of them? That's why today, Honey's Anime brings you our top 10 plushies you can get on the market right now! (While supplies last). They are ranked based on a combination of popularity, sales and how cute (or even practical!) the plushies are.
Try not to squee too loud! 😉
10. Tachikomas from Ghost in the Shell

In Ghost in the Shell, Tachikomas are essentially futuristic, spider-like tanks with impressive AI. In the series, they have adorable voices and they develop emotions and individual personalities. There's a bratty one, a bookworm, a slow one and an intellectual one. However, they are military machines, so they're also tough when it comes to emergencies and helping their Section 9 partners.
And you can own a cuddly Tachikoma yourself! These cuties are about a foot in length and come in both blue and yellow. They're nice and detailed and are sturdier than your usual squishy plush. The only way to snuggle with an AI-powered tank, don't you think?
---
9. Kuma (Teddie) from Persona 4 The Animation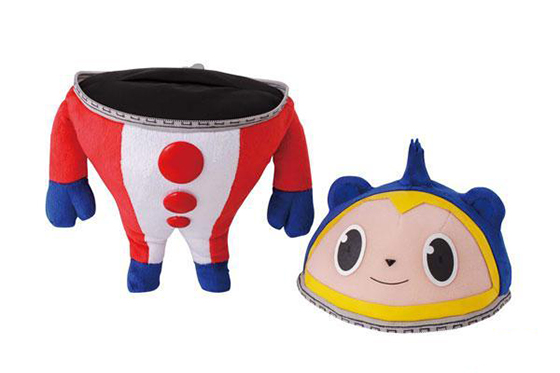 Kuma is a plush bear that shows up to help Yu and friends when they first go into the TV world. He has amnesia and knows very little about himself, but he wants to help his new friends no matter what. He's sweet, cute, dorky and abuses bear puns. In his bear form, he is a hollow bear plush whose head is connected by a zipper to his body and can completely come off!
This particular Kuma plush has a functional zipper with which you can remove his head like in the show, and you can use him as storage space! If there's one thing that can make a plush better, it's if it is as cute as it is practical. And you'll see some more of that below in this very list!
---
8. Hello Kitty in Doraemon Cosplay from Hello Kitty x Doraemon Crossover

The classics are in! Everybody knows Hello Kitty, and over the years, she has starred in a few anime series of her own; mostly geared toward young girls. Doraemon is another name that any anime fan knows, whether they've seen the anime or not. This blue, earless, robotic cat from the future is basic pop culture knowledge when it comes to anime!
So it should come as no surprise that Sanrio made a collaboration line with Doraemon, offering everything from erasers to $100+ purses with both anime classics sharing the stage. One of the awesome crossover items is this plush Hello Kitty in Doraemon cosplay! Kids who've enjoyed the more recent Doraemon will love it and so will the older kids who grew up with the original Doraemon.
---
7. Big Kyuubey from Mahou Shoujo Madoka★Magica (Puella Magi Madoka Magica)

Madoka has changed the face of Magical Girl anime forever. This sweet little girl's story, which takes a sharp dark turn, sucks you in with its perfect combination of plot twists and magical girl cuteness. One of the cute things that aren't as sweet as they seem, is Kyuubey. Kyuubey is an adorable cat-looking thing who gives Madoka her magical girl powers, and all the drama that they entail.
Once you get to know Kyuubey better, you realize that he's not as innocent as he seems. But how can you ignore that he's an adorable, cat-rabbit eared cutie!? This particular stuffed Kyuubey is almost 16" long!! Would that be considered life-size?
---
6. Tiger Aisaka from Toradora!

Taiga Aisaka is a tiny, and adorable girl with a fierce attitude. So much so, that everybody's afraid of her at school and they call her the "Palmtop Tiger". When Ryuuji hears this nickname, he envisions an adorable little tiger on a palm, looking adorably vicious.
Well, now you can have your very own little Palmtop Taiga Tiger! And true to her nature, she's growling and ready for a fight. And she's only 10" long, so you can actually set her on your palm. Sounds like a great cosplay accessory to me! Or just a great addition to your room or office, especially if you're a bit of a Taiga yourself. 😉
---
5. Happy from Fairy Tail

Happy is a blue Exceed, which is basically a magical flying, talking cat. Oh yeah, and he's blue. Happy is Natsu Dragneel's BFF and they make an awesome team when they battle against other mages. He cares for Natsu like a brother, he's sweet, loves fish and the cute female Exceed, Carla. And even though he's kinda dorky, his innocence is simply lovable.
While there are a few versions of Happy to pick from, the best one has to be this 12" tall rendition of the cute little-winged cat. He has his little green pack and a fish. Can't you just hear him asking "Do you want some fish?" any time you're feeling down?
---
. Haku Neckpillow from Spirited Away (Sen to Chihiro no Kamikakushi)

Here's another classic. It's been 15 years since this Ghibli masterpiece came out, and it is still a staple within the anime community. If you've seen Spirited Away, you'll know about Haku, the little boy who helps and befriends Chihiro. You will also know that he turns into a flying white and green river dragon.
Seeing Haku transform into a regal dragon is a very moving part of the film. And the genius plushie creators in Japan decided to make him chibi and turn him into a neck pillow! Now you can remember that magical moment on your next trip, or whenever really! This ultra kawaii version of Haku will sleep around your neck and protect you wherever you may go.
---
3. All the Bananyas from Bananya

Bananyas are little cats that live hidden inside bananas. Because... why the heck not? These little cats are as adorable as they are ridiculous and their anime short series has been surprisingly popular. Bananya is the main kitty, but there's also Baby Bananya, Tora Bananya and even an Oyaji (old man) Bananya! Among others.
The only thing better than indulging our hunger for cute cat-related short videos is owning ridiculously cute cat-related plushies! There are Bananya plushies in every size and almost every material. These particular ones are about 3" tall each and they're actually for juggling, so you can own the whole collection! Bananya-ko takes the Kawaii prize, I think. So fluffy and pink!
---
2. Totoro Sofa from My Neighbor Totoro (Tonari no Totoro)

Who doesn't know this big lovable lug!? Totoro is a forest spirit, some may say the forest spirit. He sleeps a lot, and just kind of hangs out with Mei and Satsuki and other little Totoros. We've all been envious of Mei since we first saw her take a nap on top of the cuddliest forest spirit ever!
And now we can finally do it too! I introduce to you, the Totoro Sofa. The line between plush and sofa is very thin here, I know, but it's character shaped and covered in plush, so there! Kids are especially attracted to Totoro and his fluffiness, but it's precisely because he brings out the kid in all of us that we all want one of these sofas at home. Taking a Totoro nap anytime you want is totally worth the price!
---
1. Ditto Pokemon from Pokemon

Ditto, the transformation Pokemon. This little guy is basically a pink blob with a very simple face, that is until he chose to transform into any Pokemon he looks at or can remember perfectly. In episode 37 of the first season (Japanese episode count), we meet Duplica and her face-copying challenged Ditto. Derpiness and hilarity ensue.
Seeing Ditto transform into any Pokemon except for his face, is something old-time Pokemon fans will never forget, and something new fans find adorable. For a while now, these ditto-faced imitations (surely inspired by that episode), have been available in Pokemon Centers all over the world. The derp factor alone is enough to want to own at least one of these cuties. Look at that face! •_•
---
Final Thoughts
As a lifelong anime and plushie fan, I hope you enjoyed these super kawaii squishable recommendations. Of course, new anime keeps coming out and trends keep changing. If I can take this chance to make a request, I would love a Kurama plushie that looks just like his baby version (there is one, but I think it lacks kawaii-ness) and a Quetzalcoatl plushie from Luck & Logic! Onegai~❤!
So tell us, what was/is your favorite anime plushie? Do you have or want any of the recommendations on the list? What do you recommend? As always, let us know in the comments!
Nya~!
---