Puzzle games have been around for many decades and took off big time right when Tetris hit mainstream, along with other hits that followed in its wake. While not as sought after as it once used to be back in the late 90's all the way through to the mid 2000's, the puzzle game genre is still a huge contributor to the gaming industry and is a staple in the entire infrastructure that pertains to gaming. We saw the emergence of hit titles such as Dr. Mario, Puzzle Bobble (Bust-a-move as it's known in the west) as well as Bomberman, and now we've got wonderful upcoming titles from the Professor Layton along with the best selling mobile game in history Puzzle & Dragons. Whatever your taste is and how you play them, puzzle games will always be around to stimulate the brain and challenge your ability to come up with the right solutions in solving tricky problems.
10. Kirby: Canvas Curse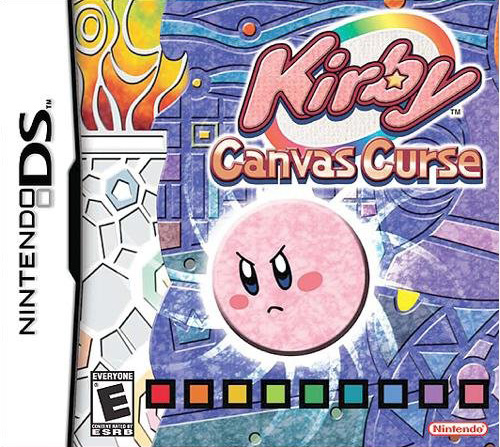 System/Platform: Wii U, Nintendo DS
Publisher: Nintendo
Developer: HAL Laboratory
Release Date: March 24, 2005
Kirby has come a long way since its debut in Kirby's Dream Land back for the Gameboy in the 90's, and since then has made a name for itself as one of Nintendo's most popular mascot characters. What made Kirby so lovable was that it was just a pink puffball that could suck up enemies, taking their powers, and becoming this adorable powerhouse that could take on any opponent. In Canvas Curse, the world you live in has been torn apart by the evil witch Drawcia and so now you must repaint the world back to its original form before it's too late.
The challenge of Canvas Curse wasn't so much in drawing the lines, but rather drawing them correctly in order to complete puzzles properly. The game was very vibrant as most Kirby titles are, but more so in this because you had a plethora of colors just exploding from the screen along with your colorful paint tool which resembled a rainbow. As you traverse through the game, challenges get increasingly harder but more rewarding and that's what made it so fun in the end as you tap and draw your way to victory.
---
9. 999: Nine Hours, Nine Persons, Nine Doors

System/Platform: Multi Platform
Publisher: Aksys Games | Spike Chunsoft
Developer: Spike Chunsoft
Release Date: December 10, 2009
Once you take part in the Nonary Game it's going to be a life or death challenge that puts you up against 8 other passengers on a ship. The only way out is through the right door, but to get there you'll need to use your tactful thinking to solve clues along the way and decide whether to ally with or kill the other passengers to collect your numbers.
Combined with a cool story that has you making decisions which can often lead to very bad endings if you aren't careful, 999: Nine Hours, Nine Persons, Nine Doors is truly a feat because in order to really complete the entire game you'll need to beat it multiple times. It certainly sounds crazy but the gameplay is so addicting that you find yourself coming back just to get all 6 endings, which unlocks the true ending. Are you able to escape the room in time and make your way off this ship alive? Only one way to find out and that's to pick this one up and play.
---
8. Super Bomberman V

System/Platform: Super Nintendo
Publisher: Hudson Soft
Developer: Hudson Soft
Release Date: 1997
Bomberman is another iconic figure in the gaming world and exploded onto the scene back in the early 90's with his cool yet cute demeanor. Players would be thrown into a battle arena where you and three other players or CPU would take part in a showdown to see who could collect the most power ups, and strike their opponents down before time runs out.
Super Bomberman V was the very last title on the Super Nintendo before the style of Bomberman started to change along with the times when it dropped on the Nintendo 64. The bomberman series is well known for its explosive adrenaline rushed gameplay which has you strategically placing bombs in areas of the arena to catch your opponent off guard, while trying to avoid turning into stardust from the enemy. It was fast paced, fun, and truly an addictive adventure that can never be forgotten and we wish Hudson Soft would come back to make a collector's edition or something.
---
7. Super Puzzle Fighter II Turbo

System/Platform: Multi Platform
Publisher: Capcom
Developer: Capcom
Release Date: May 31, 1996
What do you get when you take the world's most iconic fighting game franchise and throw it into the puzzle universe? You get Super Puzzle Fighter II Turbo which is arguably one of the best puzzle games ever made because of its unique play style, and nostalgia value. It takes everything you loved from Street Fighter and then challenges your brain with fast paced gameplay similar to its fighting game parent.
Every time you drop your gems and destroy matching colors, your favorite Street Fighter characters would start taunting each other much like they would in the classic title, with all of the sound effects still intact. Much like Tetris, the stages get increasingly harder as gems start to fall faster and you'll need to summon your inner Ryu to react to everything that's happening. You pray for the Rainbow Gem to appear once things start to heat up competitively, since it destroys all other gems and keeps you from running into trouble. Super Puzzle Fighter II Turbo is a family fun game that can be played on a high level if you desire to, and has enough replay value to keep you hungry for more.
---
6. Catherine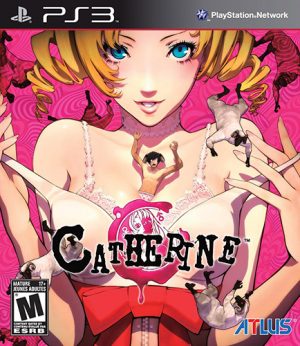 System/Platform: PlayStation 3, Xbox 360
Publisher: Atlus
Developer: Atlus
Release Date: February 17, 2011
Catherine made its debut in 2011 as a puzzle platformer that featured a very anime-themed story line, along with clever puzzles that took players to a whole new level of challenge. It was marketed as an adult title according to character designer Shigenori Soejima, but little did he know that thousands of fans would buy it regardless of what the theme was. You control a character named Vincent who starts to suffer from constant nightmares after his girlfriend Katherine brings up marriage and committing long term. Things get stranger by the minute as he meets a new girl named Catherine whom he has an affair with, and from there his nightmares start to snowball.
The unique approach to Catherine was really an interesting one, as you spent a lot of time in nightmare mode pushing and pulling blocks to create steps to reach your destination. Depending on how much alcohol you consume in the game, you can move blocks faster which will allow you to scale them quickly as well. With multiple endings to look forward to along with the competitive versus mode known as VS Colosseum, Catherine is a title that's sure to appease you in many more ways than one.
---
5. Professor Layton and the Azran Legacy

System/Platform: Nintendo 3DS
Publisher: Nintendo Australia | Level-5
Developer: Level-5
Release Date: February 28, 2013
Professor Layton's titles are unlike any other puzzle game that has been released in the history of puzzle games, because it incorporates a remarkable adventure story that constantly pushes your brain to its limits with some of the best puzzles we've played in years. You play as the calm cool and collected Layton along with his partner Luke, as you travel the world uncovering clues and using them to complete very intriguing puzzles along the way. In Azran Legacy, which is the last Layton title to feature the man himself, you Emmy and Luke travel across various towns to put all the pieces together and discover more about the Azran Legacy.
Featuring touchscreen actions such as tapping various items on screen to dig up clues along with the ability to zoom in to see details better, the Layton series has always come with something fresh to experience in the puzzle category and delivers exceptionally well. This is truly one title you don't want to miss out on, especially that a new title featuring Layton's daughter is scheduled to drop next year called Lady Layton: The Millionaire Ariadone's Conspiracy.
---
4. Puyo Puyo Tetris

System/Platform: Multi Platform
Publisher: Sega
Developer: Sonic Team
Release Date: February 16, 2014
Puyo Puyo Tetris takes much of what you loved from the iconic title and throws in new variables to keep the series feeling fresh and invigorating. While you're still stacking colored blocks while being challenged by time, Puyo Puyo Tetris introduces cute anime characters into the mix to be more inviting to new players to the puzzle genre. The design surely paid off as now Puyo Puyo Tetris has become one of Sega's best selling titles, spawning multi platform titles and popular tournaments in Japan.
Puyo Puyo Tetris is everything you'd expect but then a story mode is added in to cater to a more casual audience. You have several cool modes to choose from such as the classic versus mode that we've all come to love, along with Puyo-Tet mix which combines both the Puyo balls and Tetris blocks together, and Big Bang just to name a few. Simple in design yet incredibly challenging in the gameplay department, Puyo Puyo Tetris is highly addictive and no matter how much you try to walk away from it, you find yourself coming back to score higher points or to beat your friend who loves to brag too much.
---
3. Puzzle Bobble 4 (Bust-a-Move 4)

System/Platform: Multi Platform
Publisher: Taito
Developer: Cyber Front
Release Date: 1998
Another all time classic that is still widely regarded as one of forerunners of the puzzle game world is none other than Puzzle Bobble. Known as Bust-a-Move in the west, Puzzle Bobble allowed players to experience a puzzle thrill unlike any other which had players quickly shooting bubbles at other matching color bubbles to pop them without any crossing the bottom line. It featured very cute anime-like characters which resembled dragons that you'd use throughout gameplay, while it introduced cool mechanics to a wide audience when it released stateside.
When you come to Japan and make your way to any Taito Station arcade let alone any arcade for that matter, you're more than likely to see a throwback cabinet that features these iconic characters aiming their bubbles to score points. The 4th installment has become a massive hit partly due to its graphical upgrades and new ways of playing, but also because it resembles the overall presentation of the original. It's honestly a staple in Japanese arcade culture and now even western culture as tournaments are still conducted for the game to this day, one of which took place at PAX Prime early this year. Whether you're a nostalgia junkie or just wanting to dig into the diverse archive of classic puzzle hits, Puzzle Bobble will surely be there waiting for you to pick up and try out.
---
2. Dr. Mario

System/Platform: Various Nintendo Platforms
Publisher: Nintendo
Developer: Nintendo Australia
Release Date: 1990
The puzzle game genre just wouldn't be the same without there having some Mario related title thrown into the mix, and here we have the notable Dr. Mario. This game is certainly a throwback when compared to our other titles on the list, but it certainly deserves much praise even in this present era. Releasing back in 1990 for both the Gameboy and NES consoles, Dr. Mario has played a major role in the overall success of selling both hardware along with being one of the best Nintendo games ever made.
Dr. Mario took what made Tetris such a thrill to play and put its own flare on it to create a genuinely fun and often times challenging game, filled with surprises at every corner. What made it such a hit wasn't just of Mario being on the cover but because it offered players a new experience, along with cool features that could only be found in Dr. Mario such as the popular capsules. Your objective was to stack these capsules atop each other in order to kill the deadly viruses before time runs out, but what made it actually fun to continue playing was its memorable soundtrack that can still be heard to this day.
---
1. Puzzles & Dragons

System/Platform: iOS, Android, Kindle Fire, Nintendo 3DS
Publisher: GungHo Online Entertainment Inc.
Developer: GungHo Online Entertainment Inc.
Release Date: February 20, 2012
If there's one puzzle title of our era that has truly made its mark on the gaming industry as a whole, look no further than Puzzles & Dragons. This game caused widespread hype when it released, which then turned into a giant billion dollar title that now has become a multi platform success. Starting its life on the mobile platform back in 2012, Gungho never really knew what to expect from their title but they were sure it was going to erupt in some way, and erupt it did.
Overnight this game blew audiences away with its unique take on puzzle games by throwing in various rpg elements to create this hybrid of excitement, while showing players new ways of being challenged on the puzzle battlefield. Matching colors which have their own distinctive properties, players must quickly use their stylus to swap colors around on the board and deal massive damage to enemies they encounter throughout the many dungeons they enter. Talking about it is simple but as you progress deeper into the game where collecting rare eggs will help you to breed much stronger allies for your team, things progressively become more difficult and you'll need not only brain power but speed as well. With enormous replay value and new eggs to be found on a daily basis, along with spin off titles for 3DS, Puzzles & Dragons will continue to be at the forefront of the puzzle genre with its addictive gameplay.
---
Final Thoughts
We simply couldn't place every hit puzzle title on our list for obvious reasons, but there's no way that we could forget to mention Pokemon Puzzle League, along with Mario vs Donkey Kong: Mini-Land Mayhem. Of course you need to mention Tetris too since it fathered a lot of these titles we know and love today, and still has an incredible track record tied to it. What puzzle anime games blew you away when playing? Let us know down below what your picks are and be sure to tweet out our articles to keep the community buzzing!
As always, if you want to know about all the latest buzz straight from the bee's nest in Japan, be sure to keep it locked here at Honey's Anime.
---