Tekken has got to be one of our favorite fighting games of all time. Not only does each character have unique fighting styles, but they also have interesting back stories! Tekken female characters are especially prominent with their spectacular appearances and fabulous fashion sense which make them all seem like high fashion models. Since everyone loves to look at beautiful female characters, we have list down our Top 10 Famale Characters Tekken from the franchise.
10. Anna Williams

Anna Williams is the younger sister of Nina Williams. Both of the girls face intense sibling rivalry as a result of their father, Richard Williams who appears to favor Nina and taught her assassination techniques while neglecting Anna. It seems like Anna enters the tournament to get back at her sister. Unlike her more serious sister, Anna is more flirtatious.
It may seem pretty silly of Anna to enter the tournament due to sibling rivalry, as they can just have a showdown at the comfort of their own homes. While Nina may seem to have the advantage of being skilled in assassination techniques, you have to give it to Anna for looking more fashionable with her trademark long, red silk dress which features a high slit that shows off her toned leg.
---
9. Asuka Kazama

Asuka Kazama is a girl who speaks in a Kansai dialect and is known to break up fights in Osaka. She has a mysterious connection to Jin Kazama and her fighting style is Kazama Style Traditional Martial Arts, which was taught by her father. Her reason for entering the King of Iron Fist Tournament is to find the Chinese guy who beat up her father's students.
A Japanese fighting game would not be complete without a Japanese female character. While Asuka Kazama has a brash attitude which may seem a little unfeminine, she has a strong sense of justice and is a really fun character who truly enjoys fighting. She has a cute and refreshing beauty with a similar fighting style to Jin Kazama, which makes her a great alternative for those who prefer to use a cute female character instead of a male character. Plus, she is a special one who can tame the Devil Jin!
---
8. Ling Xiaoyu

Ling Xiaoyu is a bubbly girl who also has a crush on Jin Kazama. She is trained in Baguazhang and Piguaquan which are Chinese martial art styles, and it is ok if you do not know how to pronounce those names (neither do I). Her dream is to build an amusement park in China, which leads her into entering the tournament to win the cash prize that would enable her to realize her dreams. Besides that, she also owns a Panda that is skilled in martial arts!
To some people, Ling Xiaoyu's overly cheerful personality and childish dreams can come across as borderline annoying, but you can't deny that she has that kawaii vibe going on! Her attack moves are actually pretty weak which places her out of the list of the strongest characters, but she is very agile and great at dodging attacks. Her acrobatic moves are also very entertaining to watch!
---
7. Julia Chang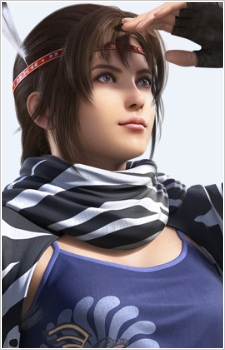 Julia Chang's fighting style resembles that of Michelle Chang's, as Julia is Michelle's adopted daughter. She sports feathers on her head that is reminiscent of the Native American tribe. She has a strong interest in Archaeology, and she tries to find out more about Michelle's ancestors, especially through the use of Michelle's pendant. The sudden disappearance of many fighters leads other people from the tribe to suspect that the pendant has something to do with it, so Michelle goes to Japan but does not return. Julia suspects Heihachi, so she joins the tournament to discover the truth.
Julia is very pretty and loves nature, so we figure she would be pretty popular among environmentalist. If there are many environmentalists who look like her, we bet that most of you would be ashamed of your unfriendly environmental ways and make an effort to go green. Her wrestling style-throws pack a punch, and she also has some awesome kick combos. Her seemingly same attacks actually have many variations to them, which makes her moves quite unpredictable to her opponents!
---
6. Nina Williams

Unlike her jealous sister, Anna Williams, Nina is not so petty as to bother about things which do not matter much. In fact, she is pretty emotionless and indifferent about most things, as she is controlled by the creepy Ogre after the death of her father. Her signature color is purple which is usually reflected in her outfit. She initially joined the tournament to assassinate Heihachi Mishima.
Nina Williams becomes a fan favorite due to her fighting style which incorporates lethal moves and chain throws. She can also perform pretty deadly combos, so her strength is somewhat on par with strong male characters. Nina is a femme fatale veteran who has appeared in every Tekken series. Even though she is aged above 40 from Tekken 3 and onwards, she still looks stunning and captivating!
---
5. Christie Monteiro

Christie Monteiro is a Brazilian who is skilled in Capoeira, after being taught the martial art style by Eddy Gordo, who learned it from Christie's grandfather, the Legendary Capoeira Master. After learning from Eddy Gordo for 2 years, Christie becomes quite the skilled fighter, but Eddy suddenly goes missing. Christie's only clue is The King of Iron Fist 4 Tournament, so she joins it in order to search for Eddy!
Christie Monteiro reminds us so much of Jennifer Lopez. As we love Jennifer Lopez, we automatically love Christie too. Her Capoeira fighting style is quirky and fun as it is reminiscent to dancing. You can just simply jam the buttons and watch how Christie dances and attacks her opponent, who is unable to foresee how she is going to attack next due to her deceptive dancing skills. She is very sexy and an easy character to use, which beginners will love!
---
4. Zafina

Zafina's seducing looks is due to her Middle Eastern roots. She has great spiritual power and is tasked to protect an imperial tomb since she was a child. She uses her spiritual ability to be an astrologist, but as her premonitions become more intense, she consults her guru. Her guru tells her about the two evil stars which will cause the tomb's seal to be broken. Upon knowing that Kazuya and Jin will be joining the tournament, she also participates to destroy those two evil stars.
Zafina may be a new addition to the Tekken series but we have our reasons to choose Zafina over some veteran female fighters. Zafina always has that bitch mode on even before the fight starts, as evident by her pre-fight taunts to her opponents. To be honest, we find that incredibly sexy, dominant, and attractive. Her lack of story arcs adds to her mystery, if you will. Plus, she is rocking that smoky eye look without looking like she has been punched in the eyes.
---
3. Panda

The Panda that is the pet of Ling Xiaoyu is also a capable fighter! And yes, Panda is a female, in case you never thought of that before. Panda learned advanced bear fighting from Heihachi Mishima so she would be able to act as a bodyguard for Ling Xiaoyu during the tournament. Besides being a bodyguard, Panda is also the best friend of Ling Xiaoyu.
Instead of being a decorative pet panda that spends most of the time chewing bamboo shoots and looking cute, Panda makes herself useful by being trained in martial arts. Thus, Panda is a step above most of the pets out there. Since Panda is such a highly attractive bear, it is no surprise that Kuma has a crush on her. We don't doubt that there are many other bears and humans who find her charming too. Sorry, Ling Xiaoyu, but your pet is way cuter than you.
---
2. Alisa Bosconovitch

Alisa Bosconovitch is an android created by Dr. Geppeto Bosconovitch. Alisa's appearance is modeled after Dr. Bosconovitch's daughter who had passed away. However, the android is also enhanced with fighting skills and mechanical devices meant for attacking. Alisa wears three lilies in her hair which symbolizes innocence, a primary characteristic of Alisa.
Alisa is easily among the best-looking female characters due to her baby pink hair which complements her pretty green eyes. She stands out easily appearance-wise, due to her unique features. Alisa is also a very interesting character to use due to her mechanical devices. For instance, she can sprout chainsaws from where her arms should be! Besides short range attacks, she is also capable of long range attacks such as launching rockets, therefore, she is a very versatile fighter.
---
1. Lili

Lili, or Emilie De Rochefort, is the only daughter of the wealthy Mr. Rochefort, and she stays in an upscale mansion along with her father and a butler named Sebastian. Due to her lavish lifestyle, she seems to develop a selfish and arrogant attitude, but she is actually a nice girl underneath all the pomp. This daddy's girl joins the tournament to deal with Mishima Zaibatsu, who is a problem to her father's business.
Befitting of her affluent background, she strives to look elegant and graceful in her moves, which seems to be Gymnastics-inspired. We think that she is the most awesome female character because it is highly likely that she develops her own fighting style. Her father, who does not like fighting, would have never sign her up for any martial art classes! Her rivalry with Asuka Kazama is cute to watch, but we have to say that we prefer Lili over Asuka, due to Lili's cool demeanor unlike Asuka, who is rather hot-headed.
---
Final Thoughts
This kind of list is bound to draw disagreements over which character should be at the top. Nevertheless, we are open to your opinions and we would really appreciate your input! Whether you agree or disagree with our choices, do state your opinions down below, and your reasons for preferring certain female characters over the others! We know everyone has their own taste and needs when it comes to fighting games because it's not always the characters who are judged, but how the player uses them.
---