Last year we had a ton of amazing games released. Honestly, there were so many titles that released we here at Honey's Anime had our work cut out for us. Whether it was for the PC or a console, video games had an amazing year in 2017. Though, there was another type of platform that games had a solid year on and that was the handheld market. Regardless if you prefer the PS Vita over the Nintendo 3DS or even a good old smartphone, handheld games came out in waves in 2017.
Ironically, as we sat down and thought about what games released in 2017 we realized a lot of amazing handheld games weren't getting their fair share of limelight. There were numerous titles—that may or may not be on our list—which did get some love but we want to make sure all the excellent handheld games are shown to the world. While we literally can't show all of them, but we can at least find the Top 10 Best Handheld Games of 2017. Let's get ready for some portable gaming greatness!
10. Splatoon 2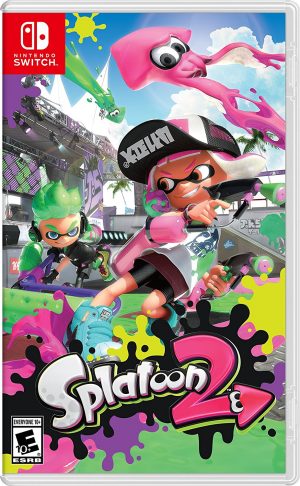 System/Platform: Nintendo Switch
Developer: Nintendo EPD
Publisher: Nintendo
Release Dates: Jul 21, 2017
Splatoon 2 brings back all the action and ink spreading goodness from its previous entry. Players will once more take control of inklings as they battle for turf. Use various ink-based weapons to spread your team's colors all over the map. Players can also play through a new story mode that takes place two years after the events from the last game. Splatoon 2 is bringing back all the inky goodness but now on the Nintendo Switch.
Splatoon 1 was an amazing title when it was released back in 2015 for the Nintendo Wii U and took many hours of our lives here at Honey's Anime. That's why when Splatoon 2 was announced and released in 2017, we expected the same outcome. With fun multiplayer gameplay and a lengthy single player mode, Splatoon 2 was one of the better 3rd person shooters we played. What's even better is it could be played on the Nintendo Switch offering gameplay anywhere we went. Well, that is as long as we had some wi-fi to connect to.
---
9. Tokyo Xanadu

System/Platform: PS Vita
Developer: Nihon Falcom
Publisher: Nihon Falcom, Aksys Games
Release Dates: Jun 30, 2017
Tokyo Xanadu has players assuming the role of a young high school student named Kou Tokisaka. Kou was originally a normal young man whose biggest problem was working non-stop despite being a student. That all changed however when Kou got wrapped up in a strange event affecting the world called the Eclipse. Here, various monsters suck in normal people and devour them if left unchallenged. Kou will need to team up with his new allies if they wish to stop this threat and keep their city safe.
JRPGs are always a blast, especially when they come in a portable form. Tokyo Xanadu from developer Nihon Falcom is a solid third person action JRPG with themes similar to The Legend of Heroes franchise. We loved the amazing soundtrack and anime inspired story that had Kou and friends dealing with a rather strange supernatural phenomenon. Tokyo Xanadu was one of the better titles on the PS Vita system proving the system is far from dead. If you haven't checked Tokyo Xanadu out and you're a proud PS Vita owner, then you're missing out on one of the better JRPG titles to be released in 2017.
---
8. Metroid: Samus Returns

System/Platform: Nintendo 3DS
Developer: MercurySteam, Nintendo EPD
Publisher: Nintendo
Release Dates: Sept 15, 2017
Samus Aran is back and better than ever in Metroid: Samus Returns. Acting as a reimagining of the original Metroid II: Return of Samus, Metroid: Samus Returns gives a new spin to Aran's tale. Players will once more take control of the fiery and strong bounty hunter as they defeat various foes. With new and improved visuals, Metroid: Samus Returns will give players the Metroid game they've been wanting for some time. It's time to stop some baddies once again in Metroid: Samus Returns!
While it's been some time since we get a true Metroid sequel, developer MercurySteam and Nintendo teamed up to deliver something to hold us over in the form of Metroid: Samus Returns. Using the power of the Nintendo 3DS and the dual screens, Metroid: Samus Returns looks and plays wonderfully. What's even better is that seeing as how Metroid: Samus Returns is a reimagined version of the Metroid II new and old fans can get a completely new title to enjoy. Definitely pick up Metroid: Samus Returns for your Nintendo 3DS if you somehow missed it last year.
---
7. Fire Emblem Heroes

System/Platform: Android, iOS
Developer: Intelligent Systems, Nintendo EPD
Publisher: Nintendo
Release Dates: Feb 2, 2017
Fire Emblem has finally moved from Nintendo platforms and onto the world of mobile gaming in Fire Emblem Heroes! Players will still get to enjoy the turn based tactical gameplay of the Fire Emblem series they know and love but now with smaller maps and a slew of fan favorite characters from the Fire Emblem franchise. Summon warriors like Ike, Chrom and Lyn as well as tons of other warriors! Summon these heroes via in game currency or real-life money and enjoy random events with new campaigns to enjoy! Go and download Fire Emblem Heroes for free now on either iOS or Android devices!
For the last few years, we here at Honey's Anime have seen quite a few different franchises do what Fire Emblem Heroes has done. The move from their respected platforms to mobile devices. However, Fire Emblem Heroes has proven to be one of the more successful titles to attempt this and we've found it to be one of the more enjoyable mobile games of 2017. The huge roster of downloadable characters as well as the dozens of new events and campaigns has kept Fire Emblem Heroes fresh and constantly fun. Plus, Fire Emblem Heroes is a great alternative if you don't own a Nintendo console to enjoy the regular Fire Emblem titles.
---
6. Xenoblade Chronicles 2

System/Platform: Nintendo Switch
Developer: Monolith Soft
Publisher: Nintendo
Release Dates: Dec 1, 2017
In the world of Alrest, there is no land for people to live on. The only thing that seems to exist is an endless abyss of clouds and ocean. However, humanity has found a means of living via creating cities and towns on top of large titans-like beings. In return, humanity has created professions like Divers to explore the vast oceans in search for treasures. Rex is one of those Divers who has recently joined an expedition that may lead to a treasure that might change his life forever.
Back on the Nintendo Wii, developer Monolith Soft released Xenoblade Chronicles and fans were wowed by it. Solid storytelling, impressive graphics and fun pseudo real-time action RPG made it one of the best JRPGs to release back in 2010. Then after a not so well received spin off title, Xenoblade Chronicles 2 returns to form and was easily one of the best handheld titles to release in 2017. We here at Honey's Anime actually reviewed Xenoblade Chronicles 2 and recommend reading it if you want to hear a more in-depth review. Though even if you don't just trust us, Xenoblade Chronicles 2 should be owned if you own a Nintendo Switch.
---
5. Monster Hunter Stories

System/Platform: Nintendo 3DS, Android, iOS
Developer: Marvelous
Publisher: Capcom, Nintendo
Release Dates: Sept 8, 2017
Monster Hunter Stories changes the tried and true formula of most Monster Hunter games. Rather than being an action title, Monster Hunter Stories has players fighting baddies in turn-based form. Playing as a Rider, Monster Hunter Stories makes players tame monsters to defeat various other enemies. Take care of your monsters and grow bonds with them to unlock their full potentials and make for a powerful team. Monster Hunter Stories is available on either the Nintendo 3DS as well as mobile devices so pick it up today!
Monster Hunter Stories is a truly intriguing departure from the 3rd person action title we're so use to from the franchise. The idea of collecting monsters and raising them sounds like a mixture of Pokemon and Digimon and scared us originally. However, once we got our hands-on Monster Hunter Stories we truly enjoyed this hybrid gameplay style. Even if you don't like Monster Hunter you might enjoy this spin off title. Monster Hunter isn't new to the handheld world but Monster Hunter Stories makes for a new experience, one we're sure you'll enjoy.
---
4. Danganronpa V3: Killing Harmony

System/Platform: PS4, PS Vita, PC
Developer: Spike Chunsoft
Publisher: Spike Chunsoft, NIS America
Release Dates: Sept 26, 2017
Kaede Akamatsu has found herself in a rather dire situation. Alongside 14 other people, Kaede meets a strange robotic bear named Monokuma who tells them they are about to participate in a killing game. One of the must get away with murder and evade being outed by their peers. If they can accomplish this they will be set free will the others will die. Otherwise, they will forever remain trapped in this strange place. It's time for yet another killing game in Danganronpa V3: Killing Harmony!
While the PS Vita has had some solid titles release for it, one of the best has to be the Danganronpa franchise. That's why we were so excited to get our hands on Danganronpa V3: Killing Harmony and even reviewed it on our site. The new cast of characters thrown into this death game are all truly special and their personalities make Danganronpa V3: Killing Harmony an extremely engaging title. While you can technically play Danganronpa V3: Killing Harmony on the PS4 or the PC, we still feel it works so much better on the PS Vita. Though whatever console you choose to play Danganronpa V3: Killing Harmony on, you can't deny it was one of the best handheld titles released last year.
---
3. Super Mario Odyssey

System/Platform: Nintendo Switch
Developer: Nintendo EPD
Publisher: Nintendo
Release Dates: Oct 27, 2017
Mario is back but this time in a rather huge adventure that might be his biggest yet. Once more Mario must save Princess Peach but will need some help from a new ally in the form of Cappy. Despite Cappy being a hat, Cappy can give Mario new powers to utilize. Mario will need this new arsenal of skills to defeat Bowser's new minions in the form of Broodals. Join Mario and Cappy as they begin their new adventure in Super Mario Odyssey.
Super Mario Odyssey might be one of Mario's greatest adventures yet. Players will explore an even bigger world filled with various environments to traverse and baddies to defeat. Plus, with Cappy's abilities Mario can use tons of cool new powers and even activate new forms to solve new puzzles and challenges never seen in any other Mario title before. With amazing graphics and the ability to take Mario wherever you go, Super Mario Odyssey was one of the best Mario games we've played in possibly the last few years. If you consider yourself a Mario fan or need a good Mario game to play then you need to buy Super Mario Odyssey.
---
2. Fate/Grand Order

System/Platform: Android, iOS
Developer: Delightworks
Publisher: Aniplex
Release Dates: Jun 25, 2017
The Chaledea Security Organization has tried its best to help humanity survive for the foreseeable future. Unfortunately, the organization has discovered something amiss in the future that threatens to end the world. Pinpointing the incident to Fuyuki City in 2004 being the cause of this future event, the Chaledea group activates their ace in the hole, time travel. The group sends out agents to investigate the cause and to prevent it from affecting the future. This mission is dubbed Grand Order and it will be the most important event to save humanity and prevent a horrible future from coming to fruition.
Fate/Grand Order is a cell phone-based title that seems simple but is so much bigger than it looks. Players summon legendary characters like Archer, Saber, and so on to aid them in defeat various opponents. What's even cooler about Fate/Grand Order is that it has a self-contained story which is rare for most mobile games like it. We won't lie folks, we have spent some time playing Fate/Grand Order as its an addictive game. That's why we knew it deserved a place on our list of the Top 10 Best Handheld Games of 2017.
---
1. The Legend of Zelda: Breath of the Wild

System/Platform: Nintendo Switch, Nintendo Wii U
Developer: Nintendo EPD
Publisher: Nintendo
Release Dates: Mar 3, 2017
The Legend of Zelda: Breath of the Wild brings players into easily the largest Zelda title ever. Players once more assume the role of titular hero Link but in a future landscape where Ganon's rule has ruined Hyrule. With Link having lost his memories and skills he must regain his powers to hopefully stop Ganon. However, Ganon's armies are strong and vast. Link will need to muster all of his courage if he wishes to win this battle and save Hyrule!
Coming in at number one for our Top 10 Best Handheld Games of 2017 list is The Legend of Zelda: Breath of the Wild. The world Link now resides in is vast with tons of secrets to find, powers to gain and trials to overcome. The Legend of Zelda: Breath of the Wild looks absolutely gorgeous as well making every quest fun to undertake. Have you played The Legend of Zelda: Breath of the Wild? IF you haven't, you need to remedy that as we honestly feel it is the best Zelda game to have been released since the Ocarina of Time or even Twilight Princess. Though feel free to tell us your favorite Zelda game in the comments below.
---
Final Thoughts
Handheld gaming still isn't as popular as console or PC gaming, but it's still pretty darn enjoyable. The ability to bring a game wherever you go is so appealing and is great for long trips and those times where boredom is lingering ever closer. That's why if you are one of those who love their portable games 2017 was a good year for you. What was some of your favorite handheld games from 2017? Use the comment section down below to let us hear from you and so we can talk with you all. Remember to keep coming back to our hive for more articles and lists here at Honey's Anime.
---