Bishounen simply means "beautiful boy." In anime, this word has come to refer to a common character trope. It was once used exclusively to describe charming, physically attractive, and somewhat effeminate male characters. The application of this term has evolved, and "bishounen" is in the eye of the beholder.
The term is now applied more broadly to characters that are appealing to a female audience. Bishounen come in all shapes and sizes, but what they have in common is that they give us that warm fuzzy feeling. So get your hearts racing… let's meet the boys of Spring 2015!
10. Kotarou Katsura from Gintama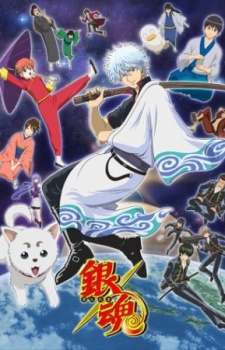 Episodes: Unknown
Aired: Apr 8, 2015 – Present
Kotarou Katsura is a venerated leader and a fugitive. Because of his wanted status, he often has to conceal his appearance in public. He is somewhat dramatic, and also a bit of a charmer, with a penchant for spinning dramatic, tear-jerking yarns.
He is the type of character who takes himself seriously but often does or says comedic things unbeknownst to him, which is quite endearing. His unique charm in combination with his refined appearance make him a contender in the bishounen category for this season.
---
9. Kyouma Kuzuryuu - Mikagura Gakuen Kumikyoku

Episodes: 12
Aired: April 7, 2015 - June 23, 2015
There's just something irresistible about artistic boys. Kyoma Kuzuryu is in charge of the art club at his school, wearing splattered paint on his face like a badge. He is kindhearted, but his unkempt appearance is only part of what keeps his classmates at bay.
Kyouma is perceived by acquaintances as unapproachable, which is exactly what he wants and the reason for this defense will tug on your heart strings. Every character list needs a tsundere, and Kyouma fills that niche at number nine.
---
8. Zapp Renfro from Kekkai Sensen (Blood Blockade Battlefront)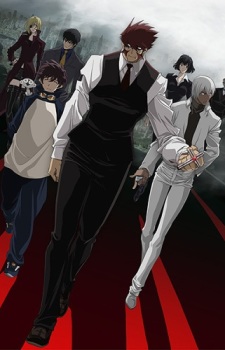 Episodes: 12
Aired: Apr 5, 2015 - Present
Zapp Renfro is a member of the Libra Organization, and a particularly valuable one due to his formidable combat skills. However, his battle prowess is one side of a double edged sword - his vices often get his fellow Libra members in a bind. He has a short fuse, and it often gets the better of him.
A womanizer with a temper, he just might be the kind of guy your mother warned you about. Though he acts tough, he has a soft side and is charged with being a bodyguard for the protagonist of the series. This protective inclination combined with his sexy bad boy image put Zapp on this list at number eight.
---
7. Welf Crozzo from Dungeon ni Deai wo Motomeru no wa Machigatteiru Darou Ka (Is It Wrong to Try to Pick Up Girls in a Dungeon?)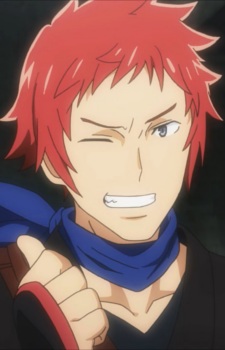 Episodes: 13
Aired: April 4, 2015 - June 27, 2015
Welf Crozzo is a member of a group called the Hephaistos Familia, and an extremely skilled blacksmith. He is blunt and honest with a very strong moral compass, but is also extremely charismatic and agreeable.
In addition to being a straightforward man, he pulls off a blue scarf casually with flying colors. Oh, and that smile and red hair aren't hard on the eyes, either. He is handsome, brave, and has a good heart. All in all Welf is a breath of fresh air, landing him a spot on this list.
---
6. Ryota Kise from Kuroko no Basket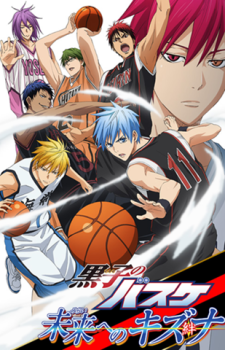 Episodes: 25
Aired: Jan 11, 2015 - Jun 30, 2015
Ryota Kise is friendly and laid back in social situations, but is extremely serious about basketball. His area of expertise is quite intriguing – he diligently observes his opponents, and is able to replicate their moves and techniques.
Androgynous in appearance, sporting a pierced ear and thick eyelashes, Ryota definitively meets bishounen criteria. This status is reinforced by the fact that Ryota works as a model, and is quite the ladies' man. These traits secure this charming all-star's place on this list as number six.
---
5. Mikaela Hyakuya from Owari no Seraph (Seraph of the End: Vampire Reign)

Episodes: 12
Aired: April 4, 2015 - June 20, 2015
There is something enchanting about vampires, and Mikaela Hyakuya is no exception. Despite his dark past, he smiles through his pain, and retains an optimistic disposition. He has had to think on his feet to survive, and is very intelligent and resourceful as a result.
Mikaela has an extremely delicate and effeminate appearance, typical of bishounen. The things he has suffered through make him a very emotionally complex character to boot. Because he is a more traditional bishounen, he lands a number five spot on this list.
---
4. Keiichi Iwase from Ameiro Cocoa (Rainy Cocoa)

Episodes: 12
Aired: April 5, 2015 - June 21, 2015
At first glance Keiichi Iwase is two things: beautiful and stone-faced. His serious outward demeanor and reluctance to express his emotions cause him to be often misunderstood. But the first time you see him smile, your heart simply melts. Maybe he's more sensitive than he seems?
This short show features an all-bishounen core cast, each appealing to a different taste. If Keiichi isn't your type, you may fancy one of the other charming protagonists. In my personal opinion, he is the most striking character, putting him on this list.
---
3. Narsus from Arslan Senki (The Heroic Legend of Arslan)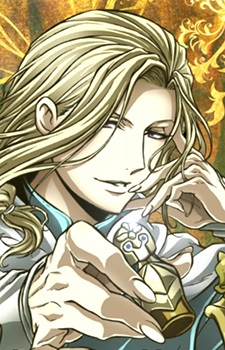 Episodes: 25
Aired: April 5, 2015 - September 27, 2015
Narsus was once in a position of power, but sacrificed everything for his morals. His ethereal appearance can only be described as androgynous, with his pale flowing hair and effeminate mannerisms. But don't let his delicate appearance fool you.
He is a talented intellectual, excelling in combat strategy and philosophy, as well as swordsmanship. Truly, he is a benevolent force to be reckoned with. This combination of good looks and honed ability make him extremely charming, putting him at number three on this list.
---
2. Ren Jinguji from Uta no☆Prince-sama♪ Maji Love Revolutions

Episodes: 13
Aired: April 5, 2015 - June 28, 2015
Ren Jinguji is one of the many talented music students at Saotome Academy, the soulful saxophone being his instrument of choice. With his long blonde hair and soft blue eyes, he is strikingly androgynous. He is flirtatious and outgoing, with a seemingly limitless supply of charisma.
If you've got a sweet tooth for eye-candy, this show is sure to satisfy your craving. Depending on the taste of the viewer, the top bishounen in this series is contestable. However for multiple reasons, and taking personal preference into account, I believe Ren has earned a number two spot on this list.
---
1. Satoshi Isshiki from Shokugeki No Soma (Food Wars! Shokugeki no Soma)

Episodes: 24
Aired: pril 4, 2015 - September 19, 2015
Satoshi Isshiki is a top student at Totsuki Culinary Academy, and is very passionate about the culinary arts. Though generally playful in nature, he is a skillful force to be reckoned with in the kitchen. Who doesn't love a man who can cook, am I right?
He often appears wearing a cooking apron and not much else, much to the chagrin of his classmates. Still, with his striking green eyes, playfully tousled hair, and boyish good looks I don't think the female viewers are complaining, putting him at the top of this list.
---
This season offered a wide variety of eye-candy for female viewers. The source of their appeal varies, from mischievous natures and heart-melting smiles, to raw charm and dark secret-filled pasts. No matter what your taste is, a few of these characters from the Spring 2015 Season are sure to win you over!