Hello Kitty is known worldwide as the cute cat character from Japan. Many kids, especially girls love Hello Kitty. Well, not only young girls, but even adult women are known to be fans of the character due to how cute it looks. The company behind Hello Kitty is Sanrio, and the company has created many other cute characters which are not as popular as Hello Kitty, but are nevertheless, very adorable in their own ways.
If you are a fan of Hello Kitty, you would want to learn more about the characters in the series! There are our top 10 picks of the cutest Hello Kitty characters:
10. My Melody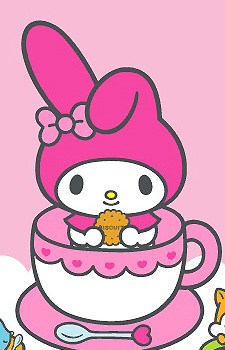 With the pink or red hood, My Melody often sported, she reminds us of the Little Red Riding Hood. She was born in Mariland forest and has an affinity for baking cookies with her mum. My Melody enjoys huge popularity in Asia, like Hello Kitty. Thus, the character can be found in many children items such as stationery and toys. However, My Melody is not that popular globally.
My Melody is a little girl rabbit that really enjoys eating pound cake. Cool, we thought she would love carrots instead. My Melody is such a sweet character, but honestly, she does not seem like a very interesting character. Nonetheless, the cuteness of her character design is the reason why she is loved in Asia.
---
9. Kuromi

Kuromi looks like a combination of Hello Kitty and My Melody, and she is the latter's rival! She is clad in black and has a mischievous smirk, which exudes a punk and tough image. On the contrary, she is actually very girly and is highly attracted to dashing guys. She also has her own gang that she leads, which is called Kuromi's 5.
Originally, Kuromi was a sweetheart like My Melody, but after misunderstanding various things committed by My Melody who appears to be ruining Kuromi's life, Kurumi changes into a more cruel personality. Not all of us admire the good characters, so Kuromi as a villain, becomes a popular character that is loved by fans of punk and goth.
---
8. Landry

If Landry reminds you of laundry, then you are right as that is what the character is inspired from. Landry is a cheeky raccoon that lives in a basin. His special skill is acrobatic as he has become pretty adept at balancing his basin.
Landry is a raccoon who has refined taste in music. He seems to admire classical music as his favorite is Mozart! If you are bored of today's music, then Landry will be a good friend to hang out with.. Besides that, he is kinda OCD with hygiene as he would wash just about anything he can get his hands on, so you can manipulate him into washing your laundry and your whole house.
---
7. Lloromannic

Lloromannic is a pair of characters which are really interesting. Lloromannic is the reverse spelling of Cinnamoroll. The pair of Lloromannic named Berry and Cherry are impish demons who lives far away from the café of Cinnamoroll. Even though they are designed to look like Cinnamoroll, they are not puppies.
Berry and Cherry enjoy tormenting children in their sleep. They would enter into the human world through a magical mirror. As they are afraid of daylight, they would hide in the drawers and cupboards. If we do not know what Lloromannic look like, we would be terrified of them as we have seen similar plots in creepy horror movies. Since they are hella cute, we would not mind them disturbing our sleep.
---
6. Hello Kitty

Hello Kitty is the most iconic character of Sanrio. The cat without a mouth is actually named Kitty White and born in London. Did we just say that she was a cat? She is actually a personification of a cat, kind of like how Mickey Mouse is a personification of a mouse. So, we can't exactly call them humans or animals. Besides that, Hello Kitty actually has a mouth which can be seen when she is eating.
The star of the show is only at position number 6 because we have seen her way too often so it kind of diminishes her cuteness. Nevertheless, Hello Kitty will definitely be popular for a long time as cats are popular pets, and Hello Kitty looks so cute that she would charm any girl or any woman who are young at heart like Mariah Carey.
---
5. Cinnamoroll

Cinnamoroll is a character series created by Sanrio. The main character is Cinnamon which is a white puppy with elongated ears. It is called cinnamoroll due to its tail which is designed after a cinnamon roll. The owner of Café Cinnamon brought Cinnamoroll to her café, and Cinnamoroll becomes an instant hit with the customers!
Cinnamoroll does not look like a puppy so much, but it's still very cute. We especially love its curly tail. Other than Cinnamoroll, there are other puppies at the café such as Cappuccino, Mocha, Chiffon, Espresso, and Milk. Thus, if you want a variation of Cinnamoroll, you can look at the other puppies and fall for their cuteness!
---
4. Charmmy Kitty

Charmmy Kitty is actually a pet cat owned by Hello Kitty. She is a white Persian cat that is fond of all things sparkly or shiny. The cat was given to Hello Kitty by her father. As Charmmy Kitty looks like Hello Kitty a lot, she is often mistaken as Hello Kitty. Charmmy Kitty wears a necklace which holds the key to Hello Kitty's jewelry box.
While Charmmy Kitty resembles Hello Kitty a lot, Charmmy Kitty is a true cat in the series, unlike Hello Kitty. So it can be argued that Hello Kitty is too fond of her cat that she tries to look like Charmmy Kitty. Therefore, it is obvious who the cuter one is. Since Sanrio claims that Hello Kitty is not really a cat, it doesn't seem so strange for Hello Kitty to have a pet cat. Otherwise, it would seem as if Hello Kitty is keeping a slave instead.
---
3. Bad Badtz Maru

Bad Badtz Maru or Badtz Maru is a male penguin character which is meant to attract both the male and female crowd. Badtz is derived from the word 'batsu' which means X, while Maru means circle or O. Hence, his name means wrong-correct. Bad Badtz Maru was born on April's Fool's Day which represents his naughty personality.
Bad Badtz Maru can often be seen sticking his tongue out and pulling one eye down, an infamous pose from the character. Besides that, he likes to make fun of things. He loves the villains in the movies, and so he likes to collect pictures of movie stars who portray them. Bad Badtz Maru may seem like a brat, but it is what makes him interesting and cute compared to some popular characters like Hello Kitty, which seem to lack personality.
---
2. Tuxedo Sam

Tuxedo Sam is a blue and white penguin that dons a red bowtie and a hat. Tuxedo Sam has the fashion taste of a gentleman and he owns a total of 365 bowties. In addition, he is fluent in English, but he also knows how to speak Penguinese, which he learned in the South Pole where he was born. He also has two brothers named Ham and Tam.
Tuxedo Sam appears to have the characteristics of a British gentleman, but he is actually a really cute blue penguin. He probably has OCD due to the number of bowties he has, so it doesn't seem like he would break the record of having 365 bowties. Therefore, you should not give him any bowties as presents!
---
1. Pompompurin

Pompompurin is yellow in color because it is modeled after a golden retriever. Pompompurin wears a brown beret and like every other dog, he gets all excited when someone says "let's go out!". On the other hand, the phrase he dislikes most is "stay". Among his favorite food are cream caramel puddings made by his mum and milk. He dreams of growing bigger.
Pompompurin is a happy-go-lucky character with a very laidback demeanor and has a talent for napping. He has a knack for hiding one of each pair of shoes, so be careful where you leave your shoes! Since he is a very easygoing dog, he can easily make friends with anyone. In that sense, Pompompurin is really like a golden retriever, a dog that almost everyone loves. Pompompurin is so lovable that he bagged first place in the Sanrio Character Ranking for 2016!
---
Final Thoughts
There are many Sanrio characters that are cute but did not make it into the list, such as Gudetama, Little Twin Stars, KIRIMI chan, Pochacco, and Kerokerokeroppi. It is tough to pick just 10 characters and after we have made our selections, we are still a bit hesitant. We would like to hear from our readers, which characters do you prefer, so we can see if they coincide with our choices! Sound off in the comment section below!