También puedes leer este artículo en:Español
Manga creators have been particularly keen into adapting European folklore on their stories. The word fairy can refer to any magical and mysterious creature, but if we narrow the term down, it can refer only to spiritual beings resembling humans with magical powers, generally related to nature. Although fairies appear in Japanese manga often, they are not that common as protagonists or co-protagonists. That is why we decided to make a top 10 with the best on the fairies department. We all deserve more than Tinkerbell in our lives, don't you think the same? Let's go!
Warning: there are a few spoilers ahead. Read at your own risk!
10. Gokkun! Pucho (Pixie Pop)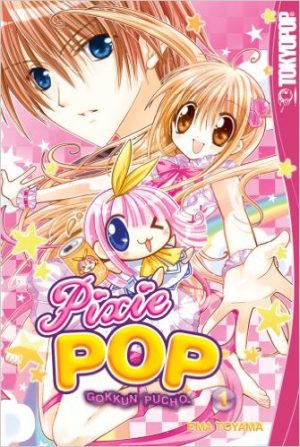 Mangaka: Ema Tooyama
Genres: Comedy, Fantasy, Romance, Shoujo
Volumes: 3
Published: Mar 3, 2004 to Jun 3, 2005
Ema Tooyama is a shoujo manga artist who has specialized in fluffy shoujo. Gokkun! Pucho was one of her first creations. This manga is basically about how Mayu will conquer her crush. But the girl is shy, so she will need the help of the fairy of beverages, Pucho. With the power to transform according to what she drinks, Mayu will try everything to be noticed by the guy he likes.
If you are a fan of the classical shoujo with a lot of small cute details, flowers and bubbles, you have to read Gokkun! Pucho. The first romance of Mayu will remind you of how fresh love can be! The fairy Pucho deserves a special mention, though. Meanwhile the human protagonists do their best at looking neat, she makes so many funny faces that she will make you laugh.
---
9. 1/2 Fairy

Mangaka: Fumika Okano
Genres: Shoujo
Volumes: 1
Published: 1985
Fumika Okano is a shoujo expert that was active at least until 2013. There is not much surprise at finding that she also has a manga about fairies. So, meet Ellen, who moves out to a house in the countryside in the most pure Studio Ghibli style. She won't find a Totoro though but an elf who tells her that she is half fairy.
If you are familiar with the work of Naoko Takeuchi, you will get similar vibes from Fumika Okano. It is an old shojo after all 😉 Nevertheless, you can concentrate on the story and the enchanting world where Ellen arrives. 1/2 Fairy delivers well its story in a one shot space. Give it a try 🙂
---
8. Fairy Idol Kanon

Mangaka: Mera Hakamada
Genres: Kids, Magic
Volumes: 4
Published: 2004
This is a manga safe for children to read. Mera Hakamada has a long list of works under her arm, some targeted to very young ages while others take a more adult turn. In Fairy Idol Kanon, we meet three girls in elementary school who dream to become singers. Their dreams are so strong that they attract a fairy called Alto, who will help them to fulfill their ambitions.
The visual style of Fairy Idol Kanon is simple but so cute and round that you will be attracted to it. Unless you are not fan of all things cute, of course. It could sound plain, but if you like magical girls, adventure and you want something safe to read for a chance, nothing is better than Kanon and her active friends. They will make you want to sing too!
---
7. Dreaming: Fairy Tale of Dream

Mangaka: Managa
Genres: Adventure, Fantasy
Volumes: 1 chapter
Published: 2008
This is a one shot curiosity. We decided to include it because it has all the characteristics of manga but with several twists. In first place, there is no dialogue. In second place, it is drawn in full color!
The story follows a child who is somewhere between reality and dreams. A fairy is watching his sleep and things start to become magical… and slightly nightmarish at the same time. Dreaming: Fairy Tale of Dream has everything to be considered a modern fairy tale. It has high quality on the illustrations and the magic of fairies. What else can you ask for?
---
6. Sakura no Hana no Koucha Ouji

Mangaka: Nanpei Yamada
Genres: Shoujo
Volumes: 7
Published: Apr 19, 2013 to present
The first adventure in the Koucha Ouji series was published back in 1997. Although Nanpei Yamada has also drawn other manga, apparently she always goes back to her Koucha Ouji. If you follow a magical ritual while brewing tea, you can make a prince appear that will make your wishes come true! But there is a small detail… the prince comes from the fairies kingdom, and he will not be able to return until he grants you three wishes. So… what will Yoshino do with her two fairy princes?
If you want a slightly more adult manga than the ones we have recommended before, you can try Sakura no Hana no Koucha Ouji. The evolution of the artist from her humble beginnings has paid of. Her characters are defined, with a lot of movement that is also reflected in the panel distribution. This is romance with dynamics, magic and sweet stuff! Worth the read.
---
5. Ginzatoushi to Kuro no Yousei (Sugar Apple Fairytale)

Mangaka: Miri Mikawa, Aki
Genres: Adventure, Fantasy, Romance, Shoujo
Volumes: 16
Published: 2010 to 2015
So maybe you feel attracted to manga like Fairy Idol Kanon but find it too innocent for your tastes. Don't worry, because we also have this option that, besides having more romance, has fairy tale vibes on it. The Kingdom of Highland has the peculiarity of having fairies as slaves for humans. A candy master called Ann Halford decides to buy one in order to win an Annual candy fair. And well, hello, we get a handsome leading fairy as companion for her!
Although Ginzatoushi to Kuro no Yousei centers on romance (and thus in the relationship between the protagonists), we have enough epicness to balance what would be too much of a sugary manga. A water colour style is prevalent in the colored illustrations, while the black and white drawings vary from a simple line style, passing through super deformed characters, towards more detailed illustrations. If you are looking something not so heavy in visuals but more romance oriented, you might like to try this manga.
---
4. Youkai Nabi Luna (Fairy Navigator Runa)

Mangaka: Michiyo Kikuta, Miyoko Ikeda
Genres: Action, Adventure, Comedy, Fantasy, Magic, Sci-Fi, Shoujo, Supernatural
Volumes: 7
Published: Mar 7, 2008 to Mar 7, 2010
Meet Runa, a clumsy girl who one day encounters a cat… ok, not precisely a cat, but a girl and a boy who can transform in a cat and an owl. She also has an amulet. What Runa does not know is that she is the "Legendary child", daughter of a fairy mother and a human father. Her mission is to catch bad fairies who escaped from the fairy world into the human world.
Although this is a manga for children, don't let its sweet cover confuse you. Runa's adventures have strong rivals and a little bit of dark themes here and there. The style is more detailed than what could be expected from such manga, plus the action never lets you down. Runa herself is not too sweet, so her story is worth a try.
---
3. Wagamama Fairy Mirumo de Pon! (Mirumo Zibang)

Mangaka: Hiromu Shinozuka
Genres: Adventure, Comedy, Drama, Fantasy, Magic, Romance, School, Shoujo
Volumes: 12
Published: Jun 2001 to Dec 2005
This is perhaps the most famous anime about fairies out there, so of course we had to mention its source material. We know the typical girl who does not know how to confess to her crush. Only that on this case, Kaede, the protagonist, does a wish while pouring hot cocoa into a magical cup. Her life is immediately spice up with a love fairy's apparition! Although Mirumo, the blue Fairy Prince, prefers to eats chocolate and do mischief than to help Kaede with her love issues, plus his magic usually creates more problems than solutions…
Hiromu Shinozuka has a long career on the department of romance, cuteness and magic. Mirumo's and Kaede's adventures followed up an entire gang of friends, fairies and coming and going to the fairy world. Although it has a bit of love and jealousy here and there, it is practically innocent. And let's not forget the candies!
---
2. Fairy Cube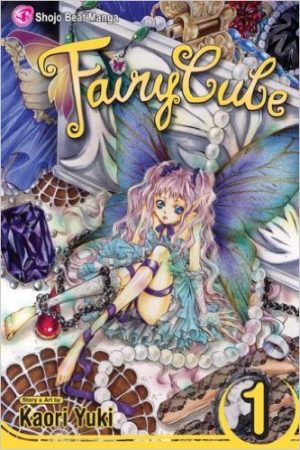 Mangaka: Kaori Yuki
Genres: Action, Drama, Fantasy, Romance, Shoujo
Volumes: 3
Published: Feb 19, 2005 to Jul 2006
Ok, enough with childish fairies. This is the manga for adults who love fairy tales with a dark twist. Ian, a guy who used to see spirits, has passed to another plane. But he encounter the Fairy Cube, which he must use to stop the evil Tokage from taking his life permanently. Nevertheless, Ian is not alone. He has saved the beautiful fairy Ainsel, who takes him to the fairy world in order to help him defeat Tokage.
Warning! There is a love affair between a tiny fairy and a human spirit here. Interesting, right? There are other strong points on this manga, though. Its drawings have a heavy influence from classical English depictions of fairies and fairy tales. The dynamic angles used in the layout are also great, and my, the story is full of action and danger at every corner! Don't expect Ainsel to be a damsel in distress all the time, though. She can be very dangerous when she wants! In short, this manga has everything to appeal a more adult market.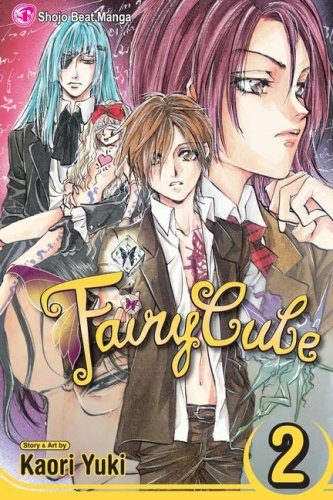 ---
1. Yumeiro Patissiere

Mangaka: Natsumi Matsumoto
Genres: Romance, School, Shoujo
Volumes: 12
Published: Sep 3, 2008 to Aug 22, 2013
This is the story of Ichigo Amano, a klutzy girl who loves sweet desserts. After a fateful encounter with a professional Patissiere, she enters a prestigious academy in order to fulfill her dreams of becoming a Patissiere herself. But things are not easy for someone who, until then, has only enjoyed desserts and rarely made them. Fortnately, Ichigo meets the cute fairy Vanilla, who will train her in order to be able to beat her powerful and more knowledgeable rivals.
Natsumi Matsumoto has had a long career in the world of manga, but among her works, Yumeiro Patissiere has stood out. Full of challenges, romance and desserts, this manga will transport you to the world of professional Patissieres. Although the drawing is not the best, we have to admit that the various charismatic and well defined characters, the continuous improvement they have to face and the artistry of food conquered us. Plus, the manga includes some delicious recipes you can make at home! Yumeiro Patissiere is truly the best manga about fairies, with its message of continuous effort, cooperation and coming of age in a most delicious way.
---
Final thoughts
The magical world of fairies has been focused on children in the case of manga. Nevertheless, that means you can enjoy most of these works together with your little cousins, brother, sister, son, daughter, or why not? The whole family! Hopefully, fairies will get more love and we will have more diverse stories in the future. But do tell us, which is your favorite fairy manga? Don't forget we are open to all your comments and suggestions. See you soon!
---