Long before the dawn of IGN.com or GameFAQs.com, gamers got their news and tips from dedicated gaming magazines. While magazines as a whole aren't entirely dead, an overwhelming majority of the gaming community has moved on to Internet sources for all their needs. So for many gamers that are of the younger baby boomers, Gen-X'ers, or older millennials, what are the magazines that we should acknowledge that paved way for gaming as a media medium? Read our list to find out!
10. Tips & Tricks

Publication Dates: February 1995 – August 2007
So how did older gamers figure out the latest cheat codes or Easter Eggs before GameFAQs became a thing? Well, Tips & Tricks was the magazine you looked t! Unlike other magazines which were focused on news and reviews, Tip & Tricks just lived up to its title. Needed to know some cheat codes to GTA1? Or how to find Mew from Pokemon Red & Blue? Or how to pull off fatalities in Mortal Kombat? Then Tips & Tricks had it. Remember when passwords to starting from a certain level were a thing? Then, you can find them in Tips & Tricks! However, thanks to modern game sources, Tips & Tricks is a pure example of such magazines no longer being necessary.
---
9. PC Gamer

Publication Dates: June 1994 – Present
Unlike a good majority of magazines on this list, PC Gamer is still in publication to this very day! As the title suggests, if you're interested in the latest news in PC gaming, then this is the magazine for you! While it made its debut in the UK in 1993, it made its debut in North America the following year. For every issue, readers would get a free demo disc until 2011. However, you can still access demo content on their official website!
For 10 years, the US edition even did a podcast, which would occasionally feature interviews with some notable names in the industry, such as Sid Meier, the creator of Civilization. Unfortunately, the magazine faced some controversy as one of its writers was dating a Ubisoft employee while writing about releases from Ubisoft. Considering this came off of Gamergate, the staff made a full apology to its readers and would further disclose any possible information that could be a conflict of interest.
---
8. Official Xbox Magazine

Publication Dates: November 2001 – Present
Though Sega, Nintendo, and Sony are no longer in the magazine business upon the publication of this list, Microsoft is still releasing its Official Xbox Magazine on newsstands! So if you want any exclusive Xbox related news, reviews, and editorials, then feel free to pick up an issue or subscribe! Like many top notch game magazines, the Official Xbox Magazine would often offer bonus content such as extra costumes for Dead or Alive 3, a demo for Final Fantasy XI, and Guitar Hero III. The layout is very appealing to dedicated Xbox gamers in wanting to know the latest information of all games available on its Xbox Live Arcade store, or at local retailers. So if you still enjoy magazines and love the Xbox, then we strongly recommend this magazine.
---
7. Official Dreamcast Magazine

Publication Dates: June 1999 –April 2001
In addition to the Dreamcast's less than 2-year North American lifespan came the official magazine. It provided first hand info on the latest news of Sega's final console. Many of its writers and readers showed the same devotion to the Dreamcast, and that's probably why it had a good run despite being brief. Not only did readers get the magazine, they often came with demo discs! If you wanted first dibs on then Dreamcast exclusives such as Sonic Adventure, Soul Calibur, Jet Grind Radio, and Crazy Taxi, Dreamcast magazine had them all. Wanted to know what Shenmue was? One disc had a great trailer explaining the game. So it was probably one of the best examples of news, reviews, and free demo content that gamers could get from any magazine.
---
6. PlayStation: The Official Magazine

Publication Dates: September 1997 – September 2012
Though it is presently famous as an official magazine, it initially debuted as an independent magazine that captured dedicated Sony gamers. In its start up days, the official mascot was an anime inspired character named Banzai Chibi-Chan, which was probably used to appeal to anime fans or fans of FFVII (considering their debut cover was of FFVII). Its debuted issue included official magazine stickers readers could put on the lid of their PSOnes, or on their memory cards. As time moved on and management changed, the magazine went from being a cult independent magazine for hardcore gamers, to being the sole and official authority for Sony. The magazine was filled with enthusiastic columnists who shared passion and humor with their reviews and editorials for gamers to relate to. For gamers, they felt like they could relate to the writers, which is why it is considered an excellent magazine that excellently holds up.
---
5. GamePro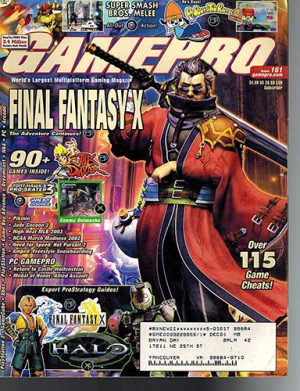 Publication Dates: April 1989 – October 2011
While GamePro still exists on the web, many old school gamers have fond memories of its heyday as one of the top magazines in gaming. If there's one thing GamePro did for gaming during its publication, it popularized protips, which started with Doom, and one became a meme. Like many magazines of the times, they dedicated their April editions to being an April Fools issue, or LamePro. In addition to making satire news like The Onion, they even took shots at their competition, most notably with Incite, a magazine of the early 2000s, and a few years later with IGN. Due to the nature of how these parody ads were presented, they did cause some controversy. In addition to being a magazine, GamePro even had a TV show in the early 90s giving gamers tips on the latest games of the times. Oh yeah, and before JD Roth was the announcer of Extreme Weight Loss, he was actually the host of GamePro TV!
---
4. Next Generation

Publication Dates: January 1995 – January 2002
While many magazines listed here concentrate mostly on reviews and tips, Next Generation tended to focus more on news in relation to the industry. It mostly contained interviews from developers and sharing what was going on. Its editorial section, mostly provided by controversial game designer Christopher Crawford, were about game design and the practices of the video game industry. In numerous ways, it was a magazine before its time since it provided issues in regards to online gaming, how to get into the industry, and how retrogaming was going to become a thing. So for gamers that wanted to know about gaming from an inside perspective, Next Generation was it!
---
3. Electronic Gaming Monthly

Publication Dates: March 1989 – January 2009
To North American gaming as a whole, EGM and its numerous spin offs were probably the best to get information and reviews in regards to gaming. EGM is best known for its April Fools editions, most notoriously with Sheng Long in Street Fighter II, and unlocking Akuma in Resident Evil 2. In an era of Internet trolling and fake news, reading such issues of EGM will make you wish for simpler times, or be thankful of the era we're living now.
Considering how big the magazine got during its prime, they briefly published an EGM2. While EGM mostly covered gaming news, EGM2 offered on giving certain games cheats and guides. By the time you get to the back pages, it had a catalog of ordering anime and Japanese video games. So if you wanted those old DBZ figures, wall scrolls, or soundtracks, you could order them from a backpage ad in EGM!
---
2. Famitsu

Publication Dates: June 1986 – Present
If any gaming magazine always had the authority in the Land of the Rising Sun, it would have to be Famitsu. The name is a 4 kana character abbreviation of its full title, Famicom Tsushin, or the Famicom Newsletter, meaning it mostly covered the Famicom, the name of the NES in Japan. Despite keeping its initial name, it now covers all forms of gaming, which also includes mobile games. What makes Famitsu an internationally respected source for gaming is how hard they rate games. While a good majority of magazines in the West may often give one game a perfect score for every issue, in the case of Famitsu, it would take 12 years before any game would score a perfect 40/40 out of a panel of 4 reviewers. So what was the first game to score a perfect 40/40? That would be Ocarina of Time for the N64.
As of present, only 25 games have scored a 40/40. Some other games that have earned a perfect score are Soul Calibur for the Dreamcast, Vagrant Story for the PSOne, Nintendogs for the DS, Final Fantasy XII, and GTAV. However, there are some games that people have questioned for its perfect 40/40, most notably with Metal Gear Solid: Peace Walker. Due to how its former editor and the magazine was involved with its promotion, some speculate if the scores were purely favoritism. Regardless, the game went on to be a hit with MGS fans.
---
1. Nintendo Power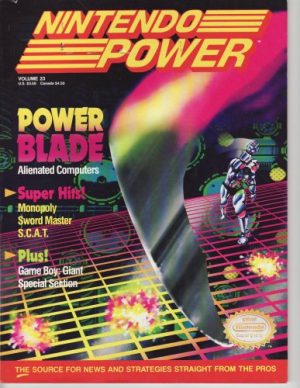 Publication Dates: July 1988 – December 2012
If any magazine set the standard for gaming journalism, it most certainly had to be Nintendo Power. Though the magazine was exclusive to Nintendo consoles, it was the best source for anything from the original NES to the WiiU. If you needed news, tips, and reviews on games coming out for any Nintendo consoles or handhelds, Nintendo Power had it! In addition, the magazine created some of the most memorable campaigns. In its early days, if you got a subscription to Nintendo Power, you would get a free copy of Dragon Warrior (or Dragon Quest in Japan)!
Also ever wondered what ever happened to the original phone booth from the first Bill & Ted movie? Well, Nintendo Power had a contest where you can win it (according to a 2011 reddit, the original winner still has it)! They also had some weird campaigns like the scratch and sniff one for Earthbound. For some of you older folks, it probably made you want to play it, or skip it. Also, do you remember Captain N, the animated series where a California teenager gets zapped into his Nintendo? It happens to originated as a comic in Nintendo Power. Last, do you recall the name Evets Kainzow as the number one Tetris player in the rankings? In case you were wondering, it was really Apple co-founder, Steve Wozniak!
---
Final Thoughts
Though some of these magazines are now gone, they will never be forgotten! Most of them have now moved on to the World Wide Web, and they actively run podcasts. With news changing everyday, getting it instantly no longer creates a need for monthly publications. With today's wireless technology, most especially with YouTube, anyone with the right equipment can become a game blogger and create credentials as a game journalist. Some offer prizes if you are a donate to their Paetreons.
However, today's technology also has a dark side. It has also paved for scandals and controversies such as Gamergate. Would such fiascos still exist in a world still exclusive to magazines as opposed to social media? Regardless, Gamergate has proven there are questionable aspects in video game journalism but looking back, many gaming magazines did lack a female presence. Regardless of the situation, it is only natural that people want journalistic integrity and awareness, and we also want gaming to be a safe haven for gamers of all backgrounds. Gamers are without a doubt thankful for new sources to get information, but we should not abuse such power. Hopefully, we can still use it to create productive dialog in order to find solutions to such problems and just have fun playing games.