También puedes leer este artículo en:Español
Warning: There is some content unsuitable for underage otakus in this article. Proceed with caution.
Behold the power of God!... in manga. Here, God is not only one powerful entity, but can look and behave in several ways. God might be a she, might be many and may not be called God at all. Let's review some of the best mangas about Gods!
10. Tatsu no Otoshigo (Child of Dragon)

Mangaka: Reibun Ike
Genres: Fantasy, Yaoi, Supernatural
Volumes: 1
Published Date: 2010
Dragons are considered Gods in the East, as they can usually control water. We know what happens without any water around, right? Anyway, what would you do if you found a handsome guy with horns laying in the road? And what would you do if you discover this guy is special?
Tatsu no Otoshigo is a yaoi combined with supernatural elements. The interaction between a human and a Dragon who live together will touch your tender side. There is also some action for those who are not into romance as well. The art of Tatsu no Otoshigo is also good, so if you are looking into something short about Gods, you can check this title out!
---
9. Kudan no Kuroneko

Mangaka: Shin Mizukami
Genres: Comedy, Drama, Historical, Yaoi, Supernatural
Volumes: 1
Published Date: 2007
This is another interesting manga that is composed by several stories about a normal human and a supernatural being. The main story is about a cat! Well, a Cat God to be precise. Because it failed in a mission in its previous life, now it is doing its best to avoid tragedy. On top of that, there is love to be taken on account.
The content of this manga is strong (hence our warning at the beginning of the article). However, some of the scenes are quite artistique. The stories have the flavour of traditional Japan combined with romance and the supernatural. If you are a fan of yaoi but also of Japanese folklore, Kudan no Kuroneko might be what you are looking for.
---
8. My Sweet Dragon

Mangaka: Yuuka Sakaki
Genres: Drama, Fantasy, Romance, Shoujo, Supernatural
Volumes: 7
Published Date: 1999 to present
Ok, so maybe the yaoi genre is not your thing. Let's go to a more fluffy and sugary place with My Sweet Dragon. In this manga, we have the prop of finding a God in human form again. Except our heroine is a shrine maiden!
If what you love is shoujo manga with soft colors, lots of screentones and sparkling motives, My Sweet Dragon will satisfy your visual taste. However, the story is also interesting from the point of view of Japanese traditions and traditional motifs. Plus, the cute romance between youngsters. What else could a shoujo manga lover want? The only weak point of My Sweet Dragon is that it has not been completed 🙁
---
7. Sumika Sumire

Mangaka: Mitsuba Takanashi
Genres: Romance, Supernatural, Josei
Volumes: 9
Published Date: Aug 28, 2013 to present
Sumika Sumire is an interesting shoujo manga with a twist relating old age. Sumi has always wanted to go to college but had to take care of her grandmother instead. When she passes away, a mysterious cat tells Sumi he can grant her one wish. Our heroine requests to become young again, and that is when the story really kicks off...
Sumika Sumire tells us what happens when the Gods come down to Earth to create a bit of mischief. The viewpoint of a mature woman in a young body is simply hilarious! Her interaction with Rei the Cat God are also some of the best points in the story. Sumika Sumire has an important fan base, as it became a live action drama in 2016.
---
6. Suashi no Meteorite (Meteorite of Barefoot)

Mangaka: Mikihisa Konishi
Genres: Action, Comedy, Shounen, Supernatural
Volumes: 5
Published Date: 2011
Sometimes the prop about a wish granting God can go a bit out of hand. Just ask Ariyuki about it. After a making a wish under a meteor shower, he discovers his house has been destroyed by a meteor fragment. On the other hand, a girl appears claiming she can grant him one wish.
Although this story might sound generic, the charm of Suashi no Meteorite is in three aspects: the story, the characters and the illustration. We could suppose that everything will be just fine for Ariyuki, but he has to deal with the consequences of his decisions. We also learn to care for both characters, and their relationship gets deeper with time. Sometimes they are simply too adorable together! Also, the illustration tends to have clean lines, which lets you concentrate more in the characters emotions and their story. This manga is a bit sad, so we only recommend it if you are not tender of heart.
---
5. Watashi no Kyuuseishu sama (My Messiah)

Mangaka: Suu Minazuki
Genres: Action, Adventure, Comedy, Drama, Fantasy, Romance, Shounen, Supernatural
Volumes: 13
Published Date: 2002
Shinya has always considered himself a good for nothing and a weak person, bullied by others in his school. One day, he meets Haruna, who gives him a book with blank pages and tells him she has been longing to meet him. When the bullies steal the book, Shinya will have to choose between being weak as always or try to defend Haruna. However, his choice will bring up interesting revelations about his past and destiny.
Surprise, surprise! Shinya turns out to be the announced Messiah, the Son of God who will have some supernatural companions to defend him. Shinya is an adorable protagonist who has to learn quickly how to deal with his role in the world's salvation. If you like apocalyptic stories with a more shoujo-like look and feel (plus romance), this is the story for you.
---
4. Aa! Megami-Sama! (Oh! My Goddess)

Mangaka: Kousuke Fujishima
Genres: Comedy, Fantasy, Romance, Seinen
Volumes: 48
Published Date: Aug 25, 1988 to Apr 25, 2014
When you accidentally call the wrong number, not much happens. In the case of Keiichi Morisato, that innocent action changed his normal life. Goddess Belldandy is dispatched to grant him a wish and he requests for her to stay with him forever. In addition to Belldandy's family, Keiichi will enter a world of goddesses and demons.
This classic is such a big success for a reason. Well, for many reasons truly speaking. The sweet Belldandy and her sisters are resourceful goddesses who have many adventures confronting the Demons and helping Keiichi. Comedy and romance intertwin masterfully with the supernatural along 48 volumes. That is some achievement!
---
3. Mauri to Ryuu (Mauri and Dragon)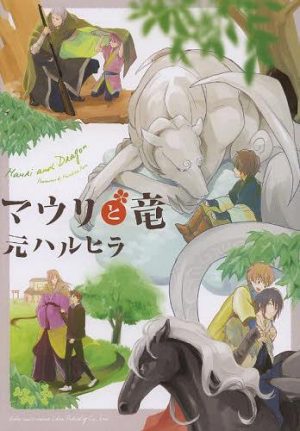 Mangaka: Haruhira Moto
Genres: Fantasy, Yaoi
Volumes: 2
Published Date: Mar 30, 2011 to Jul 7, 2016
This is an interesting collection of short stories. The protagonists are wandering gods who interact with humans. Sometimes they even fall in love so deeply, that they transform… something we will see often through the eyes of Mauri, the protagonist.
Mauri used to serve the men in his town until it ran out of women. Then he was chosen to become a sacrifice for the god of the region. Mauri's personality is innocent and forgiving, in contrast with the might Dragon god. The aura of fairy tale combined with a bit of comedy and drama is perfect for those who like legends. Besides that, the yaoi is not as explicit as other titles we recommend here.
---
2. Marie no Kanaderu Ongaku (The Music of Marie)

Mangaka: Usamaru Furuya
Genres: Drama, Fantasy, Romance, Seinen
Volumes: 2
Published Date: Dec 10, 1999 to Sep 12, 2001
This is an unusual story about love which includes a Goddess. In this world, people live without the need of technology. Marie is the mechanical, giant Goddess who makes everyone happy with her music, keeping the balance of the world. However, when Kai enters her body to find out who she is, the discovery will surprise everyone.
If you like fairy tales, you will like Marie. If you like the steampunk style, you will like Marie. And, if you like your adventure manga with a psychedelic or alternative illustration style, you will definitely like Marie! In this story, the very concept of God is challenged at the same time a tragic love story is developed. This is the perfect read for philosopher otakus.
---
1. Death Note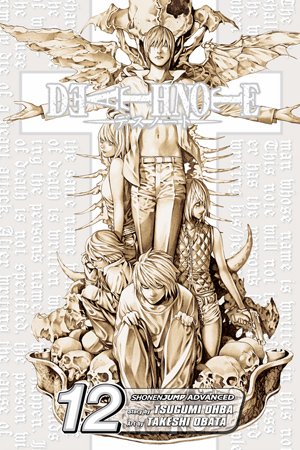 Mangaka: Takeshi Obata and Tsugumi Ohba.
Genres: Mystery, Drama, Shounen, Supernatural, Psychological
Volumes: 12
Published Date: Dec 1, 2003 to May 15, 2006
Finally, we decided to finish this list with a classic who everyone has probably heard about: Death Note! This story of how a god of death named Ryuk dropped his powerful Death Note to Earth and how the model student Light Yagami used it to become a god himself is legendary. An anime version, several movies and live action series exist. And well, the peculiar appearance of the gods of death is also memorable.
Should we also mention that one of the best points of Death Note is the intellectual duel between Light and the police? We should remember genius detective L in particular, the most dangerous rival Light ever had. Add Misa, a gothic lolita in love with Light and the rest of the cast of genius or desperate characters who try to stop Light and we have one of the best thriller mangas of all the time. For questioning morality and what is a God in our current times, Death Note is the best God Manga in our humble opinion.
---
Final Thoughts
Whether you believe in God or not, we can see how the concept is quite flexible in the Japanese mind through manga. From hilarious to mischievous Gods, going through all powerful Gods of Death, we encounter the supernatural in every page of these stories! Tell us, which is your favorite God manga? Don't forget that we are open to all your comments and suggestions. See you soon!
---