The term hack & slash in gaming refers to a game that requires the player to run through large levels with a massive group of enemies, and take them out as swiftly and efficiently as possible using any weapon at their disposal. Most of the time the weapon most commonly used in this case would be the sword, which would explain the hacking and slashing aspects about the genre. However, various other abilities can be used such as your fists as well as magical spells. Essentially, hack & slash titles combine the RPG like approach to story, while plenty of action elements are taken from beat em' ups to create a nice blend of fast paced and exciting fun. Whether you're fighting for the Three Kingdoms in the popular Dynasty Warriors or battling gruesome pirates in One Piece: Pirate Warriors, the hack & slash anime genre has a lot to offer and we're going to take a look at ten of the best out there for you to check out.
10. Dynasty Warriors: Gundam Reborn

System/Platform: PlayStation 2, PlayStation 3, Xbox 360
Publisher: Bandai Namco Entertainment
Developer: Koei Tecmo | Omega Force
Release Date: March 1, 2007
As we all know by now, the Dynasty Warriors franchise has been the at the forefront when it comes to hack & slash, and so when you throw one of the world's most notable franchises into the mix you've got a hit on your hands. Dynasty Warriors: Gundam Reborn is a title which combined the great minds of those at Omega Force and Koei Tecmo, with the style and appeal of Bandai Namco Entertainment and created an action title like no other. You get to choose your favorite Gundam from a list of popular storylines in the series, and play out that storyline as if you were directing it.
Voice acting from the original anime series are all in tact which give it more mass appeal, along with all of the explosions and laser beams we've all to know and love for decades. Everything is all in your face and fast paced, with objectives finishing as quickly as you started them but they're so fun that you'd go back to replay it over again. Replay value is the major selling point of this title because even when you think you've cleared everything, there's extra bonus features that you'll need to unlock which just keeps you on the edge of your seat for hours.
---
9. Toukiden Kiwami

System/Platform: PlayStation Vita, PlayStation Portable, PlayStation 4, Windows
Publisher: Koei Tecmo
Developer: Omega Force
Release Date: March 31, 2015
Toukiden Kiwami plays a lot like Monster Hunter than it does any other title, but it does a great job of incorporating its own style to still make the title feel very original. Using Japanese Medieval themes to convey certain monsters that you'll encounter throughout the game, Toukiden feels very much like a game where, instead of actually killing monsters, you're purifying them using special techniques, and through these actions you can collect mitama which can help in leveling up your skills over time.
The enemies in this game are quite difficult at times and often had us reeling back in our seats as we tried to come up with strategic ways to combat these things. The boss battles feel a lot like Monster Hunter where you'll need a large group to take them down, and have all of the right tools at your disposal to make quick work of it. With wi-fi enabled in the game it feels great to login, find your friends and take to the mountains to take care of these tough beasts to restore peace to the village.
---
8. Sengoku Basara 4

System/Platform: PlayStation 3, PlayStation 4
Publisher: Capcom
Developer: Capcom
Release Date: January 23, 2014
Sengoku Basara 4 is Capcom's Dynasty Warriors franchise which provides a more anime feel compared to Omega Force's more realistic appeal. Both have their own strengths and weaknesses but what makes Sengoku Basara 4 such as great hack & slash anime game is that it focuses on the popular Sengoku Era of Warring States Japan, where general Nobunaga was at the forefront while Sanada and Masamune were on the battlefield, doing whatever they could to secure the nation.
Sengoku Basara 4 is packed full of action with very funny animations that just have you laughing at everything happening. It's a very lighthearted way of explaining the very violent events that took place during the Sengoku Era, using the very same characters from history but in a more carefree approach that sells to a wider audience. With a nice handful of features to play through such as the story mode and other bonus options, Sengoku Basara 4 is what every fan of Japanese History wants with a little comedy to keep you entertained.
---
7. Senran Kagura Shinovi Versus

System/Platform: PlayStation Vita, Steam
Publisher: Marvelous AQL | XSEED Games
Developer: Tamsoft
Release Date: February 28, 2013[JP] | June 1, 2016 [Steam]
Nothing is better than watching scantily clad girls battle it out for supremacy and in Senran Kagura Shinovi Versus, you get all of the oppai action and more. The story continues from its predecessor Senran Kagura Burst, which revisits the ongoing conflict between the Hanzo National Academy and their rivals Hebijo Clandestine Girls, while a new challenger comes into the fray: The Gessen Girls Academy. You all participate in this tournament known as the Shinobi Battle Royale, and only one of them will make it out alive.
Whatever school you decide to choose is up to you, but the roster itself is quite huge with 20 characters to choose from, 10 of which come from the original while the other 10 are fresh to the game. There are a ton of gameplay options to choose from such as arcade mode that provides a backstory of the character you chose, while completing the entire story will provide you with some extra added perks. Senran Kagura Shinovi Versus isn't just for hardcore fans of these oppai girls, but it can be for just about anyone who loves a good laugh paired with a great assortment of action.
---
6. One Piece: Pirate Warriors 3

System/Platform: PlayStation 3, PlayStation 4, PlayStation Vita, Windows
Publisher: Bandai Namco Entertainment
Developer: Omega Force | Koei Tecmo
Release Date: March 26, 2015
When Dynasty Warriors comes knocking at Luffy's door he's always sure to answer, and with Pirate Warriors 3 you can tell Luffy came with a message to send to all of those pesky pirates. Everything you loved from One Piece is all thrown into this hack & slash anime game that puts Luffy's team up against all of the other pirates who are all out for the same thing. With you in control of Luffy and his allies, you'll be using whatever special moves you can to prevent the enemy from attaining the treasure by any means.
One Piece: Pirate Warriors 3 is nothing short of spectacular because it takes all of the plus points from each franchise and really creates a very balanced universe that truly feels like you're battling pirates for the gold. You can choose from a variety of popular One Piece characters and take them onto the battlefield to battle big enemies and bosses, while clearing important missions to progress in the exciting story. The plot does follow the anime quite well so if you're a die hard fan and want to experience the One Piece world hands on, this is the game to pick up.
---
5. Devil May Cry 4

System/Platform: Multi Platform
Publisher: Capcom
Developer: Capcom
Release Date: January 31, 2008
Devil May Cry has always been a fan favorite over the past decade, but it really hasn't seen a huge resurgence as of late which is unfortunate. However, that shouldn't take away the fact that the series is arguably one of the best hack & slash anime games out there and for good reason. Ever since the release of the series back in 2001, Dante has been kicking a lot arse and is not going to stop doing so anytime soon. The story takes place between the plots of the original and Devil May Cry 2, as you control Nero who's on a mission to stop Dante.
Dante assassinated the leader of the Order of the Sword and Nero wasn't too pleased by that, so now he seeks revenge by any means necessary. One great aspect about the Devil May Cry series is that, it has always been known for its challenging gameplay aspects and flashy techniques to score big points for massive damage. In Devil May Cry 4, none of that has changed and it sticks to the tried and true principles of the franchise very well. If you're a big fan of Dante and the whole lore behind his character, then be sure to check this one out.
---
4. Berserk Musou [Berserk and the Band of the Hawk]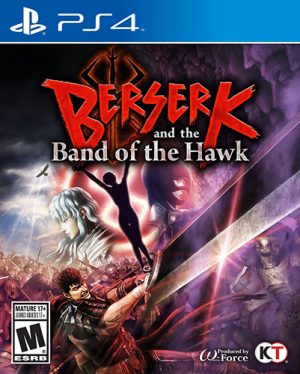 System/Platform: PlayStation 3, PlayStation 4, PlayStation Vita, Windows
Publisher: Koei Tecmo
Developer: Omega Force
Release Date: October 27, 2016 [JP] | February 21, 2017 [NA]
If you haven't had the chance to check out our detailed review on this extremely hardcore title, then be sure to check out our game recommendations section not only for Berserk Musou but our library of review titles! Berserk Musou or in the west, Berserk and the Band of the Hawk, is a hack & slash anime title that puts you in control of Guts who's on a mission to reclaim what's his and take out the God Hand army before it's too late. Guts is pissed off purely because he was betrayed by someone who he thought could be trusted, and it turns out that the friendship was just a setup.
Now hellbent on revenge, Guts dashes desperately through the demon infested world in search for Casca and to settle the score with Griffith once and for all. Everything from the manga up until the most recent Millennium arc is all thrown into the game, with extra modes such as eclipse mode that take the challenge to the next level with difficult to kill enemies. There's tons of blood and gore in this game which really makes it feel like the true definition of hack & slash, and with Guts as the main lead you know there's going to be tons of action.
---
3. Bayonetta II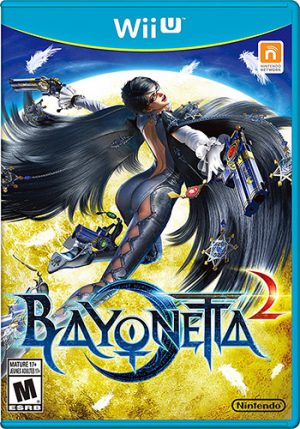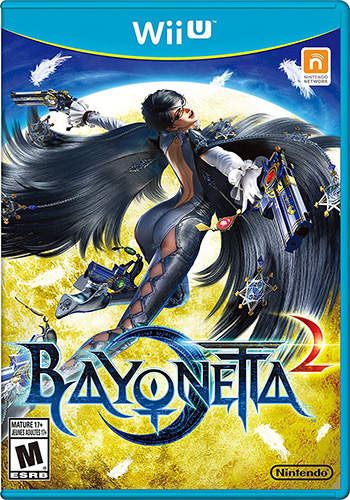 System/Platform: Nintendo Wii U
Publisher: Nintendo Australia
Developer: PlatinumGames
Release Date: September 20, 2014
It's always nice when we get a chance to see female heroines take to the main stage and create epic adventures. We have to thank Lara Croft for breaking down the barriers for many more sexy females to take the lead. One of these sexy heroines is none other than Bayonetta herself, who in Bayonetta II finds herself on a crazy journey in order to find the Gates of Hell and save her friend Jeanne. It's nothing but non-stop action in this game as the voice acting just gives it that extra oomph as well.
Straight out of the gates Bayonetta comes racing out like a horse starving for the trophy, and the story behind all of the hacking and slashing just adds more to the already delicious gameplay. As you run a muck through a horde of angelic and demonic forces, you're greeted with spectacular visuals and exceptional story telling that at times it felt like an animated movie and you were directing it all. As you solve puzzles to clear objectives and take enemies out with the super effective 'Witch Time' ability, you're just on this wild ride that doesn't seem to have any breaks and quite frankly who cares! The game is jam packed with so much to do that you're constantly all over the place, and that's a very good thing.
---
2. Hyrule Warriors

System/Platform: Nintendo Wii U, Nintendo 3DS
Publisher: Nintendo | Koei Tecmo
Developer: Omega Force | Team Ninja
Release Date: August 14, 2014
Hyrule Warriors has been on our top ten lists recently and for good reason, one of which is the fact that well, it's The Legend of Zelda. The other reason is that it incorporates everything from the popular series and throws you into a world that's all out action, in order to restore peace back to Hyrule and prevent Cia from plotting out any more evil.
You can play from a variety of your favorite characters from the series, and they all come equipped with their original weapons that you're used to. So if you're a huge fan of Link then you can take to the battlefield with your master sword in hand, while throwing bombs at enemies to blast them away. You can also take part in various modes, all of which pertain to the Zelda lore but once again have you hacking your way through a horde of enemies to secure victory. This is one title you shouldn't sleep on because it takes everything you love from both the Dynasty Warrior and Zelda games and provides you with an awesome hack & slash experience.
---
1. Dynasty Warriors 8

System/Platform: PlayStation 3, PlayStation Portable, Xbox 360, Windows
Publisher: Koei Tecmo
Developer: Koei Tecmo | Omega Force
Release Date: March 10, 2011
There's no arguing that Dynasty Warriors is the undisputed champion in the hack & slash department because it coined the term 'musou', and it was the first to really take things to next level in terms of action. Hack & Slash has been around for a long time but it wasn't until the rise of Koei Tecmo's franchise that it took off and spread worldwide as the must have title. Dynasty Warriors combined both a historical aspect behind the gameplay which tied RPG elements along with it, then threw players into a large map filled with enemies that you need to dispose of.
Some stages require that the player follow strict requirements from the general and must go out to save other generals on the field before they're bombarded by the enemy. So while people think hack & slash games are just about using very little brain power, there are times when you need to be on alert otherwise you'll fail missions quite frequently. The one great feature about Dynasty Warriors 8 is that it comes with a variety of added features that really challenge you, but also it acts as sort of an education on Chinese history so if you're into that this game is hands down the best. Let us not forget the big announcement that Omega Force and Koei just released, that Dynasty Warriors 9 is coming out next year with a new open world environment! We cannot wait to get our hands on that one.
---
Final Thoughts
The hack & slash genre will undoubtedly be one of the most enriching and entertaining genres in the game industry, because it provides so much more than hacking away all the time but also a nice story experience to wrap things up nicely. With there being so many titles out there to choose from, we'd like to hear from you as to which titles stood out to you the most in the comments section below. Were you excited to hear the news about Dynasty Warriors 9? Excited for Berserk Musou going stateside? Let us know how you feel!
As always, if you want to know about all the latest buzz straight from the bee's nest in Japan, be sure to keep it locked here at Honey's Anime.
---