Are you feeling down lately? Tired of the "not-so-fun" filler arc on your current anime? Do you want to bring back that smile you had, when you really enjoyed watching anime? Ask no more because today is your lucky day. This Top 10 list will surely lift your spirit up and definitely, put a smile on your face. Let's put the drama on hold for a moment and follow these Top 10 Happy Anime Girls.
10. Ritsu Tainaka from K-on [K-On!]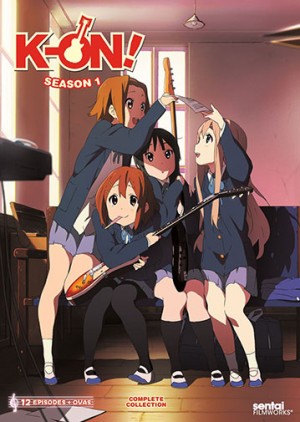 Episodes: 13
Aired: Apr 2009 - Jun 2009
K-on is an anime about Harisawa Yui, a happy first-year student who bumps into a high school music club advertisement. Despite her lack of knowledge in playing an instrument, she still signed up. Luckily, the current band is looking for a way to save the club. Together with the energetic members of the Light Music Club, they create happy memories while making super lovable music.
Ritsu or better known as "Ricchan", as nicknamed by Yui, is the Light Music Club's drummer. Like her instrument, she has a very upbeat personality and is the source of fun in the band. She loves to play pranks and make jokes but often forgets really important stuff. Ritsu is very well motivated and always makes sure that the morale of the band is high every time they practice. If you love music and anime, Ritsu and the rest of the K-on cast will keep your feet thumping while giving you a big smile.
---
9. Tsukamoto Tenma from School Rumble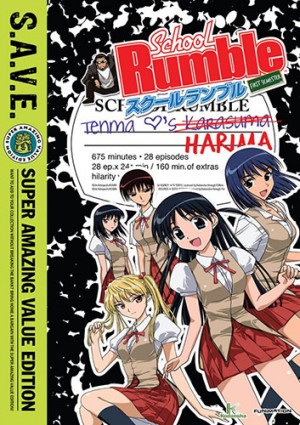 Episodes: 26
Aired: Oct 2004 - Mar 2005
She is as happy as her pigtails, literally speaking. Wait. What?! Yes boys and girls, her pigtails somehow react according to her mood. This is just one of the crazy antics of School Rumble. Tsukamoto Tenma a happy and friendly student has fallen in love with her classmate Karasuma Ooji. A love triangle develops as one of her classmates; Kenji Harima is also secretly in love with her. They both find a way to get near their crush and somehow confess their admiration.
Do not be deceived by her childish looks. Tsukamoto Tenma is big when it comes to happiness, as proven by her wiggling pigtails. Her innocence and dense characteristic make her very friendly and gullible. Tenma never runs out of positivity and determination to get close to Karasuma. She is sometimes super kind to the extent that is willing to trust anyone. If you are looking for a happy approach to get close to your crush, make sure you check School Rumble.
---
8. Tsukasa Hiiragi from Lucky Star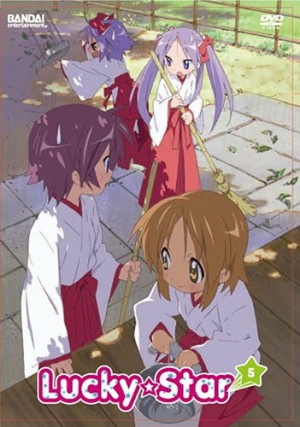 Episodes: 24
Aired: Apr 2007 - Sep 2007
Lucky Star portrays the adventure of four cute school girls. This lively humorous anime is all about friendship and their funny observations in the world. Do you want to know what happens when you fill an anime with a super lazy otaku (Konata Izumi), cute twins (Hiiragi sisters) and a witty school girl (Miyuki Takara)? The answer is "mayhem". Their conversations might be simple topics and out of this world, but the complexity of their thoughts makes it so much fun to watch.
One character that makes Lucky Star a great show is Tsukasa Hiiragi. She is a gentle day dreamer and never gets angry. She is very friendly and hates the thought of conflict which makes her very calm. Her good-natured innocence made her a part of our happy list. Considered to be very shy and quiet, Tsukasa is very hard to hate because there is simply nothing to hate about her. She has a slight obsession with her pink phone and sleeps a lot, but we find those very cute as well. This is the perfect anime if you want to erase that gloomy feeling you have.
---
7. Miyano from Tanaka-kun wa Itsumo Kedaruge [Tanaka-kun is Always Listless]

Episodes: 12
Aired: Apr 2016 - Jun 2016
Tanaka-kun wa Itsumo Kedaruge tells the story of Tanaka, a high school boy who is always in a blissful state of lethargy and has an ability to doze off in any given situation. He is accompanied by his reliable friend, Oota, who often carries or drags him around when he falls asleep. Taking a different approach to comedy, the always exhausted Tanaka finds ways to maximize his laziness, while the rest of the cast find multiple ways to wake him up.
Miyano is Tanaka's cheerful classmate, who admires him for his listless personality. She is very energetic and loves to make friends. She is a happy innocent girl who persistently approaches Tanaka to become his apprentice. This slice of life series will surely give you something to smile about as it focuses on the relationship of best friends Tanaka and Oota.
---
6. Mikuru Asahina from Suzumiya Haruhi no Yuuutsu [The Melancholy of Haruhi Suzumiya]

Episodes: 14
Aired: Apr 2006 - Jul 2006
Suzumiya Haruhi no Yuuutsu is about a beautiful high school girl named Haruhi Suzumiya. Haruhi has a weird interest in aliens, time travelers, and other supernatural things. Kyon, a normal high school student, who happens to bump into Haruhi, later forms their own school club known as the SOS Brigade. This selfishly formed group is an intriguing club that specializes on supernatural topics.
Another happy character on our list is Mikuru Asahina. She is a shy, childish girl who is also brought into the SOS Brigade against her will. She is extremely pretty and is often sexually harassed by Haruhi because of her noticeably large chest. Despite these things, she remains kind, caring and thoughtful. She can also recover from bad situations and can basically stay happy no matter what. Her positive outlook on life and very cute distressed voice are one of the few things that you will like about her. If you want to find out the twist behind Mikuru's character and get overloaded with fun at the same time, please feel free to join the cast of Haruhi's SOS Brigade.
---
5. Mio Naganohara from Nichijou [My Ordinary Life]

Episodes: 26
Aired: Apr 2011 - Sep 2011
Nichijou is a series with cute and unusual high school students. Nothing is normal in this insane anime as the daily lives of the characters are filled with absurd adventures. Want to get bitten by a talking cow? Okay. Have you ever seen a student riding a goat to school? Well, now you will. Do you want random explosions in your anime? Boom! These are just some of the gags that will brighten up your anime viewing experience.
Mio Naganohara is the happiest among the cast of the Nichijou or possibly the one who will make you the happiest. She is a smart cheerful girl who is very talented in secretly drawing ecchi yaoi in her free time. She has a short temper and often goes into tantrums. She is very sensitive with her manga drawings and goes berserk when people (or animals) see it. If you want to truly know the meaning of "rolling on the floor, laughing", then please join Mio and the crazy cast of Nichijou in their quest to make you insanely happy.
---
4. Popura Taneshima from Working!! [Wagnaria!!]

Episodes: 13
Aired: Apr 2010 - Jun 2010
Popura Taneshima works in a family restaurant called Wagnaria. She asks Souta Takanashi to work with her as a part-timer. Souta, who mistook Popura as a middle school girl because of her height, agrees because he liked that thought of working for his senior who looks like a child. Quickly being acquainted with the staff of the Wagnaria restaurant, Takanashi gets the hang of working. He quickly realizes that he's surrounded with very weird employees.
Popura is a short 17-year-old high school student who works at Wagnaria. She has a bright personality and is always mistaken as a child. She is a bit clumsy but is very hard working. She is somewhat sensitive about her small appearance and wants to gain Souta's respect. Despite her lack of height, she is still a very happy person and overflows with cuteness. With an eccentric cast of characters with very unique personalities, Working!! is one of those anime series that never has a dull moment.
---
3. Tomo Takino from Azumanga Daioh [Azumanga Daioh: The Animation]

Episodes: 26
Aired: Apr 2002 - Oct 2002
Azumanga Daioh is a hilarious look at the lives of six high school girls. Packed with silliness, friendship and the overall ups and downs of high school life, this series explores each of the characters unusual personalities. Together with their quirky teachers, this lovable group of girls will give you the best slice of life comedy.
Tomo Takino is the "loose cannon" of the group. She is extremely energetic and a very competitive girl. However, she is also considered non-athletic, lazy and tends to irritate people around her sometimes. Tomo's personality never considers the consequences of anything that she says or does. Despite this, she cares for her friends in her own way and mostly does things without thinking just to have fun. Tomo loves to play pranks and a typical happy go lucky character. Azumanga Daioh is a cute and lovable anime series that while make you smile endlessly.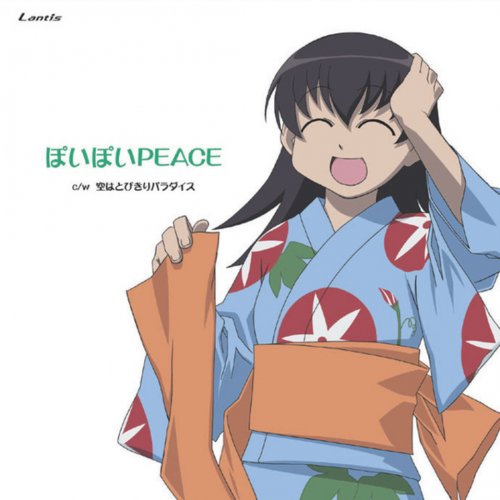 ---
2. Naru Kotoishi from Barakamon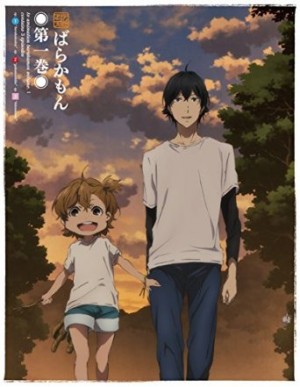 Episodes: 12
Aired: Jul 2014 - Sep 2014
Barakamon is the story of Seishuu Handa, a young and talented calligrapher, who unfortunately lost his nerve after being criticized by a veteran on his masterpiece. He is sent to Goto Island by his father as punishment, to find new inspiration and learn self-reflection. His busy city life changes completely as he envisions a peaceful country life. Handa's hopes are turned upside down instantly by his quirky neighbors, who always seem to barge in his house.
Naru Kotoishi, a girl in the first grade who frequently hangs out in Seishuu's house. She is super hyper, cheerful and childish. She loves to play around and does not understand Seishuu's need for personal space. She is adventurous and has a funny habit of imitating other people, which sometimes seen as rather inappropriate for her age. She loves to have fun and is always in a happy mood. Barakamon is a light-hearted comedy that will keep you happily entertained.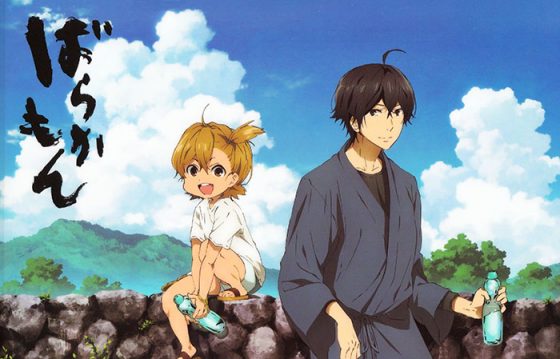 ---
1. Anne "Hanako" Hanakoizumi from Anne Happy♪

Episodes: 12
Aired: Apr 2016 - Jun 2016
The best way to end our list is to watch a very happy anime.
Anne Happy is a story about students of Tennomifune Academy. The class of 1-7 is composed of unlucky students gathered together to overcome their misfortunes and is tasked to become happy. Hibari, a student in the class meets Hanako and Botan because of an unfortunate event. Despite their bad luck in different aspects, the girls try to find a way to turn their misfortunes into memorable happy moments.
Hanako makes it to the top of our list because she is basically the epitome of happiness. There is never a dull moment for her and she manages to somehow smile in the worst possible scenarios. Her character is the perfect example of a happy anime girl because nothing seems to keep her down. She only sees the positive side of things, even if she's in a very bad situation. If you think that you are having a bad day and want to crack a smile, try to watch Anne Happy and we're sure that you'll learn a lot from how Hanako deals with her terrible luck.
---
Final Thoughts
is true that we do look forward to those epic fight scenes, the dramatic plot twists and climactic endings in anime, but sometimes we just have to take a break and brighten up our day without the complexity of it all. We all want to get that warm happy feeling after finishing an anime.
There are a lot of happy anime girls out there, so please share us your thoughts on who you think deserves a spot on our list. If you have not seen some of the anime here, feel free to pick any of these anime girls to cheer you up.
by Mark Makalinao
---