INTRODUCTION
Japanese horror has always been a predominantly well known horror genre in of itself, especially in the world of manga. The use of well-timed scares and creepy stories allow for the Mangaka to really push for some of the scariest stories that can be made. However, we here at Honey's Anime wish to remind people that manga isn't the only way to get a good horror story. Today we aim to remind you that there is obviously one other great medium containing horror and from the title you should know what it is now. We here at Honey's Anime bring you the Top 10 Horror Manhwa.
Horror manhwa in case you aren't aware means that instead of being a Japanese creation, it hails from Korea. While it may be a totally different country, horror manhwa doesn't skimp out on throwing at its reader some very haunting tales. With our list, we found ourselves reading stories of creepy dolls to the seemingly endless battle against the undead to really get to you folks the best horror manhwa we could find. Our list of horror manhwa will scare you, we know it will and you'll be clawing for more after reading even one of these great works. Now we won't keep you in suspense any longer, let us venture into the dark nightmares our list will surely create.
10. The Dress

Manhwaga: Ju, Hee Cho
Genre: Horror, Shoujo
Volumes: 1 Chapter
Published Date: 2006
A dress may seem like a simple thing to some. It should just be an outfit that can allow a woman to show off her beauty. However, what happens though when a dress is so desired it becomes the embodiment of temptation? Is a person willing to hurt, or even kill, for a dress that seems to be desired like no other? Sometimes the search for a lovely dress can make the most normal woman go wild.
In theory, The Dress by manhwaga Ju, Hee Cho sounds like a ridiculous premise. The thought that characters would go insane over a dress seems silly. Though once you read this one chapter manhwa you'll be amazed. Thanks to a very dark and curious tale and some strong art, you'll find yourself truly horrified. The Dress will make you a bit hesitant to go to the nearest store during a sale.
---
9. Delusional Boy

Manhwaga: Song, Jin Wu- JAL
Genre: Horror, Shounen, Supernatural, Psychological
Volumes: 2
Published Date: May, 2014- Present
There are times where a dream can be so strong, it feels weird. In the case of Gi Haru, dreams from him are just as powerful as the real world. Born with an illness, Gi Haru can't separate the reality from delusional fiction. The one day Gi Haru believes he's having another mental breakdown when Nazi forces start killing people in his school assembly, though the reality is it is really happening. Forced to kill his girlfriend and attacked by his best friend, Gi Haru now is blind and is being accused of causing the horror that befell his school. As he is detained, Gi Haru is saved by a group called the Panthers and now, he aims for one thing, revenge.
Nightmares are horrific because when we experience them, we can't tell we're asleep. Now imagine a nightmare that isn't occurring while asleep but happening in reality. Delusional Boy by Song, Jin Wu-JaL does just that and we love this horror story with a tinge of vengence for good measure. Thanks to some incredibly detailed art and a well written plot, Delusional Boy will keep you on the edge of your seat reading it. While it may be a short story, Delusional Boy will stick with you for some time after completion.
---
8. Bastard

Manhwaga: HWANG Youngchan
Genre: Horror, Mystery, Psychological, Romance, School Life
Volumes: 93 Chapters
Published Date: 2014
Jin seems like just a normal young student. He may seem a bit introverted and may have issues being liked at school, but Jin is dealing with what every student has a chance of dealing with. Currently the only issue that seems to plague Jin is the missing people happening around his neighborhood. However, Jin may know more about the missing people that he lets on. In Jin's home, there lies a serial killer…
When most people think of horror, they think of zombies or supernatural elements. In Bastard the horror is anything but unreal. HWANG Youngchan uses the concepts of a serial killer mindset to drive the horror in Bastard. Those who read Bastard will be impressed on how much they will feel the elements of characters' turmoil and how much the tensions on page can influence the emotions of the reader. The art style switches gracefully from being normal and clean to turbulent and disturbingly graphic with little announcement and it makes the story so much better for it. Trust us here at Honey's Anime, Bastard will make horror hit you hard and fast with its realistic horror told in this webtoon series.
---
7. Jack Frost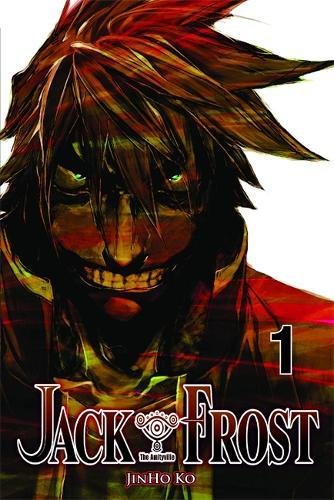 Manhwaga: Go, Jin-Ho
Genre: Action, Comedy, Horror, Supernatural, Seinen
Volumes: 11
Published Date: 2005- 2014
High school life can be tough for any young girl, but Amityville High School is a lot tougher. Noh-A just arrived at this school but it doesn't take her long to see the school is far from the words normal. Filled to the brim with horrific creatures and paranormal oddities all fighting to earn the top spot, it seems Noh-A is in the wrong place. While Noh-A may wish to leave that option isn't possible. That's why if Noh-A wishes to survive this horrible school she will have to rely on the scariest person at the school for assistance, Jack Frost.
Impressive art, a unique story and plenty of cool fights, Jack Frost seems less like a horror manhwa and more akin to an action manhwa. However, don't be fooled; every page of Jack Frost is tarrying thanks to the various creatures the manhwaga Go Jin-Ho uses in the story. Horror doesn't always have to be pure fear and Jack Frost shows that. The draw you'll walk away with is a scary but cool action horror story that truly reinvents the genre. The worst we had to deal with in High School was occasionally hearing the urban legend of a ghost at night wandering the halls…imagine if that was real?
---
6. The Phantom King

Manhwaga: Yoon, Jae Ho- Im, Dal Young
Genre: Action, Mystery, Drama, Horror, Supernatural
Volumes: 7
Published Date: Jul, 2009- 2012
Eun Sung-min survived an incident that occurred in his village many years ago. Enu Sung-min and his Maid we're lucky that the so called Phantom King and his team were there to save them from the now called Evil Phenomenon event. After the event however, the world has seen a rise in evil spirits causing more and more destruction. To hopefully combat this new threat a special group called the Special Environment Protection Agency is formed. Their goal to stop the evil spirits all while hoping to find clues to what took place 11 years ago to cause this world shift.
Yoon, Jae Ho and Im, Dal Young did an incredible job with The Phantom King. The art style thanks to Im Dal Young incorporates his usual art style giving characters really cool designs and the various enemies of the series dark and eerie designs. The horror elements really show in the interesting plot and overall odd tones The Phantom King uses. The coolest elements to this horror manhwa comes from the mystery and action genres blended in, they really allow for some cool sections and a good reason to never get bored. We highly recommend giving The Phantom King a try, the story and art warrant definitely being on this list.
---
5. Redrum 327

Manhwaga: Ko, Ya Seong
Genre: Horror
Volumes: 3
Published Date: 2003- 2004
The plan was simple enough, have fun at a remote villa up in the mountains. Seven college students and wilderness seems like the makings of a crazy weekend of fun and deep relationship building. Yet once these students enter this odd villa strange events befall them. Odd hallucinations, dark romantic tones and betrayal begin to fill the student's hearts and minds. It should have been a great weekend retreat, but fate had something else in store.
Redrum 327 by Manhwaga Ko, Ya Seong harkens to the horror movies that involve students and creepy retreats, and let us say we aren't complaining. Redrum 327 aims to surprise readers every page with another event and grisly scene truly making it a never ending horrific thrill ride. The dark tones and bloody scenes are impressive thanks to a strong art style and it never feels repetitive like some horror manhwa get at times. Redrum 327 is a fun movie like plot that throws horror into the face of the reader making it a sure fire hit for those who want a good dark story. Seriously, we hope this becomes an anime series one day or at the very least an anime movie.
---
4. Island

Manhwaga: Yoon, In-Wan- Yang, Kyung-il
Genre: Action, Horror, Supernatural
Volumes: 7
Published Date: 1997- 2001
Miho has it all. She's a woman who is smart, good looking and quite capable of handling her new teaching job on Cheju Island. However, as soon as Miho arrives, she realizes this island is a living nightmare. As Miho is trying to escape she is attacked by a demon but thankfully is saved by Pan a man on a mission. Miho learns that Pan aims to do only one thing on this disturbed Island, destroy every single demon he can.
Seriously, poor Miho can't get a break. In Island, the horror is driven into a fast paced story of demon killing proportions. The best element aside from the cool characters and fast story comes from the incredible art helmed by Yang, Kyung-il who does an incredible job. Island's story is not to be tossed aside though, Yoon, In-Wan made sure to keep reader's attentions on the great dialogue and cleverly written characters. Island basically is really just a great horror manhwa and we would be crazy to have left it off the list.
---
3. Priest

Manhwaga: Hyung, Min-Woo
Genre: Action, Fantasy, Horror, Supernatural, Psychological
Volumes: 16
Published Date: 1998- 2007
Humanity is facing dark times in this western themed story. Temozarela a fallen archangel wishes to resurrect the devil by shifting the world. People everywhere are facing demons, creatures and demonic gods and have no means to save themselves. Then one day a man steps forward named Ivan Isaacs a priest who fell from his grace in order to gain powers to fight against the evil tide facing the west. Ivan is the only one who can save the world. Though will Ivan lose his own humanity while he saves the world?
Priest is another demon hunting manhwa but don't be worried that it will fall in the similar trend like most demon hunting stories. Hyung, Min-Woo made sure Priest makes the most out of all the genres it relies on. The action is dark and frantic, the horror comes from the demonic forces Ivan faces and the story is great because of these elements working in perfect harmony with one another. Priest is a horror tale that may seem generic but is far from it. Ivan's story will keep you glued to each page as you see him struggle with his own demons just like the ones he faces.
---
2. Hanged Doll

Manhwaga: None
Genre: Action, Mystery, Drama, Horror
Volumes: 3
Published Date: 2008- 2010
1994 was when it all happened. That day the lives of five individuals all who are the age of 24 found their fates sealed. That day, a horrible crime occurred and with it many mysteries were created. One of these five people can't be trusted. Actually in reality can any of these people be trusted?
We made sure to avoid any spoilers in our summary. Hanged Doll is made by no one author and that is such an interesting design for any manhwa. The mysterious horror tale Hanged Doll throws at readers will leave anyone who invests themselves into truly lost in awe. When Hanged Doll eventually reaches its climax readers will be literally left speechless. Hanged Doll is a must read horror manhwa and we advise you to just go into it with as little knowledge of the story as possible.
---
1. Distant Sky

Manhwaga: Yoon, In-Wan- Kim, Sun-hee
Genre: Action, Mystery, Drama, Horror
Volumes: 20 Chapters
Published Date: Jan, 2014- Present
Our list ends with what we feel is easily one of the best horror manhwa available, Distant Sky. Gangnam wakes up and at first believes he is having a nightmare. In this deserted building lie dead bodies and there seems to be no power. Once outside the world seems nightmarish as well, the sky is devoid of stars and Gangnam seems alone. What happened to Gangnam's world?
Our list of Top 10 Horror Manhwa ends with Distant Sky and we can say with some certainty we saved the best for last. Strong art that shows every shred of detail in the environments and a strong creepy premise make reading Distant Sky a pleasure. Every second that passes makes the reader question what is going on and when some revelations begin to show up it just goes to show you manhwaga Yoon In-Wan and Kim, Sun-hee have created a masterpiece. Unfortunately the series isn't completed yet but that just makes every new release a blessing for those who love a good horror tale. Distant Sky shows what manhwa can do especially with the art and horror themes used. Go now and read it, then comment down below how much you wish to thank us for telling you of its existence.
---
Final Thoughts
Fear is something few of us truly want to experience and yet when it comes to a good story we all want more fear. While Japanese horror and even American horror are well known in the world of the genre, people shouldn't forget that their other countries that do an excellent job with making those palms sweat and the hairs on your neck stand on end. That is why we were happy to bring you this Top 10 Horror Manhwa list and we hope you enjoyed it. As always we here at Honey's Anime love hearing from you folks. Comment down below to let us know of your favorites from this list or one that you felt could have been added and stick around for more articles that will keep you up at night…reading that is not out of fear.
---