Mobile gaming may have started with nothing more than Minesweeper and Solitaire, but just like the rest of the video game world, it has definitely evolved from there. As new phones can handle better and better games, the games themselves have continued to improve. But choosing a mobile game is a bit harder than choosing a regular video game. There's no physical store to go and look at all the boxes and see what sounds interesting, and fewer people are talking about them. And the App Store can be quite intimidating if you don't know what to look for. So when you have a new phone or a long commute, or just don't have time to devote to console gaming and want something for your iPhone or iPad, how can you find a new game?
Luckily, we took on the challenge of creating a list for you of our top choices! Thus we present our list of the Top 10 Games for iOS. We tried to include a wide variety of games for both casual and intense players from many different genres, with some free-to-play titles and some that cost a modest fee. We hope that there will be at least one game on here that sounds interesting to you, and that we can help you navigate the massive App Store a little bit easier!
10. Pokémon Go

System/Platform: iOS, Android
Publisher: Niantic
Developer: Niantic
Release Date: Jul. 6th, 2016
If everyone has been talking about an iOS game lately, it's definitely been Pokémon Go. The game came out after a lot of anticipation and waiting since its first trailers and concept were released to the public. In the game, you walk around in the real world to capture Pokémon that spawn next to real life locations on your phone. There are a couple of mini-games within the main game. The first is trying to catch the Pokémon by choosing the right ball and berries, and flicking the screen with your finger to throw the ball correctly. The second is battling in gyms controlled by opposing teams (there are three to choose from in the game) to fight against rival Pokémon and take over the gym for your team.
Right now, Pokémon Go only has Pokémon from the first two generations of the original games (Kanto and Johto regions) but more are likely to come as the game continues to hold onto some of its initial popularity. Updates continue to come out in response to feedback from players and new features are always promised as being on the way soon. Pokémon Go also holds events sometimes with increased throws of certain kinds of Pokémon appearing, or the chance to earn more candy to evolve your monsters with or XP to increase your trainer level. Pokémon Go is great motivation to be active and go outside, and you might even make friends with some other Pokémon fans on your journeys. It's perfect for new or old Pokémon fans alike.
---
9. Trivia Crack

System/Platform: iOS, Android, Windows Phone
Publisher: Etermax
Developer: Etermax
Release Date: Oct. 26th, 2013
Trivia Crack is, as the name suggests, a trivia game based on popular board games like Trivial Pursuit. In the game, you compete with your friends to answer questions about a wide range of topics. When you answer a question from a category correctly, you obtain the character that represents that topic. If you can get all six, you beat your opponent! To keep things even more interesting, you can also choose to bet one of your already obtained characters to try to win one of your opponent's characters instead of simply answering the questions like a more typical trivia game. It gives Trivia Crack just a little extra edge to make it more exciting.
Trivia Crack was originally released in Spanish, but due to popularity and high demand, an English version was soon made. It went on to be the most downloaded game for iOS in 2014! And for good reason, it's very addicting to play against your friends or random opponents from across the globe. Trivia Crack is easy to connect to your Facebook as well if you choose to, mailing finding friends to play against even easier. Each round of a game, you have 72 hours to take your move before the game is forfeited, which makes it a game that can easily be played by even casual mobile gamers. If you want to test your knowledge, show off to your friends, and maybe even win some gloating rights check out Trivia Crack.
---
8. Disney Tsum Tsum

System/Platform: iOS, Android
Publisher: Line Corporation
Developer: Line Corporation
Release Date: Jul. 1st, 2014
Disney Tsum Tsum took the idea of making matches on a game-board quickly to try to clear the screen and added their own cute touch. Originally developed in Japan, it's easy to see why the Disney characters' tsum tsums are so ridiculously cute. In the game, you have to make chains of three or more of the same character as you race against the clock to get the highest score that you can. The higher your score, the more in-game coins you earn. You can then use these coins to level up your characters, purchase upgrades to make rounds of the game easier, and of course to buy new characters! Each character also has a special skill that can do a variety of things from clearing a large number of tsums from the board to adding time to your round, and it's fun to see what they all can do.
Tsum Tsum had really fast-paced gameplay, but each round is only around one minute long, making it easy to play for either a short or a long period of time depending on your interest. If you connect it to your LINE account, you can also compete against your friends each week and potentially earn a lot of extra in-game coins depending on your ranked score! Tsum Tsum also features new events and new tsum characters nearly every month, keeping the game up to date with new Disney movies and new challenges to play so it's not likely to get boring. Even if you're not a fan of Disney, Tsum Tsum still has addicting gameplay, but for Disney fans it's a must-play game.
---
7. Puzzles and Dragons

System/Platform: iOS, Android, Kindle Fire
Publisher: GungHo Online Entertainment
Developer: GungHo Online Entertainment
Release Date: Nov. 8th, 2012
Puzzles and Dragons is a puzzle game for iOS where you need to move coloured orbs around the board to make matches of three or more. But it's more than just your average puzzle game where all you need to do is clear the board! The more combinations you can make and the longer chains you create determines which monster in your party will attack the monsters you are fighting. Winning battles helps you to gain more monsters to use in your party and to build a strong team with varied abilities. With thousands of monsters to get, the possibilities are endless, and everyone playing can have a unique team that suits their play style.
Puzzles and Dragons has been massively successful. In fact, it's the first mobile game ever to make over $1 billion USD! The game makes use of both fast and fun gameplay as well as strategy; you need to think about what team to make to defeat each enemy, then consider the moves you need to make to ensure you defeat them before they defeat you. Once you're ready, unleash your attack and watch the animation light up your iOS screen! Monsters in the game range from typical dragons to many other fantasy creatures, beings from mythology and religion, and sometimes even third party characters from other titles! If you like puzzle games but are looking for something with a bit more of an exciting twist, Puzzles and Dragons is for you.
---
6. Hearthstone

System/Platform: iOS, Android, Microsoft Windows, macOS
Publisher: Blizzard Entertainment
Developer: Blizzard Entertainment
Release Date: Apr. 16th, 2014
Most gamers have heard of World of Warcraft, but have you heard of Hearthstone? Don't worry, you don't have to be a WoW player to enjoy the game - it just is based on the lore from the massively successful MMORPG. Hearthstone is a card battling and collecting game, where you play against one other person to use your cards and try to reduce their health to zero. Prizes come in the form of new cards and in-game money you can use to try to boost your deck. You can compete in casual and ranked matches, participate in daily challenges, and take on single player missions. And unlike WoW, Hearthstone is free to play!
Hearthstone can be played against other real players or against a computer. Because it is cross-platform, you don't have to worry if your friend plays on Android - you can still battle them on your iOS device! Offering incentives like new cards and in-game gold each day, Hearthstone gives you a reason to keep playing and the opportunity to always earn new cards to change your deck. Playing it feels as close to playing a real card game as a mobile game can feel, too. Whether you're a fan of the Wow franchise or just like playing cards, Hearthstone is an attractive and fun game to check out. It can be played casually or intensely, that choice is entirely up to you.
---
5. Shadowrun: Dragonfall

System/Platform: iOS, Android, Linux, Microsoft Windows, OS X
Publisher: Harebrained Schemes
Developer: Harebrained Schemes
Release Date: Feb. 27th, 2014
Shadowrun: Dragonfall began as nothing but DLC for the game Shadowrun Returns, but its popularity led to it being expanded into its own title. In the game, you take control of a Shadowrunner who has been dispatched to Berlin. This Berlin is nothing like the one we know today though; it's ruled by anarchy and chaos. There, alongside a team of people with cybernetics and knowledge of magic, you begin to unravel a conspiracy. What begins as a mission just to gather data goes terribly wrong, and you begin to learn the dark secret of "Feuerschwinge," a great dragon that in the past caused incredible damage. And it might not be as dead as everyone thinks....
Shadowrun: Dragonfall is a cyberpunk-fantasy mashup strategic role-playing game. It has highly customisable character creation, where you can pick from five species and six character classes to build your avatar. You can interact with and explore your environment (though the plot is mostly linear), talk to other characters, and choose how you develop your skills with the karma points that you earn. The battle system is turn-based, perfect for fans of the classic RPG style. Depending on your character class, you can fight with melee or ranged weapons, or magic. Fans of RPGs, fantasy, science fiction, and turn-based battles will really enjoy Shadowrun: Dragonfall.
---
4. Ridiculous Fishing: A Tale of Redemption

System/Platform: iOS, Android
Publisher: Vlambeer
Developer: Vlambeer
Release Date: Mar. 13th, 2013
Ridiculous Fishing: A Tale of Redemption lets you, well, fish! But we aren't talking about the fishing games of old where you simply sit and wait for a bite based on what bait you have chosen. Ridiculous Fishing is a lot more fun and involved! You have essentially three mini-games in one for how to catch fish - traditionally, there are many underwater that can be caught with a rod and hook. You control the hook as you let it sink through the water, carefully avoiding fish until you can get it as deep as possible. And then when you reel it in, you try to catch as many fish as you can on the way up. Finally, you can shoot the fish out of the sky! Say goodbye to any previous ideas you had about how fishing games have to work.
More than just tapping the screen like with many mobile games, Ridiculous Fishing also requires you to tilt and move your phone screen as you're controlling the hook and catching fish. This means it might not be an ideal game for the easily embarrassed to play on their morning commute - but if you're not shy, or looking for a game to just play at home, it makes Ridiculous Fishing more unique and fun! Between letting the hook sink, reeling it in, and shooting, there are three different elements to keep the game exciting and for you to hone your skills in. If you're looking for a game that will make you laugh and you can casually enjoy, check out Ridiculous Fishing - even if you're not a usual fan of sports or fishing games. It's anything but usual; you could even say it's ridiculous!
---
3. Super Mario Run

System/Platform: iOS, Android
Publisher: Nintendo
Developer: Nintendo EPD
Release Date: Dec. 15th, 2016
Super Mario Run is a game with three distinct modes. The first is the main game, where you can play as Mario or one of his friends as you run along the screen and jump to collect coins and avoid obstacles in the fastest time possible. The gameplay features auto-running, so you won't be able to stop - you just have to think fast and jump! The second game mode is called Toad Rally, and you can compete in tournaments against the "ghosts" of other players. Finally, the third mode is Mushroom Kingdom, which is a world you can create and build up using the coins you have earned. Super Mario Run is one of the first Mario titles to ever be released on a non-Nintendo system, which makes it a surprising and unique mobile game.
Super Mario Run is free to play for the first few levels, but you will have to purchase the game if you want to progress past that. If you do invest in the full title, you'll find yourself probably addicted to the fast-paced gameplay, and enjoying seeing all your favourite classic Mario characters. It definitely appeals to nostalgia for fans of the original games. While the auto-running feature is new, the goal is still the same - jump over obstacles, collect coins, and jump on enemies to destroy them and clear the level as you progress through a left-to-right side-scroller. The price for this game is comparatively high, but for Mario fans, it's a great addition to your collection.
---
2. 80 Days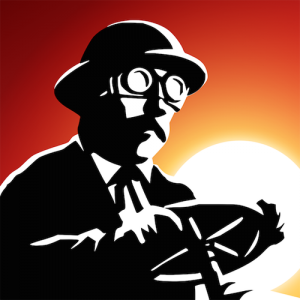 System/Platform: iOS, Android, Microsoft Windows, OS X
Publisher: Inkle
Developer: Inkle
Release Date: Jul. 31st, 2014
80 Days is inspired by Jules Verne's novel Around the World in 80 Days. You play as Passepartout, the valet, and assistant to aristocrat Phileas Fogg on his journey around the world. You are free to plan the path itself, deciding where to go, as well as managing the health, finances, and time of Phineas. It's not too realistic though - you can expect to find a hovercraft, a walking city, submersibles, and more which really give 80 Days a steampunk vibe. Fans of other works by Verne will also be happy to find references to his other stories, but even if you have never read anything by him you can enjoy this game all the same. It has a lot of narrative gameplay that is changed by the player's decisions as you watch your story unfold.
80 Days is a massive game with a lot of replay value. Even after completing it once, it's estimated you will have only seen about 2% of the game's possible dialogue options - so you had better play again! And again and again, each time going new places, finding new markets, and discovering new secrets and adventures. While many decisions you make are small, some have massive impacts on how the plot will unfold in your story so you really can feel like the driving force behind the adventure. For fans of steampunk and fantasy, or players that really like choice-driven, choose your own adventure stories, or even just people that have wanderlust 80 Days is sure to entertain you for a long time.
---
1. Monster Strike

System/Platform: iOS, Android
Publisher: Mixi
Developer: Mixi
Release Date: Oct. 20th, 2014
Monster Strike is a game revolving around battling and capturing different monsters. You use the monsters you have to fight against and catch new ones that you can add to your collection and then use them to continue the process. Monster Strike's gameplay is a "catapult" battle system, using the idea of physics to determine the outcome of attacks. You want to collide your active monster with other friendly ones on the board to create combos and explosions to damage enemy monsters and defeat them. And of course, each monster is unique with its own stats and abilities - both passive and active ones! It's a great incentive to collect more and try to create a better team.
Do you like the collecting aspect of games like Pokemon? Do you like the gameplay mechanics of Angry Birds? If yes, then Monster Strike will be right up your alley. It has plenty of different quests ranging from single player and co-op to limited event quests to keep the game varied and new. And the more you use your monsters, the more they will level up - and eventually you can evolve them, too! Monster Strike is a fun, fast-paced game that rewards you for playing often but can also be picked up and played quite casually when you're bored as well. There are so many different monsters it's fun to try to see and collect them all and try out all their abilities and skills. There's a reason is the top-grossing mobile game of 2016.
---
Final Thoughts
The next time you're getting ready for a long car ride, wanting to spruce up your commute on public transport, or just looking for something to kill some time when you don't want to commit to a full length video game (or the money behind them perhaps) have a look at some of these games! They're great for iPhones or iPads, and most of them can be played as causally or as intensely as you want!
Mobile games are flexible and can be enjoyed by a lot of different people, which is what makes them so special. They've come a long way from what they used to be, so whether you're an avid mobile gamer or someone who is just looking to start, there's a game for you. We hope our list of the Top 10 iOS Games will help make your decision easier!
What's your favourite game for iOS? Do you think we missed a game that should be here? Which of these games are you excited to try out first, or which have you already played? Let us know in the comments!
---