También puedes leer este artículo en:Español
INTRODUCTION
Hasn't the thought of what it would be like to live in another world passed into your mind at one point or another? The ability to start fresh in a new setting or have a chance at becoming a hero seems like an intriguing ideal. That's why we here at Honey's Anime have always enjoyed the isekai light novel genre because it allows authors to create scenarios we only wish could be a possibility. Since we loved isekai works so much, we decided to forge for you beautiful souls our Top 10 Isekai Light Novels recommendations list.
Now you may be pondering how did we here at Honey's Anime craft this isekai light novels list? If you go onto various sites all over the web you're bound to find hundreds of authors creating various isekai themed works and that means there's a lot of competition to gain a seat on our Top 10 Isekai Light Novels list. Well using our own knowledge of the theme as well as seeing how fans reacted to various works let us shape this incredible isekai light novels list. Some titles may be familiar to those who watch a lot of anime and other you've never heard of most likely and that is just how we wanted our list to shape out. Now then if you're ready to journey into some old and new worlds, then all you must do is hit the ever powerful down arrow or use the mighty scroll wheel to start reading this epic isekai light novels list.
10. Magic Bullet in Magic Land

Authors: Karima Ken- Sinsora
Genre: Action, Adventure, Comedy, Fantasy, Seinen, Romance
Volumes: 3
Published Date: 2012- Present
If you're going to be trapped in a video game world where death is all too permanent then you'll most likely hope to be a master of said game. Luckily for Watari Karito, he just so happens to be quite adept at the VRMMORPG known as World Battle-Ground Online. Having seemingly been transported into the game for some unknown reason, Watari will need to rely on his skills in the game to have a chance at surviving to find out how he got inside the game in the first place. With demi-human girls and a large battlefield awaiting Watari, his life with in the game is about to be a very chaotic and interesting experience.
Isekai light novels usually have protagonists thrown into games without any reason. This simple design at times can lead to the obvious cliché works that while aren't bad, just don't feel that interesting to read. Luckily for us author Karima Ken alongside illustrator Sinsora have crafted an isekai work that is fun and exciting in the form of Magic Bullet in Magic Land. Action, cute girls and plenty of fantasy based gunfights makes Magic Bullet in Magic Land an enjoyable read and definitely a good starting point for our Top 10 Isekai Light Novels list. Hopefully more volumes of Magic Bullet in Magic Land come out—so far we only have 3 published—but until then we'd advise taking your time reading it.
---
9. Tsuki ga Michibiku Isekai Douchuu

Authors: Azumi Kei- Matsumoto, Mitsuaki
Genre: Action, Adventure, Comedy, Fantasy, Harem, Shounen
Volumes: 11
Published Date: 2012- Present
High Schooler Misumi Makoto ends up having a very peculiar event befall him. Misumi is summoned into another world by a god called Tsukuyomi. According to this god, Misumi is needed to be a new hero for this world! Despite this, other heroes of the world aren't happy Misumi is there in the first place. When Tsukuyomi leaves, it's up to this once normal high schooler to become a hero by whatever means possible.
Usually heroes that are summoned to a new world should be admired by their peers. Doesn't their summons indicate they are special and all too necessary to fight against some strong presence? Unfortunately this isn't applicable to Misumi in Tsuki ga Michibiku Isekai Douchuu written by author Azumi Kei. Readers must watch as Misumi rises against a harsh segregation and show he's capable of being the hero that he was deemed as by god. Author Azumi really breathed new life into the usual theme of isekai works in Tsuki ga Michibiku Isekai Douchuu and we know you'll love it for that same reason. Strong narrative, well-placed comedic moments and a spicing of other elements make Tsuki ga Michibiku Isekai Douchuu worthy of our isekai light novels list truly.
---
8. Mushoku Tensei: Isekai Ittara Honki Dasu

Authors: Rifujin na Magonote- Sirotaka
Genre: Fantasy, Adventure
Volumes: 24
Published Date: Jan 23, 2014- Present
Our main protagonist—in the form of a 34 year old NEET—has been hit by the worst luck. Not only has he just been kicked out from his home but he just died after saving someone's life. Luckily, it seems that our NEET has gotten a second chance in the form of being reincarnated into a new body. Going by the name Rudeus Greyrat, he is about to learn that he was born into in a body capable of using spells at a highly skilled level. Rudeus makes one major claim to himself and the world, he won't be useless like in his past life!
Mushoku Tensei: Isekai Ittara Honki Dasu—or Mushoku Tensei—is yet another awesome isekai light novel for the list. Cool action and a brilliant adventure await anyone who is ready to pick up Mushoku Tensei and try it out. While it may seem cliché at first we were genuinely taken aback by how author Rifujin na Magonote and illustrator Sirotaka created a truly cool isekai light novel series. Originally a web novel series we're so happy that Mushoku Tensei has gotten published light novels out in the world now. If you're looking for your next isekai adventure then we highly recommend Mushoku Tensei.
---
7. Isekai wa Smartphone to Tomo ni (In Another World With My Smartphone)

Authors: Usatsuka, Eiji- Fuyubaru, Patra
Genre: Adventure, Comedy, Fantasy, Romance, Harem
Volumes: 29
Published Date: May, 2015- Present
Life abruptly ended for poor Touya Mochizuki. Luckily for young Touya, he is taken by God directly upon death and told that he was killed by complete accident. Why is it lucky you may ask? Well feeling terrible for ending Touya's life, God reincarnates Touya in a new fantasy world and allows him to bring his cell phone—upon Touya's request—which has been enhanced by God to be used in this other world. Touya is about to enter a strange new world where he will face new adventures and meet new people all with his new and improved smartphone.
Besides the word isekai being in its title, Isekai wa Smartphone to Tomo ni aims to deliver a fun comedy adventure filled with some unique takes on the isekai theme. The idea of bringing a super powered cellphone seems ridiculous but thanks to author Usatsuka Eiji the narrative works quite well. We were hooked by the fun narrative and cool characters that make Isekai wa Smartphone to Tomo ni so appealing for each volume. Let us also mention that Isekai wa Smartphone to Tomo ni has just released an anime series which is very impressive and has done the light novel adaptation justice so far. If you want a ridiculous isekai adventure you'll find no better title than Isekai wa Smartphone to Tomo ni.
---
6. Knights & Magic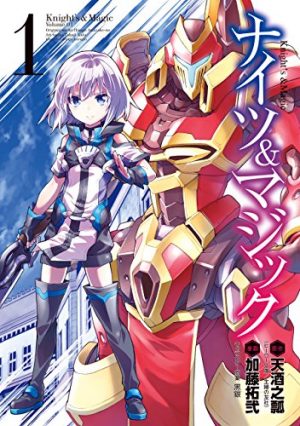 Authors: Kurogin- Amazake-no, Hisago
Genre: Action, Fantasy, Mecha, School
Volumes: 6
Published Date: 2010- Present
For one unnamed otaku, his life is focused on work and model robots. When the unnamed otaku gets hit by a car and is killed it seems as if his days of enjoying model robots has come to an abrupt end. However, instead of finding himself dead, this otaku reawakens in a new world as a young boy by the name of Ernesti Echevalier or simply Eru. Eru in this world is a powerful magic user and very quick witted. It also appears that in this new world there exist giant robots known as Silhouette Knights that can be piloted by anyone capable of using them. Eru now has the chance to not just simply build a mech but be able to ride on in Knights and Magic.
The beauty of the isekai genre is that you can attach almost anything to it. Stories about swords and magic, can be done. Stories about giant robots being piloted by a very androgynous young male, also be done. Knights and Magic is a fun mecha isekai light novel with plenty of cool fights and some rather interesting characters. If you needed a step away from the typical sword and magic isekai works and instead wanted swords, magic and giant robots than look no further as Knights and Magic is the isekai light novel you'll want to read.
---
5. Tate no Yuusha no Nariagari (The Rising of the Shield Hero)

Authors: Aneko, Yusagi- Minami, Seira
Genre: Fantasy
Volumes: 17
Published Date: Aug, 2013- Present
Heroes summoned from other worlds usually are loved and praised in their new worlds. However, this doesn't apply towards Iwatani Naofumi who has been summoned as at random to be a hero alongside several other souls. While his allies are given cool legendary weapons, Iwatani is given a shield making him seen by the others as useless and unneeded. Thrown out of the kingdom and left in this new world, Iwatani is filled with rage at his predicament. Filled with anger and frustration, Iwatani now has a new desire in this world and it isn't exactly a kind one…
Can you blame Iwatani for being so angry? When you think of being thrown into a new fantasy world you believe you're going to be a hero with value. Unfortunately, Iwatani is given the fantasy world he deserved and now we get to witness a very unique take on the isekai genre with Tate no Yuusha no Nariagari. Trust us folks you'll get addicted to this great isekai light novel series and will be like us hoping the anime comes out soon. However, even if the anime doesn't come out soon we will continue to just enjoy the epic story made by author Aneko Yusagi in the form of Tate no Yuusha no Nariagari.
---
4. Re: Zero Kara Hajimeru Isekai Seikatsu

Authors: Nagatsuki Tappei- OOTSUKA Shinichirou
Genre: Adventure, Comedy, Drama, Fantasy, Romance, Seinen
Volumes: 12
Published Date: 2012- Present
What should have been a normal trip to a convenience store turned into something all too odd for Subaru Natsuki. One minute Subaru is standing in front of the convenience store door and then the next he's in a marketplace filled with odd human-like beings. Subaru has found himself being transported to another world and when he meets a young silver haired fairy girl named Emilia his life will undergo a very drastic change. Subaru is about to learn that he can't die in this fantasy world and that won't be such a blessing…
Re: Zero Kara Hajimeru Isekai Seikatsu—or simply Re: Zero—has to be one of the biggest isekai light novels in sometime. When the anime for Re: Zero released people clamored to check out the original source material. What ended up ensuing is fans realized author Nagatsuki Tappei's light novel series was simply pure excellence. A dark fantasy plot with tons of interesting twists and turns makes Re: Zero a must read for anyone into the isekai genre. Trust us folks, Subaru's adventure is one that you'll lose yourself in as you pick up Re: Zero and never want to put a single volume down.
---
3. Kono Subarashii Sekai ni Shukufuku wo! (Konosuba: God's Blessing on This Wonderful World!)

Authors: Mishima, Kurone- Akatsuki, Natsume
Genre: Adventure, Comedy, Fantasy, Supernatural
Volumes: 10
Published Date: Oct, 2013- Present
For Neet Kazuma Satou going outside is a deadly adventure in itself. However, willing to risk death, Kazuma heads out to grab a limited edition game and does indeed face death…literally. Bought face to face with a sarcastic and annoying Goddess named Aqua, Kazuma is told he can be sent to a new life inside a fantasy world to take down The Demon King. Annoyed by Aqua's attitude, when Kazuma is asked what he wishes to bring with him, Kazuma takes Aqua with him to this new and unfamiliar world. Kazuma may think he has an idea of what being an adventure in a fantasy world will be like but he is about to learn it's far from what he imagined.
We here at Honey's Anime love to laugh. Kono Subarashii Sekai ni Shukufuku wo—or just Konosuba—is easily one of the funniest and most enjoyable isekai works we've ever read in our lives. Kazuma and his party of odd girls are filled with comedic banter and dumb adventures crafted by author Mishima Kurone. There was no doubt in our mind that Konosuba needed to be in the top three of this amazing isekai light novel list and we know you'll equally agree. If you read all the light novels for Konosuba while you wait for more we recommend the just as funny anime adaptation.
---
2. Overlord

Authors: Maruyama, Kugane- so-bin
Genre: Action, Fantasy, Game, Magic, Supernatural
Volumes: 11
Published Date: Jul, 2012- Present
MMORPG Yggdrasil is finally closing its servers after many years of great gameplay. Momonga and his monster looking avatar clan members wait for as long as they can to see the end of Yggdrasil with their own eyes. However, Momonga is the only one to wait and when the game is supposed to turn off Momonga notices something very odd. Instead of the game ending, Momonga finds he has been trapped within the game inside his avatar's body! What will Momonga now do in a world that is now all too real?
Overlord isn't a super original isekai light novel if you just read the synopsis. However, if you dive into this impressive isekai light novel series be prepared to easily one of the best examples of an isekai work thanks to author and illustrator Maruyama Kugane and so-bin. Seriously, we love the art and feel it's quite possible some of the coolest art we've ever seen inserted in a light novel series. Luckily besides beautiful art the story of Overlord hides some impressive narrative and clever ideas to keep from just being another cliché isekai work. Maybe you have only seen the anime for Overlord but we'll tell you now folks you need to read the isekai light novel series for an even greater experience.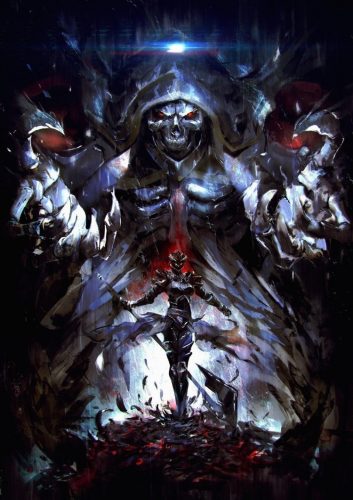 ---
1. Sword Art Online- Progressive

Authors: Kawahara, Reki- abec
Genre: Action, Adventure, Drama, Fantasy, Mystery, Romance, Sci-Fi, Shounen
Volumes: 4
Published Date: 2012- Present
You've learned the story of Sword Art Online. You have witnessed Kirito's party undergo numerous trials and tribulations to beat Sword Art Online. However, Sword Art Online-Progressive aims to tell the readers the whole story of Kirito's rise as the legendary hero of Aincrad. Witness Kirito, Asuna and several others as they clear each floor of Aincrad in this story untold till now. How did Asuna end up with the name Lightning Flash Asuna and where did Kirito earn the moniker Black Swordsman? Find out in Sword Art Online-Progressive.
By now there aren't many anime fans who haven't heard of Sword Art Online. The popularity of Kirito and Asuna has exploded in the world of manga, light novels and anime to the point that it shows how much people love this isekai light novel. That's why we here at Honey's Anime absolutely love Sword Art Online-Progressive because it returns us fans back to Aincrad but with a more thorough explanation of Kirito's adventures unseen in the manga, light novel or anime. Author Kawahara Reki once more has shown an expertise in storytelling as Sword Art Online-Progressive is simply just as amazing—if not better—than his original tale. We knew there would be no better choice for the first spot on our Top 10 Isekai Light Novels list than Sword Art Online-Progressive.
---
Final Thoughts
The isekai theme has been growing in popularity for quite some time now. Obviously that means light novel readers—manga and anime included—will be flooded by creator's various works and that means you're going to have some great titles and some mediocre ones. That's why we here at Honey's Anime made sure to find the best of the best and hope that we have created a list you found both helpful and enjoyable to read. If we accomplished our goals, let us know in the comments below, as well as share some isekai light novels that intrigued you. As always Honey's Anime is burning the midnight oil to create our own adventures in the form of new and exciting articles for you folks to enjoy.
---