Many gamers know of the more western orientated indie gaming scene. However, we have news for you, folks. Japanese indie developers have also been making some amazing video games themselves. That's why we here at Honey's Anime wanted to share our favorite Japanese indie games that we know of. Welcome folks to our Top 10 Japanese Indie Games list.
Here at Honey's Anime HQ, we have been busy finding the best Japanese developed indie titles and have sorted through the best of the best. Below, we have recommended our favorites that we know you'll love regardless of your gaming preferences. Some of the titles might be familiar to you if you're a die-hard indie gamer. Then there are some we presume you would have complexly missed without our handy top 10 list. With that being said, let's dive into our Top 10 Japanese Indie Games list together without further delay.
10. Croixleur Sigma

System: PS4, PC, PS Vita
Publisher: souvenir circ.
Developer: Active Gaming Media
Release Dates: Apr 30, 2014
The so-called Adjuvant Trial has been held for some time in the realm of Ilance. Two factions go to battle during the trial indicating which nation will have power over military and political decisions. That's why despite their friendship, two girls are about to enter the Adjuvant Trial and fight against one another for their nations. Only one girl will be victorious tonight. Welcome to the world of Croixleur Sigma where swords and magic are about to clash!
What do you get when you mix moe girls with high octane battles? That's right, you get indie developed Croixleur Sigma! Created by Japanese indie studio souvenir circ. Croixleur Sigma is a truly fun hack and slash title with tons of triple A level gameplay mechanics. Players will defeat tons of enemies all the while using various unlockable weapons, girls and special moves like dodges and attack cancels. What's even better is that Croixleur Sigma is a pretty affordable title with tons of endings, missions and game modes to partake in. If you love hack and slash games but want one with an indie developer twist then we fully recommend Croixleur Sigma.
---
9. HYAKKI CASTLE

System: PC
Publisher: Asakusa Studios
Developer: Happinet
Release Dates: Nov 15, 2017
Doman Kigata, a well-known and powerful magic user, tried to take over the Shogunate during the Edo Period of Japan. Luckily, Doman was stopped and sent to an island with other criminals before he could do any real harm. However, one day a package arrives to the Shogunate castle containing several decapitated heads from guards and criminals on the island. Also, contained in the package was a letter stating this offering came from the lord of the Hyakki Castle. The Shogunate thus decide to send a team of warriors out to investigate the island but soon they learn the island has changed quite immensely...
Here at Honey's Anime, we were actually quite fortunate to play HYAKKI Castle ourselves and we even have a review of it on our site. At first glance, when we saw HYAKKI Castle, we thought it looks like your traditional first-person dungeon crawler. However, HYAKKI Castle actually does something quite unique for the genre. Players can split their 4-man team into two teams and solve puzzles as well as defeat enemies by utilizing this mechanic. Add to this interesting gameplay mechanic the horror-esque elements of the enemies and environments and you have truly a unique first-person RPG courtesy of the indie developers Asakusa Studios.
---
8. Higurashi When They Cry: Chapter 1- Onikakushi

System: PC, iOS, MAC
Publisher: 07th Expansion
Developer: MangaGamer, O7th Expansion
Release Dates: May 15, 2015
Before the hit anime and manga series, Higurashi started as a visual novel series. The first title, Higurashi When They Cry: Chapter 1- Onikakushi, begins our tale. Following a young boy named Keiichi Maebara, we see him move from the big city to a village called Hinamizawa. Here, a new life of calm and peace should be awaiting Keiichi as he adjusts to the village lifestyle and his new friends. However, little does Keiichi know that in Hinamizawa, a dark past lingers and a curse from the past will prove how twisted this small village really is…
If you consider yourself an anime horror buff then you've most likely have watched and/or read Higurashi When They Cry. Though it always amazes us here at Honey's Anime how most don't know Higurashi When They Cry started as a visual novel series made by a small company called 07th Expansion. Originally, it was pretty tough to play Higurashi When They Cry: Chapter 1- Onikakushi without importing the game and finding English subs online but now thanks to Steam and the Itunes Store, you can buy an English version of it. Now see the horrors of Hinamizawa through either original art or updated visuals and read the narrative for yourself. Then if you beat the first chapter you can go about and download the next parts as several have been released so far! Journey into the dark world of Higurashi When They Cry for the first time or as a fan but in a whole new way.
---
7. Tokyo Dark

System: PC, macOS
Publisher: Cherrymochi
Developer: Square Enix
Release Dates: Sept 7, 2017
Detective Ito Ayami has found her partner missing. With Ito's detective prowess, she jumps into the dark Tokyo landscape to find him. However, little does Ito realize that this new case will cause her to delve into her past. Each interaction and meeting will bring Ito closer to a change in her life. Yet, can Ito deal with the realities of these events or will she break apart and let the darkness of her world engulf her?
In the modern day indie scene most indie developers rely on kickstarts to help them see if people will love a title or not. Plus, this helps the developer gain extra assets that they couldn't have any other way. With Tokyo Dark. Cherrymochi only asked for 40'000 CAD—32'000 dollars—for their point and click adventure game and got nearly 6 times the amount. We here at Honey's Anime were happy this happened as Tokyo Dark is an absolutely stunning 2D point and click title with anime scenes, anime-like visuals and a truly gripping narrative with over 11 possible endings to obtain. Tokyo Dark is truly an impressive Japanese indie title and you should definitely check it out if you love psychological themed stories.
---
6. Astebreed

System: PC, PS4
Publisher: Edelweiss
Developer: Edelweiss, Active Gaming Media
Release Dates: May 30, 2014
An alien race has begun to attack humanity. Luckily, you are in possession of a powerful mech and happen to be an ace pilot named Roy Becket. Use your mighty mech to defeat the alien invaders. Shoot, slash and power through various levels fighting enemies and large-scale bosses. Roy's enemies are powerful and relenting. That's why you have to show you're just as tough in Astebreed!
Old school shmups—shoot em' ups—aren't released nearly as much as they use to be. That's why when games like Astebreed come out, we tend to jump for joy here at Honey's Anime HQ. Filled with various modes to play, Astebreed is fast and frenetic from beginning to end. Astebreed also has some great visuals thanks to Edelweiss that remind us of a mecha anime. Astebreed is a fun title for those looking for a game reminiscent of past shmup titles and equally want a game that can be played multiple times.
---
5. Downwell

System: iOS, PC, PS4, PS Vita, Android
Publisher: Moppin
Developer: Devolver Digital
Release Dates: Oct 14, 2015
They say curiosity killed the cat. Well, for an all too curious man, this will prove to be true in Downwell. In a local park, the man finds a well and wishes to know what lies at the bottom of it. Though the man is aware that within the well are monsters waiting for the curious to enter their realm. That's why the man equips gunboots and enters the well prepared to engage in a fight for the treasures that the well has down below…
Downwell at first seems like a game that heralds from the early 80s. With simple art and simple designs, most wouldn't be wrong in thinking this way initially. However, Downwell only has an old-school look. In terms of gameplay, developer Moppin—which is a nickname for the Japanese developer—made Downwell a fast and tough top to bottom scroller. You'll have to kill tons of enemies while trying to get lower in the well. As you get further into Downwell the number of enemies begin to increase and make this seemingly simple title more akin to a shmup title. We love the black and white art with great soundtrack and know you folks will too if you decide to dive into this fun title.
---
4. The Crooked Man

System: PC
Publisher: Uri Games
Developer: Active Gaming Media
Release Dates: Jan 16, 2018
David Hoover has found himself moving to a new apartment to get away from his troubled past. As David acquaints himself with the small place he begins to notice strange incidents occurring. With no other options available, David begins to investigate the past owner to try and learn what is going on in the apartment. David's trip however brings with it painful memories and they will force him to face a threat he is far from prepared for. Can David survive this nightmare?
RPG Maker games might have started off as small indie titles but as things like YouTube and Twitch became popular a lot of RPG Maker titles grew in popularity. One of these titles was The Crooked Man developed by Uri Games. With one member—a female Japanese indie developer—The Crooked Man has gained so much fame that it's easy to find tons of players who have entered David's nightmare. Solve clues and survive numerous dead ends and traps in The Crooked Man to see David's story reach one of several endings. The Crooked Man is a shining example of a developer using a simple set up but writing an impressive narrative and making a truly unique world to keep players engaged from start to finish. If you love simple horror games you need to play The Crooked Man as soon as you can!
---
3. Hatoful Boyfriend

System: Android, iOS, PC, OS X, PS4, PS Vita
Publisher: PigeoNation Inc., Mediatonic
Developer:
PRESS, Devolver Digital" item4="Release Dates" content4="Jul, 2011" ]
In a future world, humanity has almost reached extinction. Thus, sapient birds have risen in the place of humanity and have taken their roles in life. You play as one of the few females humans who has been transferred to a new school called St. Pigeon Nation's Institute. Despite the school being inhabited by only birds, your job is to get along with the birds and try to learn their ways. Though you're about to meet several special birds who may become your future partners despite the differences in race…
Hatoful Boyfriend originally was a flash title that weirded most people out for the fact that it was dating sim with birds. Yes folks, Hatoful Boyfriends makes you date one of several male birds as a female character. However, if you look past that oddness, Hatoful Boyfriend is actually tons of fun with some great humor and simple but silly art. Hatoful Boyfriend became such a hit on the online space that eventually Devolver Digital would publish the indie title and lead to it being released as a retail product! Needless to say, no matter what you think of this strange otome-like dating sim it still did extremely well as a Japanese indie game and deserves a place on our Top 10 Japanese Indie Games list.
---
2. Tiny Metal

System: PS4, Nintendo Switch, PC
Publisher: Unties
Developer: Area 35
Release Dates: Dec 21, 2017
War is about to break out when an assassination plays out against the Artmesian King. With chaos brewing and threats rising its time to arm up! Tiny Metal has players taking control of an infantry unit from Artemesia led by Nathan Gries. Take to the land and skies to do battle with your new enemies and engage them using wits and military might! Show your skills in Tiny Metal and prove to this enemy they made a big mistake going against Artemesia!
It's been several years since an Advance Wars game has released and we've missed that franchise here at the hive. Luckily, Tiny Metal by Japanese indie devs Area 35. With a nice mixture of hand drawn art for the characters and colorful combat—which shows Area 35 wanted to mirror Advance Wars—Tiny Metal is an amazing indie game straight out of the east. With a strong music score and a small team of 6 dedicated individuals, Tiny Metal will impress players and fans of indie games without a doubt. We highly recommend playing Tiny Metal on either the PC, PS4 or Nintendo Switch as soon as possible!
---
1. Corpse Party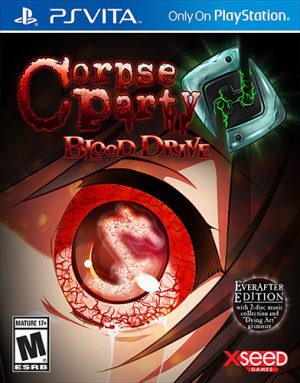 System: PC, PSP, PS Vita, Nintendo 3DS, Android, iOS
Publisher: Team GrisGris, 5pb., MAGES, GrindHouse
Developer: Kenix Soft, Team GrisGris, 5pb, Marvelous, GrindHouse
Release Dates: Apr 22, 1996
A class has just found one of their friends having to leave the school soon and they wished to send her off with a time to remember. Too bad that farewell party would never end. Using a cursed incantation, the students are then transported into another realm filled with ghosts and deadly traps. Now they must find a way to escape this hell and survive the darkness that is taking over their sanity. It's time for a party of corpses to begin…
Corpse Party was a no brainer for our top spot on our list of the Top 10 Japanese Indie Games. Created back in 1996, Team GrisGris used simple RPG Maker to create a truly nightmarish title filled with multiple endings, puzzles and tons of dead ends. However, Corpse Party gained so much popularity that developer 5pb—known for tons of visual novels and other games—alongside MAGES took Team GrisGris and made them a bigger group allowing them to remake Corpse Party from the ground up. Corpse Party would gain so much acclaim that it would lead to an anime OVA series, tons of spin off games—both fan made and from Team GrisGris—and even manga adaptations. Corpse Party shows the success that Japanese indie teams can find with just a little bit of work, luck and patience and is a shining example of an excellent horror title.
---
Final Thoughts
Japanese indie games can be very different than what most from the west are used to. However, if you're willing to try the games above out for yourselves you'll see that regardless of the country indie games can still be exciting titles. Have you played any of the games on our Top 10 Japanese Indie Games list? Comment down below to let us know which ones you've played and what your thoughts were about them. Remember folks, if you loved this article we have tons more like it here at Honey's Anime just waiting for you to enjoy. Thus, get to reading folks!
---