A "kuudere" is an anime character who acts high-and-mighty or unflappable on the outside (hence the "kuu", short for "cool"), but is actually quite sweet on the inside ("dere" meaning "to become ffectionate"). Unlike the mostly female tsundere category, kuudere are equally likely to be any gender, and may be of any age or class as well. All that matters is that other people view them as untouchable, even though they're squishy little cinnamon rolls once you finally chip away at their tough outer shell. Let's take a look at some of our favorite kuudere characters in anime!
---
5. Erza Scarlet from Fairy Tail

The S-Class wizard Erza is certainly someone to be feared – her powerful Requip magic gives her instant access to dozens of weapons and armor sets for any occasion, her pain tolerance is through the roof, and she's got the tenacity of a raging bull (especially when bolstered by the support of her fellow guildmates). Give her some strawberry cake or put her in front of her crush Jellal, though, and she completely melts. Jellal (a former villain) is a bit of a kuudere himself, so when these two badass warriors meet, they turn into stuttering, bashful teenagers. It's so pure!
---
4. Bruno Bucciarati from JoJo no Kimyou na Bouken Part 5: Ougon no Kaze (JoJo's Bizarre Adventure: Golden Wind)
Make no mistake – Bruno Bucciarati is a gangster to the core. He'll do anything to protect the people under his care, even if that means fighting to within an inch of his life or killing anyone who gets in his way. Fans don't refer to him as the "mom" of his team for no reason; Bucciarati personally dragged all of his teammates out of terrible situations and took them under his wing, teaching them to live better, more fashionable lives with himself as their emotional rock. Sometimes, though, his proud mama smile peeks through the "tough love" persona and you can tell that he deeply cares for his team and Trish.
---
3. Senku Ishigami from Dr. Stone
Senku is the only scientist left who can rebuild society after the world regressed into a new Stone Age, so he often buries himself in projects and leaves no time for emotions. He's blatantly oblivious to love, mercilessly shuts down cheesy shounen friendship speeches, and sometimes resorts to underhanded tactics to get what he wants. However, he still has a kind heart underneath it all. For example, while working on glass instruments, he crafts a pair of glasses for the sweet little village girl Suika and there's an adorable scene of her seeing sunflowers in crystal clear vision for the first time. Senku's proud smile says it all – even though he won't admit it, all he really wants to do is help people.
---
2. Erina Nakiri from Shokugeki no Souma (Food Wars! Shokugeki no Soma)

The "God Tongue" herself could easily be mistaken for a tsundere (especially since her "dere" moments exude a lot of "it's not that I like you or anything, b-baka" energy), but it's her haughty attitude and high station that firmly cement Erina in the kuudere camp. She's the granddaughter of the culinary school's headmaster, has the best palate in the world, and is quite the accomplished chef in her own right. It takes a special kind of person to pierce through her pretentious persona, but Yukihira manages it with his offbeat sense of humor and low-key unbreakable confidence. Around him, she can bare her true feelings when it really matters – and in later seasons, it definitely does.
---
1. Yuki Souma from Fruits Basket 2019

Yuki is considered a beautiful prince by his classmates, while the Soumas are jealous of Akito's favoritism towards him as the Rat of the Zodiac. And even though he's attractive and physically strong, Yuki is an absolute wreck on the inside. His confinement with the abusive Akito left him socially isolated and convinced that he's nothing more than a pawn in other people's schemes, so despite everyone's strong opinions on who they thought he was, he never let anybody close enough to actually get to know his real personality. That starts to change when Tooru enters the picture, and really gets going once he decides to join the Student Council and make his own friends. But can he let others see the softer, broken side of him without getting hurt again...?
---
Final Thoughts
Other kuudere we love include Kayo from Erased, Bortz from Land of the Lustrous, Shinobu from Demon Slayer, Homura Akemi from Puella Magi Madoka Magica, Anaak Jahad from Tower of God, and Appare from Appare Ranman. But who are your favorite kuudere characters? Let us know in the comments, and thanks so much for reading!
---
---
Kuudere's is a portmanteau of the word kuu (cool) and dere (love). While not as famous as her sister - Tsunderes and Yanderes, Kuudere belongs in a group of 4 dere types: Tsundere, Yandere, Dandere and Kuudere. While there are perhaps many different types of dere sub types out there, These 4 are main.
So what is a Kuudere and how does it differ from the Tsundere? Tsunderes as everybody knows represent a character that displays a hostile and cold person upfront but they actually hide their love behind that cold persona. Kuuderes on the other hand maintain an emotionless facade the entire time, hence, cool. They maintain their cool regardless of the situation, and may even seem uncaring and apathetic. Yet once again, it is but a facade and they actually hide a very sweet and loving side underneath that.
This quality of being seemingly uncaring but actually harbouring love is an attractive quality that makes kuudere a popular dere type as well as it is somewhat romantic in a way. Let's start counting down the top 10 kuudere characters then!
10. Tobiichi Origami from Date A Live

Episodes: 12
Aired: Apr 2013 - Jun 2013
Tobiichi rarely speaks to anyone. It can't be said that she is shy but rather than that she prefers not to talk. Usually alone and minding her own business, she conducts her daily affairs - hunting Spirits.
Tobiichi has a crush on the main character, Shido, to the extent that she proclaimed herself to be his girlfriend, having traits of dandere-ism as well. Her kuudere quality appears when she is able to be cold in front of him and others but yet rescue him from precarious situations without him knowing as well.
---
9. Shizuku Mizutani from Tonari no Kaibutsu kun

Episodes: 13
Aired: Oct 2012 - Dec 2012
Only placing focus on her studies, Shizuku is not at all interested in forming any relationships as she feels that it will only hinder her studies. That is until the persistent efforts of Haru manage to win her heart over.
Shizuku's nickname was dry ice and she is known not to possess any form of emotion. She was a loner and readily acknowledges that fact. Even during the relationship phase, she wouldn't give a definite answer to Haru's confession, leaving him in doubt. It is shown however that Haru is the only thing she ever cared about and her excuse of her studies and her cold facade was only to deny that fact. But in reality, she really does love him.
---
8. Koneko Toujou from High School DxD

Episodes: 12
Aired: Jan 2012 - Mar 2012
One of the demons of the series, Koneko rarely shows any form of emotion and prefers to carry out her task independently. Even when speaking, it is shown that she is quick to lash out.
Possessing a sharp tongue, Koneko is often seen rebutting the main character Issei. Apparently, they do not get along well with each other. However, when it comes down to resolving trouble, Koneko always places her comrades first before herself. Eventually, she also notes that Issei is a respected character and even got along with him.
---
7. Inori Yuzuriha from Guilty Crown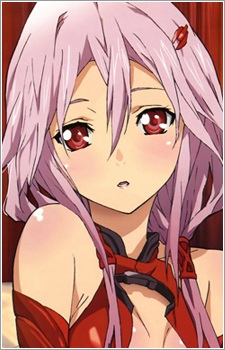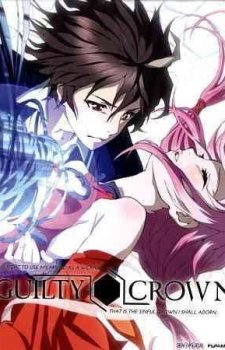 Episodes: 22
Aired: Oct 2011 - Mar 2012
Inori is able to kill without remorse. As shown, she is able to kill on command without so much as breaking a sweat or showing disgust. She is just emotionless throughout the whole process.
Inori does possess a sense of camaraderie and fight for the purpose of protecting the people that she cares for as well as the only person that she loves, Shu. Whilst seemingly uncaring, she often encourages Shu and even requested for him not to leave her. She is also extremely loyal to him and will willingly sacrifice herself from him.
---
6. Kirigiri Kyouko from Danganronpa

Episodes: 13
Aired: Jul 2013 - Sep 2013
Known as the High School Sleuth, Kirigiri possesses an astute nature as well as the traits of a good detective. Quite mysterious from the start, she is often the one revealing the culprits and presenting decisive evidence against them.
Kirigiri remains unfazed at the sight of a dead body and can even go as far as to conduct an autopsy on them. However, deep down, she can get emotionally upset but she hides it behind her stoic nature. She is known to find the goodness in people as well which reflects her caring and understanding personality. However, in order not to compromise everyone, she puts on her stoic mask to find the true perpetrator of the crime, which also allowed her to work with a clear mind.
---
5. Minami Iwasaki from Lucky Star

Episodes: 24
Aired: Apr 2007 - Sep 2007
Having hawk-like eyes along with an introverted personality, Minami is often misunderstood by her peers. Many see her as being cold and aloof attitude. Described by her friend as being very cool but kind, Minami is a clear example of a kuudere.
Minami is very kind at heart and values her friends. Her first friend was Kobayakawa and she often tends to her as she is frail and falls sick whenever the seasons changed. She even stayed behind during a fireworks show just so that she could be beside her friend who fell sick again. Very lovable and very cute, Minami ranks 5 on this list.
---
4. Sakagami Tomoyo from Clannad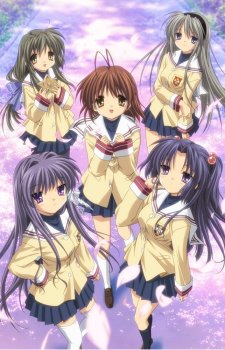 Episodes: 23
Aired: Oct 2007 - Mar 2008
The strong but somewhat violent Tomoyo has a strong reputation in school for being merciless. She has the ability to knock out several delinquents such that even they feared her. Because of her violent nature and reputation, not many dared to approach her... unless you're the main character and go beyond the limit of normal human comprehension.
Tomoyo is revealed to be actually kind and the reason for the strong facade is such that she is able to treasure and protect the things she loves. One example of her kind and sweet heart is that she became student president and could preserve the sakura trees around the school. It is that innocent! We never claimed that love had to be placed upon an actual person and the innocence of treasuring something such that you put your all in them is a clear example of loving something. Definitely, kuudere...
---
3. Nagato Yuki from Suzumiya Haruhi no Yuuutsu

Episodes: 14
Aired: May 2009 - Sep 2009
This one is a bit of a problem. Nagato possesses both dandere traits as well as kuudere traits. For the purpose of this article, we will be discussing her kuudere traits. Nagato exists as an artificial human so she is not truly human but then again, being an interface for a human, she possesses human traits.
Nagato speaks very little and even when prompted to, finishes her point in one sentence and one worded replies. Throughout the series, Nagato's interest is clearly shown to be aiding the characters during troubled times. Kind of like an unsung hero, she completes her task and acts like nothing ever happened. It is for this reason we place her high on the list at number 3. Even being quiet and stoic, her true intentions is incontestable and her inherent duty lies to the protection and preservation of her friendship.
---
2. Tachibana "Tenshi" Kanade from Angel Beats!

Episodes: 13
Aired: Apr 2010 - Jun 2010
Being placed in a world where the whole world is seemingly against you. Tenshi is the student council president in the world after death. She originally appears as an antagonist for the series. The reason why she exists in the world after the dead is a major spoiler and one that makes the anime one of the best in the industry. We leave it to you to find out why if you haven't started watching Angel Beats!.
Tenshi was the subject of much discussion amongst the protagonists. They are unable to discern if she is a sentient being or simply a programme that was initiated by the world. That is how well Tenshi mask her emotions and feelings simply for the sake of protecting everyone else, and how well she fits the kuudere type. A bona fide kuudere, we simply must rank her as 2.
---
1. Neon Genesis Evangelion, Ayanami Rei

Episodes: 26
Aired: Oct 1995 - Mar 1996
The character that started it all, Rei Ayanami is the framework for which all of the kuudere characters are based upon. The English trope for kuudere is emotionless girl, alternate name Rei Ayanami Expy. It can be said that she is the mother of kuuderes. So what is it about Rei that spanned generations of beloved kuuderes? For starters, she has to fit all the description because she was the one that sets it.
Rei is an introverted character. This introversion throws off people and they assumed that she is just aloof and emotionless and they refer to her as a puppet. Character concepts also revealed that her introversion was intentional but never to the extent to which she can be called a person that is devoid of emotions. As the series progress, she is shown to be able to feel and form human relationships. So there you have it! Beyond the fixated mask lies a character that feels love and of course ranks at number 1.
---
While there are many traits that mix and cross between kuudere and dandere characters, and the similarity often confuse many alike, they are indeed lovable traits that are comparable to their tsundere counterparts and for some of you out there, their yandere counterparts.
Do you agree with this list? What do you define as kuudere and who do you think deserve to be on this list? What is it about kuuderes that make them so alluring and charming? Help us understand too and comment on your favourite kuudere below!
---