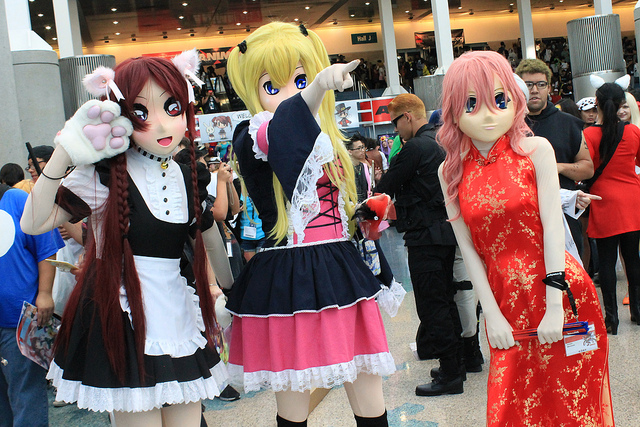 Those who love anime know there is more to it than just enjoying a series that recently came out or reminiscing on your favorite classic show.Aside from following your favorite voice actor, music composer, artist, etc.
There are certain situations where you would imagine meeting these talented professionals. That's where conventions and expos come into play!
If you have ever been to such an event, you would know that it's a great chance to see these individuals if they're attending the event.
A good example, from my experience, is when I attended one of these events for the fourth consecutive year. I went to see a presentation from my favorite creator/director of an anime and my favorite artist from the same series. I ran into them prior to the presentation and was able to get a special one of a kind drawing from the artist!
Who actually drew it right in front of me, while I got to talk to the creator/director of my favorite series.
This was an extremely memorable time for me, and I can say it was all because of the event being held.
Which is why I encourage many of you to attend these conventions and expos, because you never know who you'll meet and what you'll experience.
With that being said, here is a list of the "Top 10 Largest Anime Conventions/Expos in North America" you can attend. They're held all over the country, so there's definitely one happening near you!
This is also a great chance to get your hands on merchandise, artwork, and view exclusive screenings of your favorite and/or upcoming series.
All the events below have several activities, in-show events, exhibits, programming, guest appearances, services, and much, much more.
Most of the talent that attends these events change every year, so it's always good to check the official websites for all the latest news and updates to have a great experience at the shows. Most events have pre-registrations with discount prices and special offers.
Below is a list of the events with the basic information.
I hope this helps and/or encourages you to check one out, because I'm sure you'll have a blast.
10. Otakuthon

This event is held every year in Montreal, Quebec at the Palais Des Congres Convention Center.
Otakuthon is a three day event with last years Aug. 2014 attendance totaling to 17,661. Founded in 2005, Otakuthon is Quebec's largest fan-run festival promoting anime, manga, related gaming and more.
Weekend and Single Day passes are available which vary in price depending on the time of registration.
Pre-registration prices for weekend passes range from $45-$50, and on the day of the show prices are $50 (cash only).
Single day passes are $30 on Friday and Sunday, with Saturday passes priced at $40. For more information about Otakuthon, click here. http://www.otakuthon.com/2014/home/
9. Anime Matsuri
Taking place in Houston, Texas at the George R. Brown Convention Center.
Anime Matsuri is a three day event with last year's Apr.
2014 attendance totaling up to 19,412. Founded in 2007, it is the largest anime & Japanese pop culture convention in Houston, Texas.
Anime Matsuri offers an early Event Pass ($55), Kids Pass ($25), SuperPass ($180), and Group Pass ($50) for all three days of the event. On the day of the show, passes will be $65.
No single day passes are available! For more information about Anime Matsuri, click here. http://animematsuri.com/
8. Anime Weekend Atlanta
The event takes place in Atlanta, Georgia at the Renaissance Atlanta Waverly Hotel and Cobb Galleria Centre.
This a four day event with last year's 2014 attendance totaling 20,311. Founded in 1995, AWA is one of the most popular Japanese Animation conventions in the United States.
By promoting cultural awareness of Japanese culture through popular media such as cartoons, fashion, music, and comics.
One day ($44), two day ($48), and four day ($56) day passes are available depending on time of registration with day of the show passes ranging from $35-$65.
For more information about Anime Weekend Atlanta, click here. http://www.awa-con.com/
7. Sakura-Con
Taking place in Seattle, Washington at the Washington State Convention Center.
This is a three day event with last year's 2014 attendance totaling up to 22,000.
Founded in 1998, Sakura-Con is the oldest and most well-attended anime convention in the Pacific Northwest.
Sakura-Con features cultural exploration and education through traditional and contemporary media, arts and entertainment.
Pre-registration prices are $55, and the day of the show prices are at $65.
There are no single day passes available. For more information about Sakura-Con, click here. http://www.sakuracon.org/
6. Anime Boston
Anime Boston is a three-day convention held annually in Boston, Massachusetts at the Hynes Convention Center.
Founded in 2003 with last year's 2014 attendance totaling to 25,493, this event is under the supervision of the New England Anime Society.
Anime Boston focuses to celebrate and promote Japanese animation, comics, and pop-culture.
Pre-registration rates right now are at $55 for adults and $45 for kids (5-under free) with day-of-the-show prices at $60 for adults and $50 for kids.
There are no single day passes, although, if you only attend on the last day of the show (Sunday), ticket prices are $25 for adults (cash) or $10 for kids (cash).
For more information about Anime Boston, click here. http://www.animeboston.com/
5. A-Kon
Held at The Hilton Anatole 2201 Stemmons Freeway, Dallas, Texas. A-Kon is the longest continually running anime convention in North America.
Founded in the Dallas area in 1990 and continue to bring anime, manga, and Japanese culture to North Texas, it had an attendance of 26,377 souls last year in 2014.
This is a three day event with pre-registration prices starting at $40 and will rise to $45 in the coming weeks.
As of now, there have been no prices released for general admission and for day of the show registrations.
Although, that will soon change as the date nears the opening day. For more information about A-Kon, click here. http://www.a-kon.com/?page_id=6917
4. Anime North

Founded in 1997, Anime North is an anime convention located in Toronto, Canada that celebrates anime, manga, music, games and all other forms of Japanese Culture! The attendance for last years 2014 event totaled up to 28,509.
Anime North is a three day event weekend, single day and group passes available.
Only 1,500 pre-registrations for individuals are at $50 and $45 for groups will be available for a limited time.
And 10,000 general admission tickets will be available at $60 for individuals and $55 for groups.
Single day registration prices are $35 for Friday and Sunday with $45 for Saturday.
There is an attendance limited for this event, so once the tickets are gone, that's it.
For more information about Anime North, click here. http://www.animenorth.com/live/
3. Anime Central
This event is held in Rosemont, IL, less than 30 minutes from downtown Chicago with last years 2014 attendance totaling to 29,675.
Anime Central (ACen) is Chicago's and the Midwest's largest anime, manga and Japanese popular culture convention.
As part of its mission, ACen brings fans together with guests from the Japanese and US sectors of the anime and manga industry, as well as gaming, cinema, and Asian culture personalities.
This is a three day event with pre-registration weekend passes starting at $53 with the price rising to $60 on the day of the show.
Single passes are not available for pre-registration but are priced at $40 for Friday and Saturday with Sunday priced at $25.
For more information about Anime Central. http://www.acen.org/
2. Otakon
This event is held in Baltimore, Maryland at the Baltimore Convention Center with last years 2014 attendance totaling to 33,929.
Otakon is the convention of the otaku generation: by fans, for fans and is a membership-based convention sponsored by Otakorp, Inc., whose mission is to promote the appreciation of Asian culture, primarily through its media and entertainment.
This is a three day event with prices for the three days starting at $70 and going as high as $80.
While trying to look for information about the registration, none was to be found just yet.
Although, previously mentioned in a recent article, Otakon has started a secondary event to be held in Las Vegas, Nevada.
This event is fairly new and the attendance isn't to significant, yet! For more information about Otakon, click here. http://www.otakon.com/default.asp
1. Anime Expo
Anime Expo is an annual convention dedicated to Japanese culture and currently held at the Los Angeles Convention Center.
Traditionally Anime Expo (AX) is held on July 4th weekend as a 4-day event with its 2014 attendance totaling up to 86,000.
Anime Expo is growing in scale dramatically, and is currently the largest anime and manga convention in North America.
Popular events at the show include the Masquerade, Anime Music Video Contest, Concerts, and the Fashion Show.
Anime Expo also offers late-night programming such as dance, video screenings, tabletop and electronic gaming, and open-mic karaoke.
Many of the attendees cosplay while attending the convention, and join in the many gatherings for fans of different anime, manga, gaming and other genres.
From experience, this is one of the best events I have ever attended.
This is a place where dreams come true, and they have. This event is so popular that premier fan tickets sell out instantly priced at $225 each!
Four day passes are at $65 and can get as high as $70-$75 on the day of the show. One day passes are priced around $30, but you're better off getting the four day pass to save money!
For more information about Anime Expo, click here. http://www.anime-expo.org/
---
There you have it guys! I hope this information helps you plan your next visit to an awesome experience at any of these conventions/expos. Anime Expo is my absolute favorite, with A-Kon, Anime Boston, and SakuraCon to follow!
Have you been to one these conventions/expos? Do you have a memorable story about a convention/expo? If so, which was your favorite and/or best experience? Let us know in the comments below!
by Nathaniel Loomis