Independent and open-hearted, Sagittarius personalities aren't afraid of going off the beaten path or going after their desires regardless of what others might think. They love to explore and try things. Often bright and energetic, they are honest and generous people. They strive to better the lives of people around them, though they can sometimes be too hasty and make promises they can't keep.
Having selected these popular boys from different anime, we will discuss if their personalities match up with their star sign! Whether you are looking to connect with a character based on your shared sign or are just curious about anime and astrology, keep reading for a list of the Top 5 Male Sagittarius Anime Characters!
5. Keiji Akaashi from Haikyu!! (Haikyu!!)

As the volleyball team's vice-captain, Akaashi is usually calm and composed, but he also has a habit of being blunt and calling people out on their foolish behavior: He enjoys calling his teammate Kurro "Pain-in-the-ass Kuroo-san." Additionally, he has a strong analytical side which comes in handy during his volleyball games, though he occasionally overthinks things such as during the match against Mujinazaka High. He felt so overwhelmed that even had to be benched to give him time to get it together! While he isn't as bright and energetic as the stereotypical Sagittarius personality, he is a natural-born leader, evidenced by being the vice-captain of the volleyball team. He's also an honest guy, which is another classic Sagittarius trait!
---
4. Kouyou Akizuki from Blend S

As the chef of Cafe Stile, Kouyou is mainly level-headed, but he also gets flustered easily and cares deeply about the other people working in the café. His personality seems a bit quieter than the regular Sagittarius person, but he also displays some independence and quirkiness: he admits to being an otaku and has an interest in yuri, going as far as desiring to see female customers being friendly with each other so he can imagine yuri scenes!
---
3. Zora Ideale from Black Clover

Zora Ideale is a 1st class Junior Magic Knight and has an unpredictable personality and a disdain for others, particularly nobles after his father, a magic knight, got killed by his squadmates. He is often rude to others and has a sharp tongue; he enjoys lecturing people about their shortcomings. Additionally, he often plays pranks, such as releasing Rainbow Stink Bugs! While he is independent, carefree, and blunt like many Sagittarius people, he is far from generous, so he isn't a perfect Sagittarius character either.
---
2. Satoru Gojou from Jujutsu Kaisen

As one of the main protagonists of Jujutsu Kaisen, Satoru Gojou is a confident jujutsu sorcerer who believes himself to be near invincible. This makes him very arrogant, and he often judges other people based solely on their strength. He can be considered cold and is capable of making hard decisions, like whether to sacrifice innocents to defeat an enemy. While he is cruel to his enemies, he can be playful and friendly to his allies. While he is fearless and independent like many Sagittarius people, he can't exactly be described as generous or open-hearted, preventing him from being a 100% fit of the Sagittarius stereotype.
---
1. Rock Lee from Naruto

Rock Lee is a classic character that most anime fans will recognize. As a shinobi, he is an all-around "nice guy." He is energetic, optimistic, passionate, and humorous. He makes sure to follow through on his promises and speaks respectfully to others. He has a good sense of honor and refuses to hold grudges, easily forgiving even his enemies. While he occasionally gets disappointed when faced with a setback, he is driven to succeed and believes diligence is the key to success. Considering his cheerful and generous personality and the fact he refuses to give up, we believe Rock Lee is the perfect example of a Sagittarius character!
---
Final Thoughts
We hope you enjoyed this list of 5 Best Male Sagittarius Anime Characters. Are you also a Sagittarius? Which character do you relate to the most? Do you agree or disagree with our picks? Remember to give us a comment!
---
---
For all you Sagittarii who have been waiting for us to get to your sign, we are finally here! The Sagittarius is a generous and loyal individual that will go to great lengths for their friends. Their sense of humor can carry them far through life as long as they are able to play to their audience. While the Sagittarius can draw on these strengths, they also have a tendency to make promises they can't fulfill and can make jokes or say things without regard for the consequences. This sign is very impatient so they seek out adventure. Freedom is extremely important for any Sagittarius and they dislike being tied down. You will often find them traveling or gaining new knowledge and are unhappiest when they feel as though they are stuck in a rut.
Anime characters also have birthdays that we can place them under in relation to their zodiac sign. Sagittarii are common in anime and we are able to analyze them based on their birthdays and the traits that they exhibit that their sign is known to have. We have collected a list of the top 10 male Sagittarii in anime for you to see the amount of hard work and dedication that the animators have put into their craft. These lists are examples of the depth and attention to detail that anime shows us and helps us appreciate it all the more. Below are the 10 male characters with birthdays between November 22nd and December 21st that best represent the traits of their zodiac sign.
10. Lelouch Lamperouge from Code Geass: Hangyaku no Lelouch (Code Geass: Lelouch of the Rebellion)

Episodes: 25
Aired: October 2006- July 2007
Due to his princely upbringing, Lelouch exhibits a personality that makes him extremely egoistic. This cold individual, while incredibly intelligent, does not make friends easily or enjoy many of the pleasures of life. Lelouch sees life as strictly business and aims to achieve greatness for his empire. His calculating nature is not stereotypical of a Sagittarius and makes him fall to the bottom of our list. While his patriotism is heroic, it does not match the ideal personality for our list.
---
9. Ken Kaneki from Tokyo Ghoul

Episodes: 12
Aired: July 2014- September 2014
Unlike most Sagittarii, Ken Kaneki is very reserved and likes to keep to himself. While he does not have many friends, he is very generous with others and will often take the blame in certain situations to avoid others receiving punishment. Ken is not like the common Sagittarius in many ways though and that makes him fall to a low spot on our list. Ken is aloof and does not like to test the limits of his freedom. He is almost a shut in and is very uncharacteristic of many Sagittarius.
---
8. Ciel Phantomhive from Kuroshitsuji (Black Butler)

Episodes: 24
Aired: October 2008- March 2009
Ciel is a pessimistic individual who signs his soul over for vengeance. He is not generous or idealistic in the least which is very uncommon for a Sagittarius. He makes promises that are difficult to keep but with the help of his butler, he is able to achieve the impossible. Ciel never minces his words and is not afraid of insulting others. While Ciel and Sebastian are generally strictly business, they do have more relaxed moments where they enjoy a trip or simply some tea. Ciel falls low on our list because of his lack of the typical strengths of the Sagittarius.
---
7. Rei Ryugazaki from Free! (Free! Iwatobi Swim Club)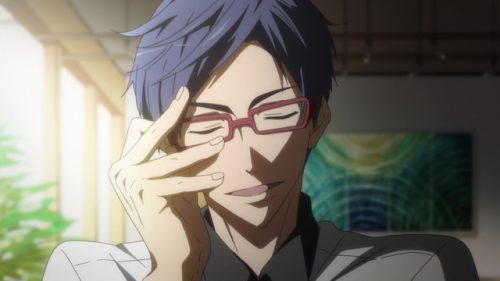 Episodes: 12
Aired: July 2013- September 2013
Since Rei is the most logical person on the Iwatobi Swim Team it is only rational that he should be the best swimmer right? Wrong. Rei is unfortunately terrible at swimming and is easily angered with his lack of skill. He tends to be idealistic towards his own person because of his academic skill and believes that this will lend well to all physical sports as well. He is very impatient when it comes to learning new skills but overcomes this impatience with stubbornness. Rei is an inspiring Sagittarius but is not the best representation of their common strengths or weaknesses.
---
6. Rintarou Okabe from Steins;Gate

Episodes: 24
Aired: April 2011- September 2011
Rintarou is a character that is extremely sure of himself. He is not afraid to speak his mind or be disliked because of his views. Okabe even goes as far as to put others beneath him in order to achieve his ideal world. However, Okabe needs the people he works with in order to achieve his goals. His theories, which are sometimes off the wall, are his main reason for existence. Science is paramount for Okabe and while he is consistent with the weaknesses of the Sagittarius, he does not exhibit many of the strengths.
---
5. Yuu Kusakabe from Ookami Shoujo to Kuro Ouji (Wolf Girl & Black Prince)

Episodes: 12
Aired: October 2014- December 2014
Kusakabe is a shy classmate that while motivated, tends to blend into the background. He is exceedingly generous and kind as shown by his relationship with Erika Shinohara but is inclined to be somewhat of a pessimist in his view of himself. Unlike other Sagittarii, he is very patient in all matters and seeks to make life better or other people, even if it puts himself in a worse situation. This admirable Sagittarius makes it on our list but exhibits few of the weaknesses known to the sign.
---
4. Hiroto Suwa from Orange

Episodes: 13
Aired: July 2016- September 2016
Suwa is a friendly individual that seeks approval and friendship with everyone. His generous nature is exhibited when he wants to be friends with Kakeru without getting anything in return. This attitude can make some people wary of his motives, but he is truly just a good person. Suwa has a habit of talking without thinking sometimes which can confuse his friends. As happy-go-lucky as he seems, he carries much darker feelings towards his friends, jealousy in particular. He hides these feelings deep down though so as not to affect anyone else. Hiroto Suwa truly is an admirable character, though it may seem sad to watch him from afar.
---
3. Nozomu Nanashima from Watashi ga Motete Dousunda (Kiss Him, Not Me)

Episodes: 12
Aired: October 2016- December 2016
Nanashima, or Nana is a likable character and loved by the girls in his class. He is generous and friendly, but we see his shallow side when his attitude towards Serinuma makes a complete 180 after her physical transformation. Despite this shallowness, he works towards helping Serinuma in all aspects of her life after despite much competition. However, he is irritated easily and loses his patience quickly. Nana's generous attitude towards others and general impatience make him an ideal example of a Sagittarius male.
---
2. Kei Takishima from Special A (Special A (S.A))

Episodes: 24
Aired: April 2008- September 2008
Kei is very much in his own head a lot of the time. He seems cool to others and is the top student at his school. This causes rivalry amongst the other students as well as his fiancé. Kei seems to have it all, money, grades, athletic ability to the point where he almost seems super-human. He is generous to those who deserve it but is not afraid to mince his words. Kei desires freedom and Hikari's love above all else but is afraid to admit it, even to himself. Kei is an example of a prideful Sagittarius and earns a top spot on our list.
---
1. Yuuri Katsuki from Yuri!!! on Ice

Episodes: 12
Aired: October 2016- December 2016
This pork bowl lover easily slips into depression but his beauty on the ice is unmatched. After being scouted by Viktor, Yuuri learns to appreciate the sport in a way that he never has before. With his tendency to overthink things, Yuuri has failed in competitions in the past because he promises more of himself than he can deliver, which is a downfall of the Sagittarius. However, upon meeting Viktor, he becomes more idealistic and seeks a brighter future for himself through the world of ice skating. Yuuri is an excellent example of how a Sagittarius can evolve from being the worst version of himself to becoming the best.
---
Final Thoughts
The Sagittarius is a sign that should be respected. The people born under it are generous, idealistic and love to travel and live life to its fullest. However, when they give into their worst impulses they can make promises they can't keep and be very impatient. This makes it difficult for those born under the Sagittarius sign to succeed in relationships, whether it be romantic or otherwise. It is important to keep in mind how to draw on your strengths and balance your weaknesses as with any sign.
We hope that you have enjoyed our list of the top 10 Sagittarius males in anime. As always, if you have any questions or comments please feel free to leave them in the comments section below.