Although there are new manga artists in the BL industry that are getting popular nowadays, Sakuraga Mei is one of the few old-time BL artists that are still very popular to this day. She is known for writing comedy and romance genres that mostly happen in a school setting. Her stories are usually very simple, with a lot of exaggeration, gags, and puns, so it's guaranteed that anyone who reads Sakuraga's work will enjoy every moment of it. In spite of the huge comedy aspect of her manga, Sakuraga never fails to include adorable and sweet scenes, as well as hot and steamy scenes in her works. Even though her stories are simple and ordinary, she uses common cliches and tropes in a way that is remarkably entertaining.
But that is not the only reason she is popular among the BL community. Another reason is her wonderful art style. Her style has been consistent over the years, which has mostly consisted of rough and sketchy styles that are sometimes too overwhelming for the eyes. Nonetheless, many love and appreciate her art style as it is detailed and precise. Anyway, we won't keep you too long! We present to you, Sakuraga Mei's top 10 works that have put a smile on her readers' faces. Read on and enjoy!
10. Kagakushitsu no Ouji

Genre: Comedy, School Life, Romance, Yaoi
Volumes: 1
Published Date: Nov. 2005
Kagakushitsu no Ouji is a series of one-shots depicting different school romances. One of the one-shots revolves around the eccentric prince, Inuzuka, and his beloved Akai, as shown in "In the End, Love is Your Own Doing" and "Princes of Chemistry". There is also "Mitsugetsukei Honey" and "Younger Man" that are related one-shots. Others include "Junsui Yori mo Amimai na" and "I don't just want to be cute!"
Kagakushitsu no Ouji is a fun light read if you want to be introduced to Sakuraga's works. As stated above, most of sensei's works are comical and this manga is no exception. Each couple presented is absolutely wonderful and their antics are totally hilarious! Some characters may come off as weird in some way, like Inuzuka and Yui, but that is one of the reasons why this collection of one-shots is so good. Kagakushitsu no Ouji may not offer much, but this manga is still an enjoyable read.
---
9. Sukisugite Gomen ne (Sorry I like you so much)

Genre: Romance, Yaoi
Volumes: One-shot
Published Date: Feb. 2007 - Aug. 2007
Takeru and Akiyoshi are good friends who met during their university days. 5 years in the future, Takeru harbors a deep crush on his friend. Although Takeru fantasizes about Akiyoshi in his dreams and longs to be his lover, he is satisfied just being a friend so he can remain beside Akiyoshi. But lately, Akiyoshi is acting strangely. Is it because he is getting bored and tired of Takeru? or is it something else?
Anyone would be afraid of getting friend-zoned by someone they like, so it's purely natural that Takeru is afraid of letting out his feelings to Akiyoshi. But sometimes, your unrequited love might be requited after all. All you have to do is to open up your mind and read between the lines, which sadly, Takeru doesn't know. The manga is indeed short, but it never fails to give its readers that sweet feeling. Sukisugite Gomen ne is included in the 2nd volume of the Warui series. So if you want to give this one-shot a read and appreciate it, then you better head to Warui ko Demo Ii? Which is the second volume of the Warui series.
---
8. Sono te ni wa Kanawanai (I'm no match against those hands)

Genre: Romance, Yaoi
Volumes: One-shot
Published Date: Aug. 2004 - Sept. 2006
Kazunari belongs to a family of haiku poetry masters. During his childhood, he is often teased as a boring person for writing haiku poetry. His very first friend, Jin, was the only one who could understand his passion for writing. Jin would often pat him in the head with his gentle hand to console him. Unexpectedly, upon entering junior high, Kazunari realized that he had feelings towards Jin. Four years have passed and they are once again reunited. But the first thing that Jin does to him is bite him! Why?!
Sono te ni wa Kanawanai is much the same as our last entry. Kazunari has hidden feelings of love for Jin, but funnily enough, Jin also has the same feelings towards Kazunari. The one-shot doesn't have as much comical relief as Sukisugite Gomen ne, but it still has the smut and the fluff that you may be looking for. If you want to read this charming one-shot, then simply go to the 1st volume the Warui series.
---
7. Non Fiction

Genre: Romance, Yaoi
Volumes: One-shot
Published Date: Mar. 3013 - Jun. 2013
Humans are prone to fantasizing and Takemoto is not an exception to this. He always dreams about making his friendly relationship with Hojo a romantic one, but he knows better to see reality and fantasy as separate things. But it's getting harder and harder lately for Takemoto to separate the two thanks to his fujoshi sister. Takemoto is often used by his sister as her model for her mangas, but mother luck is not by his side as his sister also requested Hojo to model for her together with him. What will Takemoto do?! Is there a possibility that his fantasies may become a reality?
One can only wish for this one-shot to become a full-fledged manga. Since it's only a one-shot, we only see a glimpse of Takemoto and Hojo. In spite of it being short, Sakuraga Mei never fails to add a little drama and comedy in the manga. As with her other works, this one-shot is beautifully drawn and has a lot of steamy action scenes that you don't want to miss. Non Fiction is a special one-shot that is included in the 5th volume of the Warui series. If you want an easy-to-digest plot without complexities, then give this manga a read!
---
6. Zenbu Ore no Mono!

Genre: Comedy, Romance, School Life, Yaoi
Volumes: 1
Published Date: Feb. 2005
We all know that Sakuraga Mei is an expert of making one-shots! Zenbu Ore no mono! Is a collection of one-shots that will surely make your day pleasant. There are six couples that are featured in this manga. "You are all mine" is a story about Tsukasa losing a bet to Hijiri. "What is this thing called love" is about Hayama's wish to be with his sempai, Suzuya. "Impulse" and "Bias" are the story of Naoyuki and his plans to make his friend, Ikkei, his. "Darling" shows the story of two cousins, Yuuya and Ryou. "Machine Gun Talk" is about a very chatty Hibiki and a quiet Madoka who likes to listen to Hibiki. And lastly, "Sentimental Courtship" is about Saotome's crush on Hibiki.
Zenbu Ore no Mono! is Sakuraga's first published manga. Even though this manga is one of her earlier works, Sakuraga's art is as gorgeous as ever. The manga simply tells the story of different couples in various situations about love. All of the stories are equally good and entertaining so we are sure that you can finish this manga in one go without even realizing it. If you are looking for stories that are heavy in cuteness and filled with fluff, then don't overlook this straightforward manga by Sakuraga Mei.
---
5. Asobi ja nai no

Genre: Comedy, Romance, School Life, Yaoi
Volumes: 1
Published Date: Jun. 2007
Just like Kagakushitsu no Ouji and Zenbu Ore no Mono!, Asobi ja nai no are a series of one-shots interlaced together. The first couple, Kagami and Fukamachi, show up in the one-shots "Ren'ai Han'i" and "Asobi ja nai no". The next couple, Kyouya and Akira, shows up in "Urahara na koi". The third couple features the complicated love of Kyouya and Shirou in S ni Ochita Seinen. The fourth couple revolves around Ryuusei as he gives Nagisa an ultimatum in "Don't worry about it". The fifth and the last couple is about Otonashi and Tonozaki love development in "Amai koto Shitai". "Asobi ja Sumanai no" is simply an omake of Ren'ai Han'i 1% and Asobi ja nai no.
Sakuraga Mei gives us a volume of fun and amusement about students in their funny and kind of dramatic quest for love. It's full of cute moments as well as hot and intense moments that will surely make you blush up your ears. Not only that, if you have been a fan of Sakuraga's work, then you will enjoy the little cameo of Mikado and Yukimura from the Warui series of this collection. After all, it's thanks to this wonderful collection of one-shots that the Warui franchise, that everyone loves, is born.
---
4. Shouwaru Ookami ga Koi wo Shita Rashii

Genre: School Life, Romance, Yaoi
Volumes: 1
Published Date: Mar. 2014 - Apr. 2015
Kousaka Nao, president of the disciplinary committee, has a hard time expressing himself; contrary to Akagi Shirou, former student council president, who is able to smile without a problem. Nao immediately feels that there is something off with Akagi, until he confirms it with his very own eyes that Akagi is a two-faced person.
Although Sakuraga Mei is an expert at writing romcoms, she is also adept at making serious manga, such as Shouwaru Ookami ga Koi wo Shita Rashii. Akagi and Nao are currently the latest couple that is presented in the Warui franchise. Both Akagi and Kousaka have their own family issues to deal with. But because of these issues, the two somehow find themselves falling in love with each other.
Since Akagi and Kousaka are quite new to the concept of love, both of them think hard about what they feel for each other along with their personal problems. There is no drama about misunderstanding or miscommunication in this manga, as it only focuses on how our two main protagonists develop together as amazing characters. The manga also has a lot of good smut for readers to enjoy! Their story is absolutely endearing and very touching, so waste no time and read this fantastic manga!
---
3. Warui Koto Shitai "Warui... Series" (I want to be Naughty)

Genre: Comedy, School, Romance, Yaoi
Volumes: 5
Published Date: Aug. 2004 - Ongoing
Aikawa Towa has always harbored a deep grudge against the student council. His only escape is the school's rooftop where he occasionally meets his confidant, Shirahane Mikado. Towa is extremely happy to be with the school's hottest and most intelligent man around, but he eventually finds out Mikado's true identity as the student council president. What will Towa do about his ever growing feelings for Shirahane?
Mikado and Towa are the first couple of the Warui franchise as well as the main one. This manga is so hilariously good thanks to our super dumb- I mean- thick-headed protagonist Towa. Despite Mikado's constant show of affection towards Towa, Towa doesn't seem to realize his love for the student council president. Because of this, readers are mostly frustrated because of Towa's confusion about friendship and love towards Mikado. Although Towa is very dense, and innocent to the point that we want to shout at him, this trait of his is what attracted Mikado the most.
It's quite commendable that in spite of Mikado's possessiveness towards Towa, Mikado does give the adorable delinquent some space to think for himself. But when Towa needs some enlightenment about some certain things, Mikado is not afraid to be pushy around Towa, though he sometimes feels guilty about it. They are extremely different from each other, but those differences are what make them so perfect for each other! Their relationship may be like a roller coaster ride, but we assure you that it is a ride you will enjoy and never forget!
---
2. Mujihi na Otoko "Mujihi na... Series"

Genre: Comedy, School Life, Drama, Romance, Yaoi
Volumes: 3
Published Date: Jul. 2009 - Ongoing
Since the day Shirahane Nanao saw the loving smile of Aikawa Kuon while on the phone, he immediately fell in love with the man. Too bad for him because people like Nanao are the kind of people that Kuon hates the most. However, an opportunity arises to make Kuon look his way even for just a bit. Will his love be returned or will it just stay unrequited as before?
Along with Shouwaru Ookami ga Koi wo Shita Rashii, Mujihi na Otoko is one of the serious manga that Sakuraga Mei has written. In this manga, Nanao and Kuon are introduced as the third couple in the Warui franchise. Nanao and Kuon are two distinct people who have a different side to them than what they usually show. Nanao is known for being a "man seducer", but in spite of this, Nanao is a person who is more fragile and sensitive than he looks. Kuon, on the other hand, is a very honest person who is deeply frank and open about what he thinks, but he hides a deep passion once he begins to loves someone. As their lives cross paths, it is shown that these two individuals are really meant for each other. Nanao has some issues with himself because of his past and only wants to be loved. And that's where Kuon comes in, as he is very happy to give all the love and attention that Nanao needs. As their story progresses, Nanao beings to trust not only Kuon but himself as well.
Adding to that, a new character is also introduced here! His name is Shirahane Masato who will be getting his own story titled "Masato-Sama no Urei Aru Nichijou ~to, Kare wo Aisuru Monotachi~" (Yes, that long title is legit) as the sequel to the Warui franchise. So check that out along with this manga.
---
1. Kirai ja Nai Kedo "... Ja Nai Kedo Series"

Genre: Comedy, School, Romance, Yaoi
Volumes: 5
Published Date: Jul. 2008 - Ongoing
Yukimura Shuuji is so good looking that he was kidnapped, stalked and assaulted during his younger years. In order to protect himself, he became so strong that he turned himself into a delinquent in his junior high. During this time, he was acquainted with Shinonome Ryuuichi who was as bad as him. But upon entering high school, Yuki decided to put all his delinquent days in the past and start afresh as the VP of the school his in. It's hard being the students' vice president especially when there is one person who threatens to expose your dark past. That is the dilemma that Yuki is currently facing with Shinonome. As to not get discovered, Yuki plans to silence Shinonome even if it takes listening to the troublemaker's outrageous requests.
Yuki and Shinonome are the second couple that was shown in the Warui franchise. If you like your protagonist being tsundere over their partner, then this manga is definitely for you! On the outside, it seems that Yuki and Shinonome are very different from one another. In fact, this two are actually very similar! They mostly think alike in some situations but the way they show it is different.
Yuki can be a very aggressive character, especially when the rules are not respected. This is the reason why he loathes people like Towa and Shinonome. Much to his dismay, Shinonome is very persistent with him. So persistent that Shinonome tries to slowly change himself so Yuki can trust him more, and that is what makes this manga genuinely great. They may often bicker like little children, but believe us when we say that you will fall in love with this dynamic couple in no time!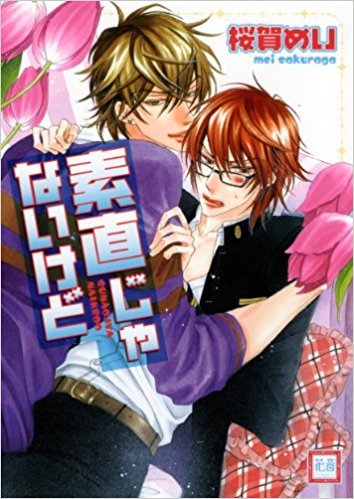 ---
Final Thoughts
Sakuraga Mei is one of the most loved BL manga artists out there, and this list featuring her top amazing work is a true testament to that. Although she releases one-shots here and there, it is obvious that she cannot let go of the Warui franchise. I mean, we can't blame her, right? There is so much to explore in the series. Like the most awaited pairing of Kimiko x Hisa-nii x Yuu or the possibility of Hajime x Masato x Ukyou pairing. The franchise is totally fun and engaging~ At least we get to see our favorite couples during their romantic struggles, right?
So tell us, what is your favorite pairing in the Warui franchise? If you don't want to choose because they are equally great, then tell us which lovely couple that Sakuraga Mei created has captured your heart! Write all your thoughts in the comment section below. As always, enjoy your stay at Honey's Anime and we hope to see you again in the next article. Bye! Now signing off~
---