INTRODUCTION
Kotetsuko Yamamoto is a boys love manga artist, who tested herself with other genres as well, like for example josei, and shoujo manga. So far, though, the thing she can do better is creating BL stories that are simple and enjoyable. She gradually became the queen of the cutest and most fluffy love stories of this genre. Kotetsuko Yamamoto's name is guarantee of three important things: happy ending, comedy and love. All of her fans agree that she can put a smile on them in each chapter, and even in a sad situation, she never adds violence or cruelty.
Kotetsuko Yamamoto touches a lot of subjects in her boys love stories; she can create witty stories about sport, about priests, or about yakuza. However, all of her stories are characterized by this peaceful background of the daily life and daily struggles, and by the funniest gags. She can create clumsy boys, or even the strong willed ones, but she never fails at entertaining the readers. For this ranking, we decided to talk about the best boys love stories she created so far. So stick with us until the end and let yourselves be captivated by this amazing manga artist!
10. Lucky Number 13

Genre: Comedy, Drama, Slice of life, Yaoi
Volumes: 2
Published Date: May 2009 – May 2011
Let's get this ranking started with a story revolving around Hiroshi Satou. He is the cutest of the boys, and the most popular, equally adored by males and females. Strange rumors have it that anyone who dates him, will be bound to have a lot of bad luck and a lot of near-death experiences. When one day, Satou falls from the fifth floor into Kasumi Tsumabuki's arms, for Tsumabuki it's love at first sight. But will he experience the rumored bad luck, or will he prove those rumors wrong?
Since Kotetsuko Yamamoto loves baseball, she loves to put a nerdy baseball player in her stories. And that's how Tsumabuki was born. He will experience a lot of bad luck, but will never step back from his feelings toward Satou. In this story readers won't find a lot of cheesy moments, nor exaggerated boy-on-boy action, but the entire "bad luck" idea is very original and developed in the best way possible. Satou and Tsumabuki are the perfect match, and will fight for their love, even when the enemy is a bunch of bad luck! We highly recommend this manga, as it wields all the elements that make Kotetsuko Yamamoto one of the best boys love manga artist; from the adorable art style, to the sweet love story!
---
9. Tsumaranai Otoko (Let's Tie Hands Firmly, A Boring Man)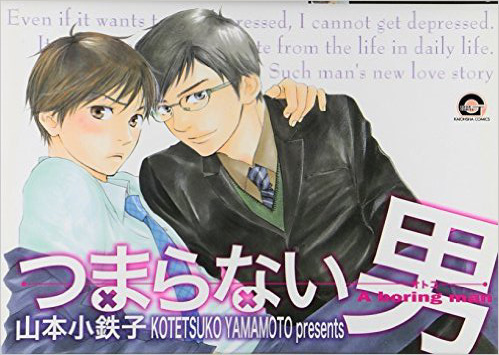 Genre: Drama, Romance, Slice of life, Yaoi
Volumes: 1
Published Date: January 2007
Kotetsuko Yamamoto proved to be very skillful with one-shots as well. Tsumaranai Otoko is a collection of stories, each of them equally interesting. She depicts the stories of three couples. In "A Boring Man" and "A Troubled Man", we find Hashimoto approached by his super popular co-worker, after being dumped. "Sweet Room" is about Kotobuki, who is known in the campus for being very smart, and beautiful... Or at least, that's the facade. It takes a new roommate to turn the tables and unveil the truth! "Let's Tie Hands Firmly" and "Always Hand in Hand" is the sweet story about Atsushi who quits his job and goes back to his hometown, where he will find Satoru, his younger friend, from old times.
Tsumaranai Otoko includes, like, everything we love about Kotetsuko Yamamoto. These three stories are all equally enjoyable. Comedy parts will crack you up, and right after fluffy moments will melt your hearts. The three couples are well-depicted, in spite this being a collection of one-shots. If you've never read one of Kotetsuko Yamamoto's stories, why don't you start from these tender one-shots?
---
8. Suki tte Iwasete? (I Want to Say Love)

Genre: Drama, Romance, Slice of life, Yaoi
Volumes: 1
Published Date: October 2006 – September 2009
Ueto Shun grew up with two amazing neighbors: Eiji and Hidekazu, the popular twins. While Eiji is cool and thoughtful, Hidekazu is on the polar opposite, cheerful and affectionate. When Shun starts university, the three of them start living together. The misunderstanding starts with Eiji thinking that Shun is in love with Hidekazu, while Shun is actually in love with Eiji. What will happen to their relationship after the truth is discovered?
This rare gem among Kotetsuko Yamamoto's works depicts these three boys' relationships amazingly. While Shun is very comfortable around Hidekazu, he is all concerned when it's about Eiji, who will start misunderstanding everything. Eiji plans on letting Shun live his love for Hidekazu freely, but that's the moment when Shun finally understands it is time to speak the truth. This is a fluffy love triangle, where the triangle is just imaginary. And guess what? Even the cheerful Hidekazu will have his happy ending! If you like clumsy boys and all the love Kotetsuko Yamamoto can tell, we think you should totally read this manga.
---
7. Ashita wa Docchi da! (Tomorrow it's which Way!)

Genre: Comedy, Drama, School life, Slice of life, Yaoi
Volumes: 2
Published Date: March 2015 – ongoing
Let's go on with the most recent of Kotetsuko Yamamoto's manga! She likes stories about brothers and neighbors, and so here's another story about two brothers and a neighbor. Kirara is cute, and a girly boy in his appearance. Behind the facade, hides a very hot-tempered one who wants to be manly and cool, just like his neighbors, the Tosayamada brothers. But when during high school, he starts to have feelings for Ken, the younger brother, how will things change for the three of them?
As this is her last work, we still don't know what direction it will take, but there are very good premises. We find a hot-tempered Kirara, who falls in love with Ken. While picking fights with all the delinquents of the school, Kirara is constantly saved by Ken, who can't bring himself to admit that he feels something for Kirara, as well. Maybe it's pointless to say it, but with Kirara being girly, a lot of gags will start about his appearance. Plus, he is a lovely idiot, so he will come up with the strangest solutions to overcome his girly sides, resulting in being even more girly instead. If you like the comedy that Kotetsuko Yamamoto can bring out from each of her works, start Ashita wa Docchi da! and expect very fluffy moments as Ken will gradually melt!
---
6. Mad Cinderella

Genre: Comedy, Romance, Yaoi
Volumes: 5
Published Date: August 2010 – January 2015
Mad Cinderella is a story revolving around, once again, two peculiar neighbors. Ryota Kishi was born and raised in a common household, and had to face the hardships of poverty. His neighbor, Teijin Sakuichi, was born in a rich family, full of luxury. Despite this big difference, the two of them grew up together as best friends. During middle school, before going to study abroad, Sakuichi confesses to Ryota, but then he disappears. Years after, the two of them reunites, and guess what? Sakuichi didn't forget his feelings towards Ryota!
Here we have yet another fluffy story full of comedy. As the title suggests, you can imagine how much of a Cinderella Ryota had to become in order to survive, and on the other hand, how much of a prince charming Sakuichi is from the beginning. While Ryota will do all he can to refuse Sakuichi, Sakuichi will struggle to give Ryota all of his love... and luxury. The difference between the two is clear, and that's what will start most of the gags. Mad Cinderella is a manga to be read when you are searching for something relaxing and funny. Trust us when we say it will give you a very sweet time, with cute characters, misunderstandings, love... and boy-on-boy action!
---
5. Bokura no Negai (Our Wish)

Genre: Drama, Romance, Slice of life, Yaoi
Volumes: 3
Published Date: April 2012 – October 2016
When his father remarries, Ryou finds himself in a big family, with three new little brothers – Masato, Hayato, and Kento. Masato is the youngest, Hayato the second and Kento the older. As their life is dreamy and perfect, tragedy strikes and the four brothers remain without parents. They will have to become each other's strength, under all the aspects. Ryou, who is the older, decides to start a bar to provide for their brothers economically, while the other three will do all what they can to support him. But what if Hayato falls in love with Ryou, and Kento falls head over heels for a middle school boy?
This is probably the most touching and saddest of Kotetsuko Yamamoto's story. Don't be fooled, though, because Yamamoto is still Yamamoto, so she will lighten things up with her magic. It's a story full of brotherly love, describing the struggles of remaining without parents and having to pull yourself together for someone else's sake. With her adorable art style, and the tenderness she is used to, Kotetsuko Yamamoto will lead you in this amazing story which breaks all the conventions, without being harsh. We mentioned it before, but let us repeat it; Kotetsuko Yamamoto never gives the readers cruelty or sadness for free, so embark on Bokura no Negai and, again, you won't be disappointed.
---
4. Omairi Desu Yo (A Blessing on Your House)

Genre: Drama, Romance, Slice of life, Yaoi
Volumes: 5
Published Date: August 2011 – ongoing
Yuuji and Kenji Miza are two beautiful brothers. They are the priests of Uguisuzaka Shopping District. While Yuuji is clumsy, shy and adored by everyone, Kenji is brusque and sometimes rude. Yuuji vowed to remain unmarried and celibate for his life, but there's a problem: he is in love with Saburou, his best friend from middle school. When Saburou comes back in town, after eight years away, Yuuji is forced to face once again the feelings he thought he had forgotten. At the same time, Yoshito Kimura falls in love with Kenji, and real hell will open up in front of him.
This is probably one of the slowest stories Kotetsuko Yamamoto created so far. It develops step by step, and while it's true that the main story is slow, Kotetsuko Yamamoto made it easy for us to bear creating a range of amazing characters, and hilarious happenings. If you expect boy-on-boy action soon, it's better you step back from this one; but if you are willing to meet clumsy and overly concerned characters, who don't know how to deal with love, this is what you're searching for! Omairi desu yo is full of gags and lighthearted atmospheres, plus Yuuji and Kenji's differences will start the most idiotic fights between brothers. What are you waiting for? It's time to catch this one up!
---
3. Mankai Darling (Blooming Darling)

Genre: Comedy, Romance, Slice of life, Yaoi
Volumes: 2
Published Date: 2006 – 2008
Kotetsuko Yamamoto likes to make spin-offs. In fact, Takashi and Haruhiko – Mankai Darling's protagonists – appeared for the very first time in a one-shot named "Us, Blooming". Then she decided to develop their story deeper, and here we have Mankai Darling – Bokura no Negai in fifth position is Mankai Darling's spin-off. Takashi works in a local flower shop, but he has to deal with Haruiko, the manager, who keeps harassing him sexually. While it's true that the two of them have just started dating, Takashi is torn because he wants a deeper relationship, but, at the same time, he is scared...
Talking about clumsy characters, Takashi would probably deserve a reward. He is so unsure and so afraid of love that he keeps running away, without actually wanting to. Haruiko, on the contrary, knows very well what he wants: he wants to make a mess out of Takashi, and love him tenderly at the same time. This is a two-volume full immersion in laughter, gags, but above all, love! Maybe it's one of the less elaborate of Kotetsuko Yamamoto's works, but that's probably what makes it enjoyable to the fullest!
---
2. Konya mo Nemurenai (No Sleep Tonight)

Genre: Comedy, Drama, Supernatural, Romance, Yaoi
Volumes: 3
Published Date: July 2011 – July 2014
Let's forget about brothers, neighbors and school life now, and let's switch to supernatural. Kotetsuko Yamamoto tried his best to create a different universe full of monsters and demons. We must say she kept up the expectations! This is a story revolving around Rikiya Higuchi, who is a very shy college student and gay. Because of his difficulty at expressing his feelings, he can't find a boyfriend. That's why, one day, he decides to join a gay dating website, and change his life. Well, his life does change, but not exactly the way he wished for; while he is in danger, desperate for help, a boy crawls through the wall – Endo Guar Adroone – telling him he can make one of his wish come true!
This is probably the most peculiar of Kotetsuko Yamamoto's stories. She created an entirely new universe – which was developed better in Konya mo Nemurenai's spin-off, Kimi to Kore Kara. Since Endo is a demon, he can accomplish Rikiya's requests, but there's a problem: Endo can read Rikiya's mind, so when Rikiya starts to feel something toward him, Endo realizes it immediately. We don't need to mention how this will start all sorts of misunderstandings and embarrassment. What really matters, though, is how Kotetsuko Yamamoto gave us another adorable love story, and proved to be skillful even when she tried to change the subjects. Konya mo Nemurenai is a wonderful manga and, after all, it's not one of the most popular manga in the boys love universe just by chance!
---
1. Honto Yajuu (Like the Beast)

Genre: Comedy, Romance, Slice of life, Drama, Yaoi
Volumes: 9
Published Date: July 2008 - ongoing
Here's our first position! We are sure that Kotetsuko Yamamoto's fans would have guessed it. Well, how to blame us?! Honto Yajuu is the biggest masterpiece Kotetsuko Yamamoto created and the peak of her works. Once again, let's forget the subjects so far debated, and focus on new ones: yakuza and cops! How can this two terms stay this close without fighting? Easy said, thanks to Kotetsuko Yamamoto!
Honto Yajuu is a non-conventional love story between a cop and a yakuza. When Tomoharu Ueda, a cop, saves Aki Gotouda from an underwear thief, for Aki it's love at first sight! Being Aki the impulsive character he is, he suddenly confesses to Tomoharu, who is at a loss of what to do, even considering how Aki is the next in line to succeed the Gotouda group. Since Tomoharu is the kind of character curious about life and other people, he decides on a whim to give Aki a chance. That's the starting point, and Tomoharu will face every kind of dangerous situation, and Aki's fierceness!
Honto Yajuu gained a huge popularity thanks to these two amazing characters that are absolutely lovable! Aki, in spite being a time bomb ticking, turns into the sweetest of the boys between Tomoharu's arms; Tomoharu, on the other hand, is so in love with Aki that he doesn't mind the fact that Aki is a yakuza. This is a love story characterized by a beautiful art style, the funniest gags and tons of love. It's able to melt the readers hearts from the first chapters! As it's still ongoing, we are overly happy to know that we'll see more of Aki and Tomoharu crazy adventures. And we hope you'll give it a chance, because – trust us – it's totally worth it!
---
Final Thoughts
With the sweet Honto Yajuu and its fluffy yakuza trouble, our ranking came to an end! How did you like it? We hope you found it useful somehow; whether you are already a fan of Kotetsuko Yamamoto, or you are approaching boys love genre just right now, we really hope you enjoyed it. Kotetsuko Yamamoto is an amazing manga artist that deserved a mention, as her stories leave a lingering feeling of tenderness. We are sure she will keep up the good work, and we can't wait to see how her ongoing series will develop! As always, don't forget to let us know what you think in the comments below.
---