The word "dandere" is used in the manga/anime world to describe a type of character who is very shy, and/or quiet toward the people they like. The word dandere comes from two Japanese words, "danmari" which means silent and "dere dere", which is the Japanese onomatopoeia for being lovey dovey. Dandere characters may be confused with "kuudere" ones, but there's a slight difference: a kuudere character is cool, a dandere character is merely taciturn. Dandere girls are the cutest: they are often depicted as girls willing to make friends, but unable to overcome their shyness. In some other cases, dandere girls are depicted like seemingly open girls, who turn shy toward their love interests. In this ranking, we'll talk about ten dandere girls who caught our attention, and show you how this type of characters may come across as emotionless sometimes, but they are actually sweet and talkative! Stick with us until the end, and you won't be disappointed!
10. Hime Ichinose from Nagatachou Strawberry

Mangaka: Sakai, Mayu
Genre: School life, Romance, Drama, Shoujo
Volumes: 5
Published Date: December 2002 – August 2004
Let's begin this ranking with Hime Ichinose, protagonist of Nagatachou Straberry. Being the daughter of the Prime Minister, this cute girl didn't lead a normal school life. Bullied and accused to be a "spoiled princess", she one day decides to hide her identity and move to another high school. In the new school, though, a boy called Natsuno Kirihara, suddenly discovers her secret! What's more, he is willing to spill the truth!
As a dandere girl, Hime presents herself as a cute girl willing to live a wonderful high school life, full of friends. She was bullied during middle school, so she is afraid that her being the daughter of the Prime Minister could lead to another huge failure. When Natsuno discovers the truth and blackmails her, though, she musters her courage and gives up, determined to face the consequences of her secret. We really like this brave dandere girl!
---
9. Haine Otomiya from The Gentleman's Alliance Cross (Shinshi Doumei Cross)

Mangaka: Tanemura, Arina
Genre: Comedy, Drama, Romance, School life, Shoujo
Volumes: 11
Published Date: August 2004 – June 2008
Let's go on with Haine Otomiya, our funny heroine from Shinshi Doumei Cross! Haine was sold by her parents to the Otomiya family, and is now part of the student council of the prestigious Imperial Academy. Even though she has all the rights to be in the student council, she finds herself struggling, as the elite members are seemingly mischievous and full of secrets!
Haine is your out of the ordinary dandere girl, as she seems very silly sometimes. The flip side of that facade, though, is that she only wants to get along with those people who seem to ostracize her. As she was sold by her family to another one, she kept feeling out of place, but never once stepped back from a challenge! Her last fight will be with her feelings: will she overcome her "dan" side, and become "dere dere" with her love interest, Shizumasa Togu?
---
8. Sawa Konishi from Rockin' Heaven

Mangaka: Sakai, Mayu
Genre: Drama, Harem, Romance, School life, Shoujo
Volumes: 8
Published Date: December 2005 – July 2008
Our 8th position is a 15-year-old girl, who decided to change school because she fell in love with the cute uniform! Little she knew that Amabane High School was previously an all-boy school... her trouble begins the moment she steps into the academy: Sawa is bullied, teased and the boys keep annoying her. Even the boy she thought was kind, Ran, turns out to be a rascal!
Sawa is a cute dandere girl, who simply wanted to wear a cute uniform, not knowing it would cost her a high price. Although at the beginning of the story she looks a bit introverted, and unable to adjust to the academy life, she is actually very friendly and outgoing, when someone manages to scratch the surface! When she meets Ran, her dandere personality pops up to the fullest, as she turns shy, but gradually opens up.
---
7. Belldandy from Oh! My Goddess (Aa! Megami-sama!)

Mangaka: Fujishima, Kousuke
Genre: Comedy, Fantasy, Romance, Seinen
Volumes: 48
Published Date: August 1988 – April 2014
What about our 7th position, a dandere girl who is a skilled goddess, as well? Belldandy works for the Goddess Technical Help Line and so, when someone asks for help, she is one of the goddesses dispatched to grant wishes. But the wish asked by Keiichi Morisato one night is that she will always be by his side. Can you guess what consequences this wish may have?
As a dandere girl, Belldandy keeps all the traits of that personality. In fact, she is kind, warm and patient with basically everyone, and very shy when it comes to her love interest. Belldandy is also very quiet and taciturn, which is another strong trait of the dandere personality. As she is a goddess, though, Belldandy is not a girl to be taken for granted: don't make her angry, if you don't want to know her true strength.
---
6. Yomina Sakuba from Devil-chi

Mangaka: Musuaki
Genre: Comedy, Ecchi, Romance, School life, Supernatural, Shounen
Volumes: 3
Published Date: January 2016 – ongoing
Let's go on with a dandere girl who hides a treat! Yomina Sakuba is a talented high school girl. She is very good at whatever she does, literally: good at sports, good at every subject so much so that she is an honor-roll student. But she holds a secret. When she meets Hino, an average high school student, by chance, her secret is out. Yomina Sakuba is half a demon!
Although half a demon, and half a human, we must say Sakuba sticks very well to the idea of a dandere girl. In fact, she is quiet, but not anti-social. Sakuba is a shy girl who finds it hard to interact with other people; her dandere side pops up to the fullest right when she meets Hino. We'll see Sakuba blush and get flustered, just like your typical clumsy girl. We really like a dandere girl like her!
---
5. Serika Akai from Choku!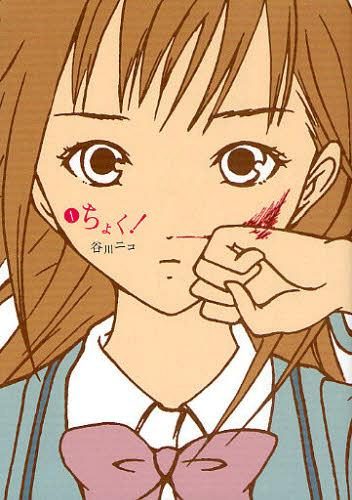 Mangaka: Tanigawa, Nico
Genre: Comedy, Romance, School life, Shoujo
Volumes: 4
Published Date: November 2008 – December 2010
The socially awkward Serika Akai is our 5th position! This girl meets Nao Mizuhashi who is a boy without a single friend, and who seems to be fine with his condition. As Serika wishes to make friends, Nao looks the perfect candidate to become her buddy: somehow, she thinks they're similar. Serika's persistence brings Nao to accept their friendship, and from that moment onward, Nao will be dragged here and there by this strange girl!
Serika's attitude may seem a bit too cold for a dandere girl, but that's just a facade. In fact, she feels something toward Nao, and since she's socially awkward, she acts in the only way possible for her. Even though she is quiet, she manages to be clear about how much she wants to befriend Nao. She is not your typical dandere girl, but still one who was worth mentioning.
---
4. Teru Kurebayashi from Dengeki Daisy

Mangaka: Motomi, Kyousuke
Genre: Comedy, Drama, Romance, School life, Shoujo
Volumes: 16
Published Date: May 2007 – December 2013
Let's head toward the end with Teru Kurebayashi, our cute heroine from Dengeki Daisy! When her brother, Soichiro, died, all what he left to Teru was a phone connecting her to a certain person called Daisy. Daisy, through time, becomes her emotional support via email and messages. When one day, because of some circumstances, Teru becomes Tasuku's – the school's janitor – servant, a thought works its way in Teru's mind... What if Daisy and Tasuku are the same person?
In spite the tragic past full of suffering, Teru is still a kind dandere personality, who demonstrates to be very mature. She doesn't like to rely on other people, in fact she asks for Daisy's help only in specific situations, when she needs to help others. She is very strong-willed, and although she may look very strong, she shows her true dandere personality when it comes to Tasuku: she gets shy with him, and keeps blushing.
---
3. Sawako Kuronuma from From Me to You (Kimi ni Todoke)

Mangaka: Shiina, Karuho
Genre: Romance, School life, Slice of life, Shoujo
Volumes: 30
Published Date: August 2005 – November 2017
Maybe because of her resemblance with the protagonist of a horror movie, or simply because she doesn't have the guts to answer when her classmates misunderstand her intentions, Sawako Kuronuma, who is just timid, comes across as malicious. Sawako just wants to make friends, though, and have a nice high school life. Her situation changes when she manages to befriend the one person she truly admired... Shouta Kazehaya.
This dandere cutie pie is really something else! As a dandere personality, she is very shy, but not in the least she is anti-social. On the contrary, she really suffers whenever someone calls her "Sadako" instead of "Sawako", and yet she can't bring herself to say something back. Sawako's dandere personality pops up every time Kazehaya talks to her, too: it goes without saying, she gets flustered, blushes and hardly speaks, but its because of this we all love her.
---
2. Hiyori Nishiyama from Hiyokoi

Mangaka: Yukimaru, Moe
Genre: Comedy, Romance, School life, Slice of life, Shoujo
Volumes: 14
Published Date: November 2009 – November 2014
Our 2nd position is a small girl called Hiyori Nishiyama, and the protagonist of Hiyokoi! Hiyori goes back to school after one year of absence, because some circumstances left her hospitalized for one entire year. For her, going back to school is a challenge, as it's not easy to reintegrate. Yet, she is determined to make her high school life full of friends and, why not, of love, as well!
Hiyori is a dandere girl who never stops trying to overcome her shyness. Throughout the story, we follow this timid girl as she tries to improve her social skills, make friends and find a place where she belongs. And we must say, with her 140cm, she is already like a beloved mascot. Her dandere side is always there, but it highlights whenever it comes to Yuushin, one of her friend: she admires him a first, and then she falls in love with him. Blushing little Hiyori is our favorite!
---
1. Yuna Ichihara from Love, Be Loved, Leave, Be Left (Omoi, Omoware, Furi, Furare)

Mangaka: Sakisaka, Io
Genre: Comedy, Drama, Romance, School life, Shoujo
Volumes: 7
Published Date: June 2015 – ongoing
Our 1st position is a girl who embodies all the typical traits of a dandere girl! Yuna Ichihara is one of the protagonists of Omoi, Omoware, Furi, Furare. When her best friend moves away after the middle school graduation, Yuna is afraid of her imminent high school life, now that her best friend is not there. Then, she meets Akari, a girl who is Yuna's polar opposite, and her life is turned upside down.
We said that Yuna Ichihara embodies all what we expect in a dandere girl. In fact, she is very shy and afraid that she won't be able to make friends. Not only that, she is also very quiet, and has an idea of love that is very pure, just like in the shoujo manga she loves to read. Yet, when school begins and thanks to Akari, she manages to befriend a lot of people, remaining the dandere blushing girl she was in the beginning. And when she falls in love, she decides to confess her feelings to Rio. We really like Yuna, as she is very silent and shy but, at the same time, she manages to open up to other people. As she is a perfect example of dandere girl, we decided to give her our 1st position!
---
Final Thoughts
Our ranking for the dandere girls in manga came to an end! As the difference between dandere and kuudere girls is very thin, it proved to be a hard task, but we did it. Here we gave you different kinds of dandere girls, all of them sharing the cuteness and the sweetness of this peculiar personality! Since the manga world is full of other dandere cutie pies, why don't you tell us other girls that could have fit this ranking? Please, don't be shy and let us know what you think! See you next time!
---