This April, we're going back to the nineties! In case you didn't know, most of the games releasing next month are remakes of old classics from the golden era of JRPG and Survival Horror, and we're so hyped about going back to the good old days... but it's cool if you're trying them for the first time, too. So, without further ado, here's a list with the best 10 games we'll be playing in April 2020!
10. Fallout 76: Wastelanders

System: PC
Publisher: Bethesda Softworks
Developer: Bethesda
Release Dates: Apr. 14, 2020
Ohh, we know what you're thinking, and we also know how much of a mess Fallout 76 has been since release. However, we're finally getting non-playable characters to join us in Appalachia! For those unrelated to the game, and leaving aside all the controversies that have to do with Bethesda as a company, the lack of NPC and relying so much on human interaction to actually create a plot has been flagged as Fallout 76's biggest mistake.
With this new, free expansion, we're getting 2 new events and a new main questline that includes more weapons, more enemies, and more locations to visit. Is that enough to save Fallout 76 or clean its name? That much we don't know, but at least this is closer to the Fallout experience we all know and love.
---
9. Trials of Mana

System: PlayStation 4, PC, Switch
Publisher: Square Enix
Developer: Square Enix
Release Dates: Apr. 24, 2020
The Mana Tree is in danger, and we need to save it again! Released in 1995, Seiken Densetsu 3 quickly became a cult classic, but it still remains an obscure franchise outside of Japan. That's one of the reasons why now, 25 years later, we're getting a remake for Switch, PlayStation 4 and PC, with updated 3D graphics and a few other new features. An old-yet-awesome adventure for the new generations!
Following the success of the remake of Secret of Mana, this game offers one of the most incredible adventures ever presented. Like we mentioned before, the '90s were the golden era for Japanese role-playing games, so here you'll find a lot of classic JRPG gameplay mechanics at their best.
---
8. Sakura Wars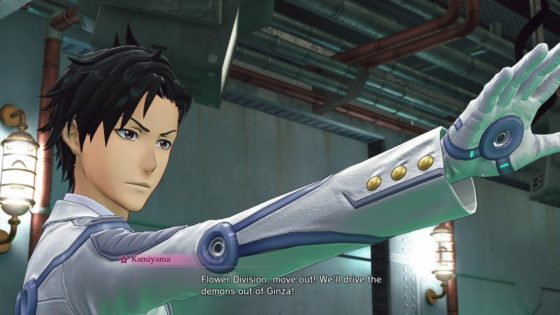 System: PlayStation 4
Publisher: Sega
Developer: Sega CS2 R&D
Release Dates: Apr. 28, 2020
Known in Japan as Sakura Taisen, this is one of the PlayStation exclusives releasing in April. Red Entertainment's jewel is now being handled by Sega alone, and the western version is finally ready to ship. Sakura Wars is a work of historical fiction presented as a mix of role-playing and visual novel elements, also offering us a chance to romance a lot of cuties!
What may look a bit weird for the western audience, is just another day at the office for Japanese gamers. Sakura Wars features an action-packed adventure set in Japan's Taishou period but at the same time, it's also a dating sim where you play as the center of a harem. Beautiful ladies in traditional kimonos, powerful demons, and the most interesting sights of Tokyo are waiting for you. What else do you need to try this game out?!
---
7. Predator: Hunting Grounds

System: PC, PlayStation 4
Publisher: Sony Interactive Entertainment
Developer: IllFonic, 20th Century Fox
Release Dates: Apr. 24, 2020
Asymmetrical multiplayer games are not new, but not all titles in this genre are fun to play. One of the best examples of a good asymmetrical multiplayer, however, is Friday the 13th: The Game, and now its creators are back with Predator: Hunting Grounds, another horror shooter based on a classic movie from the '80s.
As you can imagine, this is all about hunting or being hunted. On the one hand, you can play as the title character and make use of all the advantages of the Yautja alien race, like top-notch camouflage technology, powerful energy guns, and their famous thermal vision. On the other hand, 4 human soldiers will try to survive in the jungle, not only against the Predator but also the Project Stargazer agents trying to catch the creature alive.
---
6. Someday You'll Return

System: PC, PlayStation 4, Xbox One
Publisher: CBE Software
Developer: CBE Software
Release Dates: Apr. 14, 2020
Time for a more European adventure, an indie game that only the bravest will be able to experience. Someday You'll Return is a Czech psychological horror video game set somewhere in the historical land of Moravia, and we can't wait to finally put our nerves to test once it releases.
In Someday You'll Return, you play as Daniel, a worried father looking for her daughter, Stela. But she's not actually lost, and this is not the first time she ran away from home. What dark secrets are hidden in the forests of Moravia, and how does it all connect to Stela? What's the real relationship between this father and his daughter? There's only one way to find out, and it's a scary one!
---
5. Gears Tactics

System: PC, Xbox One
Publisher: Xbox Game Studios
Developer: Splash Damage, The Coalition
Release Dates: Apr. 28, 2020 (PC)
Gears Tactics is a new take on Epic and The Coalition's Gears of War franchise. Set 12 years before the events of the first Gears of War game, Gears Tactics is a turn-based strategy adventure starring Gabe Díaz (Kate Díaz's father) during a new crisis on planet Sera. It seems that the Locust War never gives us a break, and so it's time to go back and kick some alien butts and put an end to the Locust leader Ukkon's reign of terror.
Gears Tactics will be out on PC on April 28, but the Xbox One version is yet to be dated. However, and according to the trailers, the game looks both stunning and epic, so we hope the story is as good as this franchise has us used to. One week prior to that, we're also getting Gears of War: Bloodlines, just in case you feel like reading this prequel novel written by Jason Hough.
---
4. Disaster Report 4: Summer Memories

System: PC, Switch, PlayStation 4
Publisher: NIS America
Developer: Granzella
Release Dates: Apr. 7, 2020
We're already living in a world plagued by the COVID-19 pandemic, so how about experiencing a different, virtual disaster at the same time, surviving and escaping a destroyed city? In fact, the whole production of Disaster Report 4's western version has been surrounded by disasters, since it was also canned after an earthquake and tsunami hit the Pacific coast of Touhoku (Japan) in 2011.
As for the gameplay, you control a fully customizable character who is heading for a job interview the moment an unforeseen earthquake destroys the city. There, you'll be wandering the streets in search of supplies and other survivors, but not all of them are nice towards you in such a desperate state. Your only goal now is to make it alive, exploring your surroundings and looking for help as your worst real-life nightmare unfolds before your eyes.
---
3. Totally Reliable Delivery Service

System: PlayStation 4, PC, Switch, Xbox One
Publisher: tinyBuild
Developer: We're Five Games
Release Dates: Apr. 1, 2020
How hard could it be to deliver a package in time? But wait before giving us an answer, because physics in this game are quite unreliable, and even a simple trip to your destination could become the biggest and most difficult challenge of your life. Totally Reliable Delivery Service is a fun indie game about delivering packages, with an extraordinary world to explore and hundreds of elements to make your job easier... or harder!!
In this simulator, you can play alone or in co-op mode, but platforming is never easy with noodle physics, no matter how many friends you bring to help you. If you ever dreamed of working as a courier, or if you just want hours upon hours of frustration and amusement, you need to play Totally Reliable Delivery Service. And don't worry, you're allowed to end up in the bottom of the sea or crashing your car every two seconds... as long as your package is OK!
---
2. Resident Evil 3 Remake

System: PC, Xbox One, PlayStation 4
Publisher: Capcom
Developer: Capcom
Release Dates: Apr. 3, 2020
Do we really need to list our reasons to play a remake of Resident Evil 3: Nemesis, the best entry in the Resident Evil franchise, and one of the most influential video games of the survival horror genre? Since RE2 got a remake last year, all fans were expecting the same treatment to RE3, and now we're finally ready to face Nemesis again!
Jill Valentine, Carlos Oliveira (and the rest of the surviving mercenaries of the U.B.C.S.), and Nemesis himself. Some of our favorite characters in the RE universe are back, and now with better graphics and a less clunky camera position. In fact, there are a few tweaks to make the gameplay more appealing now, like the new dodging mechanics. The question is, are you ready for a knife-only run in the hardest difficulty?
---
1. Final Fantasy VII Remake

System: PlayStation 4
Publisher: Square Enix
Developer: Square Enix
Release Dates: Apr. 10, 2020
Speaking of games that defined a genre, Final Fantasy VII is considered not only the best Final Fantasy game ever created but also the most significant PlayStation game of them all. Although there are 15 main games now and a lot of spin-offs and tie-ins, there's still no villain like Sephirot, and there's still no scene as impactful as Aerith's death.
So here we are, 23 years later, and no FF game has sparked so much hype as this remake. The game has been delayed a few times now, and yet we still don't know much about the final version, other than the episodic nature of it and a few promotional trailers and images we received before. All we know is that we'll be playing the hell out of this game, a serious contender for the GOTY awards.
---
April's lineup boasts a few heavy-hitters, and we can' but ask ourselves several questions. Is this NPC-centered update, along with its long-awaited release on Steam, the first step towards Bethesda's redemption with Fallout 76? How will Final Fantasy VII Remake's episodic format play out? Can all these new versions of old games stand the test of time?
We may not have answers for that, but we do have is the desire to play all these games right now!
---