As the holiday season quickly approaches, stores are set to be packed with shoppers seeking to stuff their stockings. In 2018, gaming has far surpassed its once niche roots, transforming the entire industry into a huge business capable of shipping millions of units per year. December tends to not be the most overstocked month of the calendar, but we live in an age when even "slow" seasons contain a number of noteworthy releases. When it comes to gaming, there is no such thing as a barren month.
For anyone interested in Japanese titles, December 2018 will strip your wallet clean. The month is lined with a number of quirky but high-profile releases that will surely satisfy a certain subset of consumers. Looking for a rhythm game? Or, yearning to lead the charge against an alien invasion? December has your back!
10. Persona 3: Dancing in Moonlight

Platforms: PlayStation 4, PlayStation Vita
Publisher: Atlus, Atlus USA, Deep Silver
Developer: P-Studio
Release Dates: December 4, 2018
Atlus drew near-universal praise with the release of Persona 5 and the company is set to publish two side games based on the beloved franchise. With the fourth entry earning a similar spin-off in 2015, this is hardly the first time Persona has been transplanted into a completely unrelated genre. A rhythm game starring the cast of the JRPG, Persona 4: Dancing All Night incorporated an infectious soundtrack that highlighted the core game's beautiful and memorable music.
Even though these spin-offs are not for everyone, they present a unique opportunity to spend a bit more time with the main game's lovable cast. Persona 3: Dancing in Moonlight drops the story mode from its predecessor, but the engaging rhythm gameplay and polished tracks are back in force! The lack of a campaign is slightly disappointing, but P-Studio made up for its absence by creating a number of sketches centering around the cast's relationships. Acrobatic dance routines have also been introduced, so expect to see some truly spectacular choreography!
Persona 3: Dancing in Moonlight is a massive departure from the franchise's core gameplay, but we cannot wait to move to the beat with Yukari, Junpei, and Fuuka!
---
9. Arca's Path VR

Platforms: PlayStation 4, Microsoft Windows
Publisher: Rebellion Developments
Developer: Dream Reality Interactive
Release Dates: December 4, 2018
As developers grow accustomed to the hardware, virtual reality is gradually amassing an impressive collection of titles that showcase the technology's potential. Astro Bot Rescue Mission ranks among the soundest platformers of recent memory, and Arca's Path VR appears set to follow in its footsteps. A puzzle game available on Sony's system and Microsoft Windows, the gameplay revolves around a mechanic that only requires the use of the player's head. Yes, this is a completely hands-free adventure! How cool is that?
Presented as a grim fairy tale, Arca refers to a stylistic simulated world consisting of 25 levels and enough physics-based puzzles to test seasoned veterans. With a simple tilt of the head, the protagonist rolls through the colorful environments and cute terrain. Previews have been quite positive, with many describing Arca's Path as relaxing and intuitive. The last part is especially vital, as poor controls could turn this journey into a ride through hell.
---
8. Override: Mech City Brawl

Platforms: PlayStation 4, Xbox One, Microsoft Windows
Publisher: Modus Games
Developer: The Balance Inc
Release Dates: December 4, 2018
Mecha will never fail to capture our attention! With the exception of Gundam spin-offs and Titanfall, games revolving around giant robots fighting each other are nowhere near as common as they deserve to be. Who has not dreamed of piloting a mecha and leveling an entire city while battling a Kaiju or another skyscraper-sized robot? Is such a thing really too much to ask for?
Override: Mech City Brawl looks almost too good to be true. Shipping with a number of multiplayer modes and a single-player campaign, the trailers have done a fantastic job of showcasing the impressive visuals, frantic combat, and the inherent silliness found in a game about mechas wrecking the shit out of each other!
As marketing has prioritized multiplayer over single-player, there is always the chance that the story was designed solely to teach the mechanics. If this proves to be the case, Override: Mech City Brawl can only be recommended if it manages to attract a dedicated player base.
---
7. Persona 5: Dancing in Starlight

Platforms: PlayStation 4, PlayStation Vita
Publisher: Atlus, Atlus USA, Deep Silver
Developer: P-Studio
Release Dates: December 4, 2018
Announced and set to be published alongside Persona 3: Dancing in Moonlight, the fifth game's spin-off is destined to garner the most attention from customers. Persona 5 staked an astonishingly convincing claim for being the best JRPG of the generation, and the anime adaptation concluded its run during 2018's Summer season. The Phantom Thieves are firmly ingrained into the current cultural zeitgeist and there will never be a better time to revisit Persona 5's universe.
Providing an increasingly rare excuse to turn on the PlayStation Vita, Persona 5: Dancing in Starlight offers a very similar experience to the third game's spin-off, although the latter's acrobatic routines have been replaced with a more realistic variant. As a result, personal preference will mainly dictate which game is worth picking up. Prefer Persona 3? Go for Dancing in Moonlight. Obviously, the reverse holds true.
Considering the main game featured a massive campaign boasting hundreds of hours worth of content, the absent story is definitely a bummer; however, rhythm games are all about the music and Persona 5: Dancing in Starlight should be no slouch in this department!
---
6. The Last Remnant Remastered

Platforms: PlayStation 4
Publisher: Square Enix
Developer: Square Enix
Release Dates: December 6, 2018
Another month, another remaster. Available on the Xbox 360 and Microsoft Windows, The Last Remnant is a JRPG primarily remembered for a unique battle system that blends turn-based traditional combat with a tactical ingredient. Set in a fictional world split into various humanoid races, players control a teenage hero named Rush Sykes, who is on a mission to save his kidnapped sister. Along the way, the protagonist gets dragged into a raging war between various city-states and a man known as the Conqueror.
As the story progresses, Rush transforms into a general who commands his own troops. Fights start off relatively simple but soon evolve into massive battles where the player controls armies rather than individual soldiers. Undeniably deep and unique, the combat system had quite a steep learning curve, while battles tended to overstay their welcome. Despite its many flaws, The Last Remnant was worth trying out.
Reproduced with Unreal Engine 4, the remaster's visuals should be light-years ahead of its predecessor. More importantly, The Last Remnant needs to iron out the technical hiccups that plagued the original incarnation. Surprisingly, the remaster will be a PlayStation 4 exclusive.
---
5. Just Cause 4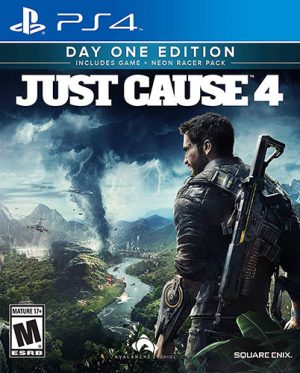 Platforms: PlayStation 4, Xbox One, Microsoft Windows
Publisher: Square Enix
Developer: Avalanche Studios
Release Dates: December 4, 2018
After the glitchy third entry, Avalanche Studios cannot afford to release something that is anything less than polished. Just Cause distills the action genre into its base form. If a kid were asked to envision their ideal game, they would describe Just Cause. Following the adventures of Rico Rodriguez, the scenarios always play second fiddle to the sandbox gameplay.
Set in a fictional South American country, Rodriguez is up against a paramilitary group called the Black Hand, and the protagonist will not hesitate to blow up the entire country to reach his goal. Using a new game engine, two of Just Cause 4's biggest selling points are the implementation of extreme weather effects and the supposedly improved artificial intelligence.
Just Cause 4 has been pitched as the craziest entry in the franchise, and the previews have all backed up this claim. How often does one get to chase down a twister before destroying it with a wind cannon? Forget logic or realism, sometimes, things simply need to go boom!
---
4. Mutant Year Zero: Road to Eden

Platforms: PlayStation 4, Microsoft Windows
Publisher: Funcom
Developer: The Bearded Ladies Consulting
Release Dates: December 4, 2018
Based on a popular Swedish pen-and-paper RPG, Mutant Year Zero: Road to Eden demands the attention of anyone familiar with the X-Com franchise. Set in a post-apocalyptic world devoid of much in the way of humans and overrun by anthropomorphic animals, Mutant Year Zero has literally decades of lore to fall back on and incorporate into the campaign.
The turn-based combat should instantly feel like home for gamers accustomed to X-Com, but there is more to Mutant Year Zero than just battles. The Bearded Ladies Consulting split the campaign into warfare and exploration. Prior to any encounter, players explore the area to discover any resources or secrets. Crucially, exploration provides an opportunity to ambush and, potentially, kill the enemy before the fight even begins. Intertwining these typically separate portions creates a sense of cohesion that strengthens the world's setting and atmosphere.
Combining RPG and tactical-combat, Mutant Year Zero: Road to Eden could be one of 2018's biggest surprises!
---
3. Earth Defense Force 5

Platforms: PlayStation 4
Publisher: Sandlot, D3 Publisher
Developer: Sandlot
Release Dates: December 11, 2018
Earth Defense Force personifies everything great about cheesy Saturday Morning cartoons from the 1980s. Founded on a long-running premise revolving around shooting bugs and aliens in the face, this franchise knows exactly the type of experience it aspires to provide. There is nothing more frustrating than a dumb game with delusions of grandeur, but studios willing to embrace the absurdity frequently produce some of the most endearingly mindless projects of the year.
Earth Defense Force 5 boasts mediocre graphics, relaxed controls, and an absolute unwillingness to take itself seriously. The gameplay can get rather repetitive, but the screen is typically stuffed with so much mayhem, it is near impossible to find a dull moment. As long as expectations are kept relatively grounded, Earth Defense Force 5 should comfortably scratch that primitive itch to cut loose and have fun!
Earth Defense Force is the gaming industry's proudest and loudest B-franchise. Shut off your brain and prepare to embark on an unabashedly ludicrous mission!
---
2. Katamari Damacy Reroll

Platforms: Nintendo Switch, Microsoft Windows
Publisher: Bandai Namco Entertainment
Developer: Monkeycraft
Release Dates: December 7, 2018
In an age overrun with military shooters and story-driven games, Katamari sticks out like a sore thumb. Originally released in 2004 for the PlayStation 2, there was nothing that compared to Katamari Damacy, and the same can be said regarding the upcoming remaster. Sony and Microsoft owners might feel hard done-by, but Nintendo's hybrid console seems tailor-made for this distinct adventure.
Katamari can be a hard sell for the uninitiated. Controlling the adorable Prince, players are tasked with reshaping the cosmos after the protagonist's father went on a drinking binge and wiped everything out. It goes without saying but, don't expect any realism. In order to recreate the celestial bodies, the Prince rolls a Katamari and collects various objects that ultimately combine to form a new star. While items are initially small, the Prince steadily starts to pick up people, vehicles, and buildings.
For better or worse, Katamari Damacy Reroll maintains the controls and visuals of the 2004 original. Despite coming out more than a decade ago, Katamari is still groundbreaking and irreplaceable!
---
1. Super Smash Bros. Ultimate

Platforms: Nintendo Switch
Publisher: Nintendo
Developer: Bandai Namco Studios, Sora Ltd.
Release Dates: December 7, 2018
Wait, is a new Super Smash Bros. coming out? Who knew! Nintendo has dedicated the best part of 2018 to hyping up the release of Super Smash Bros. Ultimate, and the attention seems to be more than justified! Merging every character from the previous games into one comprehensive roster, fans are destined to be playing this brawler for the next couple of years.
Super Smash Bros. Ultimate caters to the competitive and casual scenes. While professionals learn the ins-and-outs of every fighter, friends will be setting up online and local tournaments to determine whether Mario can defeat Samus or Link. Alongside the traditional multiplayer modes; Ultimate introduces a 32 player tournament, a battle royale were characters are eliminated once they have been used, and a team battle mode.
Super Smash Bros. is fan service done right. Nintendo owns many beloved franchises and this is the one place they all come together for a massive crossover. Super Smash Bros. Ultimate is more than a fighting game. It is a celebration dedicated to the entire industry!
---
Final Thoughts
December might notbe the most stacked month of 2018, but Super Smash Bros. Ultimate is worth ten high profile shooters. Whether seeking a challenging JRPG or a nonsensical stroll through the cosmos, one of these entries should fit the bill! Which upcoming 2018 game has piqued your interest? Please let us know in the comment section below.
---