In like a lion, out like a lamb. For many people, March is the start of the year in terms of gaming, and that may be right considering we don't see that many big games releasing in the first two months of the year, especially because most companies want all their big games to be available before the holiday season. To be fair, some of the games on this list could very well compete for a spot among the best games of the year, even if we're all still waiting for the real GOTY candidates. So, how about listing some of the games we will be playing in a few days? Let's take a look at the most anticipated video games releasing next month!
10. Murder by Numbers

System: PC, Nintendo Switch
Publisher: The Irregular Corporation
Developer: Mediatonic
Release Dates: Mar. 5, 2020
Murder by Numbers is definitely a niche game, but that doesn't mean there's no hype for its release. With a retro feeling that brings you back to the '90s and an interesting choice of characters, this is the story of Honor Mizrahi, a TV actress that finds herself involved in a murder mystery. With the help of a robot named SCOUT, and using the knowledge she earned playing Detective Oates, will Honor be able to prove her innocence?
Murder by Numbers plays a lot like other detective games, like Ace Attorney or Prof. Layton. The main difference is that, while it keeps the visual novel mechanics—full of bizarre characters and jokes, nonetheless—and the colorful aesthetics, all puzzles are nonograms (aka picross/griddlers).
---
9. Half-Life: Alyx

System: PC (VR)
Publisher: Valve
Developer: Valve
Release Dates: Mar. 23, 2020
Waiting for Half-Life 3 has become a well-known meme, but maybe that's the best reason for Valve ignoring our prayers. In return, VR users will have the chance to experience a new adventure in the Half-Life universe, set before the events of Half-Life 2. Playing as Alyx Vance, it's time to show the evil Combine who's the boss!
We know how different VR games can be, and we also know that not everyone owns a VR headset, but finally being able to play as Alyx while also exploring a new part in this complex story is something no Half-Life fan should miss.
---
8. One Piece: Pirate Warriors 4

System: PC, PlayStation 4, Xbox One, Nintendo Switch
Publisher: Bandai Namco Entertainment
Developer: Omega Force
Release Dates: Mar. 27, 2020
One Piece may be one of the most popular manga/anime franchises, but it still has some problems when trying to seduce the western gaming community. Still, in March we're getting the fourth installment in the One Piece: Pirate Warriors saga, bringing more adventures to delight all the pirates of the world... but hey, please buy a legit copy of the game!
Starring Luffy and the rest of the Straw Hat Pirates crew, along with all your favorite villains and allies, this time we're excited to try the already announced new game modes and mechanics. Time to stretch your legs and kick some butt! Releasing on all four big platforms, you really have no excuse not to play One Piece: Pirate Warriors.
---
7. My Hero One's Justice 2

System: PC, PlayStation 4, Xbox One, Nintendo Switch
Publisher: Bandai Namco Entertainment
Developer: Byking
Release Dates: Mar. 13, 2020
Speaking of huge manga/anime franchises (and we have some more coming), time to talk about My Hero One's Justice 2, the sequel to the fighting game based on My Hero Academia. The original game released back in August 2018, and less than 2 years later, we have a new action-packed adventure to look forward to, full of fast-paced battles between powerful superheroes and sinister supervillains.
Apparently, this is not just a flashy new version of the first game, because MHOJ2 comes with a new Story mode and some new characters too, like Gang Orca or Camie Utsushimi. Is it enough to justify a sequel, or could it be resolved with an update? We'll have to wait and see!
---
6. Pokémon Mystery Dungeon: Rescue Team DX

System: Nintendo Switch
Publisher: Nintendo, The Pokémon Company
Developer: Spike Chunsoft
Release Dates: Mar. 6, 2020
Owners of Nintendo Switch will have the chance to play the remake of Pokémon Mystery Dungeon, remixing both games (Red Rescue Team and Blue Rescue Team). Debuting back in 2005 for the Game Boy Advance and Nintendo DS, Pokémon Mystery Dungeon allows you to play as a pokémon that, with the help of its friends, will try to save the day... earning a lot of coins in the process.
Recruit other strong pokémon, train your best moves, and start accepting quests! This is all about being a good neighbor and helping other pokémon with their missing stuff or daily chores, so it's a nice breath of fresh air for when you're tired of battling other trainers in your Sword/Shield save. You can try the free demo right now!
---
5. Granblue Fantasy: Versus

System: PlayStation 4
Publisher: Xseed Games
Developer: Arc System Works
Release Dates: Mar. 3, 2020
Remember Granblue Fantasy? Yeah, we've talked about it before, but mostly about the anime series and the mobile game. While the original game is basically an RPG, Granblue Fantasy: Versus is—obviously—a fighting game, but it also includes an interesting Story mode featuring side-scrolling RPG mechanics, in an attempt to stand out given how many fighting games we have now.
It may still be a new game, but Granblue Fantasy: Versus has already been confirmed for the EVO 2020 Championship Series, so a lot of pros will be giving it a shot in the upcoming months. With spectacular anime-style graphics, cool animations, and some fresh mechanics thrown into the mix, Granblue Fantasy: Versus definitely could become a new classic.
---
4. Ori and the Will of the Wisps

System: Xbox One, PC
Publisher: Xbox Game Studios
Developer: Moon Studios
Release Dates: Mar. 11, 2020
Next is another sequel, but this time is for one of the most cherished platformers of the decade. Ori and the Will of the Wisps continues the story of Ori and the Blind Forest, released in 2005; it follows the story of a spirit called Ori, who starts a journey that will allow it to explore their surroundings but also discover a lot of important things about itself. Using puzzles, some RPG elements, and beautiful metroidvania-style maps, the new Ori game already looks really fun to play, just like the original one. At the same time, the first entry proved to be a very heartwarming experience, so we have faith in this sequel too. A nice touch for Xbox One owners!
---
3. Doom Eternal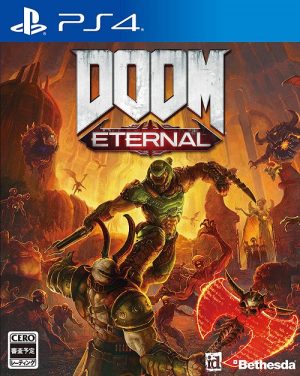 System: PC, Xbox One, PlayStation 4, Nintendo Switch
Publisher: Bethesda Softworks
Developer: id Software, Panic Button
Release Dates: Mar. 20, 2020 (Nintendo Switch TBA)
Every gamer knows the story of Doom, a classic franchise that helped shape the FPS scene as we know it and has continued to be one of the most popular video game sagas since 1993. The Doom Slayer is back, and so are these diabolical monsters from Hell, always trying to conquer our beloved Earth.
After 2016's reboot, we really want to try this direct sequel and all the new features. The two words that best describe every Doom game are probably 'adrenaline' and 'violence', and we're sure that we're getting a lot of those in Doom Eternal. We can even play as some of the demons in the new multiplayer modes! Rip and tear!!
---
2. Animal Crossing: New Horizons

System: Nintendo Switch
Publisher: Nintendo
Developer: Nintendo
Release Dates: Mar. 20, 2020
If instead of shooting evil beasts you rather chill in a quiet town full of kindhearted neighbors,then 03/20 could be the day you get Animal Crossing: New Horizons. Exclusive for the Nintendo Switch, this will be the first time we get to see our old friends in the new console, other than some of them joining Super Smash Bros. Ultimate back in 2018. New Horizons is definitely the game you want to play when trying to find some relaxation, and it also includes a co-op mode that allows you play with a friend or family member, both online and locally. What name will you give to your new paradisiac town? You still have a few more days to think about it!
---
1. Nioh 2

System: PlayStation 4
Publisher: Sony Interactive Entertainment
Developer: Team Ninja
Release Dates: Mar. 13, 2020
For all ARPG lovers, the most hyped game of March 2020 is by far Nioh 2, giving us a new opportunity to control a badass yokai samurai. Exclusive for the PS4, Nioh 2 is a prequel to 2017's Nioh, considered one of the best games of the year. Would you come to feudal Japan again? Just make sure you bring your sword!
The scenery in Nioh 2 looks magnificent, and so does the fighting mechanics. Brutal and unforgiving, this is one of those games where biting the dust is just another part of the experience, but who cares about dying over and over again when you have great animations and a fantastic story to discover? Just don't come looking for historical accuracy, please!
---
Final Thoughts
Let's remember that, sadly, a lot of games originally coming in March have been delayed in the past months, like Final Fantasy VII Remake or Fairy Tail; on the other hand, March is finally time to release other games that have been delayed before, like Doom Eternal and the new Animal Crossing. Would you say it's a fair exchange?
We also have other anime-related games releasing in the next days, like The Seven Deadly Sins: Grand Cross (the global version) for mobile devices or, if leaked trailers and release dates are to be trusted, the much anticipated Cooking Mama: Cookstar for Nintendo Switch.
---