January 2019 for gaming has kicked off with a bang and that is all thanks to Kingdom Hearts III and the remake of Resident Evil 2 being released back in January. Even 20 years after the release of the original Resident Evil 2, fans are still scared at the looming presence of the lickers and Mr. X. Beyond finding new ways to keep true to its horror roots, its new mechanics and presentation makes the game entirely fresh and providing a different experience.
Putting aside the difficult to follow plot of the Kingdom Hearts franchise as a whole (let's say the true prequel isn't even Kingdom Hearts II), it has been praised for its gameplay mechanics and featuring new characters that have debuted between the releases of the the second game and now. Those additions include characters and settings from Frozen, Big Hero 6, and the long overdue Toy Story!
Due to the success and high-acclaim to these two January 2019 releases, the rest of the year has a high standard to live up to. With Kingdom Hearts III and Resident Evil 2 remake now out of the way, what else is in stored for 2019? Read our top 10 to find out!
10. Jump Force

System: PS4, Xbox One, PC
Publisher: Bandai Namco Games
Developer: Spike Chunsoft
Release Dates: February 14, 2019 (Japan), February 15, 2019 (International)
Who would win in a fight? Boruto, the son of Naruto? Or Izuku from My Hero Academia? Or what about a fight between Yusuke from Yuu Yuu Hakusho or Ichigo from Bleach? That's what Jump Force is here to put to the test! What's even crazier, in the story of this game, these heroes just stumble from the pages of Shounen Jump and into the real world to duke it out! Upon the drafting of this list, we're just about two weeks away from the release of Jump Force, this present generation's crossover fighting game featuring characters from Shounen Jump's past and present (along with some characters original to the game).
Though you have the option of one-on-one, but like many crossover games such as Marvel Vs. Capcom and King of Fighters, it has the 3-against-3 option as well. Based on what we've seen, many of the featured characters are excellently presented stylistically and you get to fight in multi-layered stages based on real world locations. So, if you love fighting games and Shounen Jump, Jump Force is a game to play. Last, most of the seiyuus from the anime adaptations are back to voice the characters as well!
---
9. Sekiro: Shadows Die Twice

System: PlayStation 4, Xbox One, PC
Publisher: Activision
Developer: From Software
Release Dates: March 22, 2019
Though a majority of the games we are listing tend to be sequels or spin-offs, Sekiro is one of those games that's an original property. As we are typing this list, we're just less than two months away from the release of Sekiro: Shadows Die Twice. What we got is a stealth-action game since you play as a ninja, which obviously takes inspiration from the old Tenchu games (and was actually conceived as one). As to why the game is called Sekiro, meaning "one-armed wolf," the titled character is given that name due to wearing a prosthetic arm with tools that will come into play in the game. The developers said that they wanted to capture sword fighting in a more realistic manner by using the clashing to create openings for the coup de grace. Considering how sword fighting is glorified in media, it'd be interesting to see how this game challenges that notion.
---
8. Ghost of Tsushima

System: PS4
Publisher: Sony Interactive Entertainment
Developer: Sucker Punch
Release Dates: TBA 2019
In this open world adventure game, you get to take part in history as you play as a late 13th century samurai who helps stop Kublai Khan's invasion of Japan. As to why it's called Ghost of Tsushima, it takes place on Tsushima Island, which is located between the coast of Nagasaki (it's presently recognized as part of Nagasaki prefecture) and the Korean peninsula is the where Kublai Khan's actual invasion took place. As for Ghosts, Jin Sakai, the main character, uses a style called the Way of the Ghost, in order to stop the invasion.
Though the development team takes inspiration from Akira Kurosawa films, they wanted to create an authentic experience of Japan around that time for players to embody the spirit of ancient Bushido. While this game allows for chanbara style action, there will be moments where you get to use stealth and kill your enemies silently. While Sega's Yakuza series has done such similar installments such Ishin and Kenzan, those games remain Japanese exclusive with Ghost of Tsushima gets an international release.
---
7. Anthem

System: PS4, Xbox One, PC
Publisher: EA
Developer: BioWare
Release Dates: February 22, 2019
With only just less than a month away upon the drafting of this list, Anthem is another hot title to make waves for 2019! Brought to you by the same people who made Mass Effect, Anthem is also a third person shooter/RPG/open world/multiplayer hybrid. In this game, your character wears a suit of armor called a javelin. From recent reports javelins allow players to customize their weapons and other performance enhancements. Some focus on close-range combat, others emphasize on longer ranges. Plus, you got jet packs! Though many of the concepts are not the most original, but just add in some new ingredients and it can significantly change how the game is played, which is enough to get fans hyped! So if you love Mass Effect, you got an idea of what to expect but with some qualities to make itself distinguishing.
---
6. Tom Clancy's The Division 2

System: PS4, Xbox One, PC
Publisher: Ubisoft
Developer: Massive Entertainment
Release Dates: March 12, 2019
In addition to Anthem, if you love RPGs mixed with this person shooters, then the sequel to Tom Clancy's The Division is just right up your alley. For what we can tell, many qualities that made the first game awesome is going to be brought back for this one. Sometimes, you don't have to make significant improvements but just expand on what made the original awesome. One notable example is that the game will have subclasses for your character(s). Those specific classes rely on certain weapons whether it would be let's say sniper rifles, bazookas, or a crossbow, and as you level up, you can finally find your way to including skills beyond your base set. In other good news, The Dark Zone is confirmed to be back but at what capacity has yet to be confirmed. And that's not all! For the first year for this game, any expansion is going to be free! So take that EA!
---
5. Metro: Exodus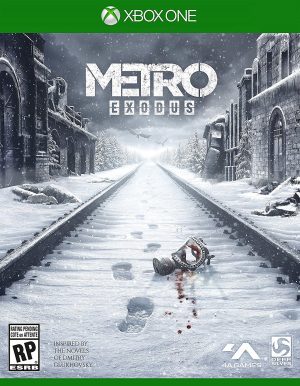 System: PS4, Xbox One, PC
Publisher: Deep Silver
Developer: 4A Games
Release Dates: February 15, 2019
In addition to Jump Force, Metro: Exodus, the third installment to the Metro series, is slated to be released two weeks from the initial drafting of this list. Just like in the previous games, you fight to survive in a post-Apocalyptic Russia against mutated creatures and other enemy combatants. First person shooters may be a dime a dozen, but Metro: Exodus promises some distinguishing features such as a season system due to the story taking place within a span of the year, and the weather will change accordingly. Though this may not be the most original quality but it's still not seen very often is that you have the chance to customize your own weapons based on whatever scraps you find.
Apparently, the game wants to balance linear gameplay and open world, so based on whatever the objectives are given, it will set those standards. The developers in recent interviews have said what they've revealed is only the tip of the iceberg, so if we want to know all the new features, we just got to play it ourselves, which we're looking forward to doing.
---
4. Pokemon (Full Title Not Yet Confirmed)

System: Switch
Publisher: Nintendo
Developer: Game Freak
Release Dates: TBA 2019
For the past 20 years, Pokemon has been going strong and even with new releases, it manages to bring new surprises despite keeping many familiar features. However, Pokemon Company CEO Tsunekazu Ishihara said in an interview with Famitsu magazine that this edition is going to be different, but something he expects to satisfy long-time fans and rookies alike. Of course, there's going to be new Pokemon but what will they be like? Is there going to be a new battle system? A new system to catch 'em all? Game Freak and Nintendo can make the same Pokemon game over and over and people would still enjoy them. As to the definition on what makes the upcoming installment new, we just have to wait and find out. Other than that, Ishihara says this is the Pokemon game we've been waiting for, then we can't wait to try it out!
---
3. Mortal Kombat 11

System: Multiplatform
Publisher: Warner Bros. Interactive Entertainment
Developer: NetherRealm Studios
Release Dates: April 23, 2019
For the past 25 years, Mortal Kombat has been one of America's biggest fighting games. So after 11 installments, what should we expect this time around besides the carnage and fatalities? One new feature they are introducing is a Fatal Blow, a special move where if a character's health is -30%, the player can execute a technique by pressing the should buttons simultaneously. However, it is confirmed that this isn't something that can be abused since it can only be used once per game, not per round. Another new quality that is confirmed to be introduced in this 11th edition are Crushing Blows, which is reportedly similar to the X-ray attacks from MK9. It is executed based on specific conditions in context to combos.
In addition to giving the offense new features, the defense is expected to get a long awaited upgrade called the Flawless Block. If a character successfully times a block, they are given the chance to do so heavy duty counters. Last, we're also pleased to hear that WWE women's champion and former MMA champion Ronda Rousey is voicing Sonya Blade considering their similar physical features and Rousey being an accomplished martial artist.
---
2. Devil May Cry 5

System: PS4, Xbox One, PC
Publisher: Capcom
Developer: Capcom
Release Dates: March 8, 2019
Devil May Cry, the OG of the hack 'n slash genre, is back and everyone's expecting it to be better than ever. Along with the return of Dante and Nero (can't go wrong with Johnny Yong Bosch is also coming back for the role in both as the voice and motion capture), this fifth installment is going to give players the chance to play as V, the newest character. A lot of what makes the series appealing as a whole with its fast paced and exciting action seems to be presented in the trailers, but Capcom is doing all they can to make V a secret as much as possible. Based on what has been portrayed in the previews, he can use two companions and a cane as his weapons, and the dynamic he brings is certainly going to add unique challenges we look forward to trying out. For Nero, he has a new weapon called the Devil Breaker, and it gives him some cool moves we can't wait to try in a full version to kick some demon butt.
---
1. Shenmue III

System: PS4, PC
Publisher: Deep Silver
Developer: Ys Net
Release Dates: August 27, 2019
After 18 years in development hell, the sequel to what is considered not only as the best game on the Sega Dreamcast, but the granddaddy of open world games, is finally going to be released to the masses thanks to a record breaking crowdfunding campaign back in 2015. Many longtime fans or those that are new to the genre thanks to the HD release of the first two games unanimously agree that the original games still excellently hold up. Due to this praise, many anticipate that its long awaited sequel will not only live up to the hype, but show how modern open world should be. Many fans who never gave up on a sequel are looking forward to a familiar and yet new experience in Shenmue III as Ryo Hazuki, the main character, as he explores deeper into mainland China to avenge his father.
Though fans are reasonably expecting familiar features such as QTEs and forklifts, Yu Suzuki, the game's creator, has confirmed there will be some notable changes, most especially with the combat system. He is forgoing the original Virtua Fighter engine and wants to make the fighting easier for people that don't play fighting games. One feature he wants to include to help such players as something he calls an AI assist. In addition, he also wants to further portray traditional Chinese martial arts. Last, fans are also looking forward to the return of Corey Marshall and Masaya Matsukaze as the respective English and Japanese voices of Ryo.
---
Final Thoughts
In addition to our top 10, we'd like to make some shout outs to Streets of Rage 4, Battletoads, ToeJam & Earl, Nioh 2, and The Last of Us 2. However, we have to disclaim that though many of these upcoming games are slated to come out for 2019, it doesn't guarantee that they'll be out this year. As any reasonable gamer knows, the development is a taxing process and delays do happen so we would like to ask you readers to be open to the notion that some of these games may not come out this year regardless of what we know now.
Last, we understand that our selections are not going to be everybody's top 10 and with all the exciting games that are coming out between the drafting, editing, and uploading of this list and the end of this year, there's so much to look forward to. So, beyond what we listed, what are some games that are slated for 2019 that you're looking forward to? Give us your thoughts in the comments.