So, you got the kids their copies of Pokémon Sword and/or Shield hoping they'll stay busy long enough for you to find big new games to buy them for Christmas. But all you found was the startling realization that there are no big games coming out this Christmas.
For whatever reason, we're finding ourselves in one of the driest holiday seasons in gaming history, with no major new releases after mid-November. But don't worry, we've taken the liberty of combing through what's left in December to tell you which among its less than mainstream titles belong under your family's Christmas tree.
10. MechWarrior 5: Mercenaries

System: PC
Publisher: Piranha Games
Developer: Piranha Games
Release Dates: December 10th, 2019
The famous tabletop game BattleTech has endeared itself to strategically minded players everywhere by defining the style of American mech design ever since its release 35 years ago. But that feat must also be partially credited to its equally lauded MechWarrior series of video game spinoffs, which completely dominated the mech gaming genre in their day.
But that day came to an end all the way back on November 23 of 2000, when MechWarrior 4: Vengeance—the last numbered game in the series—was released. Unfortunately for MechWarrior 5, this release gap puts it in an awkward situation, since longtime fans are sure to be excited to see MechWarrior back in action, but BattleTech has undergone too many changes not to cause concern.
The franchise has been bought out twice since the turn of the millennium, leading to so many staff shakeups that there no proven MechWarrior creators remain at the helm. Worse yet, Mercenaries is being created by Piranha Games, whose only experience with the series has been the meandering mess that was MechWarrior Online. Seeing them kiss this dormant series awake would be the perfect Christmas gift for veterans, but there's good reason to believe they're not the prince charming that's needed.
---
9. Arise: A Simple Story

System: PC, PS4, XBO
Publisher: Piccolo
Developer: Techland
Release Dates: December 3rd, 2019
You probably aren't familiar with this one unless you follow the indie gaming scene, in which case, this artistic platformer about the dead reliving their life stories is already a likely contender for the top of your wish list.
It's the type of game that has only caught scarce glances from the mainstream press but awed stares from independent fans. If they're not marveling at the stylish visuals then they're probably focusing on the so-far breathtaking soundtrack courtesy of David García, best known for Hellblade: Senua's Sacrifice. It's the perfect gift for the indie lover you love.
---
8. Hello Neighbor: Hide and Seek

System: PC, Switch, PS4, XBO
Publisher: tinyBuild Games
Developer: tinyBuild Games
Release Dates: December 6th, 2019
The original Hello Neighbor was one of the many survival horror games to amass a wide following of children thanks by contributing many exaggerated frights to popular streamers. It had a lot more going for it though, like a quirky aesthetic reminiscent of Double Fine's Scott C., plenty of engrossing puzzles, an intriguing plot without being dense, an impressive lack of imagery inappropriate for children and an important moral about stranger danger.
The first game was the best horror title anyone could ask to give to their kids and this prequel promises to uphold that standard with new levels, new mechanics and a new theme of dealing with grief from the perspective of a child. If that doesn't sound like a fun holiday experience for the whole family, we don't know what does.
---
7. Assassin's Creed: The Rebel Collection

System: Switch
Publisher: Ubisoft Chengdu, Ubisoft Philippines
Developer: Ubisoft
Release Dates: December 6th, 2019
Older gamers will have quite a nostalgia trip this holiday season, as it has enough remakes and re-releases to fill several stockings. First up is Assassin's Creed, which will be gracing the Nintendo Switch with the first two games of its post-Patrice Désilets era.
The two titles that make up this collection (Assassin's Creed IV: Black Flag and Assassin's Creed Rogue) took the open-world stealth gameplay the series was known for onto a short-lived but surprisingly well-executed tangent centered on naval action. A good choice for newcomers who want to see Assassin's Creed's history and veterans who miss the series' seafaring phase.
---
6. Life is Strange 2: Episode 5

System: PC, PS4, XBO
Publisher: Dontnod Entertainment
Developer: Square Enix
Release Dates: December 3rd 2019
Do you remember all the hype around Heavy Rain when it was coming out? Do you remember being excited at the idea of playing a game that was like controlling a movie? Do you remember having your hopes dashed by the awful gameplay and incoherent plot? Do you wish there was a game that could deliver on all of David Cage's unfulfilled promises?
If you answered yes to all, some or none of these questions you should not sleep on the Life is Strange series. These graphic adventures strive above all else to showcase the power player choice can have on a narrative by not only placing the audience in the skin of the protagonists but weaving a complex web of causality where seemingly minor actions can have major repercussions.
The series' second installment has expanded on the significance of player choice while keeping its plot on point. Granted, the narrative has been criticized for certain issues like a lack of consistent supporting characters and minimal world-building, but it's also been celebrated for its deep character relationships and effective emotional beats that have the fanbase eagerly waiting for more.
---
5. Star Ocean: First Departure R

System: PC, Switch, PS4
Publisher: tri-Ace
Developer: Square Enix
Release Dates: December 5th, 2019
We can all agree that this entire year has been Christmas for JRPG fans, right? The new footage for the Final Fantasy VII remake has struck a chord with players even outside the genre, Dragon Quest XI finally ditched its horrible, horrible arrangements for a stately symphonic soundtrack, Kingdom Hearts 3 gave us the conclusion we've been waiting for over a decade, Fire Emblem finally found a way to balance depth with accessibility, tons of all-time classics were re-released and Pokémon… uh, let's move on.
The point we're making is that it's a great time to be a JRPG fan, so why not enjoy the good times while they last by acquainting yourself with one of the genre's most influential games? The Star Ocean series has never reached much beyond cult status outside the land of the rising sun, but it's domestically regarded as being one of Square Enix's best IPs, right alongside Final Fantasy and Dragon Quest. It's earned its stripes too, having singlehandedly defined action-RPG design and tossing in complex plots whose outcome is always determined by the player's actions throughout the game.
This latest remake of the series' beginning will feature complete dubs in English and Japanese with the expected graphical upgrades and gameplay tweaks. This ideal entry point to the legendary franchise is further proof that 2019 has been the JRPG gift that keeps on giving.
---
4. Ashen

System: PC, Switch, PS4, XBO
Publisher: A44
Developer: Annapurna Interactive
Release Dates: December 9th, 2019
2019 has seen a lot of PC gamers lose their most anticipated Steam releases to the divisive Epic Games Store and its many exclusivity deals. But Epic it seems has caught the spirit of giving this season, as their acquisitions are finally becoming more available. Ashen is the latest among the Epic crowd to join Steam and consoles, but it'll have its work cut out for it if it wants to stand out in the multi-platform landscape.
Ashen's near-exact similarity to Dark Souls in terms of combat and controls have led many to dismiss this freshman release from developer A44 as a cheap knockoff. But while it wears its inspirations on its sleeve, it's nearly as mechanically refined as the tight experiences From Software is known to bring, setting it far ahead of lesser imitators like The Surge or Code Vein. Ashen is an action game we already know to be good, so we expect it to find many new fans when it lands on more popular platforms this December.
---
3. Neverwinter Nights Enhanced Edition

System: PC, Switch, PS4, XBO
Publisher: BioWare
Developer: Skybound Games
Release Dates: December 3rd, 2019
This release of Neverwinter Nights (the action RPG, not to be confused with the MMORPG of the same name) will mark the first time a Neverwinter Nights (the series of games, not to be confused with the action RPG or MMORPG of the same name) game will be available on consoles. That's a pretty big deal considering the original was so popular that its community has survived for over 15 years, more than doubling the lifespan of Neverwinter Nights (the MMORPG, not to be confused with the action RPG of the same name or the series of the same name which they're both part of).
Calling it an enhanced edition is a bit of a stretch, though. Besides including all the original's expansion packs and DLC it's honestly more of a remaster. But that lack of alteration happens to be Neverwinter Nights Enhanced Edition's (the remake of the action RPG, not to be confused with the action RPG, the MMORPG or the series) greatest strength, because it's actually so unchanged that the PC version is backwards compatible with all of the innumerable mods and community scenarios made for Neverwinter Nights (the action RPG, which probably will be confused with other things of the same name).
---
2. SaGa: Scarlett Grace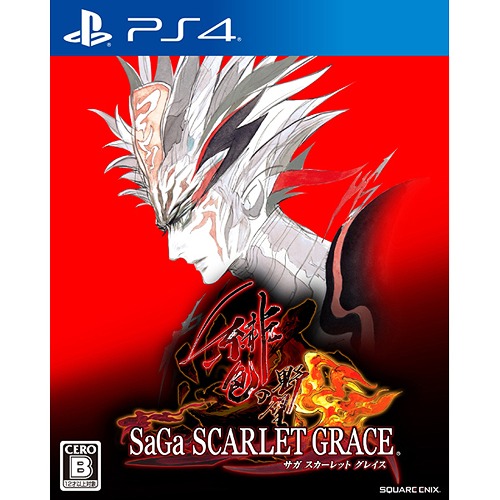 System: PC, Switch, PS4, XBO, Vita
Publisher: Square Enix Business Division 3
Developer: Square Enix
Release Dates: December 3rd, 2019
Didn't we say this year was a gift for JRPG fans? As if it hasn't given us enough already, we'll have the privilege of closing out the year with a treasure many of us never thought we'd find (without importing).
SaGa: Scarlett Grace was originally released as a Japanese exclusive back in 2016, and with no announced plans for an international release, it seemed as though it would stay that way forever. But this was only the second act low-point in SaGa's saga. Its arrival comes at a good time too, since the series' longtime calling cards happen to be some of the biggest trends in gaming today.
Open-world exploration, narratives affected by player decision, level-scaling enemies and more have all been featured in the SaGa games long before they were seen in the likes of The Elder Scrolls, Dragon Age or The Outer Worlds. Because of that long history, Square Enix has had ample time to polish these mechanics far beyond the competition and that fine-tuning can be felt in all of its titles. We know that won't convince all of you to buy a game from a series you've probably never even heard of, but we hope the rest of you can give the SaGa series the success it deserves.
---
1. Darksiders Genesis

System: PC, Switch, PS4, XBO
Publisher: Airship Syndicate
Developer: THQ Nordique
Release Dates: December 5th, 2019
If you ever want new games out of a series that just won't release any, you need only turn to the dark side. This series born from the mind of comic book artist Joe Mad never ties itself to one style of gameplay, but instead imitates a popular game and filters it through Mad's edgy fantasy art style. The first three games essentially play like God of War, The Legend of Zelda and Dark Souls respectively, but re-skinned for people who only pick Reaper in Overwatch.
Genesis continues the series' convention of breaking series conventions by riffing on Diablo. Unlike Diablo, this RPG only has two characters—the returning horseman of the apocalypse War, and his newcomer brother Strife—but just like Diablo, players will spend their time crawling through ominous dungeons, fighting increasingly challenging enemies and earning progressively stronger powerups as they progress.
But there's more to Darksiders Genesis than aping an underrepresented Blizzard series. Airship Syndicate is taking full advantage of the fact that this will be the first Darksiders game to star two horsemen by punctuating the action with quippy dialogue between the protagonists. It doesn't come up frequently enough to be annoying, is written and delivered graciously and best of all it's mercifully more interested in providing character development and levity than flat exposition. And all that's without even mentioning things like the fluid combat, the detailed visuals, and Mad's excellent art. Get it for a best friend you can play it with and try not to let any Strife get in the way of your co-op.
---
Final Thoughts
Christmas is a time for family, a time for giving, a time for celebration, but mostly a time to play videogames over holiday vacations. Don't forget to leave us a Christmas gift in the form of a comment telling us which games you'll be getting for yourself or others and have a happy holiday season.
---